BACK
Brokerage Firm Rodin Group Achieves Seamless Migration with Yeastar P-Series PBX
3.2 min read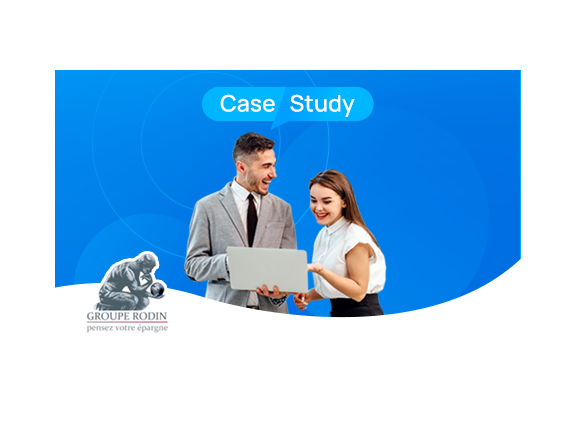 Solution Highlights:
Solution Deployed: P-Series Software Edition Enterprise Plan, over 800 extensions, 600 plus DOD, DID
Keywords: Smooth PBX Migration, Future-proof, Effortless deployment
Yeastar Yeahs Awards 2022 Winning Story
Background
The Rodin Group is a 700-employee brokerage firm in France, it offers personalized and effective savings, retirement and insurance solutions. Created in 2013, the Rodin Group is dedicated to ending the difficulty of obtaining clear and relevant information to manage one's assets and effectively supporting individuals and professionals in managing their assets.
Challenges and Objectives
Replace the Problematic System with an Elastic Solution
The Rodin Group wanted an IP-PBX that can reply to its elastic demands. The range of the extensions it needs is changeable. Sometimes the extensions go from 800 to 900 extensions, and then it goes back to 600 or 700. What Rodin Group needed was a supplier who can correspond to its requirement, that is to say, the solution should be flexible as well. Fortunately, Yeastar P-Series PBX perfectly responds to its needs.
Overcome the Limitation of Call Blocklist Entry
Before Rodin Group migrate to the Yeastar P-Series PBX, it faced some problems with the limitation on the number of call blocklist entries they can have. The call blocklist feature has become one of the main concerns for the Rodin Group to choose a suitable solution.
Seek a Solid Call Recording Solution
Due to the legal restraints, Rodin Group was bound to keep call recordings for years. They need the ability to record all calls and easily retrieve any conversations to stay compliant, resolve disputes, and elevate team performance.
Solution
Knowing the Rodin Group's need for replacing the current old, problematic system with a more futuristic and expandable solution, Edgemega, Yeastar's certified reseller in France successfully assisted them to migrate to Yeastar P-Series PBX Software Edition, which is hosted on their Cloud server with P-Series Enterprise Plan.
Besides, the new Yeastar system helps the Rodin Group to manage over 700 DID numbers centrally and trunk with over 200 channels. The whole system is fast deployed and easy to use.
Results and Benefits
Smoothly Migrate to P-Series PBX
Rodin Group was surprised by the flexibility of P-Series PBX. It only takes them one hour to switch from the old system to the brand-new Yeastar P-Series PBX system. In their own words, they experienced "minimum impact on the migration." Such migration is beyond the reach of all the other backup choices. The migration to Yeastar P-Series PBX takes them a shorter time and less effort to deploy the service. They spend less service money on deployment as well.
Powerful Call Blocklist
To tackle the limitations of the call blocklist and help Rodin Group streamline business workflow, Yeastar, as always, provided tailored R&D services. The breakthrough was made to provide up to 100,000 call blocklist entries. It could never be easier for Rodin Group to handle call blocking now.
User-friendly and Easy-to-manage interface
Yeastar P-Series's user-friendly interface leaves a great impression on the Rodin Group. To find a service used for day-to-day operation, usability is one of the main concerns of Rodin Group. The simple and easy-to-manage interface is just like a bonus that is beyond their expectations.
Besides, the free Linkus unified communications app designed for Yeastar PBX systems provides users with a convenient and simple experience. It helps users stay connected anywhere anytime with complete features like call handling, instant messaging, video conferencing, phonebooks, etc.
When it talks about the DOD and DID, the Rodin Group can even do it without training because of its easiness.
Full-featured Call recording
With Yeastar P-Series PBX, Rodin Group can set up both internal and external call recording storage to reach unlimited call recording minutes and back up the recordings to prevent data loss.
Yeastar P-Series PBX also supports One Touch Recording and Auto Recording. With these two strong features, Rodin Group can easily record internal calls, external calls, and conference calls automatically.
Beneficial and futuristic solution
Thanks to the Yeastar P-series PBX Software edition, Rodin group now cloud handle a large volume of daily calls at ease, and the challenges of deploying 700 DID numbers and 200 channels of trunk are easily solved. The hassle-free telephony enables the resources to be allocated in more productive areas. Yeastar provides a solution that can cater to both current and future needs without sacrificing any modern UC features.
After carefully considering the client's requirements, Yeastar P-Series PBX is the best fit that can meet and exceed current and future needs. We were fortunate to see this deal turned into a genuine win/win transaction. The client was satisfied and regained trust in software-based communication systems. -Toufic KHREISH, Director at Edgemega
Is this the solution that fits your needs?
If you're facing the same challenges as the Rodin Group and are looking to upgrade your current phone systems, feel free to contact us for a more in-depth look at our Yeastar P-Series PBX System and get a 30-day free trial.