BACK
Italian Mercedes-Benz Dealership Improves Customer Experiences with Yeastar P-Series PBX
4.7 min read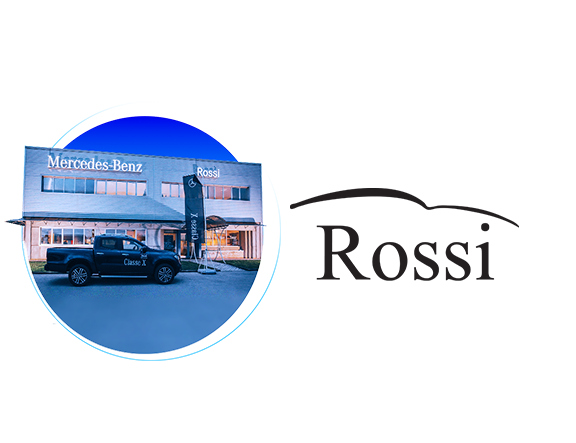 Solution Highlights:
Customer Needs: Call Center Solution, Multisite Interconnect, Transition from Legacy to VoIP
Branches: 7 sites across Italy
Devices: 2 P560, 5 P550, 2 TA-3200, 3 TA-2400, 2 TA-1600, and 3 TB400 Gateways
Background 
The Rossi brand has been present in the Italian automotive market for over thirty years with its widespread marketing and assistance services for cars, commercial vehicles, and industrial vehicles. Its history is inextricably linked to the Daimler Group, which makes it one of the oldest Mercedes-Benz dealerships in Italy currently in business. In 2019, the company won the Mercedes-Benz Italia 2019 Dealer contest, as the best Mercedes-Benz dealer in Italy.

Major Challenges and Objectives
Connect 7 Branches for Better Collaboration
Rossi has seven branch stores throughout Italy. As the business grew, it needed a solution that would allow it to cover the needs of over 70 employees in the two largest locations. Besides, Rossi is also seeking a more reliable and frictionless method for the seven sites to communicate and collaborate with ease.
Preserve All Existing Analog Phones and Infrastructure
Even though Rossi wants new technology to expand the business, it still hopes that the old analog phones and infrastructure could be preserved and to be combined with the new solution. Therefore, it's Rossi's primary goal to find a solution that's compatible with the existing analog phones and infrastructure, and at the same time, would allow its employees to control the analog altogether from one place.
Manage Customer Services Easily & Effectively
Excellent customer service has always been the key factor for Rossi to win customers over. The company offers thorough pre-sales support and after-sales services, from customized purchasing solutions to maintenance advice and tailored financial plans, for customers who're feeling overwhelmed and torn between choices.
Given the volume of calls, Rossi's main source of frustration lies in call management. It is looking for an advanced system that would help them effectively manage customer calls and route them to the right agent, so it can keep serving its customers with the highest standards.
Solution
Two Yeastar P560 (for the two largest stores) and five Yeastar P550 were deployed in Rossi's seven stores with the assistance of Informatica95, Yeastar's channel partner in Italy. The Call Center Solution included with the Yeastar P-Series PBX System was enabled, allowing the company to explore new opportunities to improve the current services.
At the same time, several Yeastar TA and TB Gateways were also installed to connect the company's existing analog phones to the new PBX system. The whole process was made simple and easy thanks to the Yeastar P-Series' graphical interface and advanced Auto Provisioning feature, which required less time and little technical expertise.
The Results and Benefits
Rossi has been using the Yeastar solution for about three months and is very satisfied with both the new possibilities offered by the platform and the ease of use of the web interface.
Next-Level Call Management Efficiency and Flexibility
The company attaches great importance to customer experience, and they deliver all-around customer services. After migrating to the Yeastar P-Series, streamlined call reception is truly achieved at Rossi, as all calls, be they incoming or outgoing, are now concentrated on a single site.
Of all the useful call center features provided by Yeastar P-Series, Rossi is most appreciated for the following:
Time-Based Call Routing & IVR
Rossi owns seven stores across Italy, and their working hours vary. Owing to that, the company wants the new system to be able to customize working hours to each store's need and prevent clients from having negative experiences during non-working hours.
Business Hours and Holiday and Interactive Voice Response (IVR), the highlight features of the Yeastar P-Series, perfectly satisfy the company's needs. To begin with, every branch store was instructed to set up business hours and holidays respectively on the PBX system. Next, differentiated call routing rules and IVR were established based on each store's working hours.
The set-up brings great convenience to Rossi. All Incoming calls during business hours will be firstly answered by IVR and then dispatched to the right department; if clients call outside of working hours, IVR will redirect the call to voicemail, so call center agents can return the call the next day. Higher flexibility achieved and unpleasant customer experience avoided. Two birds hit with one stone.
As mentioned above, Rossi hopes to deliver the best customer experience at all times. The Queue Panel feature provided by Yeastar P-Series is a unified web-based visual call management tool. The intuitive GUI allows supervisors to stay updated with call activities and monitor agents' performance in real-time via their web browsers.
There are up to 17 metrics (including the number of waiting calls, average waiting time, abandoned rate, and SLA) presented in a graphical form on the Wallboard. Take a glance at the panel and supervisors can instantly know what's going on within the call center.
Especially with SLA (Service Level Agreement). High SLA reflects enjoyable customer experiences and raises credibility and brand image in the eyes of consumers. If SLA runs low, supervisors can immediately make adjustments accordingly.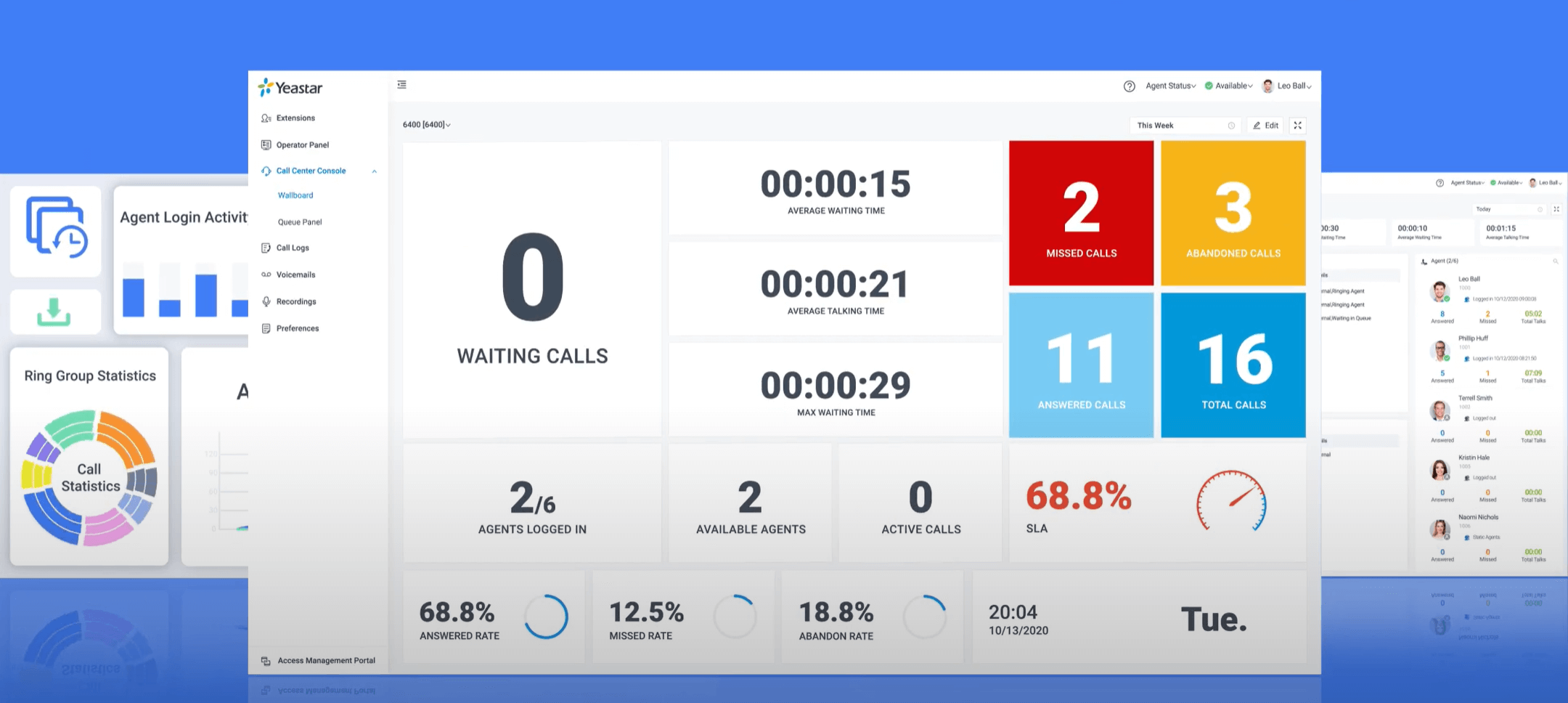 Call Reports are the best way for companies to get a clear picture of how their call center communicates with the customers.
With Yeastar P-Series' Call Center Reporting, Rossi's call center supervisors now have access to performance reports for the entire queue (using metrics like Queue Performance and Queue Avg. Waiting Time…) or for a single agent (checking parameters like Agent Summary, Agent Miss Call Activity…).
The best part is that all these informative insights are visualized in live charts and graphs, allowing call center supervisors to get a clue about the overall performance right away.
Time-based Call Routing, Queue Panel, Wallboard, Call Center Reporting, and other useful functionalities offered by Yeastar P-Series have helped Rossi elevate its customer experience and thus continue to offer top-notch services to its customers.
Legacy Phones Preserved and Gateways Automatically Configured
Yeastar's TA and TB Gateways are designed to help businesses preserve previous investments in legacy telephone systems and significantly reduce communication costs. With 7 TA and 3 TB Gateways installed across Rossi's seven branch stores, the company is now able to connect all existing analog phones and ISDN lines to its new Yeastar P-Series.
Also, thanks to the Auto-Provisioning feature, gateway configuration was done automatically and in bulk and completed in less than a day, saving Rossi much time and energy.
Tighter Team and More Efficient Intercommunication
All seven branches are connected in IPSEC VPN and the respective Yeastar PBX are connected to each other in Peer Trunk mode on private IP. By doing that, the Rossi team has become tighter and closer owing to the convenience brought by the easy-to-deploy, easy-to-use Yeastar P-Series.
How Will the Solution Work for Your Business?
If you're facing the same challenges as Rossi and are looking to upgrade your current phone systems, feel free to contact us for a more in-depth look at our Yeastar P-Series PBX System and get a 30-day free trial.
The Yeastar P-Series PBX System is built on the philosophy of PBX Plus More and is available in three editions: Cloud, Appliance, and Software. Schedule a live demo today to learn how it can help you take your customer services to the next level!