BACK
Hosted VoIP: The Technology That Can Simplify Your Office Communications
5.5 min read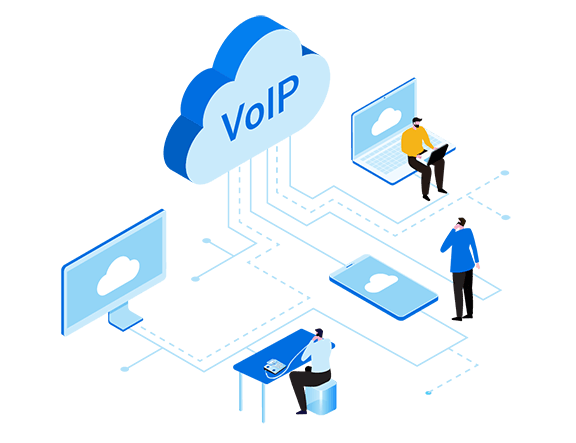 Running an office without a business phone system is basically impossible. Telephone communication has always been an integral part of properly functioning businesses, and it will likely remain that way for the years to come. Of course, the technology we use to carry out our day-to-day voice communications has changed radically, but the fundamental process of making a phone call has remained largely the same throughout the years.
The modernization of business communications at small, medium, and large offices has become a significant matter for many companies. Traditional phone lines continue to be an important means with which many offices set up their telephone networks. Some of them have long-running contracts they need to fulfil, whereas others simply make use of the infrastructure that is already in place, as they don't really have the funds to upgrade it.
This is where hosted VoIP systems(Also called hosted PBX)come in. Hosted VoIP systems provide a business communication that does not rely on the on-site hardware but make use of cloud-based systems to host the telephone network of each particular office. It removes the need to spend a lot of money on installing a whole new
private branch exchange system (PBX).
Many hosted VoIP solutions enable communication via "softphones," allowing start-ups and companies without much capital to get their phone systems up and running without having a single IP phone in the office!
If you're wondering about the pros and cons of hosted VoIP and whether or not this is a service that can actually benefit your business and save you some money, you've come to the right place. This article will go through everything you need to know about hosted VoIP phone systems and make an informed decision.
What Is Voice Over Internet Protocol?
In the simplest of terms, VoIP (voice-over-internet-protocol) is a technology that enables businesses to make phone calls within their private branch exchange without using traditional telephone lines, utilizing the power of broadband internet instead.
Here is a short video to help you understand what VoIP is in one minute.
The Origins of VoIP
In the early 1990s, business communications providers were looking for a way to cut costs on national and international phone calls by going around the public switched telephone network (PTSN). PTSN is the traditional, circuit-based way of transmitting phone calls used by any traditional phone system.
Then came the first publicly available Internet phone, which allowed users to make calls just like they would with a regular telephone, with the main difference being that their voice was carried via packets over the Internet, instead of a phone line.
By the end of the 1990s, IP phones became popular within the tech industry.Internet voicemail, computer-to-phone, and IP phone-to-phone features have been implemented around that time as well, establishing the basic framework of any modern VoIP system.
How Exactly Does VoIP Work?
Rather than turning it into a regular telephone signal, VoIP solutions transform your voice into digital data packets, which are then easily and rapidly transmitted through the Internet to the person on the receiving end.
This allows calls to be made through a computer, smartphone, IP phone, or even a traditional phone connected to an adapter that transforms telephone signal into the data packets mentioned above.
Hosted VoIP vs. On-Premise VoIP
When choosing to go with a business VoIP solution, you'll likely run into two different ways of providing the same service: hosted VOIP platform (which is cloud-based) or on-premise VoIP system.
Hosted VoIP Solution
In the case of hosted VoIP, all of the infrastructures that are necessary to carry out your calls are the responsibility of your hosted VoIP provider. They are in charge of maintaining all of the servers and keeping them functional so that you and your employees can enjoy uninterrupted communications.
Hosted VoIP, on the other hand, is a service provided by a third party that takes on the costs and challenges that come with maintaining VoIP servers. There is no setup cost to speak of because you don't really need any additional equipment to get started. Of course, you'll need to pay a monthly fee for this kind of service, but it's significantly smaller than the cost of operating your own on-premise VoIP phone system.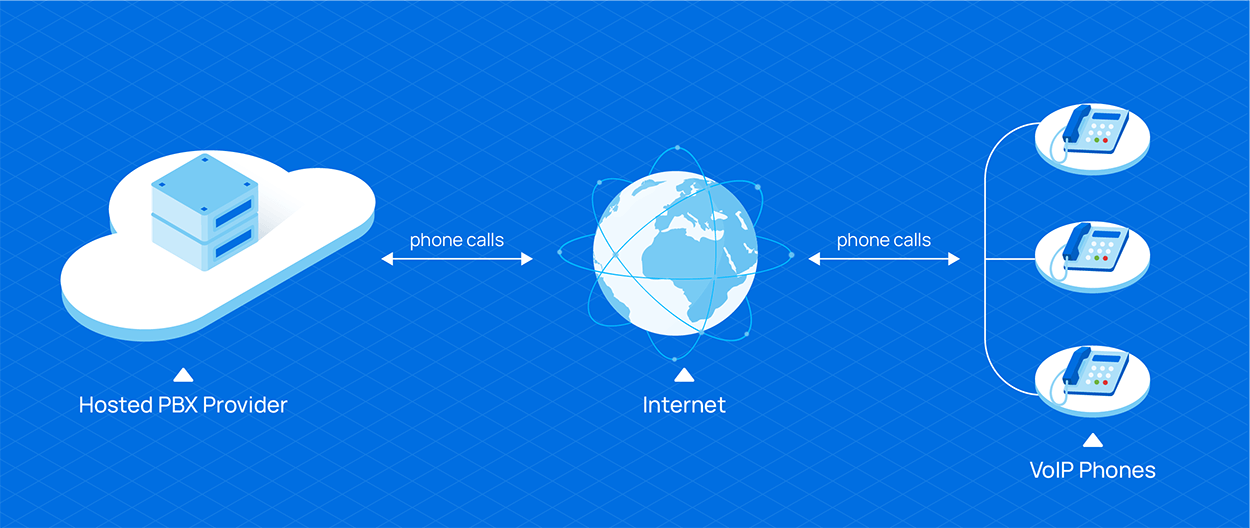 On-premise VoIP Solution
On-premise VoIP, on the other hand, entails your company setting up all of the VoIP systems inside of the office building (or at another location). This means that you'll be responsible for installing (and paying for) all of the servers needed to maintain the network.
On-premise VoIP is associated with relatively high setup costs. The size and scale of the server infrastructure required to run it depends on the size of your business, but even with a very small office, this is anything but a small amount of investment.
Another "hidden" cost involves with your IT resources. You'll probably have to hire a systems administrator to maintain and upkeep all of this technology and resolve any issues that may arise from time to time.
Main Features and Capabilities of a Hosted VoIP Phone System
Start-ups and small businesses tend to choose hosted VoIP providers for their business communications, as it is a relatively cheap service with a fixed monthly cost. For bigger corporations with excellent communication infrastructure, on-premise VoIP may be the better long-term solution, as it'll allow them to retain complete control of their unified communications hardware.
Regardless of which one you think would benefit your company more, all the VoIP phone systems have largely the same features and capabilities, which are:
Phone Calls
Auto Attendant
Call Forwarding
Call Controls
Audio Conferencing
Call Routing
Voicemail
Anonymous Call Blocking
How Can Your Business Phone System Benefit from Hosted VoIP?
A cloud VoIP phone system is a hassle-free, easy-to-use unified communications solution that will allow your employees to make VoIP calls and even use video conferencing features on a single network by just using their computer or mobile device!
Below, you can find some of the main benefits of hosted VoIP features.
Lower Price
This is the big one. Using a traditional, circuit-based phone system can eat away at your company's finances on a monthly basis. Many phone companies hike up the prices without warning their customers about it.
Choosing a hosted VoIP provider guarantees you the same fixed monthly fee for using their phone system services, with the option of upgrading to a variety of premium packages, should you need to expand your UC capabilities.
Additional Features
When you pay a phone company to set up a PBX system that uses traditional PTSN communication technology, you pretty much only pay for the possibility to call people, answer incoming calls, and use phone extensions and call routing for the telephones within your office.
For that same price (or even less), a hosted PBX system will give you access to a wide plethora of additional, advanced features, such as softphones (a mobile app that makes your smartphone part of the office network), audio conferencing, video calling, presence, instant messaging, and much more.
Less Clutter
Setting up an on-premise, business VoIP system usually comes with having to deal with a whole lot of hardware and cables being brought into the office. The same goes for traditional PBX – if you run a small business with limited office space, every square inch matters.
One of the biggest benefits of a hosted VoIP service is the fact that all of that unnecessary clutter is hosted on a data center located offsite, and you just need a stable internet connection to use it.
Streamlined Office Communications
By using a hosted VoIP phone system, you eradicate the need for complicated call routing techniques and long waiting times.
All of your company's communication channels will run seamlessly, and with VoIP softphones, you'll get all of the same features as you would with traditional desk phones by simply installing an application on your employees' computers and mobile devices!
Learn More About Yeastar Superior Hosted VoIP Services Today!
Yeastar cloud-based hosted VoIP solution is a unified communucations solution that converges voice, video, meeting, applications, presence, instant messaging, call center, and more for organizations of all size and industries to keep teams and customers connected and transform business communications.
Act fast and save yourself and your company hundreds of dollars a month by hosting your phone system!
Sign up for 30-day free trial to experience the ins and outs of Yeastar P-Series Cloud Edition! No credit card needed. Instant activation.