BACK
Contact Center 101: What It Is and How Does It Differ from Call Centers
5.3 min read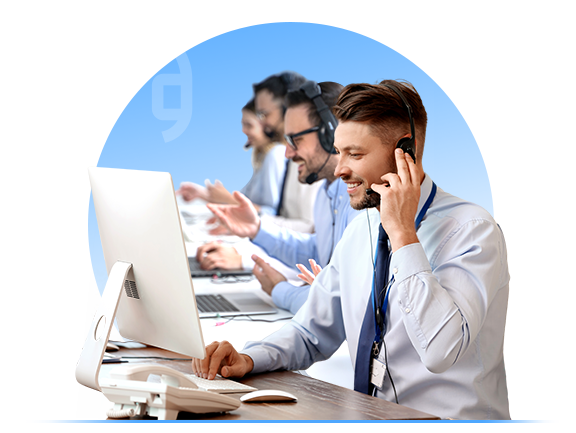 Call centers play a vital role in companies that prioritize customer experience (CX). As customer expectations continue to rise, organizations are finding new ways to connect with them, and this has caused many companies to switch from call centers to contact centers.
In this blog post, we'll delve into the world of contact centers, explaining the definition, benefits, key features, and how they differ from call centers.
What is a contact center, contact center software, and CCaaS?
What's the difference between call centers and contact centers?
Key contact center features
Benefits of having a contact center
How to adopt a contact center solution?
What is a Contact Center?
Contact centers are groups of agents or departments in organizations. They handle customer inquiries and provide support through various channels, which include phone, email, chat, and social media. In other words, contact centers go beyond just voice; they also support digital methods of communication, which enable customers to contact a vendor and seek assistance via their preferred channel.
Below are explanations for more contact center-related terms:
Contact Center Software
Contact center software refers to a suite of technological tools and applications used by organizations to streamline the operations of their contact centers and enhance customer experience. It provides a central interface for agents to efficiently handle customer interactions from various communication channels.
Contact Center as a Service (CCaaS)
Like UCaaS, Contact Center as a Service (CCaaS) is a cloud-based model providing businesses with the necessary infrastructure and software to run their contact center. Instead of investing in and managing their own on-premises contact center infrastructure, companies can leverage CCaaS to access all the necessary tools and resources through the cloud.
Contact Center vs. Call Center – What's the Difference?
Call centers and contact centers deliver customer service in different ways, and decision-makers must grasp the differences to determine which is the best fit for their business goals.
As its name implies, call centers handle customer service over the phone, both inbound and outbound. Contact centers, on the other hand, facilitate a wider range of communication channels, including but not limited to voice. Such as web chat, SMS texting, email, social media, and more.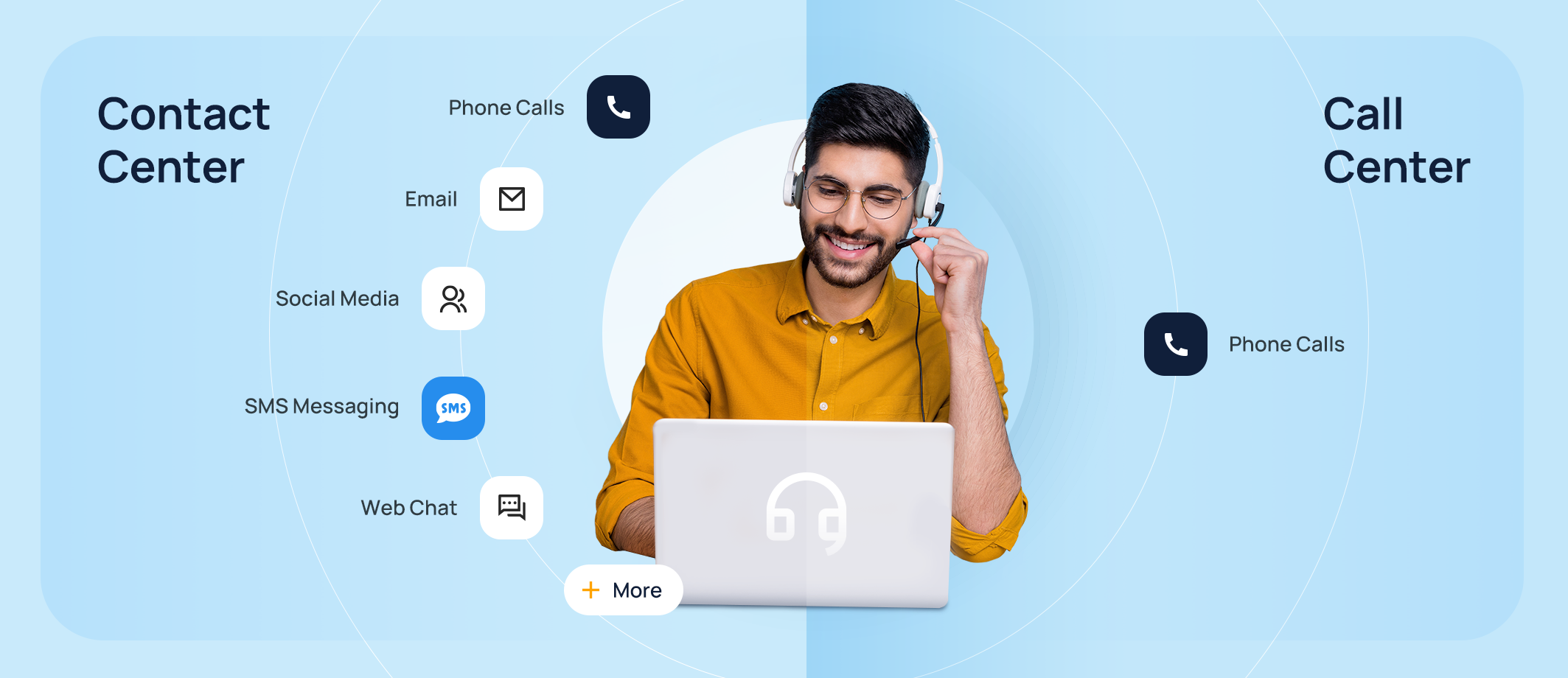 Nowadays, customer expectations have skyrocketed; not only do they expect swift responses but also want to reach out to vendors using their preferred communication channels, whether it's phone calls or live chat. Therefore, establishing a contact center allows your company to provide more options for your customers to get in touch and boost customer satisfaction.
You can better understand the key distinctions between these two facilities by referring to the comparison chart below:
Call Center
Contact Center
Communication Channels
Concentrate mainly on voice calls
Support more channels besides voice calls, such as email, live chat, SMS texting, social media, and more
Customer Interaction
Voice-centric
Omnichannel
Main Purpose
• Call-based Customer Support: Address inbound customer queries and provide assistance through phone calls
• Telemarketing: Make outbound sales calls to promote products or services and reach potential customers
• Upselling and cross-selling
• Omnichannel Customer Support: Assist and engage with customers through various communication channels
• Sales Marketing: Generate leads and launch marketing campaigns through outbound sales calls or through digital channels like social media and SMS messaging
• Upselling and cross-selling through multiple channels
Customer Experience
Focused on delivering satisfactory and prompt phone-based customer service
Emphasis on providing a seamless and consistent customer experience across different channels
To sum up, while a call center may be a good fit for your company to handle customer support and manage inbound phone calls, having a contact center can provide a more comprehensive and customer-centric approach that better serves the diverse needs and expectations of modern customers.
Key Contact Center Features
Contact centers offer a host of features to efficiently manage customer interactions and deliver exceptional customer service. Some of the key features include: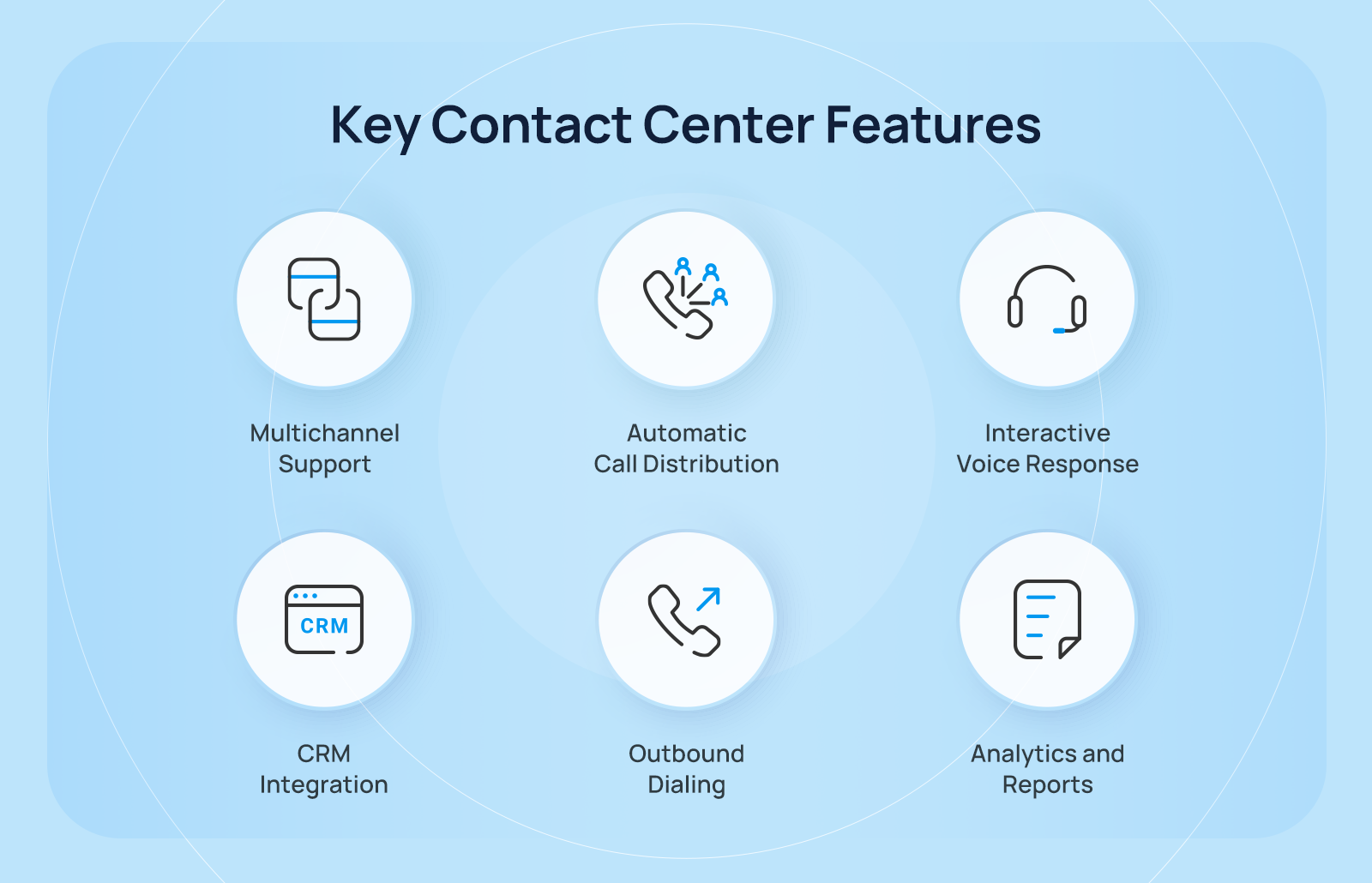 Multichannel Support
In addition to phone calls, contact centers also support digital channels to provide customers with more options to get in touch with your business. These digital channels often include email, web messaging, SMS messaging, and social media like Facebook Messenger and WhatsApp.
Automatic Call Distribution (ACD)
Automatic Call Distribution (ACD) is a vital component of contact centers used to improve call-handling efficiency. It automates the process of routing calls to the most appropriate agent based on predefined rules and criteria. Key functionalities include IVR, skills-based routing, and queue callback.
Interactive Voice Response (IVR)
Interactive Voice Response (IVR) is widely used in contact centers to automate customer interactions and provide self-service options. Whether it's speech-enabled IVR or the traditional type that requires keypad inputs, customers can be promptly routed to the most appropriate agent and save time.
CRM Integration
Integration with Customer Relationship Management (CRM) software allows agents to access customer information, interaction history, and relevant data and get a comprehensive view of the customer's journey, enabling personalized and informed assistance.
Outbound Dialing
Outbound dialing is crucial in contact centers as it enables organizations to proactively reach out to customers or prospects through phone calls. It helps agents automate the outbound calling process and maximize the number of calls your team can handle in a day. Some of the key dialing techniques include proficiency dialing, progressive dialing, and preview dialing.
Analytics and Reports
Analytics and reporting capabilities are crucial for contact centers to measure agent performance, track key metrics, and gain insights into customer interactions. Detailed reports and real-time analytics will reflect monitor service level agreements (SLAs) and customer satisfaction scores.
Benefits of Having a Contact Center
Having a contact center for customer service has many advantages for organizations, and these benefits not only lead to satisfied and loyal customers but also contribute to the overall growth and success of the organization. Here are some key advantages: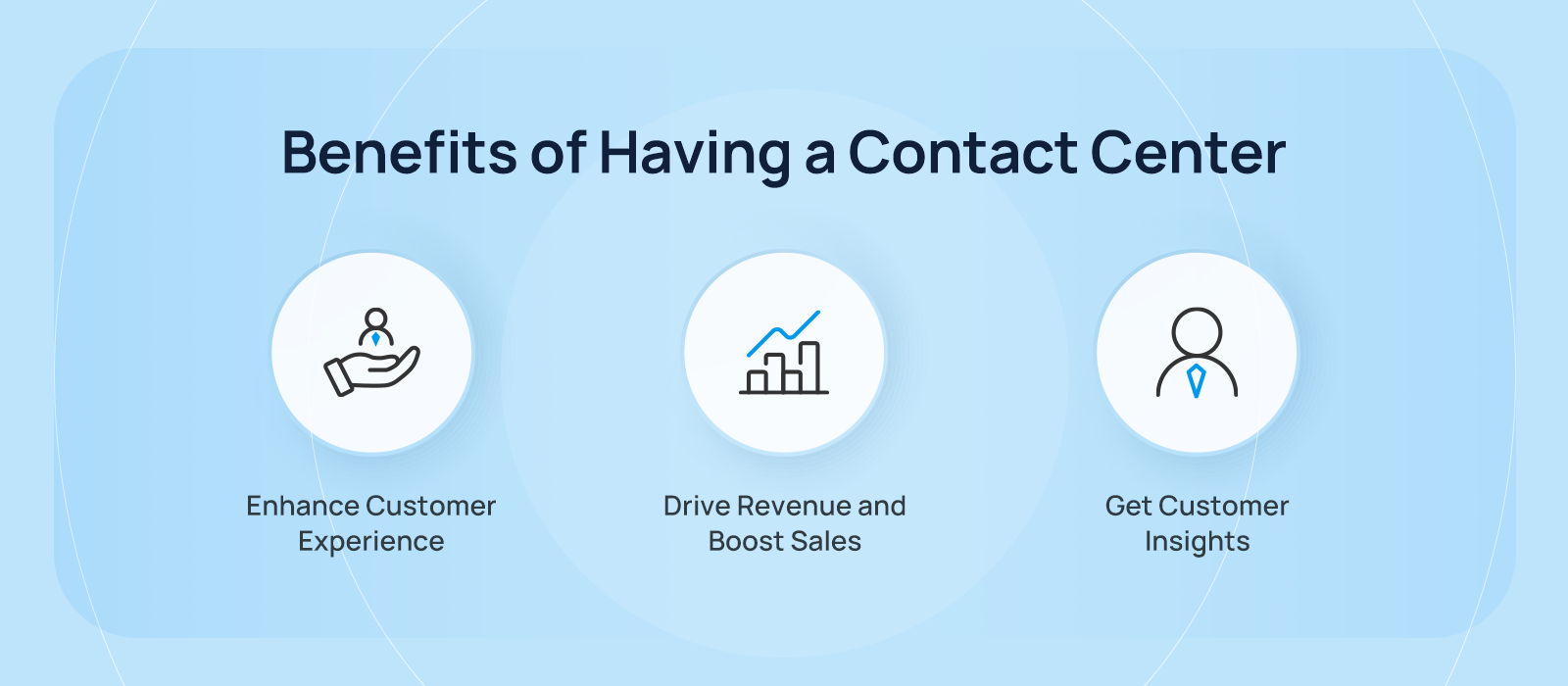 Enhance Customer Experience
One of the significant advantages of having a contact center is being able to offer omnichannel customer service. While some customers prefer email and online chat, others may favor the immediacy of a quick phone call. Contact centers ensure your consumers will always receive timely service regardless of the channel they choose to reach out to you. Meeting customers on their preferred channel also helps improve overall customer experience and build long-term customer loyalty.
Drive Revenue and Boost Sales
Contact centers offer a wider range of communication channels to engage with your customers, creating more opportunities to reach out to customers and boost sales. For example, contact center agents can nurture and convert high-potential leads generated through website chats, social media inquiries, and targeted upselling and cross-selling marketing campaigns.
Get Customer Insights
Contact centers can generate valuable data from customer interactions. Businesses can use this information to segment buyers, enhance customer profiling, and then tailor customer support accordingly. You can even integrate CRM software with contact centers to collect more data and achieve a seamless customer experience.
How to Adopt a Contact Center Solution?
If you're considering implementing a contact center to improve customer service, there are two common solutions on the market. Based on your specific goals and budgets, decide which one is best for your organization:
Integrate with Your Existing UC Platform
The first option available on the market is to choose a contact center software that can be fully integrated with your existing unified communications (UC) platform. The integration is typically achieved through APIs, enabling real-time data exchange between the two platforms. The most significant advantage of this method is you can preserve your current communication infrastructure and reduce costs while expanding your capabilities to provide enhanced CX. However, agents and employees navigating more than one interface may cause inefficiencies in daily operations.
Choose a One-Stop Solution
A better and more convenient option is a one-stop solution that integrates UC and contact center functionality into a single platform. One potential disadvantage is that it has higher upfront expenses, but a comprehensive platform helps foster tighter teamwork and enhances overall efficiency.
Agents can access a holistic view of each customer's interactions and provide a consistent experience, and web chats can be easily elevated to a voice/video call to assist customers more effectively. Also, they can communicate with other specialists on the team through the system if consulting is needed. For administrators, choosing a one-stop solution means simplified system management and maintenance. Besides, relying on a single vendor can result in a quicker resolution of any technical issues that may arise.