BACK
Compatible Yealink Phones with Yeastar VoIP PBX Systems
3.2 min read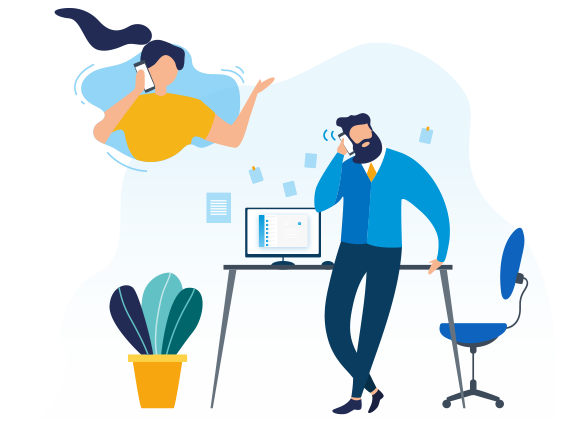 This blog is updated on April 29th, 2019.
As a channel partner, IT professional or business owner, you've spent a lot of time thinking about the right VoIP PBX for your situation. You understand how the VoIP PBX functions, the feature set, voice prioritization on your network, and QoS on your LAN and WAN. You are the expert. Whether you like it or not, you are the one with the deep (or best) understanding of how the entire systems fit together within the operation.
Your users, however, do not. They've never been in a telco closet, run cabling or been involved in the planning of a new phone system deployment. Most often, all a VoIP PBX system user sees of the system is the phone that sits atop their desk. Which can cause trouble for you, the expert, because oftentimes disappointment with handsets becomes disappointment with the VoIP PBX system.
This makes it crucial that your everyday system end users have the right VoIP Phone.
Luckily, with Yeastar P-Series PBX System, S-Series VoIP PBX, and Cloud PBX, you can choose from a wide variety of VoIP phones from industry leader Yealink. Yealink has been a leading manufacturer and long-standing partner of Yeastar for a decade, providing innovative VoIP phones for customers across the globe.
Thanks to this long-standing partnership, all Yeastar VoIP PBX systems, either cloud-based or on-premise, work with Yealink's VoIP phones, with auto-provisioning capacity available directly from the PBX's web interface. This makes set-up and uses amazingly easy.
Your options: Best Yealink Phones Models for Different Users
For Normal Phone Users
There might be some range in what a "normal" user requires, but in general, we're talking about the folks in accounting, engineering, marketing, and even sales. These users often only require the basic phone features, since their day is not always dominated by telephone calls.
This means that you don't need to spend a lot (unless you want to) on these VoIP phones, so for less than $100, you can outfit each desktop with following Yealink IP phones:
Oh, and don't let the price fool you, these phones are built to last, just like the P-Series PBX System, S-Series VoIP PBX, and Cloud PBX.
For Managers or Executives
Getting the right VoIP phone for a manager or executive is often more about fit and finish than features and functions. Many managers and executives, especially as they rise in the ranking, prefer higher-end VoIP phones, often with color and or touchscreens.
Yeastar P-Series, S-Series, and Cloud PBX support the Yealink SIP-T27G, SIP-T29G, SIP-40P, and SIP-T48G, which offer sleek designs and all the bells and whistles you could want. They also come with goodies that every manager or executive wants – HD audio and a speakerphone.
For Receptionists and Secretaries
Receptionists and secretaries, outside of call center workers, get the highest volume of calls.
This makes their needs in a VoIP phone specific to easily managing a large number of calls. In order to handle this heavy load, Yealink offers the SIP-T46G with an EXP expansion sidecar that gives a receptionist or secretary up to 120 line appearances.
If you're not dealing with these many calls, the SIP-T27P with the EXP39 expansion sidecar offers a more economical solution, with less total line appearances.
For Conferencing
Video Conferencing is one of the most efficient ways of business negotiation and communications. Yealink conference phones allow executives to join a video conference from their own office desktop or even from home without moving to a fixed conference room, saving time and increasing convenience and efficiency.
Yeastar S-Series and Cloud PBX supports SIP VP-T49G Desktop Video Phone and SIP VP-T58V Desktop Video Phone to deliver productivity-enhancing visual communication with the ease of a standard phone and crystal clear voice quality.
Audio conferencing is critical as well. Yealink audio conference phones like CP860, CP960, and CP920 are supported by Yeastar S-Series VoIP PBX.
For Other Areas of the Office
Many forget about common areas and the kitchen when deploying a VoIP PBX, but you shouldn't! Yeastar offers the SIP-T19P E2 that's a perfect fit for these areas. While not as important as other types of VoIP phones, you should consider equipping your office, especially if it's larger, with a few additional phones for convenience. You never want to miss a call!
All Yeastar PBX Supported Phone Models
Remember, each of these options is fully compatible with the Yeastar S-Series VoIP PBX and Yeastar Cloud PBX, and most are compatible with the P-Series PBX System. But they are not the only options. Yeastar also supports auto-provisioning with many other Yealink phone models and other mainstream Phone brands like Snom, Vtech, Cisco, Fanvil and etc.
For a complete IP Phones list supported by Yeastar PBX, please check here.
Plus, when combined with a Yeastar VoIP gateway for PSTN connectivity, gives you a complete VoIP PBX system solution for small and medium-sized organizations, making it easier than ever before to deploy a solution.