BACK
5 Surprising Benefits of Desk Booking System
3.0 min read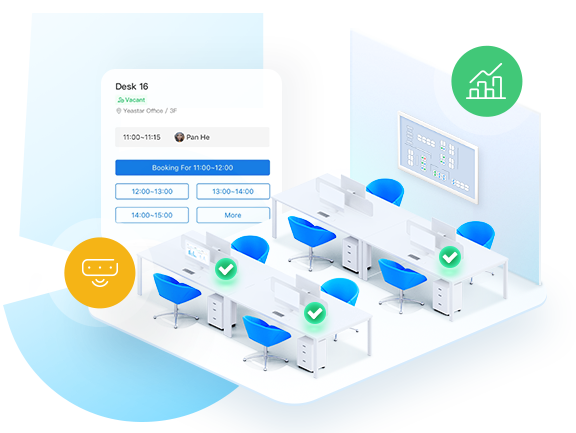 Considering a hybrid working model for your company? With workplaces prioritizing flexibility in the post-pandemic, 55% of executives plan to adopt this model according to PwC. To meet this need, companies are adopting hot-desking and desk hoteling solutions, along with user-friendly desk booking systems, to optimize office space and manage desks effectively.
What is a Desk Booking System and What Can it Help With?
A Desk Booking System is a digital tool that enables individuals and teams to effortlessly book available desks, control access and track usage in real-time. It helps companies to optimize worksplace utilization, reduce real estate costs, and enhance flexibility for employees.
What are the benefits of Desk Booking System?

A Desk Booking System holds great potential for creating a stress-free workplace, benefiting both companies and employees. It can generate significant benefits for employees and companies when utilized effectively. Here's a look at five of them.
Optimized Office Space
Look around your office, how many seats are empty right now? JLL reports that 54% of office space is wasted on a typical workday. A desk booking system can optimize your company's space by making unused desks available for other staff when some employees work off-site or at home in a hybrid model. Your team can work where they are most productive, making the best use of available space while avoiding unnecessary costs.
Increased Flexibility
Did you know that 85% of respondents reported increased productivity due to flexible working? Desk booking systems enable employees the flexibility to choose where they work, move around the office and collaborate easily, leading to improved satisfaction and productivity. Companies that implement desk booking systems see a 21% increase in employee productivity, according to CBRE .
Improved employee productivity and focus
Flexibility at work is a powerful tool for boosting employee efficiency and focus, with the potential to increase productivity by 29% and enhance the ability to concentrate by 53%. Desk booking systems make it easy for employees to find their preferred workspace that reduces stress and promotes satisfaction.
Significant Cost Savings
Agile working practices offer businesses a significant opportunity to cut real estate costs by up to 30%. The Desk Booking System plays a crucial role in achieving this by efficiently utilizing office resources. One of its key benefits is that it allows businesses to accommodate more people with fewer dedicated workspaces, leading to cost savings.
Streamlined Resources Management And Cleaning
With desk booking systems in place, managing resources becomes a breeze. It helps company automate desk bookings by creating booking rules based on office policies, ensuring that employees always have access to the right desks when they need them. Furthermore, the cleaning services can also be schedule based on desk reservations and ensuring regular cleaning of surfaces.
What Should You Look for in a Desk Booking System?
Choosing the right technology for your workplace's desk booking is crucial. Here are some key features to consider when selecting a desk booking system:
A user-friendly interface that allows for easy reservations.
Customizable booking rules for effortless management.
Integration with sensors for real-time data on desk utilization.
Desk utilization insights to plan ahead and optimize workspace efficiency.
One Desk Booking System that ticks all the boxes is Yeastar Workplace Desk Booking System, a standalone solution designed to optimize office space utilization and enhance employee experience. This system provides a user-friendly interface that enables employees to book their preferred desks or workstations on a interactive map and track usage patterns. Integrated with e-ink desk screen and desk occupancy sensor, employees can get the real-time availability and find the best desks for their needs easily.
With Yeastar Workplace Desk Booking System, employees can easily book desks in a few simple steps:
Step 1:

Click on map or search for desk by availability, proximity, or capacity.

Step 2:

Select the length of time they need to reserve the desk for.

Step 3:

Check in when they arrive.
Conclusion
Desk Booking System is a must-have tool for any modern workplace, especially in the age of hybrid work trends. This system offer businesses a flexible and efficient solution to manage their workspace effectively while also accommodating the changing work habits of their staff.
Yeastar Workplace Desk Booking System stands out as a top choice for businesses looking for a reliable and user-friendly Desk Booking System. With Yeastar Workplace Desk Booking System, businesses can maximize their office space utilization and create a more productive and enjoyable workplace environment for their employees.
Start a free trial or request a demo to check out all the benefits!