BACK
Channel Partners: 8 Reasons Why You Should Choose Yeastar
6.3 min read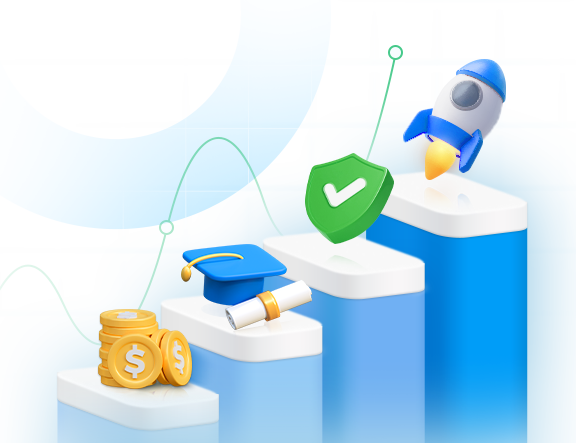 2022 study revealed that the global unified communications market is expected to reach USD 222.61 billion by 2030, while the larger digital workplace market continues to grow over 22% per year to reach 397.8 billion in 7 years. As a reseller, system integrator, MSP, or VAR looking to seize the growing opportunities, finding the right partner with the right solutions is the key to put yourself on a clear path to expand revenue – all the while increasing customer satisfaction and loyalty.
Yeastar offers the best-in-class Business Phone Systems, reputed Workplace Management solutions, and the Xcelerate Partner Program that prioritizes your business goals to make it simple to grow your business. Our solutions are trusted by over 450,000 customers worldwide and is making over 9,000 channel partners successful many years down the road.
Here are 8 major reasons to partner with Yeastar.
1. Industry-leading UC & Workplace Management Portfolios
You only want the best for your customers, because your reputation and revenue are directly tied to the solution you deliver. Yeastar has been on the cutting edge of modern business communications technology since 2006 and a leading provider of UC solutions and an innovator of workplace management solutions.
We have worked with a number of major vendors in the industry, and none of them compare to the excellent support and feature-rich solutions we receive from Yeastar.

Steve Dahl, CEO at Computer Zen
Easy-first Unified Communications and PBX Systems
When partnering with Yeastar, you get the ability to sell cloud, on-premises, software, or
hybrid business phone system with proven reliability and performance.
The flagship Yeastar P-Series PBX System helps you stand out from the competition by not only fulfilling daily business needs but generating demands with innovative features built for business efficiency. From all-inclusive PBX features, video, and message, to smart product designs like visual call operator panels, call center consoles, remote management, and outstanding popular integrations, Yeastar P-Series PBX powers the ease of use and productivity from every aspect—for both you and your customers.
Easy to use with all communications live in a single app: desktop, mobile, and web.
Flexible deployments with one system in three editions: Appliance, Cloud, and Software.
Easy to manage for partners thanks to the innovative Yeastar Central Management and Remote Management tool.
30-day Free Trial: Yeastar P-Series PBX System
Flexible-first Workplace Management Solutions
Capitalize on the unique and soaring opportunities of workplace transformation. In addition to UC, Yeastar also offers simple yet powerful workplace management solutions—Yeastar Workplace—to help companies create a flexible, productive, and collaborative workplace.
Whether you need a meeting room scheduling solution, a desk booking system, or a visitor management system, you meet all your needs with one simple Yeastar Workplace platform. The solution can be available as a single cloud-based software, or coupled with hardware such as digital screens and sensors to meet different business needs.
Video Demo: See Yeastar Workplace in Actions
2. Outstanding Margin and Revenue Opportunities
Sky's the limit for your earning potential. Yeastar Xcelerate Partner Program offers you both upfront and recurring earning opportunities with the business model of your choice. From one-off purchases to subscriptions, turnkey package to pay-as-you-go, or SaaS to on-premises, you get the ultimate flexibility to do the business your way and have complete control of your customers.
On top of the industry-leading margins, there are also rewards, incentives, promotions, project discounts, and region-specific programs for your consistently enhanced profits.
We chose Yeastar for its price and performance ratio. It has a very attractive price for the performance it offers.

Paolo Montarolo, CEO at IRIDESGROUP SRL
3. Pilot UCaaS Sales with Yeastar Central Management
If you wish to tap into the Hosted PBX market with the least investment and faster time-to-market, look no more! Yeastar offers partners with exclusive Yeastar Central Management (YCM) platform that puts UCaaS service delivery & management on autopilot.
You don't need to invest in any server infrastructure, right with a few clicks on YCM, you get to create and deliver a Cloud PBX to your end customer. The platform's built-in PBX management, auto PBX provisioning, real-time PBX monitoring, alerts, and task management features allow you to stay in control of your business in a clear and nearly automated manner.
4. Expert Support and Exclusive Remote Management Tool
An efficient support system is also what makes Yeastar stand out. You can reach Yeastar dedicated support team directly by phone, chat, or email, and get access to the premium Yeastar Remote Management tool, which saves you extensive workloads in offering direct, tier-1 technical support for your customer-premises PBX devices and gateways.
Use the platform to remotely auto-provision, configure, centrally monitor, and troubleshoot your customer-premises Yeastar devices securely even if they don't have public IPs. Get immediate notifications when issues occur and quickly take control without having to travel to the equipment.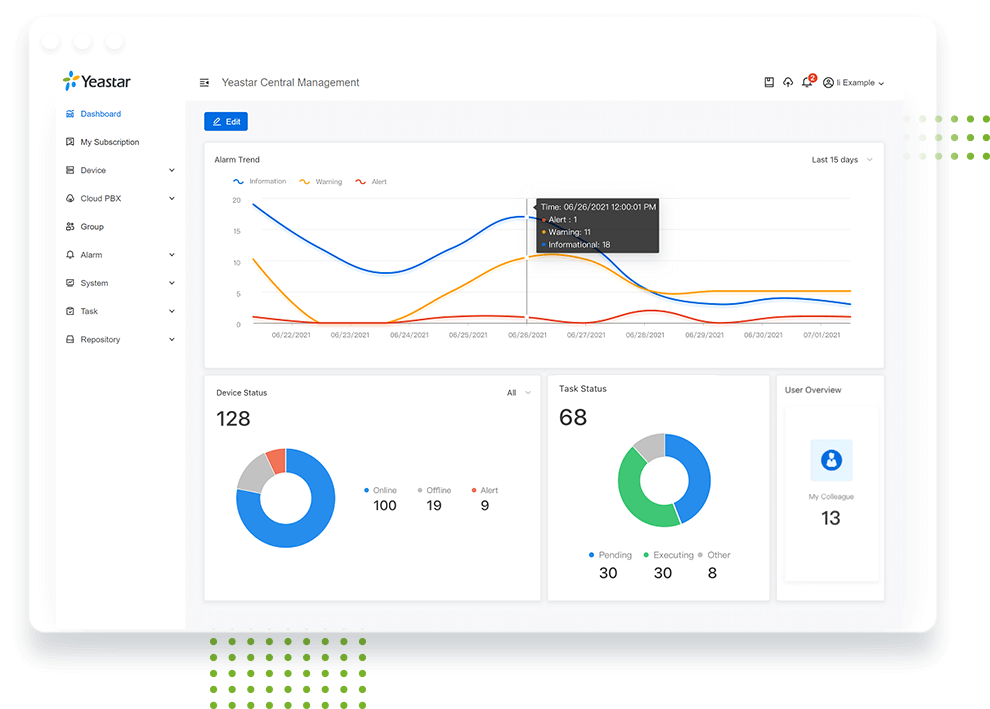 5. Get access to Yeastar Partner Portal for all things Yeastar
Yeastar's dedicated partner portal gives you a clear overview of where you stand and offers you all the business tools, promotional materials, and support you will need to help you maximize your earning potential.
It's your business helper. Use the portal to get real-time insights into the devices & subscriptions you purchased or sold, check your pricing, place an order, track transactions, and register your projects to get exclusive deal protection and support. Forget about long email correspondence, you get the tools to keep track of what matters in seconds.
It's your resources center. Search and access all the Yeastar documents, marketing materials, and promotions that assist with generating leads and closing deals in a single pane of view.
6. 1:1 Partner Onboarding, Free Training, and Certificates
Your experience with other vendors may have taught you that the learning curve for a new system is steep. However, this is not the case with Yeastar.
As a Yeastar partner, you receive personalized 1:1 onboarding and comprehensive sales and technical training from day one.  Yeastar Academy offers level-based certificate courses and self-paced video tutorials that provide in-depth product knowledge and skills to help you and your team get up to speed quickly. Additionally, regular online webinars ensure that you always stay informed about the key market opportunities and Yeastar differentiators.
Yeastar has been an excellent resource providing great support from sales to implementation and troubleshooting, resulting in our resellers and sales team having excellent knowledge of the products and market, and the product itself has performed above our expectations.

Kelvin Seah, Channel Sales Manager, One-Net Communications Pte Ltd
7. Dedicated Assistance in Local Marketing 
Yeastar partners can take advantage of a toolbox full of documentation and customizable marketing materials & proposal-based Marketing Development Fund (MDF) to both educate end customers, develop localized activities, and promote their services. The marketing assets include product sheets, presentation slides, email templates, ebooks, and much more.
Yeastar is the company that supports our marketing for growing pipeline and is open for participating in our meeting with clients. Yeastar also always provides us with excellent service and helps us to boost our business every day.

Magdalena Szydłowska, Project Manager at Acnet
8. 100% Channel Focused. We Support You Every Step of the Way.
When we say "channel-only", we mean it. Yeastar never sells direct to customers or competes with partners. Instead, we invest in partners' growth. Partners get to avail Yeastar's people resources across sales, marketing, professional services, and post-sales to grow their pipeline from day one.
Channel Sales Managers focus on your ongoing success with top-of-the-line support, from quote to implementation and beyond.
Pre-sales Engineers are experienced at building the tailored, complex solutions we offer. They bring knowledge to help you close projects.
Dedicated Tech Supports offer direct personalized tech support to ensure that your technical issues are resolved in a satisfying, efficient manner.
Training Experts enable and train partners to win with Yeastar solutions. They also help engage and educate your prospects via customized joint webinars.
Regional Marketing Specialists engage with you to develop targeted & localized marketing plans for solution launch, demand generation, and lead conversion.
Product Development Teams collect and take your specific product needs into our continuous roadmap development and ongoing product updates.
It's an amazing adventure and journey to represent vendors like Yeastar which is dynamic, innovative, and always leads the way with the newest technologies.

Sonny St-Pierre, President at Tango Nordik Distribution
Next Step
When you partner with Yeastar you are partnering with a UC leader & Digital Workplace innovator who is innovative, responsive to the changing market landscape, and has a proven track record of delighting partners and their end customers.
If you're not already a Yeastar partner or would like to get more details about our partner program or products, simply reach out to us. We are always ready to help maximize your earning potentials!