What is visitor
management kiosk?
A visitor management kiosk is a display or tablet placed at the entrance of a building. It often works with a company's Visitor Management System to manage visitors and automate the visiting process. The visitor management kiosk creates a great guest experience while minimizing staff workload.
What can visitor
management kiosk do?
Provide self-service check-in for pre-registered visitors
Send out notifications to relevant personnel when visitors check in
Ask visitors to enter information to comply with COVID restriction policies, compliance or security requirements
Display a visual interactive floorplan to guide visitors
Print visitor badges directly or via an integrated printer
Custom branding to show the company logo, policies, and other rules
Integrate with the access control system to grant access to specific areas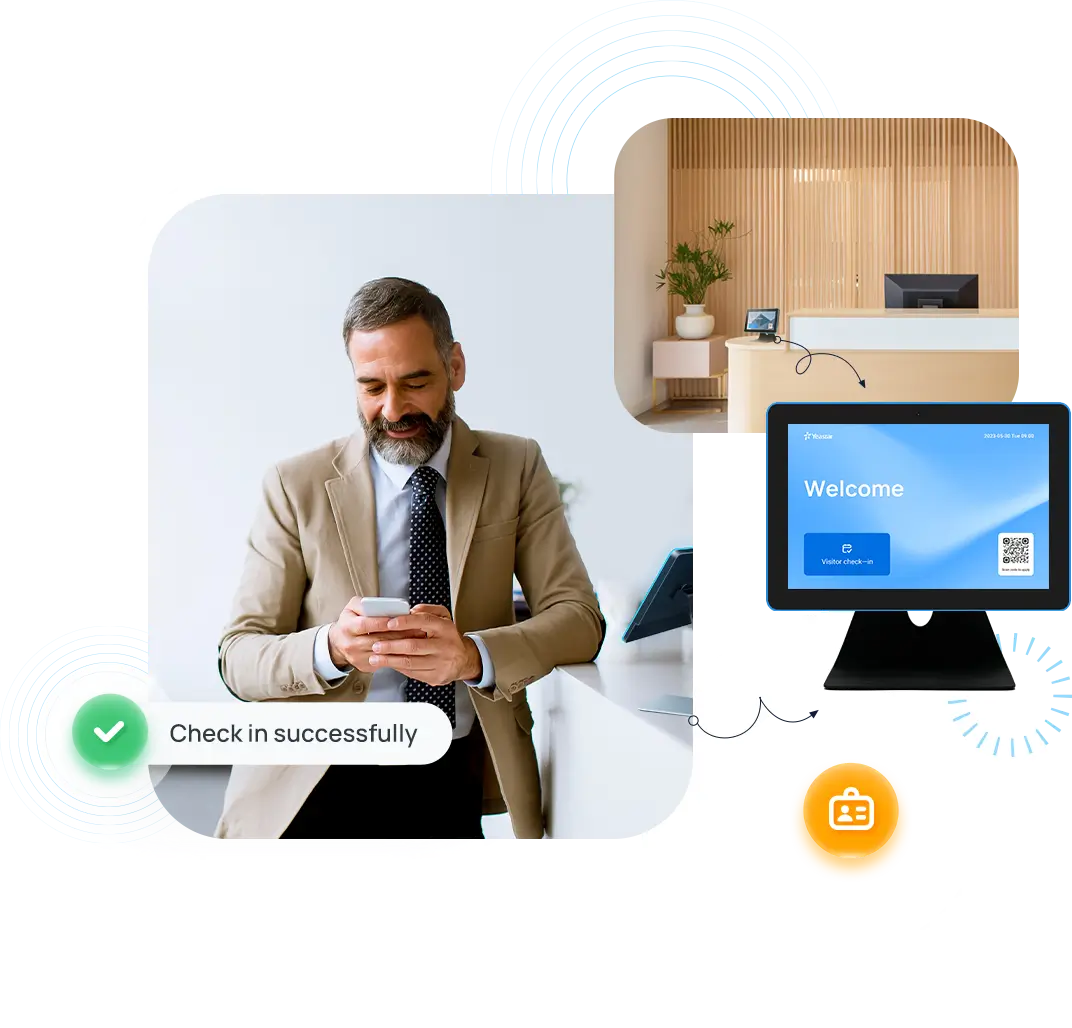 Visitor management
kiosk benefits
Streamline the visiting process and minimize administrative burdens
Impress your visitors with an efficient and customized journey
Pre-register visitors to ensure workplace security and Workplace safety
What are the types of visitor management kiosks?
There are different types of visitor management kiosks available, depending on the needs and preferences of the facility. Here we take Yeastar Workplace visitor kiosks as example to explain.
Touch Screen Kiosk
Touchscreen Kiosk are digital signage thats pursely-built for visitor management system. This is a more advanced and integrated option that include built-in camera, QR code scanner, and other features.
For example Yeastar Visitor Screens are digital visitor kiosks that can work with Yeastar Visitor Management System to allow visitors to register and check in at the lobby. Available to be installed with tabletop stands or wall-mounted, they come complete with 10.1" or 15.6" touchscreen, builtin QR code scanner, camera, and Yeastar Visitor Check-in App to expedite the sign-in process, screen visitors, and protect your workplace.
Visitors can scan the QR code on the touchscreen to complete the check-in flow from their personal device, or enter the visitor digit code (for preregistered guests) to complete the sign-in in seconds. The visitor screens connected to Yeastar Visitor Management System and automate daily tasks such as host notification, visit approval requests, badge printing, visit logs, etc., giving you and your employees a full line of sight to every single visitor entering your facility.
iPad Kiosk or Tablet Kisok
This is a simple option that uses an iPad or Android tablet as the interface for visitors to enter their details and scan their ID. The iPad can be mounted on a stand or a wall, and can be connected to a printer or badge maker.
Take Yeastar as an example, it provides an flexible visitor kiosk app, so users have the option to use their existing iPad or tablets as a part of their visitor managment system.