BACK
Yeastar S20 Reviewed by GetVoIP
2.4 min read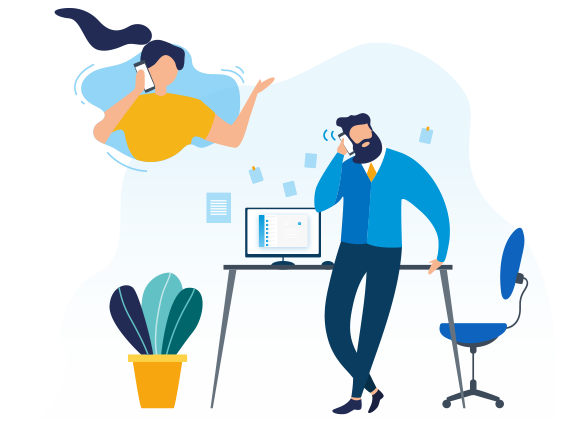 We sent a Yeastar S20 IP PBX to Matt Grech at GetVoIP to take a test run of our new phone system to see what he thinks.
The S20 is part our brand new S-Series VoIP PBX systems for small and medium enterprises. We designed the S-Series to be field-upgradeable so that you can avoid ripping out and replacing your entire telephony platform.
The S-Series features a scalable modular design, allowing you to increase the number of users, call capacity, or even change the type of telephony connection as your needs or application changes.
The S20 supports 10 concurrent calls and is perfect for small businesses with less than 20 users.
Even though it's the entry-level model, the S20 is still a "powerful package," says Grech, "with support for almost any connection, from SIP/IAX to E1/T1, and even cellular networks and connections to the PSTN."
Setup with Nextiva SIP Trunk
The backbone of the S20 is Asterisk 13 which is connected to an intuitive and easy to use GUI.
Grech explains that setup is simple and that it should only take a business a few hours to set up.
In this review, Nextiva provided the SIP trunk and got the S20 registered in a matter of minutes. After that, Grech explains his experience navigating the GUI (pictured below) which was accessed from a desktop icon on his computer.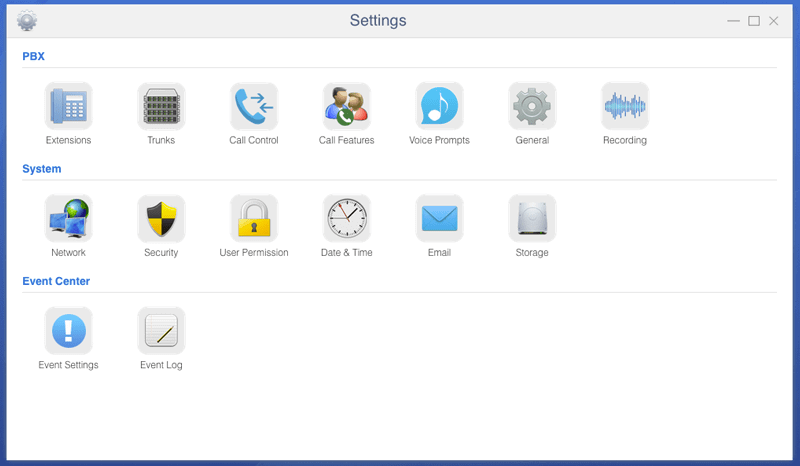 "After that, it was just a matter of accessing the IP phone's online web portal, and anyone familiar with provisioning an IP phone will understand this process – simply log into the phone's web portal and plug in the necessary information," writes Grech.
Settings – Extensions, Trunks, Call Controls and Features, Call Recording, Voice Prompts
Yeastar gives you complete control of how you want your phone system to be set up with an easy to use GUI, that can be accessed from any web browser.
"The PBX settings allow you to make changes to your extensions, trunks, and call controls, call features, and even recording or voice prompts," writes Grech.
You  can also configure network, security, user permissions, storage and email settings.
Get Alerts from the Event Center
"One unique feature that really stood out to me was the addition of an Event center," said Grech.
The Event Center can be controlled from the settings page on the GUI.
"With the Event Log system, administrators can instantly be alerted through email, SMS, or even a phone call when a specific event happens," explained Grech.
Latest Technology, Loads of Features
Grech also talks about the latest technology that's powered the S-Series PBXs.
We've included quality components from the NXP industrial grade chipset, to the Samsung RAM, and Toshiba flash memory to make the S20 perform at optimum levels.
And the Asterisk 13 operating system provides a long list of features to satisfy any business need.
You don't have to have a hosted phone system because "The easy to understand GUI makes it easy for even the least tech-savvy business owner to set up and keep track of their phone system, while providing a full list of features to rival more expensive subscription-based services," says Grech.
"With a strong focus on channel partners, Yeastar can now empower those providers, or even business owners, to provide the cost-effective solution that fits their needs, whether that's in a simple office, or miles off the coast on an oil rig," Grech said.
Click here to read the full GetVoIP review by Matt Grech, Yeastar S20 Review: From Unboxing to Dial Tone.
Read More:
You might also be interested in:
[Customer Testimonial]
Customer Won't Lie: A Huge Win with Yeastar S-Series VoIP PBX