BACK
UC Mobile Client Checklist: How to Identify the Right Solution
4.6 min read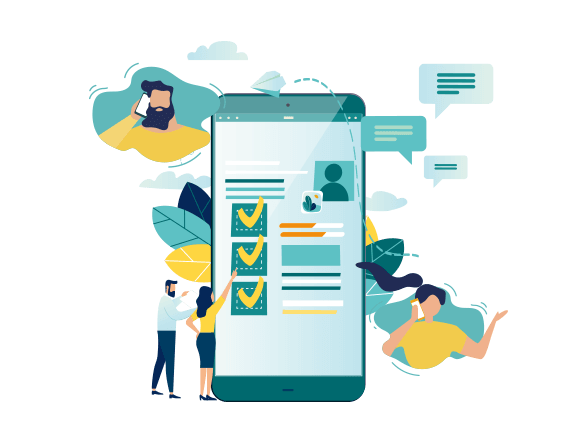 Whether roaming your facility, the country, or the globe, today's business waits for no-one: mobile communications drive new efficiency and keep your team connected.
In seeking the productivity promised by an "always-connected, always-collaborating" and increasingly mobile workforce, organizations today are turning to the capabilities of Unified Communications and Collaboration (UC&C) offers. As a result, mobility solutions are booming; "Bring Your Own Device" is becoming commonplace; the mind-set of "Is there an app for that?" is prevalent. Just like overnight, all communications providers seem to have a mobile-ready UC&C solution that includes rugged mobile clients to handle communications in always-on retail, healthcare, transportation, and other mobile-centric business environments.
But are these offerings all truly UC&C and mobile capable? Are they sugarcoated with gaudy features? How to make the right decision among a ton of free and paid UC mobile clients & solutions available in the market?
This blog offers a simple 2-step checklist for you to find a truly business-ready mobile UC&C solution and UC mobile client to meet the demand of your modern mobile workforce.
---
Step 1: Mapping out the Right Mobile UC&C Strategy
Every company has different business needs. And each of its functional teams has unique processes and ways of communicating, requiring businesses, especially small businesses with a limited budget, to consider all of the various components when unifying mobile communications. An evaluation of the roles and workflows of different departments will determine how a UC&C solution and UC mobile client can best serve your road warrior to boost productivity on the go.
Start by determining the answers to the following fundamental questions:
How many mobile workers do you have now? ( Whether out in the field or in the office building)
Does your organization support BYOD policies?
What BYOD devices (iOS/Android Phones, PC, Tablet) do your employees often use? And what is the proportion?
What business applications do your mobile employees use daily? (These may include CRM, Contact Center, Hotel PMS, online conferencing tool, etc.)
Are you looking to consolidate vendors or applications to reduce costs?
What features of a mobile-ready UC&C plan are most important to your business?
Businesses do not typically think deep when it comes to communications features. By asking discovery questions to uncover pain points and align functional needs with strategic goals, it'd be easier to narrow down the options.
---
Step 2: UC Mobile Client: Must-have Features
Today's business mobile communications are rarely just a point to point voice call. An interaction can start with presence and instant messaging, only to escalate to conferencing or full unified communications and collaboration. Therefore, when you're considering a UC mobile client for your business, try to include every possible touchpoint, so your mobile worker's performance won't suffer due to the lack of essential multimedia support.
Here are some key features you should consider.
Rich Client Access Option
An efficient UC mobile client should provide a consistent experience across PC, Mac, iOS, and Android to improve and speed-up processes through all communication functions readily accessible in the devices used by workers, whether it's a smartphone, laptop, or desktop.
One Number Concept and Find Me/Follow Me
In 2019, employees want to have a single number as a point of business contact, whether in their corporate office, home office, or on the go. With a UC mobile client turning your mobile devices into an office extension, the Find Me/Follow Me feature allows you to route business calls to your mobile client or customized destination (voicemail, extension, mobile number, etc.) according to your business preference, ensuring that incoming calls are never missed.
Your UC mobile client should have a company directory, which synchronizes all work contacts and provides quick click-to-call, Instant messaging, or email access to all your colleagues. This will save employees the time and effort of remembering or manually entering contact data and facilitates team collaboration, wherever they may be.
Whether you handle customer calls or need to coordinate with colleagues, presence can help your business by relaying an individual's status in real-time anywhere. It indicates whether your colleague is available, on a call or away with a business trip. Utilizing presence, you'll know the best time and method to communicate effectively at the first attempt, minimizing back-and-forth between colleagues when people are unavailable.
Instant messaging is the cornerstone of unified communications. The ability to text or initiate a group chat anytime on any devices let mobile workers spontaneously collaborate with others through a secure chat window, facilitating team discussion when a call is less convenient. You can also leave messages to colleagues who are on a call or off-line, so they can get the message once they are available.
Audio and video conferencing is critical for many businesses to allow multiple parties, both internal and external, to connect simultaneously. A UC mobile client capable of such an advanced feature can bring substantial savings on 3rd-party conferencing services.
Do your business highly rely on salespeople or customer contact? If yes, CRM Integration might be a must to enhance your sales, marketing, and support efficiency. It's suggested to consider a UC mobile client that provides easy integration with CRM solutions such as Salesforce CRM. This will enable your teams to seamlessly and spontaneously access key customer information anywhere without having to switch applications or to search endlessly in databases.
Related:  5 Key Advantages to VoIP CRM Integration
Easy Access to Call journal, Call Recording, and Voicemail
Provide your road warrior with easy access to call journals, recordings, and voicemails via intuitive UC mobile client interfaces. Incoming and outgoing calls are logged in a personal call journal. And call recordings and voicemails are time-tagged with caller information. The ability to click to play any voicemails and recordings right straight from UC mobile client enable your employees to respond on time.
---
The Bottom Line
Keeping mobile teams in step with each other is a significant challenge for every business. Using the cutting-edge tools offered by UC mobile clients, the mobile workforce can better collaborate in different communication formats, allowing extra flexibility, consistency, and productivity. But not all mobile communications solutions are created equal. Performing an in-depth business need analysis beforehand helps you make the right decision and choosing an all-inclusive solution saves you troubles.
Yeastar Linkus: All-in-one UC Mobile Client Crafted for SMBs
Yeastar Unified Communications App is a desktop and mobile capable application that integrates and manages all your communications functions. It turns your mobile devices into a fully-featured office extension, let you see the presence status of others in your company, send instant messaging, share files, listen to voicemail/recording and control all your phone calls – all with a single click. Seamless CRM integration with Zoho CRM, Microsoft Dynamic 365 and Google Contact is also possible with the desktop version. And the application is free with Yeastar Business Phone System! Learn more about Yeastar Linkus App here.
If you'd like to try out Yeastar Linkus and Yeastar Unified Communications, make full use of Yeastar Cloud PBX 30-day free trials. No credit card required. No long-term commitment. Get full access to it in minutes now.