Yeastar PBX System
Empower, Enhance and Future Proof
SME Business Communications
A Smarter Way to Communicate
Voice is the center of business communication, yet today's business phone system is capable of doing more and delivering greater value. Yeastar PBX System, as part of an advanced unified communications solution, makes enterprise-grade business communication capabilities available to small and medium-sized businesses across a wide variety of industries at a fraction of cost. Easy to use and manage, Yeastar PBX System helps SMEs get more done with less effort. The solution is available both in cloud-based and on-premise deployment options.

Why Do Businesses Choose Yeastar PBX System

Accessible Across Devices
Yeastar PBX System, together with Linkus UC softphone, delivers consistent communication for anywhere workers. You can take cell phones or desktops to make and receive business calls, transferring calls among devices, check voicemails, and start an ad-hoc conference.

Collaborative Among the Staff
Besides voice, Linkus also supports IM, presence, and integration with Salesforce CRM, Microsoft Dynamics 365, Outlook Contacts and Google Contacts, to engage your customers, make them more accessible to customers, and keep the whole team on the same page.

Easy to Set up & Administer
The sleek and robust web GUI makes the initial setup a breeze. It only takes minutes to get your phone system up and running. Configurations including auto phone provisioning, call routing, security, etc., can all be performed on the interface with a few clicks.

Packed with Extensive Features
Yeastar PBX System boasts a lengthy list of enterprise-grade features, covering everything SMEs would ask for in daily communication. Call forwarding, call queue, ring group, auto attendant, conference, voicemail and more are all provided at no additional cost.

Scalable to Growing Needs
Yeastar PBX System is capable of serving SMEs from 20 to 2,000 users and grows with the pace of your business as you add new users or locations. You can trust in Yeastar PBX System to take care of your changing business communication needs and enjoy increased efficiency.

Managed from a Distance
Regardless of your location, you can remotely manage and automatically monitor multiple Yeastar PBX Systems with the remote management tool, which proactively identifies and instantly notifies potential problems before they cause any system issues and business disruption.

Compatible with Current Infrastructure
Yeastar PBX System is fully interoperable with mainstream IP phones, such as Yealink, Snom, and Fanvil, allowing for a seamless migration without sacrificing prior investment. Worldwide SIP trunks are at your choice while connectivity with PSTN is also supported through Yeastar VoIP Gateways.

Secured from Hacks and Attacks
Yeastar PBX System has strong built-in anti-hacking mechanisms to mitigate security threats and safeguard your business communication, including incorporated firewall, IP auto defense system, blacklist&whitelist, as well as event notification for the security audit.
Comprehensive Solutions for Various Verticals and Scenarios

Hospitality
Convenient management. Superior guest experience.

Transportation
Mobile-driven workforce. Enhanced customer satisfaction.

Healthcare
Streamlined business process. Operational Efficiency.

Education
Slashed Cost. Better call management.

CRM Integration
Extended functionality. Greater productivity.

ISDN Switch Off
All-IP Solution for the ISDN switch off.
S-Series VoIP PBX –
On-premises IP PBX
For businesses prefer complete control and access to
the equipment
Learn More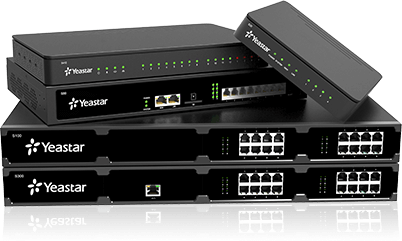 Cloud PBX –
Hosted Phone System
For businesses prefer not maintaining any hardware and
a pay-as-you-go pricing model
Learn More