BACK
6 Reasons Why Customers Love Yeastar Multisite Interconnect
3.3 min read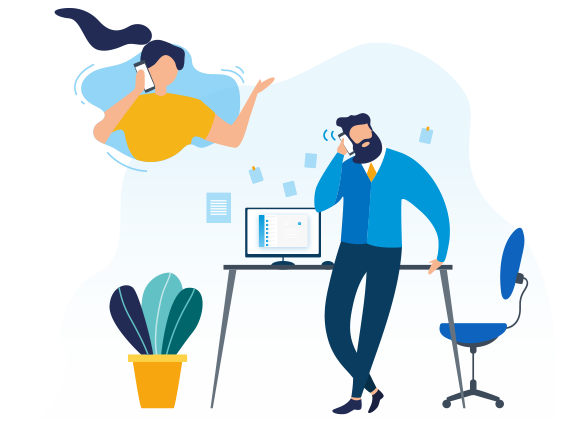 For multi-site businesses, having a multi-site phone system is crucial to keep staff members in multiple locations connected and collaborate efficiently. Yet connecting dispersed on-premises IP PBXs and setting up a corporate business telephony network can be complicated.
To that end, Yeastar has created a unique innovative system – Yeastar Multisite Interconnect – to bring multiple dispersed VoIP PBX under one single network, with the minimum amount of set-up and on-going support needed.
The breakthrough functionality differs from the traditional ways of inter-branch connection via SIP trunking and has outshined to earn the favor of many of our customers. Do you know why?
6 Major Reasons Why Customers Love Yeastar Multisite Interconnect
1. Explicit Role-based Multi-site Phone System
Yeastar Multisite Interconnect is built on an explicit role-based system to maximize the simplicity of a multi-site phone system. It allows you to designate one "headquarter" PBX and multiple "branch office" systems, where the "headquarter" PBX serves as the pivot and collaborates all others. Simply put, with only one link between a branch and the headquarter, the branch will be able to connect to all other offices, providing simplified communications and easy management of converged voice for multi-branch operations.
2. Simple Configurations
Most VoIP systems can be connected via the internet using SIP trunks, but setting a corporate phone network with such way can be very complicated due to the number of SIP trunks needed to be configured. For example, if you have 6 offices to connect, then you will need to set up 5 SIP trunk groups on each office for interconnection. That means in total you will have to set up 6×5=30 SIP trunks, let alone the required multiple outbound call routes, which is quite time-consuming and onerous. With Yeastar Multisite Interconnect, however, things can be much easier. It allows you to register branch phone systems directly to the headquarter PBX, without having to create trunks or call routes. And no Static Public IP address or port forwarding is required on any branches, greatly saving time and effort. By connecting in this way, a network of 6 offices can be set up in minutes. For detailed configuration methods, please refer to here.
3. Easy Dial Plan
One of the most noticeable benefits brought by the Multisite Interconnect is that it allows direct dial and seamless call transfer between extensions in different locations. With all phone systems in the network deploy the same dialing plan, and each system occupies a unique first dialing digit, no matter where you'd like to reach in other sites, an extension, a conference, a ring group, or even a queue, simply by dialing the number directly, you can reach the destination easily, which ensures a smoother flow of inter-office communication and eliminates the trouble of remembering multiple prefixes.
4. Secure Interconnection
There a number of options available to connect remote branches. But not all of them are highly secure. The network setup by Yeastar Multisite Interconnect protects your system security in many aspects. The general access rules configured in the Yeastar's "Firewall Rules" module and the IP exclusion rules set up on each branch profile has ensured that the network is protected from malicious attacks. Besides, as no port forwarding is required in any of branch offices, the potential security risk is also reduced.
5. Slashed Costs
For an enterprise with multiple office phone systems, an interconnecting network can slash communications costs significantly, as internal phone calls are completely free regardless of locations. Besides, Yeastar Multisite Interconnect also helps save costs brought by the traditional way of SIP trunking. To interconnect multiple PBXs via SIP trunks, you will either need to purchase one static public IP address for every site, each with an annual fee of 1-3 thousand dollars, or to sacrifice stability and use DDNS instead, which is not entirely free either. But using Yeastar Multisite Interconnect, only one static public IP address, if necessary, is required in the whole system, which will help cut the overall expanse in the interconnection.
Another cost-saving advantage that Yeastar Multisite Interconnect can achieve is trunk sharing, which allow you to make international calls at a local rate.
6. Yeastar Innovation
Yeastar Multisite Interconnect is designed exclusively for Yeastar S-Series VoIP PBX and can be applied to all models across the range. Crafted to enable easy interaction and interconnection of S-Series PBXs deployed in different offices, this feature delivers a smoother call flow between offices and offer customers one additional choice for their branch office solution. The security and simplicity of this breakthrough feature have ensured that it will be quick and easy to put in place, reliable, and easy to maintain.
Successful Case
The multisite interconnect feature is welcomed by Yeastar customers worldwide and was deployed by many large companies with multiple remote offices. You can explore one of our successful case here, and learn how Yeastar connects up 6 remote location with ease and how the customer has to say about the solution.
You might be also interested in: