BACK
Infographic: 6 Signs It Might Be Time to Upgrade Your Business Phone System
5.0 min read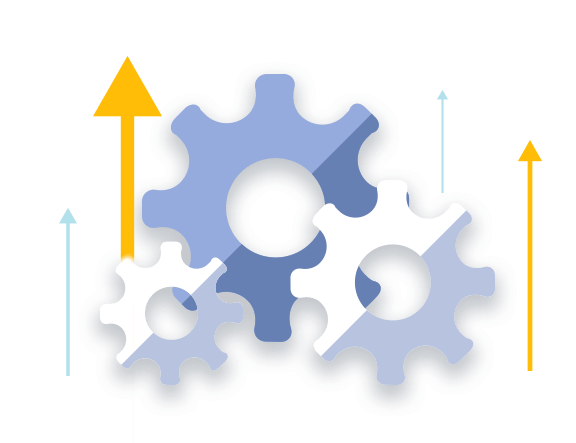 If the old business phone system still works, there is no urgent need for an upgrade. Or is it?
No business ever wants to find themselves unable to meet customer needs due to an outdated phone system. Even though your phone system is able to maintain basic functionality at the moment, there might be some signs informing that it is time for a major upgrade. While some businesses are hesitant to make a large investment in it, the business value of a phone system upgrade is greatly underestimated.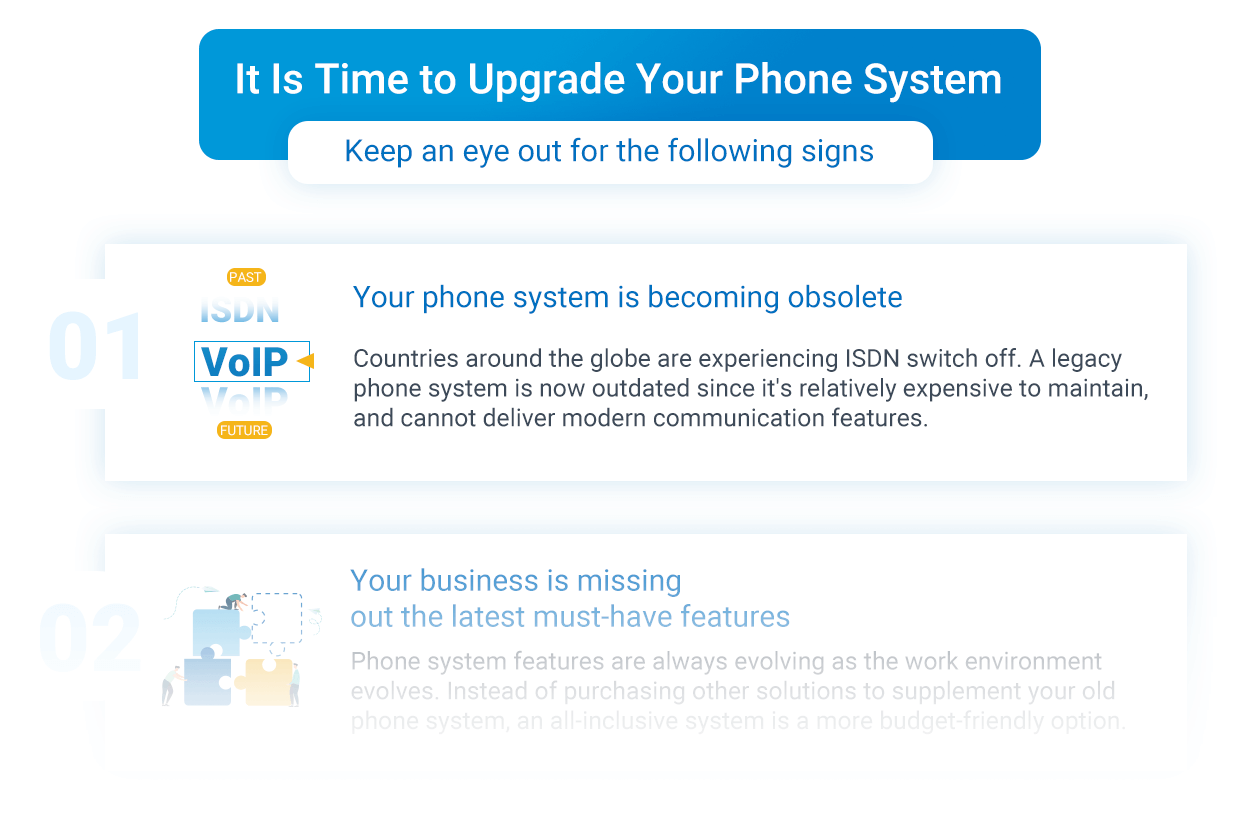 Keep an eye out for the following signs that it might be time to upgrade your business phone system.
1. Your phone system is becoming obsolete.
Technology in all industries becomes obsolete quickly. It could be a detriment to your business to operate a phone system that has been discontinued by the manufacturer. Germany, Australia, Italy, and countries around the globe are experiencing ISDN switch off and transformation from the traditional ISDN services to the IP-based one. A legacy phone system is now outdated for that it is relatively expensive to maintain, cannot deliver modern communication features, and relies on traditional phone lines. So, the longer you continue to invest in obsolete phone systems, the more expensive and challenging it will become to replace them. After upgrading, you may well be surprised to find out how much you could save.
2. Your business is missing out on the latest must-have features.
As the work environment evolves, phone system features are also evolving all the time. Instead of purchasing other solutions one after another to supplement your old phone system, an all-inclusive, all-in-one system is no doubt a more budget-friendly option. Businesses utilizing VoIP are increasingly relying on advanced functionality to conduct their day-to-day operations. Take a closer look at your current business phone system. Are you lacking features like auto-attendant, call recording, music on hold, call queue, and conference? If so, your phone system is probably outdated and in dire need of a revamp.
3. Your employees are chained to the desk to receive calls.
Roughly 85% of people whose calls are not answered will not call back. If you ever received complaints from customers who can't easily contact you or miss calls because your employees are not at the desk to take them, it rings alarm bells that your phone system requires an upgrade. Instead of being chained to the office desk, your employees may spend a lot of time on sales visits, client meetings, and other business trips. They work remotely, from home, and on the go. If they can't choose whether to use a desk phone, mobile phone, or desktop to take business calls or transfer calls to one another even if they aren't in the office, the missed calls will remain a problem and eventually affect your productivity.
4. Your phone system cannot grow with your business.
Is your business experiencing rapid growth now? Has your call volume outpaced the capacity of your current phone system? If so, the ability to increase system capacity easily and cost-effectively becomes an important factor to consider when weighing whether to upgrade to a new phone system. Your business communications should not hold you back in terms of corporate expansion. Especially, for businesses that have aggressive growth targets over the next few years, if your phone system is unable to accommodate the addition of more users, an upgrade is inevitable.
5. You are struggling to manage different phone systems in multiple locations.
The capacity to handle multiple offices is crucial whether you already have an established secondary location or in case you plan to open one in the future. Different office phone systems in multiple locations present many challenges, such as complicated administration and maintenance. It's also not a smart fiscal choice to cling to a traditional phone system when adding a new location. For multi-site businesses, the goal is to find a phone system that can unify the communications among all locations and employees, keep all your phone numbers and services under the same umbrella, and be administered from a single location.
6. Your phone system is vulnerable to a system outage.
It's a necessity to have a thorough disaster recovery and contingency plan to keep the business going regardless of natural disasters and other unforeseen events. Modern phone systems provide system redundancy to make sure calls can be routed even if your phone system goes down so that your business will not go dark. Normally, on-premises solutions entail maintaining extra backup equipment for hot standby, while the cloud-based phone system is hosted off-site to keep your business communications up and running.
---
Considerations When Upgrading to New Phone Systems
1. Remaining your existing equipment.
Find a solution that allows you to leverage what you have been already using. A seamless migration solution means great cost savings and peace of mind.
2. Deployment options.
You are confronted with two options: on-premises VoIP phone system and cloud-based hosted phone system. There is no ultimate better choice between them. Think thoroughly about your present and future needs and opt for the one that best suits your business.
3. The time frame for the upgrade.
Before choosing a provider, you may need to consider the time frame for the installation and implementation of a new phone system. Are you in urgent need? Will it affect your daily operation?
4. Calculating the total cost of ownership of your options.
The TCO involves upfront costs that are associated with purchasing the phones, routers, and other non-recurring fees, installation costs, and ownership costs which include monthly fees, maintenance, and upgrades after the system is installed.
5. A future-proof phone system infrastructure.
Ideally, you need a business communications infrastructure with easy scaling, service and feature updates, and evolving technology, which adapts as your business changes.
6. System integration.
Being able to integrate your phone system with other business applications, especially the ones you are using now, should be a top priority.
---
If You're Ready…
When ready for an upgrade, you might consider Yeastar PBX Phone System. Yeastar offers both on-premises (S-Series VoIP PBX) and cloud-based (Cloud PBX) solutions to satisfy different needs. Here are some key highlights for you to learn more about our solutions:
1. Unified Communications
Yeastar Linkus is a free UC softphone for Windows, Mac desktop, iPhone, and Android phones, enabling consistent real-time business communication across multiple devices. Besides a bunch of call handling features, it also offers features like presence, IM, and CRM integration to assist team collaboration.
2. Easy Expansion.
S-Series PBX provides supports up to 500 users and allows for future scaling with the unique modular design. Click here to match your needs with the right S-Series model. As for Cloud PBX, new users can be added at any time as needed. Most service providers charge on a simple per-user basis so that you only pay for what you need.
3. Multi-Site Solution
S-Series PBX's inbuilt multi-site interconnect feature helps in networking your phone systems in different locations easily. No need to create trunks or call routes. Direct registration from branches to headquarter can be completed in a few clicks. Yeastar Cloud PBX also unifies the headquarter with remote offices into the same phone system, giving geographically dispersed employees the same features and continuity.
Related: 4 Available Options to Connect Remote and Branch Offices
4. 3rd Party Applications Integration
The functionality of the Yeastar PBX Phone System can be expanded even further by integrating it with 3rd party business applications. We offer complete solution for CRM, CTI, PMS and call center integration. You can even use the API to develop your own customization and craft an ideal solution.
See S-Series PBX live demo here or sign up for Yeastar Cloud PBX free trial here.