BACK
Unable to Introduce Unified Communications to Your PBX System? Here Are Special Offers
3.9 min read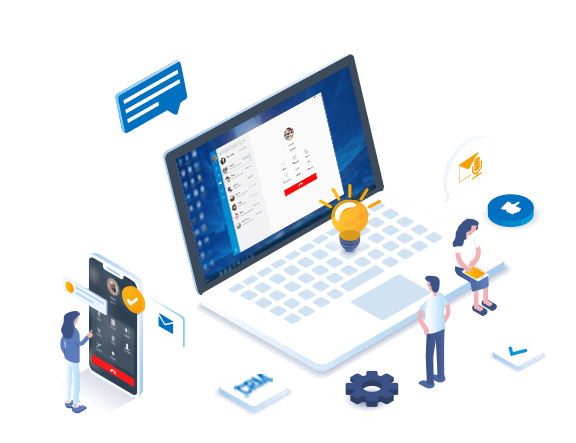 During the past two months, a lot of customers turned to us for unified communications solutions, especially a smart and flexible softphone solution to support working from home. Indeed, unified communications empowers organizations to not only enable the mobile and remote workforce but also maximize their productivity. Today's unified communications solution providers usually offer softphones as part of their service packages.
Major Benefits of Softphone in Unified Communications
Based on IP protocols, VoIP PBX offers the ability to make calls using just the softphone app instead of a physical desktop phone. Moreover, as an essential component of unified communications, softphone also takes work efficiency into the next level by making a wealth of communications channels into a single point of access.
•  Handling Business Calls on Your Own Devices
With VoIP softphone operating as a fully-functional office extension, employees become completely mobile as long as they have access to the Internet. Besides simply making and receiving calls, you can also easily transfer, hold, mute, and record calls, and quickly set up call forwarding rules and ring strategy on your own devices. Some providers offer more advanced features such as checking missed calls, voicemails, and recordings.
•  Enhanced Collaboration with Conference, IM, CRM Integration, etc.
Some softphones offer advanced unified communications functionality to help users collaborate ad-hoc and in real-time while minimizing the cost of 3rd party services. Users can easily set up conference calls, chat with file sharing, see the availability of colleagues, check voicemails and recordings, and sync contacts with popular CRM systems.
•  Substantial Call-related and Equipment-related Cost Savings
In general, VoIP-to-VoIP calls are completely free, and international and long-distance rates are much lower when using a VoIP softphone. In this case, you won't be charged when calling colleagues, even across the globe, and all external calls to and from your softphone will be billed to your business at cheaper per minute rates. In addition, you can also slash investments on expensive pieces of the phone equipment.
Proprietary Softphone vs. Third-Party Softphone
Major IP PBX providers offer softphones developed by themselves and bundled within the service package, which ensures optimal integration. Besides, there are also third-party standalone softphone applications, both free and paid, that can be used regardless of which VoIP service you use.
---
Linkus Unified Communications App
Linkus Unified Communications App is a free softphone app developed by Yeastar, for Windows, macOS, Android, and iOS. Coordinated with S-Series VoIP PBX, Cloud PBX, and K2 IP PBX, Linkus enables users to make and receive business calls from their mobile phones and desktops and provides a wide range of VoIP and UC features.

---
Proprietary softphones usually come with a quicker and simpler installation. For example, our Linkus Softphone is free to download and use. After receiving the Linkus welcome email from the administrator, you can either copy the provided link or just scan the QR code in the email to quickly login in.
Overall, the major advantage of vendor-specific softphones is its ability to access the full feature set of the PBX system. Standard-based softphones are limited to features defined within the protocol instead of the underlying VoIP system while a proprietary softphone can do everything from calls and instant messaging to contact management and computer telephone integration (CTI), meanwhile minimizing the cost of 3rd party services.
Using a vendor-specific softphone makes it easier to harmonize with the phone system. For example, with our Linkus App, different ring strategies will apply when changing the presence status on the softphone. Also, individual users with permission can easily manage company contacts saved on the PBX by using Linkus, providing ultimate ease of use, especially for those on-the-goes. In this sense, their free and open-source counterparts may lack robustness and incur more technical issues.
We've Got You Covered with Special Offers
According to the requests we received, two types of PBX users are often unable or drain resources to include unified communications solutions to their existing PBX systems.
Some outdated PBX are inherently incapable of supporting unified communications.
For open source PBX users who can not rely on the providers to offer a softphone solution, some stick with free or open-source options while compromising advanced features while some put expanded IT budget on 3rd party paid options.
As digital transformation becoming the new norm, it is a great opportunity for MSPs, VARs, and solution providers to on-board more customers by introducing unified communications solutions as a logical first step of the DX journey. Besides, with the surge of cloud adoption, cloud-based unified communications also receive rising demands. Below are our special offers to help you quickly adapt customers to remote working in this challenging time and get prepared for the future.
For MyPBX Users
MyPBX Series is a discontinued IP PBX lacked in unified communications capability. If you are using MyPBX and wish to upgrade to a UC-capable PBX system which supports working from home:
By purchasing S-Series VoIP PBX, you will get a one-year free subscription for Linkus Cloud Service with every equipment purchase. Linkus Cloud Service (LCS) is designed to minimize Linkus-related server and network configurations and create a remote working environment for S-Series VoIP PBX users.

Upon the application and purchase of Yeastar Cloud PBX, you will also get free call recording minutes, which is quite useful for managers to keep track of their remote working team and ensure productivity.
The offer is valid until August 31, 2020 (the purchase needs to be finished before this date).
For Other UC-Incapable PBX Users
If you are looking for a system upgrade to reap the benefits of more agile softphones and unified communications, we also have a quick and easy cloud-based solution for you. We are offering our Cloud PBX free for 90 days so that you have a business phone system to unify the dispersed team together without maintaining on-site equipment. Employees can also use Linkus Softphone to stay connected and work from anywhere.