Yealink SIP-T54S is designed to satisfy the users in need of higher quality IP phone with the improvement of hardware, audio quality, user experience, and collaboration efficiency. There is much to be expected from Yealink, one of the world's leading SIP phone providers, but how much does T54S lives up to these expectations? In order to find out, we decide to write an in-depth review on Yealink T54S Media IP Phones.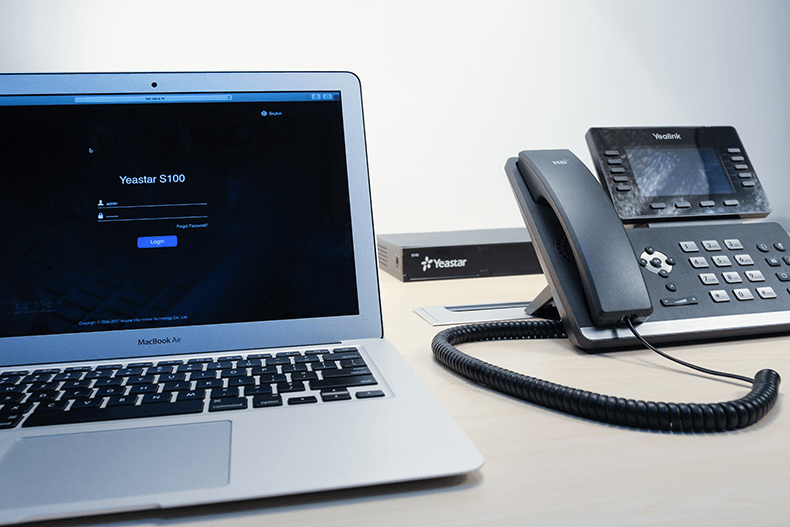 What's in the box?
In the easy-to-open T54S packaging, you will find:
Product Quick Start Guide
1 x T54S IP phone
1 x Handset with Handset Cord
1 x Stand
1 x Ethernet Cable (a big thumb up for its crystal head connector)
1 x Power Adapter(Optional)
1 x Wall Mountable(Optional)
Setup
As a long-time user of Yealink IP Phones, we find the installation of T54S very straight forward. We believe that it also wouldn't take long for the first-time installation performed by a technician. After all, the whole setup is just a matter of following the Quick Start Guide.
Look & Feel
Screen: The big attention grabber on T54S is the screen. T54S offers a 4.3″ 480 x 272-pixel color LCD display, which is a significant enhancement compared to the black-and-white display of T2 series and T41. Although the screen resolution is not as high as that of current smart phones, it is able to meet the requirements for daily use. Besides, the heads-up screen design also provides a more natural and comfortable viewing angle.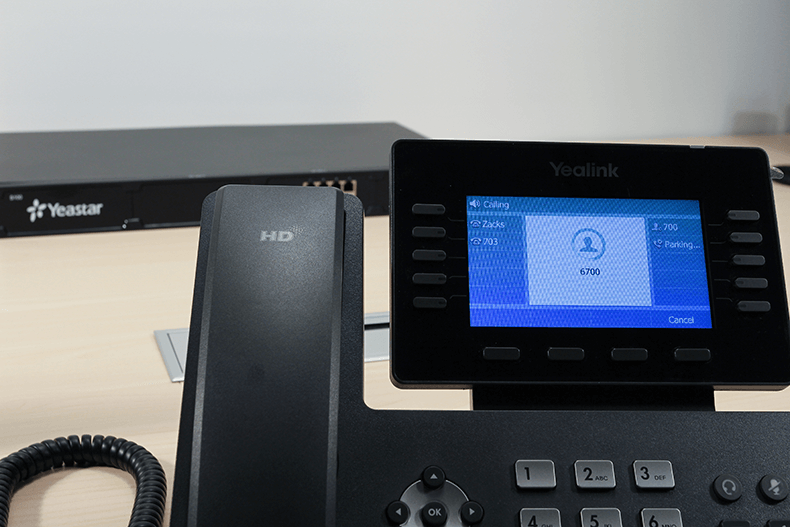 Design: Inheriting the exquisite design from T4 Series, T54S comes with tasteful silver decoration stripes on the bottom and silver keypad buttons standing out well in contrast to the black phone body, leaving an stylish and modern-looking impression.
Ports: Built with dual-port Gigabit Ethernet, T54S supports PoE and is ready to go straight from the box. In the meantime, the USB extension port in the rear panel can be used for adding WiFi capability via the WF40 dongle, reducing time and efforts in cable distribution. The colorful-screen EXP50 expansion module can also be connected to T54S easily through this USB port.
Buttons: The rubber buttons and the keypad buttons offer good clicky feedback, while the buttons around the LCD screen are less springy.
Stand: T54S IP Phone includes a desk stand with 2 adjustable angles for installation flexibility. When placing the phone on a desktop surface, you can adjust the tilt height to accommodate your viewing angle.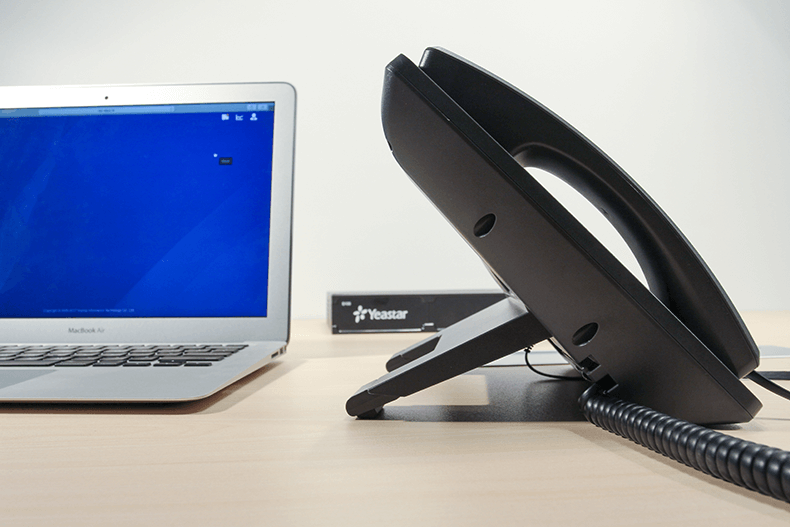 Handset: It is not too much of a pleasure to hold the handset which is a bit too angular to sit comfortably in the hand.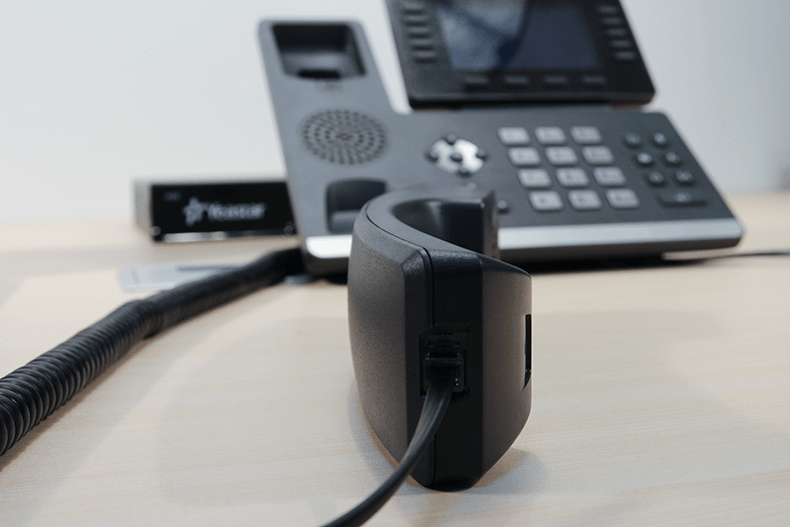 Key Features
Supporting up to 16 SIP accounts and a host of ordinary call features, T54S could be an ideal solution for busy executives and professionals to handle routine business. Below are the key features:
Call hold, mute, DND
One-touch speed dial, hotline
Call forward, call waiting, call transfer
Group listening, SMS, emergency call
Redial, call return, auto answer
3-way conferencing
Direct IP call without SIP proxy
Ring tone selection/import/delete
Set date time manually or automatically
Dial plan, XML Browser, Action URL/URI
RTCP-XR (RFC3611), VQ-RTCPXR (RFC6035)
Built-in Bluetooth for: Bluetooth headset, Mobile contacts synchronization
Enhanced DSS key
The web portal of T54S is similar to other Yealink phone's web interface. Users who used to provision other Yealink IP Phones will feel familiar. However, it might take some time for first-time users to acquaint themselves with the web layout and operation.
Manual Configuration
Configure basic and local settingsof T54S IP Phones. Please refer to User Guide of Yealink to accomplish this step.
Log in S-Series Web GUI. Go to Settings > PBX > Extensions. Select an extension, such as Extension 708.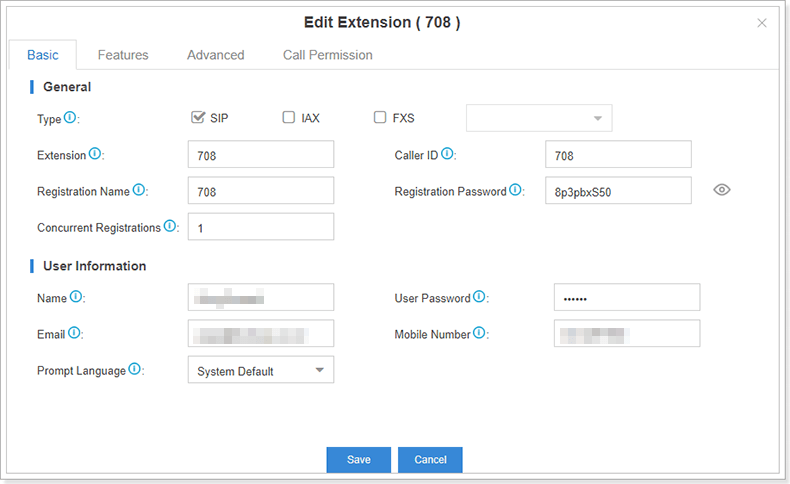 Log in the T54S IP Phone web user interface. Click "Account"tab and fill in the following information to complete the registration.
Label: 708
Display Name: 708
Register Name: 708
User Name: 708
Password: Fill in the extension's "Registration Password"
SIP Server 1 – Server Host: 192.168.9.144
Port: 5060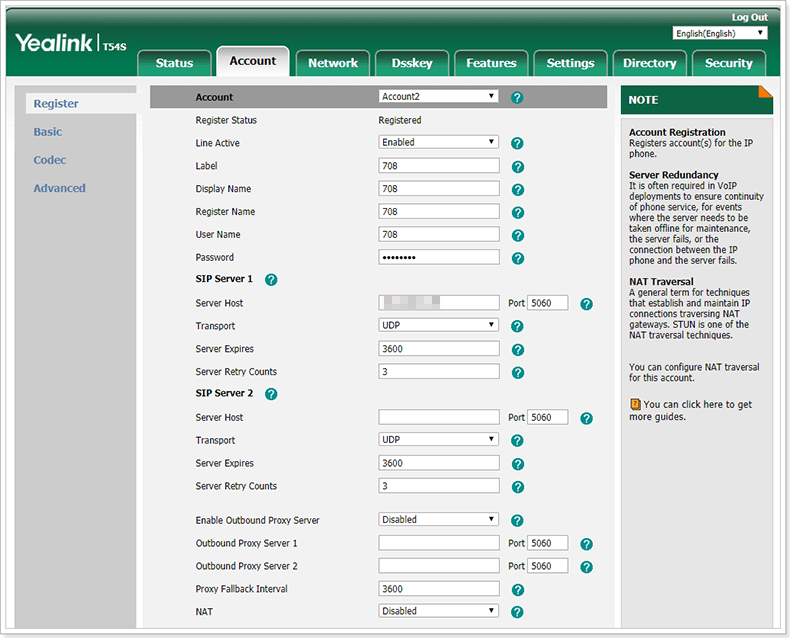 We highly recommend that you use Auto Provisioning feature in Yeastar S-Series VoIP PBX to provision T54S IP Phones so that you can free yourself from tedious labor. Configuring hundreds of, even thousands of, IP phones one by one manually can be onerous and time-consuming even for an adept expert.  Under this circumstance, Auto Provisioning is a great time saver and ensures you the best convenience.
Auto Provisioning
Make sure you have updated Auto Provisioning App to version 1.5.23 or higher version, which supports for Yealink T54S IP Phones.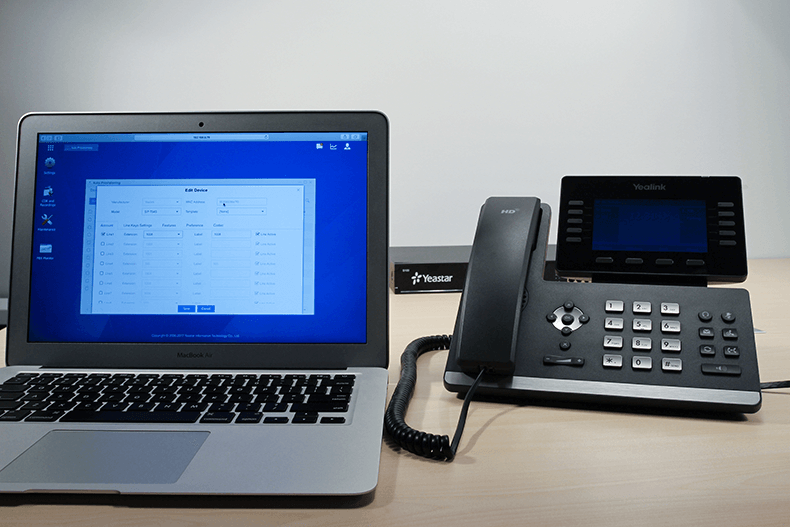 1. Log in Yeastar S-Series Web interface and go to App Center menu to check out.

2. Go to "Auto Provisioning" Click "Scan", then all IP Phones in the local network will show up on the page.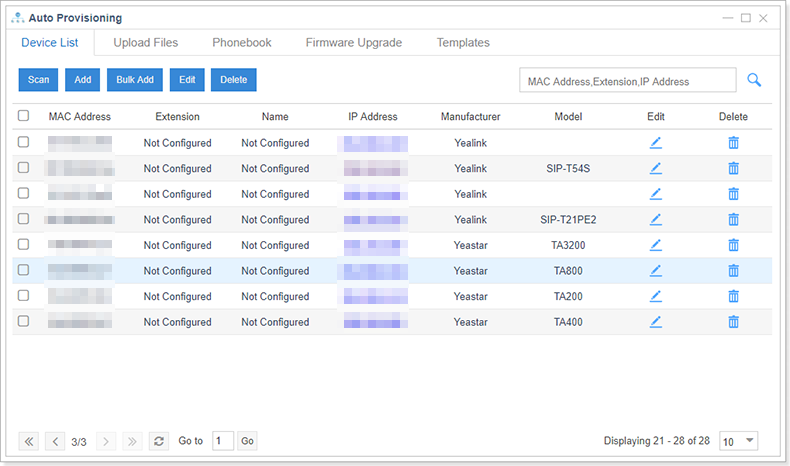 3. Select "SIP-T54S" and click "edit". Basically, you just need to configure the accounts, DSS keys or preference.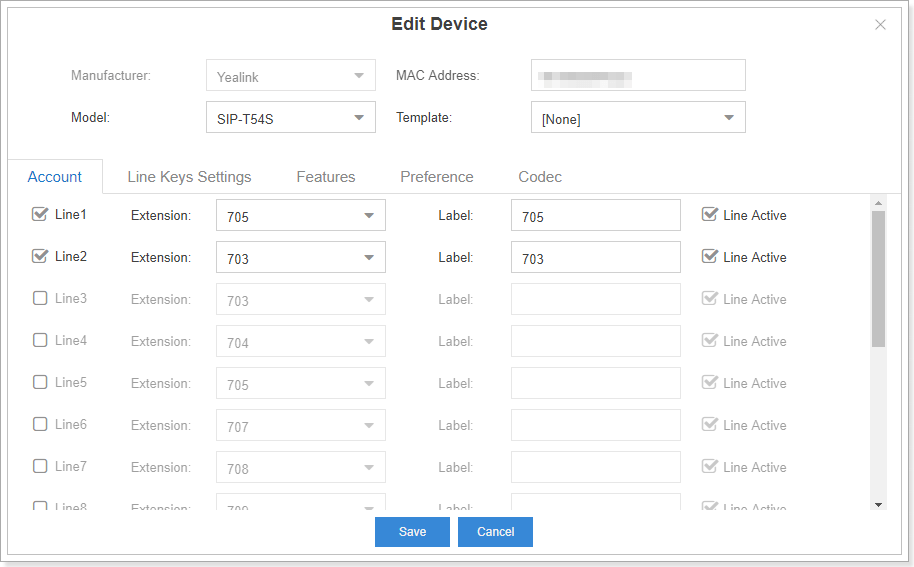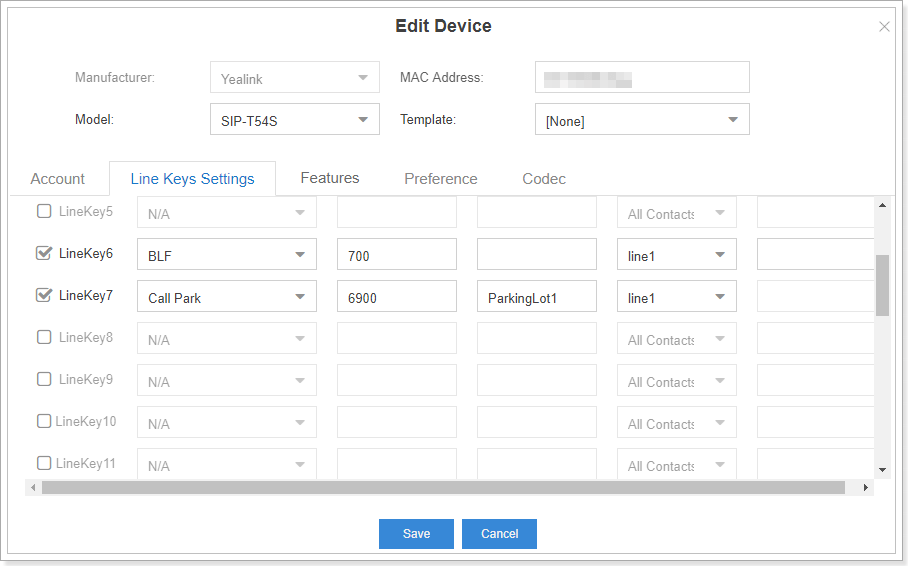 4. Click the "Save"button then a pop-up window would prompt you to reboot the phone immediately. Just click "Yes".
5. The Yealink T54S would reboot and perform the provisioning process automatically in no time.
Audio Quality
After registering T54S IP Phone to S-Series PBX, we encountered no problem in making calls during several rounds of call tests and the call quality is excellent. No background noise. No disruptions. T54S IP Phone delivers rich and full audio quality when using handset, headset, and speakerphone. We believe Optima HD Voice and Optus codec support in T54S do ensure a pretty consistent user experience.
Interoperability
Prior to this review, our test team conducted several rounds of interoperability test according to an extensive test plan to make sure the test result is rock solid. The test objects range from call quality to all call features, from basic call processing to advanced call settings. After this comprehensive test, it turns out that Yeastar S-Series VoIP PBX is fully compatible with Yealink T54S IP Phone.
Final Thoughts
As a part of the new T5 series phones released by Yealink in 2017, T54S IP Phones is specially designed for high-end office users. In comparison to T2 and T4 series, T54S outperforms in improved hardware configuration and ultra-elegant design, and is also packed with a wide variety of call features. Better yet, it also works perfectly with Yeastar S-Series VoIP PBX. If you are a business with adequate budget, in demand of multiple lines, yet not that enthusiastic about the touchscreen of T58 and T56, T54S IP Phones could be a great fit for you. Of course, there is no absolutely perfect product. For us, the main complaint about T54S is that it fails to live up to the claim of ergonomics design. Overall, the Yealink T54S is an excellent IP phone with a sleek appearance, advanced business-grade features and decent user experience.