We are directing you to your Cloud PBX...
Więcej niż PBX
System PBX Serii P
Działaj bez granic. Udoskonaliliśmy komunikację biznesową dla MŚP.
Zobacz film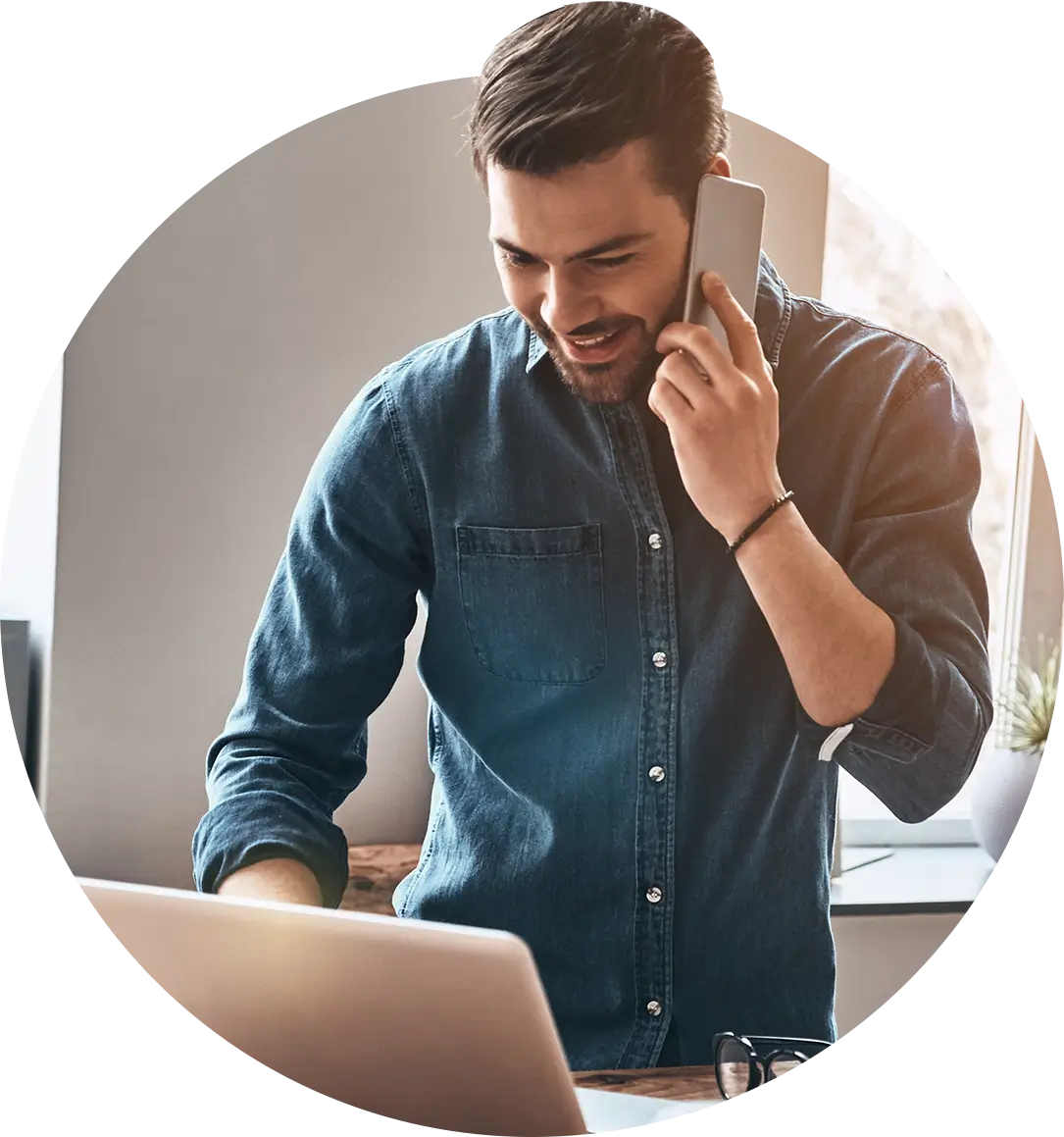 .
.
.
.
Contacts Directory
Remote Working
Integrated System
UC Clients
Video Conferencing
Call Center
Presence & IM
Operator Panel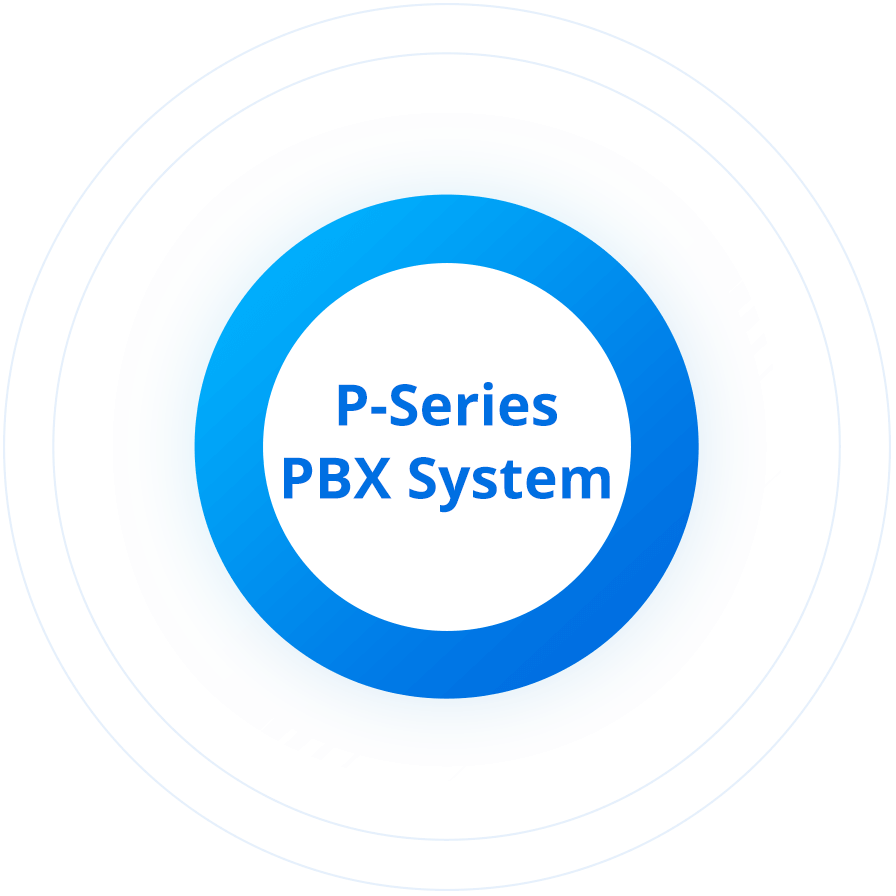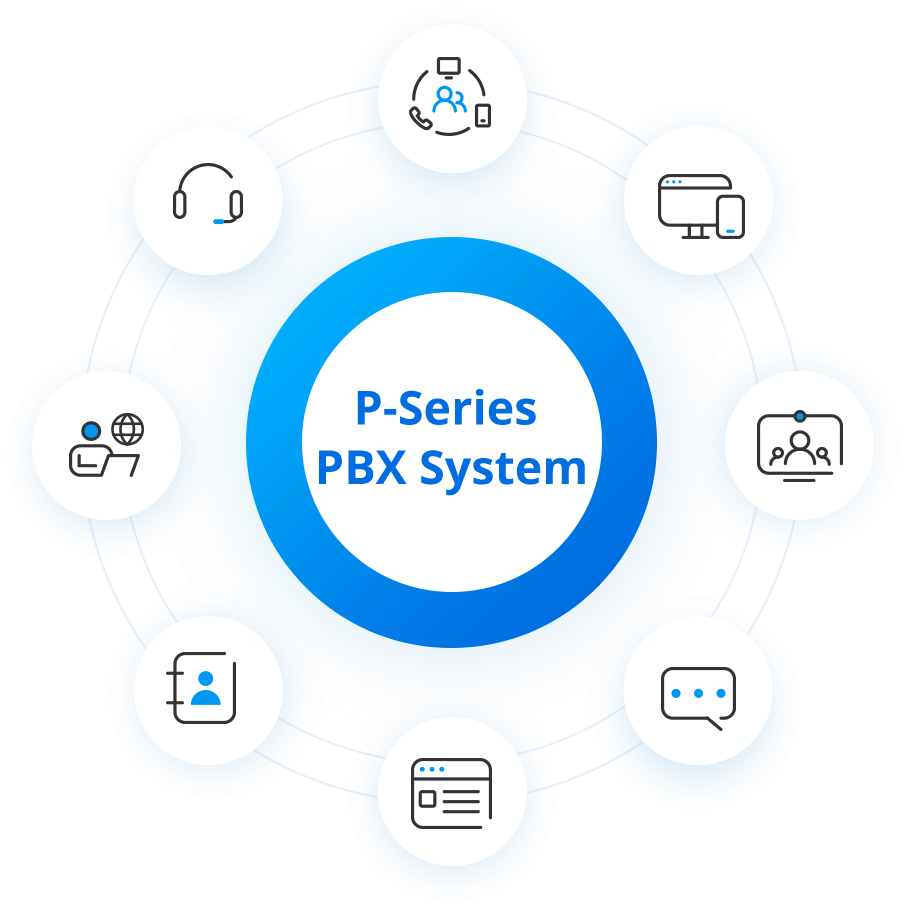 Kompletny system PBX
Plus więcej możliwości
Oczekiwania klientów wzrosły. Stworzony specjalnie dla MŚP,aby spełnić coraz bardziej wyrafinowane potrzeby komunikacyjne, system PBX z serii P jest systemem konwergentnym, który obejmuje pakiet usług, w tym głos, wideo, aplikacje, współpracę i wiele innych.
W chmurze albo lokalne Łatwe zastosowanie UC Zoptymalizowane środowisko stworzone dla każdego Zapewnia komunikację bez granic
Klienci Linkus UC: dowolne urządzenie, w dowolnym miejscu
Dzięki zestawowi aplikacji dla przeglądarek internetowych, systemów Android, iOS, Windows i Mac, klient Linkus UC umożliwia użytkownikom central PBX Serii P wykonywanie połączeń audio i wideo bezpośrednio z przeglądarki internetowej a także łatwe używanie telefonów komórkowych i komputerów stacjonarnych jako telefonów wewnętrznych. Korzystaj z klienta Linkus UC, aby pozostać w stałym kontakcie, niezależnie od tego, czy jesteś w biurze, w podróży, czy pracujesz w domu.
Wszystkie funkcje centrali telefonicznej
Jeden numer na wszystkich urządzeniach
Podgląd statusów współpracowników
Czat indywidualny lub grupowy z udostępnianiem plików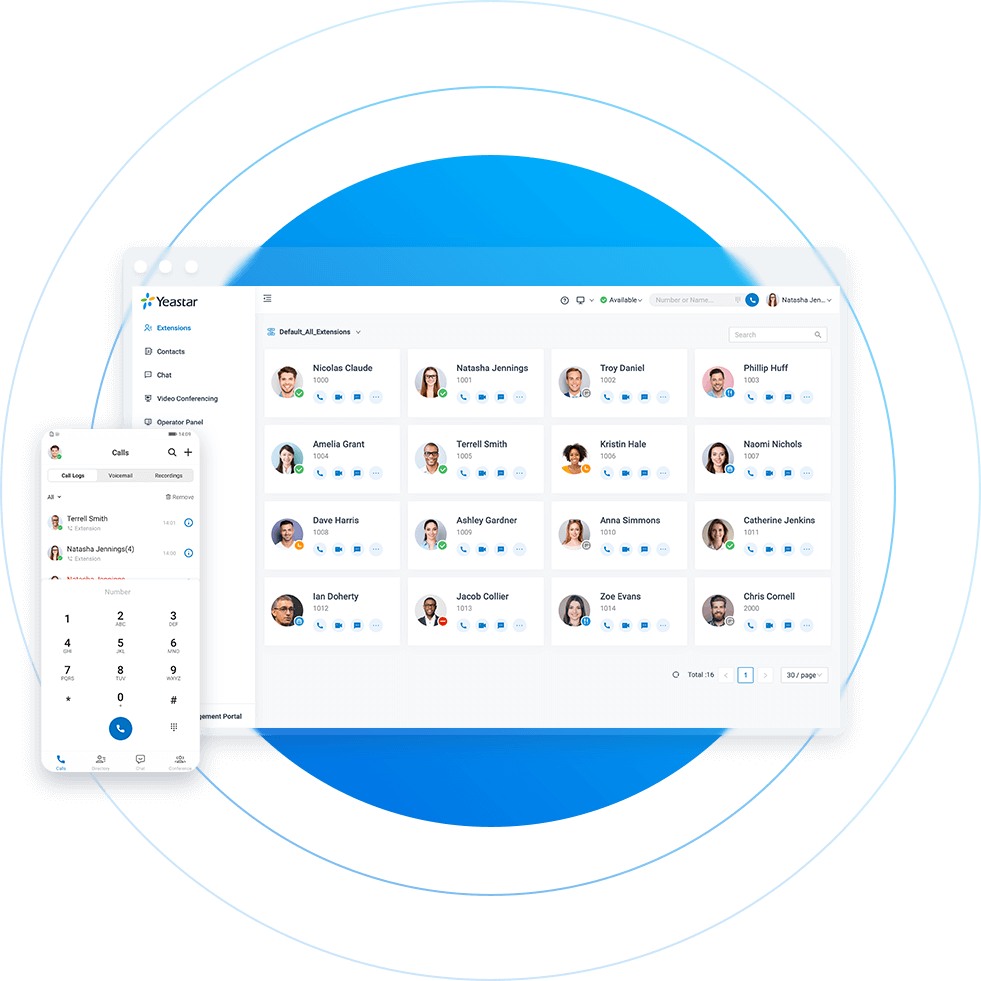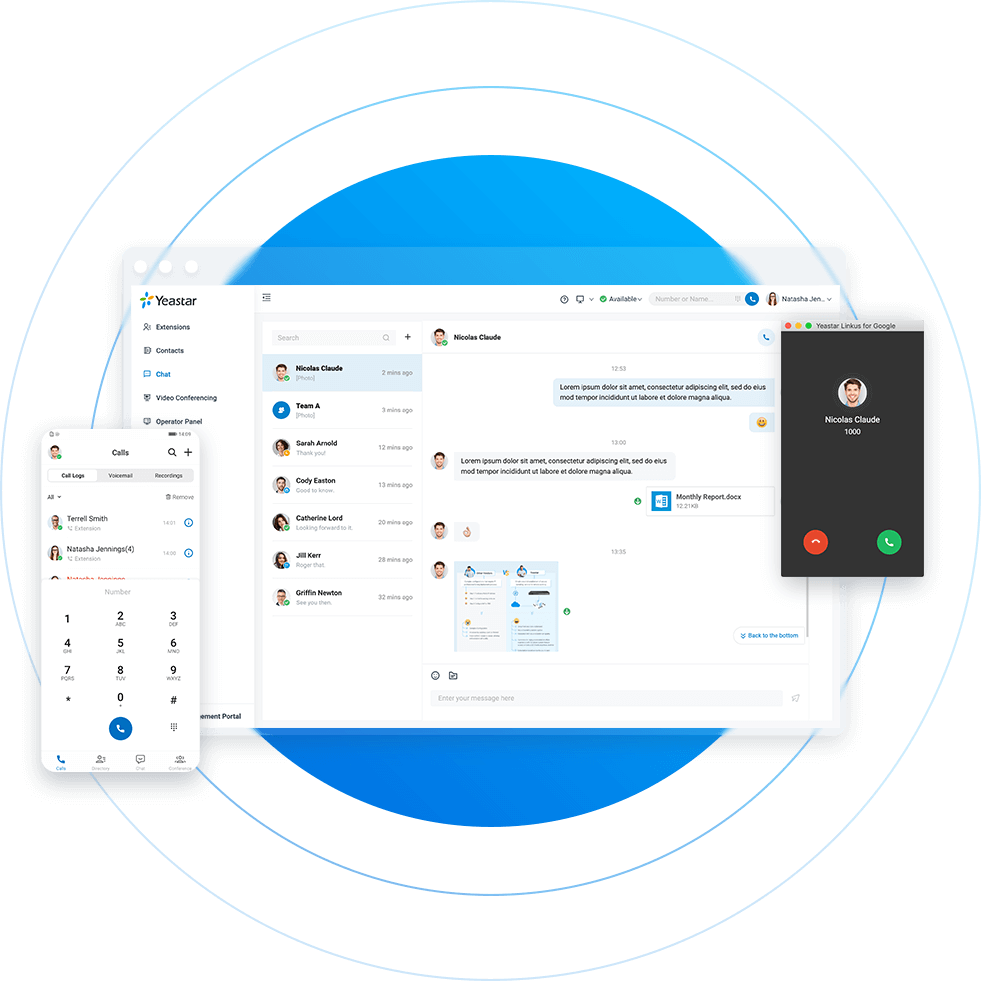 Zintegrowane wideokonferencje:
interakcja i współpraca w czasie rzeczywistym
Nie tylko duże przedsiębiorstwa, ale także małe i średnie firmy potrzebują rozmów, aby zbliżyć do siebie pracowników i klientów, niezależnie od ich lokalizacji. System PBX Serii P wprowadza zintegrowane rozwiązanie do wideokonferencji oparte na sieci Web z udostępnianiem ekranu i czatem zespołowym - wszystko aby łatwo przeprowadzać wieloosobowe wirtualne spotkania. To inteligentny sposób na szybsze załatwianie spraw, usprawnienie pracy zespołowej i budowanie silniejszych relacji biznesowych.
Inicjuj i bierz udział w spotkaniach bezpośrednio z przeglądarki
Nie potrzebujesz stosowania dodatkowych aplikacji i wtyczek
Za pomocą linków zaproś do spotkań swoich współpracowników i klientów
Usłysz i zobacz innych uczestników w pełnej rozdzielczości HD
Udostępnij swój ekran do prezentacji na żywo
Korzystaj z czat grupowy dostępnego na pasku bocznym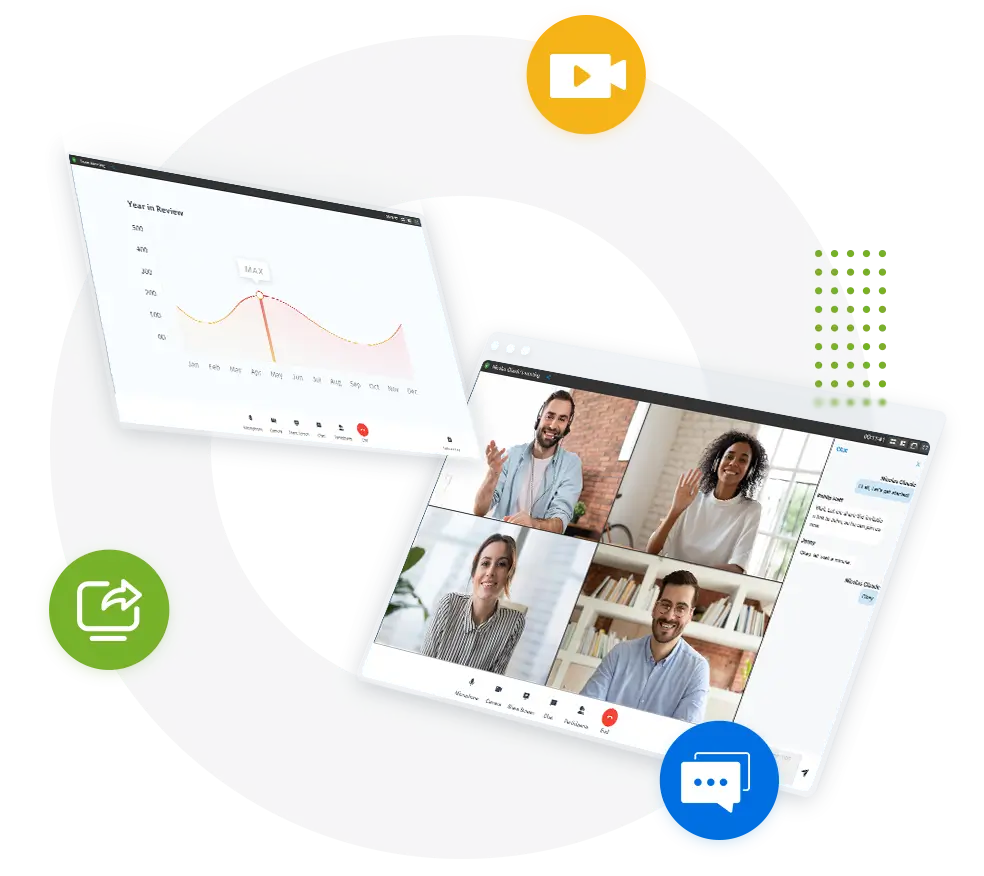 Ekonomiczne rozwiązanie dla centrów telefonicznych
Aby zoptymalizować wydajność pracowników i zwiększyć satysfakcję klientów w sposób przyjazny dla budżetu, telefonia do call center dla MŚP nie musi być ani droga, ani skomplikowana. Centrala PBX z serii P wprowadza rozwiązanie Call Center dostosowane do potrzeb firmy.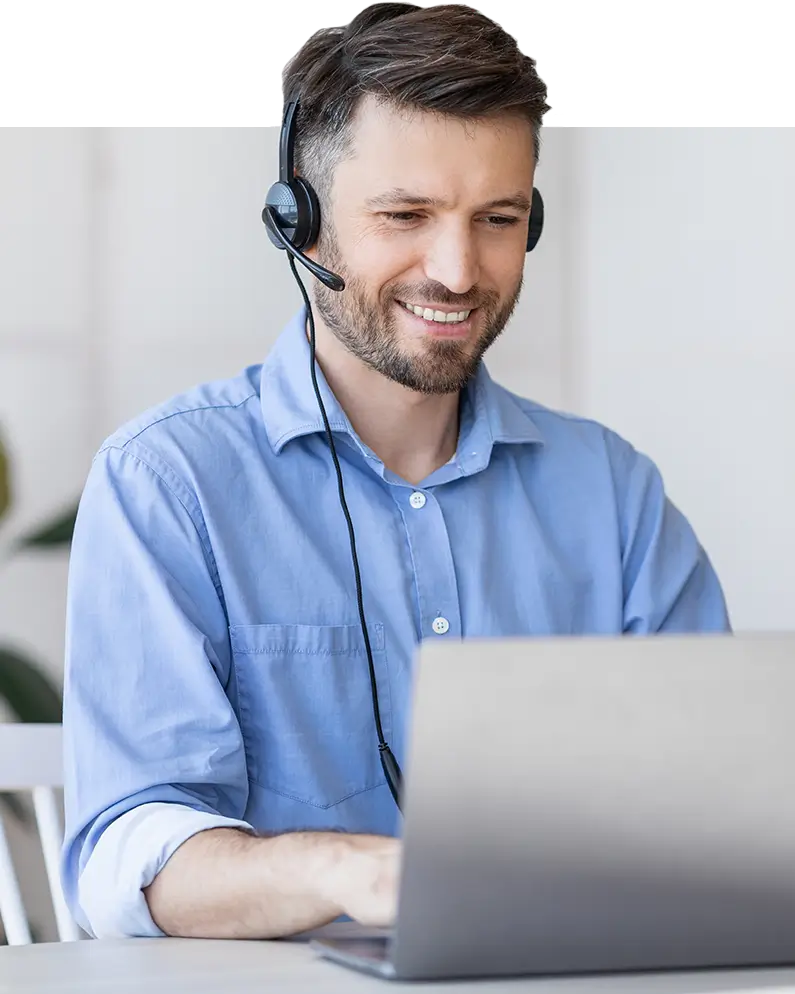 ACD
Kieruj połączenia przychodzące do właściwej kolejki i dostępnego użytkownika w oparciu o określone strategie, które sam skonfigurowałeś.
IVR
W połączeniu z ACD, IVR kieruje dzwoniących do pożądanych miejsc docelowych za pomocą dostosowanych reguł, pomagając MŚP obsługiwać dużą liczbę połączeń przychodzących.
Nagrywanie rozmów
Rejestruj każdą rozmowę telefoniczną, aby poprawić wydajność pracowników lub zapewnić zgodność z wymogami prawnymi.
Panel kolejki
Wyświetlaj w czasie rzeczywistym połączenia przychodzące, status użytkownika oraz inne statystyki związane z kolejką, aby skutecznie obsługiwać połączenia.
Tablica informacyjna
Monitoruj działania agentów i stan kolejek w czasie rzeczywistym. Szybko identyfikuj wszelkie możliwe sytuacje.
Raporty
Użyj szczegółowych raportów statystycznych do wszechstronnej analizy wydajności i uzyskaj dogłębny wgląd w poprawę obsługi ruchu.
Więcej powodów, dla których ludzie kochają Serię P
Pełna lista funkcji:
od niezbędnych do tych, które warto posiadać
Dzięki długiej liście funkcji system PBX Serii P jest w stanie zapewnić MŚP o wiele więcej, niż potrzebują w codziennej komunikacji biznesowej. Niektóre zaawansowane funkcje są dostępne poprzez proste subskrypcje. Plan podstawowy jest zawarty w urządzeniu, podczas gdy plany Enterprise i Ultimate wymagają dodatkowej subskrypcji. (Zobacz ceny subskrypcji dla różnych modeli urządzeń) Wersja Cloud i Software Edition są dostępne w ramach planu Enterprise i planu Ultimate. (See the subscription pricing for different appliance models here.) The Cloud and Software Edition are available in Enterprise Plan and Ultimate Plan.
Basic Plan Enterprise Plan Ultimate Plan
Deployment Mode Appliance Appliance,Software,
Cloud Appliance,Software,
Cloud
Business Features
BLF Support
Business Hours & Holidays
Allowed/Blocked Numbers
Call Recording
Concurrent Registrations for IP Phones
Custom Prompts
Distinctive Ringtone
DNIS
Emergency Number
Emergency Notifications
Fax to Email
Group Voicemail
LDAP Server
Mobility Extension
Music on Hold
MOH Playlist
MOH Streaming
Organizational Hierarchical Management
PIN List
Remote Extensions
Speed Dial
T.38 Fax
Fax to email
Voicemail
Personal Voicemail Greeting
Voicemail to email
WebRTC Audio Call
Telephony Features
AutoCLIP
Call Forwarding
Call Monitoring (Listen/Whisper/Barge-in)
Call Parking
Call Pickup
Call Routing
Call Transfer (Attended & Blind)
Call Waiting
Caller ID
CID-based & DID-based Call
Routing
Conference Rooms
Dial by Name
DID (Direct Inward Dialing)
DOD (Direct Outward Dialing)
DND (Do Not Disturb)
IVR
Paging & Intercom
Queue
Ring Group
CDR & Basic Reports
Administration & Security
Auto Provisioning
AMI (Asterisk Manager Interface)
Web-based Management & User Portal
Dashboard
Granular User Role
Bulk Import & Export (Extension, Trunk, Route, Contacts)
Extension Group
Built-in SMTP Server
Hot StandbySupported on the Appliance & Software Edition.
Event Logs
Event Notifications
Network Drive
Backup and Restore
Operation Logs
Secure Communications (SRTP & TLS)
Troubleshooting
Security
Password Policy Enforcement
Auto Defense
Static Defense
IP Blocklist
Security Alerts via Email
outbound call frequency restriction
Unified Communications
Linkus Web Client
Linkus Mobile Client (iOS & Android)
Linkus Desktop Client (Windows & MacOS)
CTI (Computer Telephony Integration)
Yeastar Linkus for Google Chrome Extension
Microsoft Teams Integration
Linkus Select & Dial with Hotkey
Company & Personal Contacts
Linkus Web Client Function Key
Audio Conferencing
Unified Messaging
Pop-up URL
Headset Integration
Voicemail Transcription
Operator Panel
Unlimited Users
Dispatch Active Calls (Redirect, Transfer, Hang up,
Record, Park, Monitor)
Monitor Call Status (Inbound, Outbound, Extension,
Parked Calls,Ring Group, Queue)
Unified Presence
Control Extension Presence Status
Switch Business Hours
Call Center
Switchboard-type Queue Panel
Queue Callback for Reduced Call Abandonment
Real-time Metrics on Wallboard
SLA for Performance Measurement
Insightful Call Center Reports
Remote Access Service Since the Cloud Edition is inherently accessible from anywhere, Remote Access Service is only for the Appliance and Software Edition
Yeastar Supplied Domain Name
Remote and Secure PBX Web Portal Access
Linkus UC Clients Remote Connection
Remote IP Phone Auto Provisioning
Consistent In-office UC Experience
Advanced Access Control for Further Security
CRM Integration
Incoming Call Popups
Auto Call Journal
Click to Call CRM Contacts
Hassle-free Integration
Support for Zoho, Salesforce, and HubSpot
Phonebooks
PBX-native Contacts Management
Separate Permission Control Per Phonebook
CRM Contacts Synchronization
Sync Across Linkus UC Clients
Instant Messaging
On-one-one or group chat
Cross-client synchronization
File sharing & image sharing
Call Accounting
Custom Rates Applied to Outbound Calls
Analysis Report on Telecom Expenses
API
PBX Configuration
Call Control
uaCSTA Control
Event Notification
Video Conferencing
Bulk Email & Instant Link Invitation
HD Audio and Video
Screen Sharing
In-meeting Team Chat
Web Video Call
Integrated 1:1 Video on Web Client
Seamless Video/Audio Call Switch
HD Audio and Video
Shrinkable Call Window
Cloud Edition Software Edition Appliance Edition
Wykorzystanie biznesowe
Dla
dostawców usług
Start Your
Free Trial Today
Ta 30-dniowa wersja próbna pozwala odkryć tajniki chmurowej edycji Serii P w planie Enterprise i poznać nowe sposoby komunikacji dla Twojej firmy i Twoich klientów.
Pełny dostęp do planu Enterprise
10 numerów wewnętrznych, 10 jednoczesnych połączeń
Nie wymagamy karty kredytowej. Bez zobowiązań.
Natychmiastowa aktywacja po rejestracji.
Gotowe
rozwiązania
Zaprojektowane z myślą o Twoim sukcesie rozwiązanie "pod klucz" chmurowej wersji Serii P to w pełni zarządzalna bezserwerowa oferta zapewniająca szybszy dostęp do rynku, łatwiejsze świadczenie usług i wyższy zwrot z inwestycji
Serwer nie jest potrzebny. Niskie koszty rozruchu
W oparciu o architekturę wysokiej dostępności
Kliknij, aby utworzyć i zarządzać za pomocą YCM
Panel operacyjny na jednym ekranie
On Your Hardware Platform or Virtualized Environment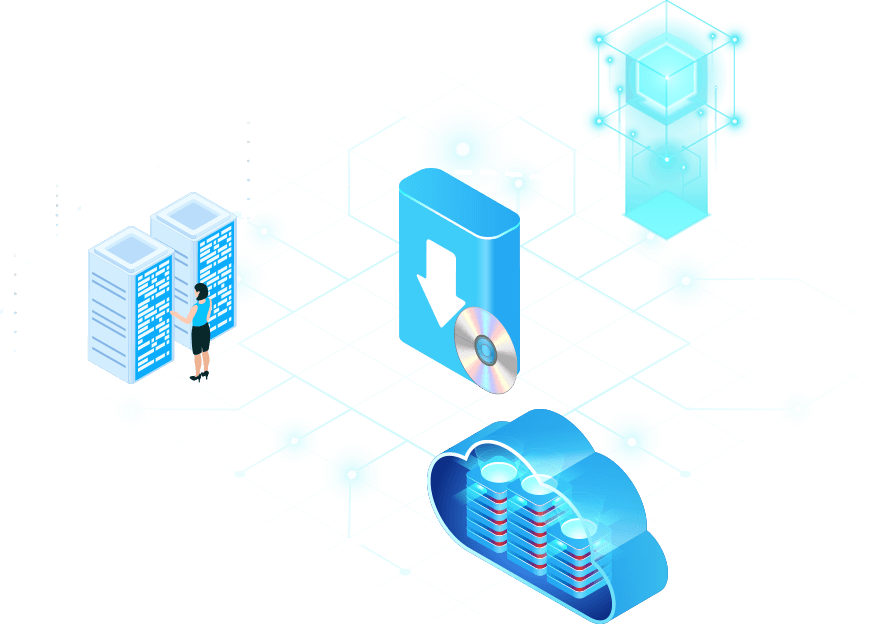 Flexible Deployments
Deployed it either as an on-premises option in a company's own data center, virtualized using VMware or Microsoft Hyper-V, or as a cloud service.
Stay in Control
Ensure that your system runs securely and independently. Ideal for businesses with higher requirements on system control.
Easy to Scale
Quickly scale users with flexible license options, leaving you rest assured in the face of significant changes in the staffing level.
Time-saving
Either on a local or cloud server, the time required to keep it up and running is kept to a minimum. Quickly get started with the built-in launch wizard.
Determine Which Model Is Right for You
P550 P560 P570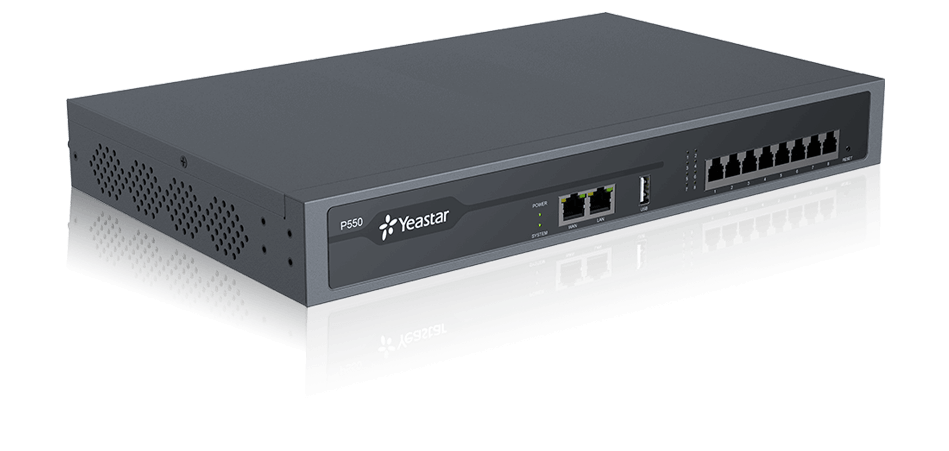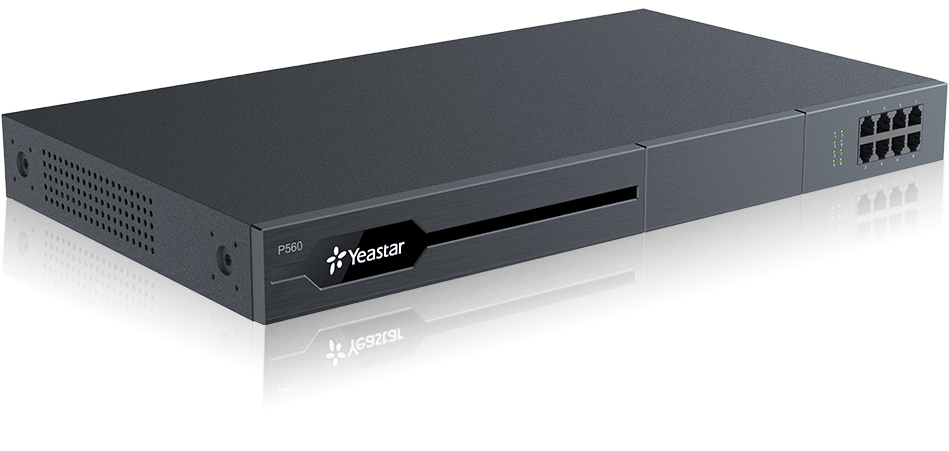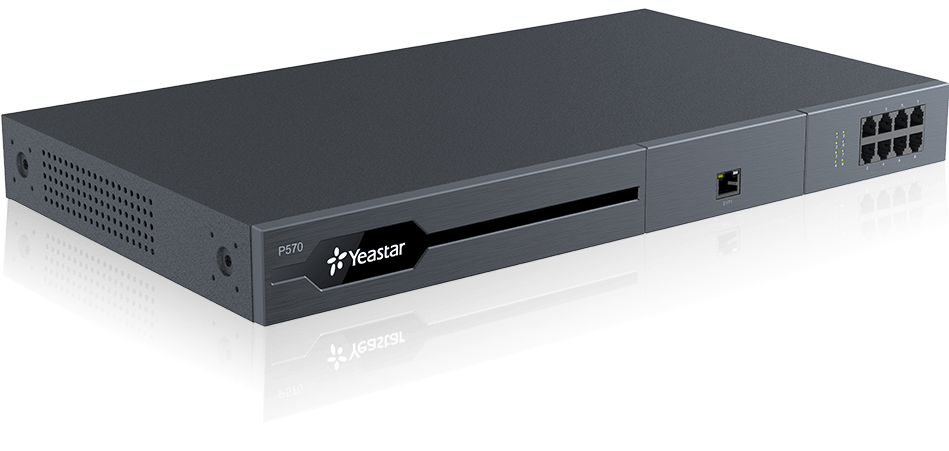 Base Users / Max Users 50 100 / 200 300 / 500
Max Concurrent Calls 25 30 / 60 60 / 120
Base / Max Call Center Agents 50 100 / 200 300 / 500
Max FXS Ports 8 8 16
Max FXO/BRI Ports 8 8 16
Max GSM/3G/4G Ports 4 4 6
Max E1/T1/J1 Ports - 1 2
Expandable D30 0 1 2
Dokumentacja
Poznaj szczegóły na temat systemów PBX Serii P i dostępnych planów subskrypcji.
Pobierz specyfikację
Instrukcja konfiguracji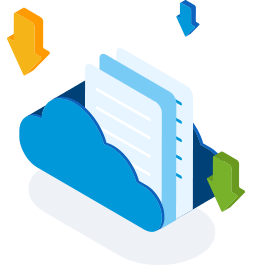 Skontaktuj się z nami
Jesteś zainteresowany systemem PBX Serii P? Opisz nam swoje potrzeby.