Kompletne rozwiązanie UC zaprojektowane
dla Twojego sprzętu lub serwera wirtualnego
Spełnij wszystkie potrzeby komunikacyjne na jednej platformie przejmując pełną kontrolę. Yeastar P-Series PBX System zapewnia wersję oprogramowania, która może działać na urządzeniu sprzętowym lub środowisku wirtualnym. Dzięki niemu uzyskasz kompletny system telefonii biznesowej łączący głos, wideo, aplikacje, współpracę i nie tylko – wszystko na jednej platformie. Oszczędzaj pieniądze i zachowaj kontrolę dzięki prywatnemu i bezpiecznemu serwerowi. Uprościć zarządzanie dzięki najlepszemu oprogramowaniu, które jest łatwo skalowalne i nie wymaga specjalistycznej wiedzy.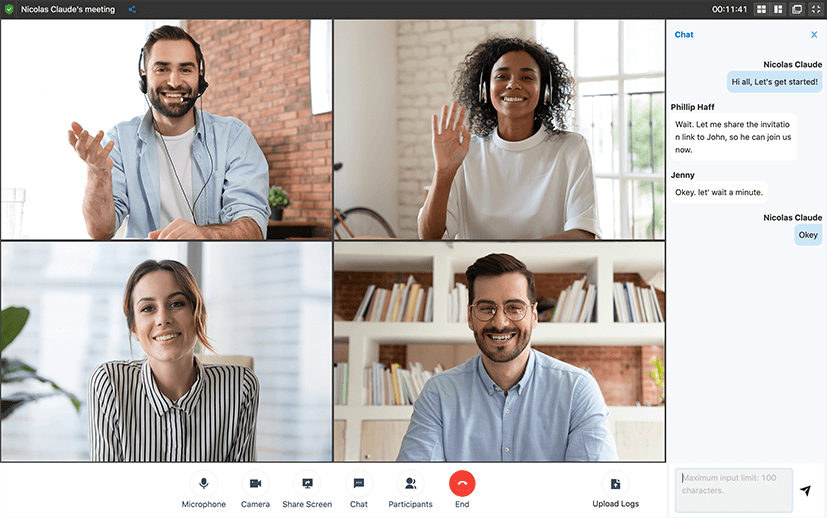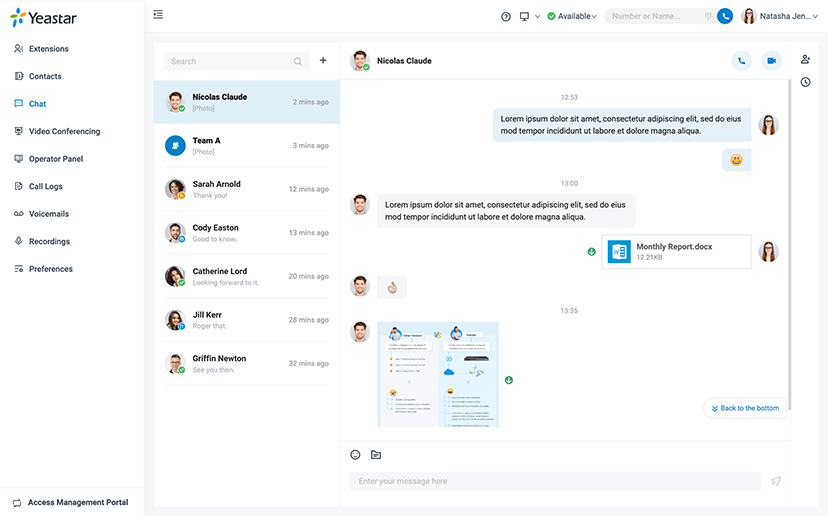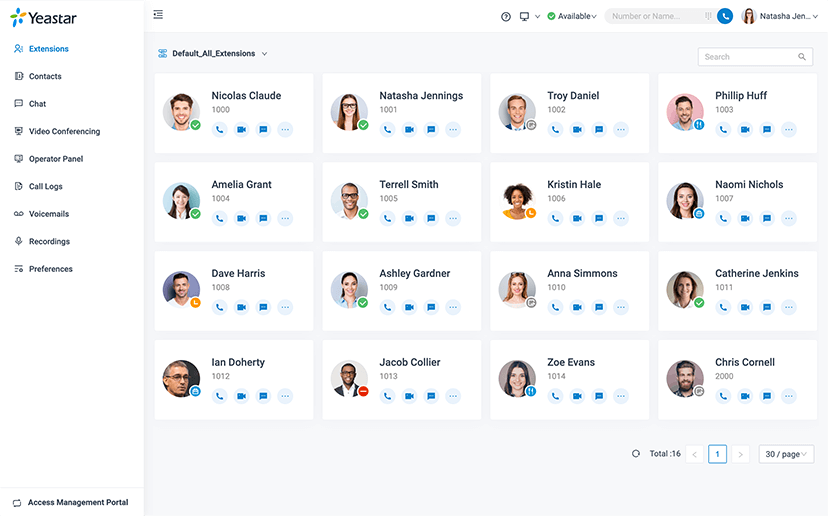 .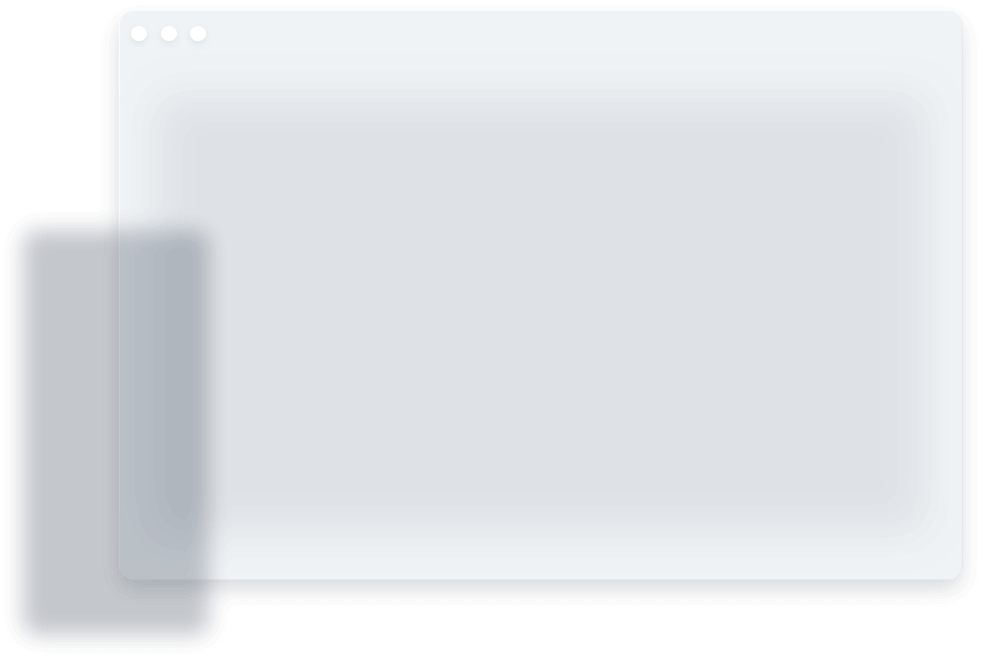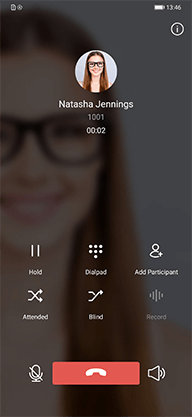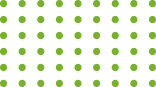 Łatwe, optymalne, skalowalne
Wykorzystaj maksymalny potencjał i opłacalność dzięki elastycznemu rozwiązaniu, które wymaga mniej wysiłku w zarządzaniu i może rozwijać się wraz z Twoją firmą w każdej chwili.
Skaluj użytkowników w ciągu kilku minut dzięki elastycznym opcjom licencjonowania i obsłudze do 10 000 użytkownikówŁatwy w użyciu i zarządzaniu dzięki webowemu graficznemu interfejsowi użytkownika i inteligentnemu wsparciu konfiguracji użytkownika Pełna ujednolicona komunikacja oraz aplikacje internetowe/mobilne w zestawie – bez dodatków!Współpraca z wybranymi telefonami IP, bramami i magistralami SIP
Wybierz sposób wdrażania. Chmura lub lokalnie na Twoim sprzęcie
Ciesz się elastycznością wdrażania oprogramowania PBX jako rozwiązania "on-premise" na serwerze sprzętowym lub jako "wirtualnej" centrali IP PBX przy użyciu preferowanej infrastruktury wirtualnej — usługi w chmurze publicznej lub jako lokalne Data Center. Wersja oprogramowania P-Series jest w pełni przygotowana i gotowa do uruchomienia na dowolnej maszynie wirtualnej kompatybilnej z VMware lub HyperV.
Lepsza kontrola dzięki wybranemu serwerowi
Wirtualizacja za pomocą VMware lub Microsoft Hyper-V
Niemal natychmiastowe, łatwe wdrożenie dzięki kreatorowi uruchamiania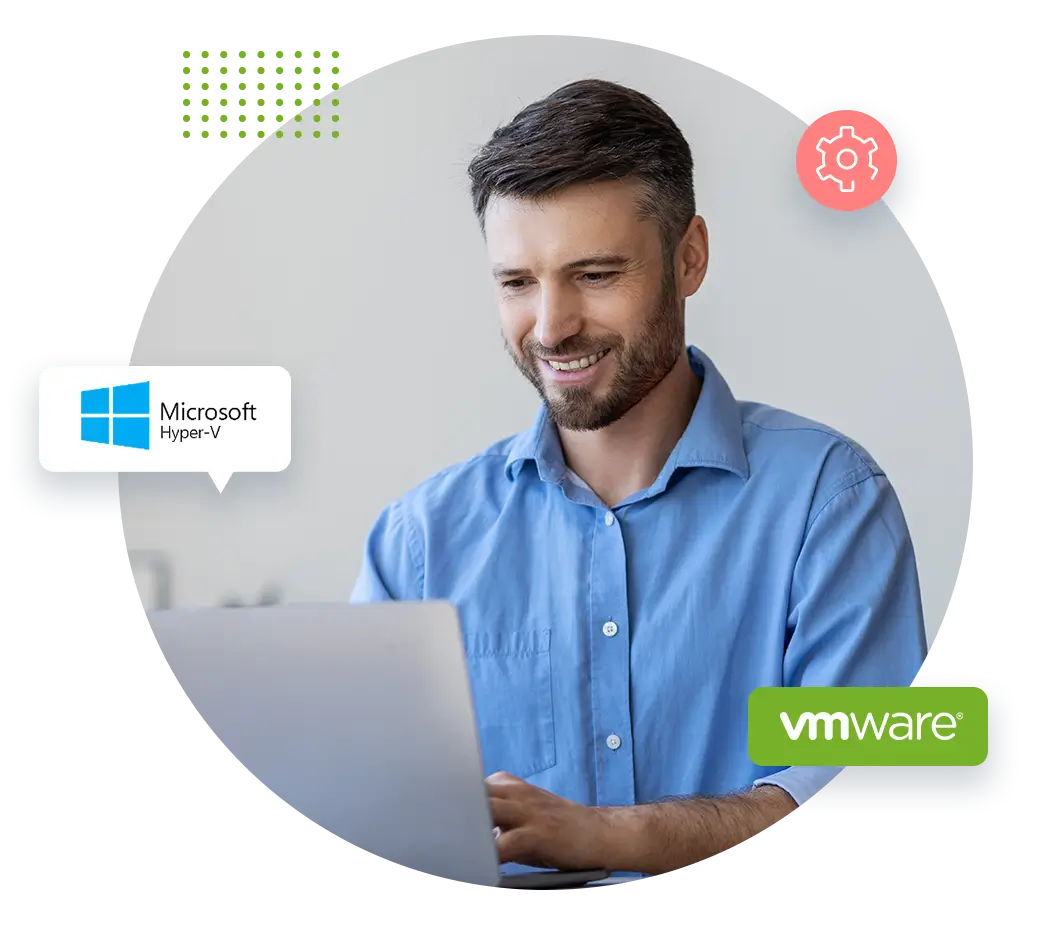 Małe czy duże przedsiębiorstwo
Twoja komunikacja pozostanie sprawna i niezawodna
Niezależnie od tego, czy jest to mała firma, czy duże przedsiębiorstwo, z jedną lub wieloma lokalizacjami, możesz być spokojny dzięki jednemu ujednoliconemu podejściu do komunikacji w przedsiębiorstwie oraz bezpieczeństwu i niezawodności klasy przemysłowej.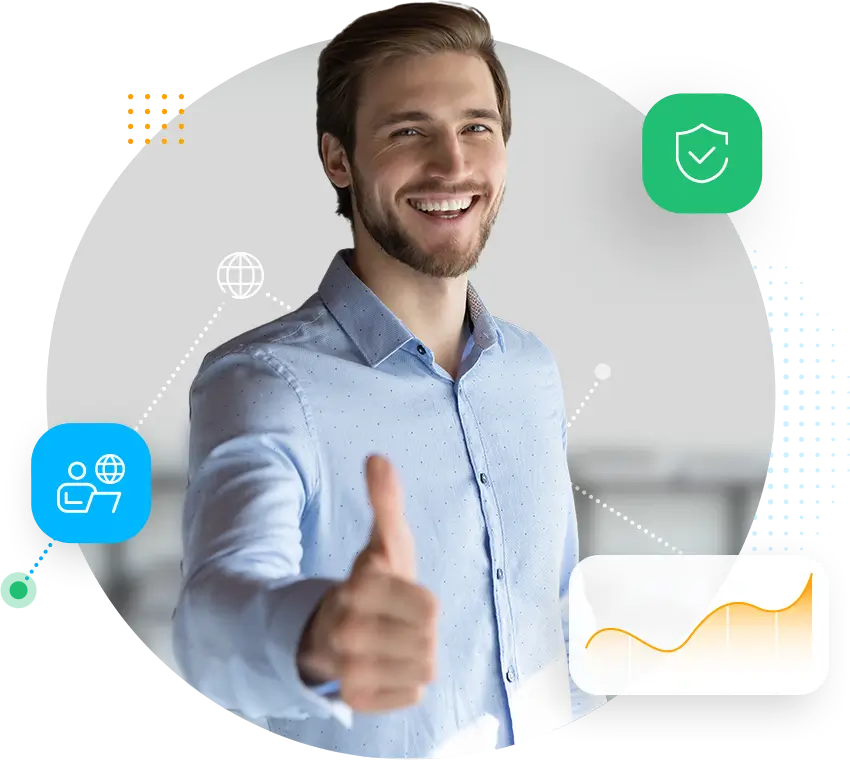 Niesamowite funkcje. Elastyczne plany. Niesamowita wartość.
Pracuj zgodnie z własnym tempem i potrzebami biznesowymi. Oprogramowanie P-Series Software Edition jest dostępne w dwóch planach funkcjonalnych i zapewnia wszystko, czego potrzebujesz, aby osiągnąć więcej.
Basic Plan Enterprise Plan Ultimate Plan
Deployment Mode Appliance Appliance,Software,
Cloud Appliance,Software,
Cloud
Business Features
BLF Support
Business Hours & Holidays
Allowed/Blocked Numbers
Call Recording
Concurrent Registrations for IP Phones
Custom Prompts
Distinctive Ringtone
DNIS
Emergency Number
Emergency Notifications
Fax to Email
Group Voicemail
LDAP Server
Mobility Extension
Music on Hold
MOH Playlist
MOH Streaming
Organizational Hierarchical Management
PIN List
Remote Extensions
Speed Dial
T.38 Fax
Fax to email
Voicemail
Personal Voicemail Greeting
Voicemail to email
WebRTC Audio Call
Telephony Features
AutoCLIP
Call Forwarding
Call Monitoring (Listen/Whisper/Barge-in)
Call Parking
Call Pickup
Call Routing
Call Transfer (Attended & Blind)
Call Waiting
Caller ID
CID-based & DID-based Call
Routing
Conference Rooms
Dial by Name
DID (Direct Inward Dialing)
DOD (Direct Outward Dialing)
DND (Do Not Disturb)
IVR
Paging & Intercom
Queue
Ring Group
CDR & Basic Reports
Administration & Security
Auto Provisioning
AMI (Asterisk Manager Interface)
Web-based Management & User Portal
Dashboard
Granular User Role
Bulk Import & Export (Extension, Trunk, Route, Contacts)
Extension Group
Built-in SMTP Server
Hot StandbySupported on the Appliance & Software Edition.
Event Logs
Event Notifications
Network Drive
Backup and Restore
Operation Logs
Secure Communications (SRTP & TLS)
Troubleshooting
Security
Password Policy Enforcement
Auto Defense
Static Defense
IP Blocklist
Security Alerts via Email
outbound call frequency restriction
Unified Communications
Linkus Web Client
Linkus Mobile Client (iOS & Android)
Linkus Desktop Client (Windows & MacOS)
CTI (Computer Telephony Integration)
Yeastar Linkus for Google Chrome Extension
Microsoft Teams Integration
Linkus Select & Dial with Hotkey
Company & Personal Contacts
Linkus Web Client Function Key
Audio Conferencing
Unified Messaging
Pop-up URL
Headset Integration
Voicemail Transcription
Operator Panel
Unlimited Users
Dispatch Active Calls (Redirect, Transfer, Hang up,
Record, Park, Monitor)
Monitor Call Status (Inbound, Outbound, Extension,
Parked Calls,Ring Group, Queue)
Unified Presence
Control Extension Presence Status
Switch Business Hours
Call Center
Switchboard-type Queue Panel
Queue Callback for Reduced Call Abandonment
Real-time Metrics on Wallboard
SLA for Performance Measurement
Insightful Call Center Reports
Remote Access Service Since the Cloud Edition is inherently accessible from anywhere, Remote Access Service is only for the Appliance and Software Edition
Yeastar Supplied Domain Name
Remote and Secure PBX Web Portal Access
Linkus UC Clients Remote Connection
Remote IP Phone Auto Provisioning
Consistent In-office UC Experience
Advanced Access Control for Further Security
CRM Integration
Incoming Call Popups
Auto Call Journal
Click to Call CRM Contacts
Hassle-free Integration
Support for Zoho, Salesforce, and HubSpot
Phonebooks
PBX-native Contacts Management
Separate Permission Control Per Phonebook
CRM Contacts Synchronization
Sync Across Linkus UC Clients
Instant Messaging
On-one-one or group chat
Cross-client synchronization
File sharing & image sharing
Call Accounting
Custom Rates Applied to Outbound Calls
Analysis Report on Telecom Expenses
API
PBX Configuration
Call Control
uaCSTA Control
Event Notification
Video Conferencing
Bulk Email & Instant Link Invitation
HD Audio and Video
Screen Sharing
In-meeting Team Chat
Web Video Call
Integrated 1:1 Video on Web Client
Seamless Video/Audio Call Switch
HD Audio and Video
Shrinkable Call Window
Potrzebujesz zintegrowanej centrali sprzętowej PBX?
Yeastar P-Series PBX System jest również dostępny jako urządzenie sprzętowe w 3 różnych wariantach PBX.
Wersja sprzetowa
Wersja programowa
Wersja chmurowa
Dokumentacja
Poznaj szczegóły na temat systemów PBX Serii P i dostępnych planów subskrypcji.
Pobierz specyfikację
Instrukcja konfiguracji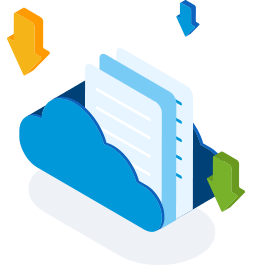 Skontaktuj się z nami
Jesteś zainteresowany systemem PBX Serii P? Opisz nam swoje potrzeby.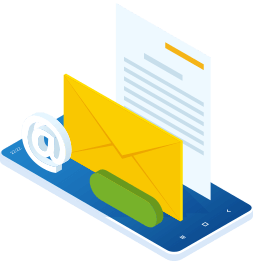 Get 30-Day Trial License
Try Yeastar P-Series Software Edition at no costs and with full feature access! In this 30-day trial, you will get a PBX capacity of 100 extensions and 25 concurrent calls. Just download the software, install, and experience.
All-inclusive PBX Features
Unified Communications
No Costs & Commitment
You're a Yeastar Partner?
Get your trial license immediately in the Yeastar Partner Portal – Quicker and Easier.