What Is
Space Management?
Space management is all about monitoring, tracking, and managing the physical space inventory of your organization, such as meeting rooms, desks, parking slots, dining spaces, etc.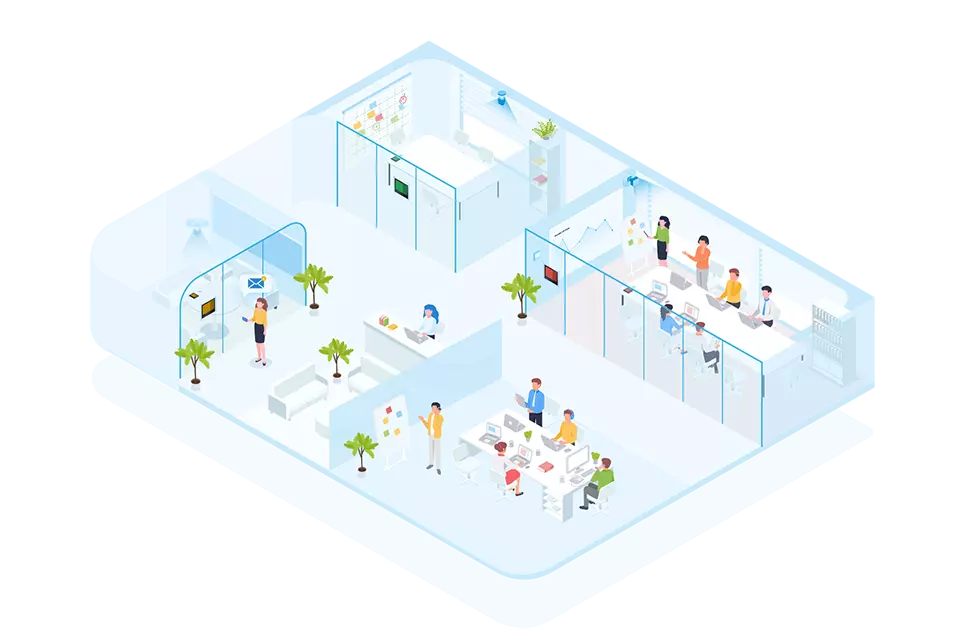 Why Does Space
Management Matter?
Space management systems are essential to coordinate and make the best of your space resources, especially in today's distributed and hybrid workplace.
Some businesses have already switched to the hybrid working model and more are following suit. With this upward trend come new space management challenges facing businesses, such as how to encourage employees back to the office, how to make the physical space dynamic enough to engage everyone everywhere, and how to future-proof the workplace in the ever-evolving business landscape, etc.
Organizations have been increasing their investments in strategic space planning to encourage people to return, better support more flexible business operations, and boost employee productivity.
Basic Elements of
Space Management
Space management is a multi-step process that basically includes:
Space tracking and data collection for in-depth analytics
Overall assessment regarding space utilization and costs
Strategic planning based on different work environment types
Resources optimization with the right technology and tools
Workflow automation to eliminate tedious management tasks
Space Management
Tools
Depending on their specific needs, businesses are opted for different space and occupancy management solutions to create a better place to work. With space management software, facility managers can easily understand how people use your office space with real-time and historical data and implement measures as needed. Here are 3 types of space management tools gaining popularity today.
Meeting room booking systems help employees find and book available rooms quickly and easily. When integrated with 3rd-party calendar apps, employees will a single point of entry for meeting events and room bookings. Some platforms can even work with hardware devices such as digital signage and smart sensors to create a fluid flow among people, resources, and information.
Desk booking systems allow employees to book a desk either on-site or on the go and effortlessly locate a colleague in the office. Especially with the rise of coworking spaces and activity-based working schemes, it has gradually become a necessity to streamline hot-desking, desk hoteling, and other flexible seating arrangements in one place.
Visitor management systems help track, record, and handle all the people entering your building or office, as well as delivers a touchless and trouble-free sign-in experience for visitors by allowing them to locate, reserve, and check-in through multiple devices. Its presence tracking is also helpful in maintaining compliance and enhancing office security.
Benefits of Adopting
Space Management
Solutions
Adopting a space management solution is a critical move in digitally transforming your physical workplace. Below are some of the top advantages you can expect from it.
Help employees find the best space they need
Spot space usage trends and patterns
Run reports for future space allocation
Make actionable workplace strategies
Reduce manual work for administrative staff
Optimize real estate expenditures
Improves employee experience and boosts morale