Meeting Room Booking System
What is a
Meeting Room
Booking System?
Meeting room booking system is a centralized booking system that organizes and streamlines the process of coordinating meetings and reserving rooms and space for those meetings. It is an advanced solution that allows businesses to better manage their office space and the way it is used.
People often underestimate how powerful a meeting room booking system can be. In addition to meeting room bookings, the system is capable of plenty of things, such as
Schedule meetings (regular, recurring, etc.)
Book meeting rooms (from desktop & on mobile devices)
Filter & find rooms by room capacity, amenities, etc.
Integrate with your calendar (Outlook, Google, etc.)
Send reminders to attendees before meetings
Send notifications to attendees in case of any changes
Display schedules in a grid view
……
Elevate Your Meeting
Room Booking System
If incorporated with additional hardware, such as digital signage and smart sensors, your system will be elevated to a whole new level.
Yeastar Workplace is a case in point. Together with Room Display, People Counting Sensor, and Room Comfort Sensor, it can do so much more than just organize meetings:
Detect real-time room occupancy
Display room status (empty or occupied) in real-time
Auto-release rooms if no one shows up
Allows walk-up reservations and meeting check-ins
Collect space utilization data
Provide informative insights into space utilization
Measure temperature, humidity, CO2 concentration, etc. of a room
Visualize the room comfort level
……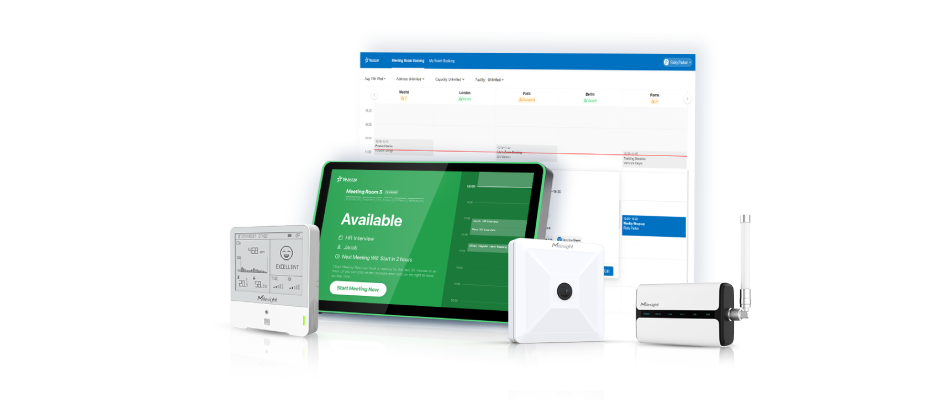 Meeting Room
Booking System
Transform Your
Workplace
The system is packed with perks and is set to transform your workplace.
Spend less time organizing meetings
It streamlines the process and enables employees to organize meetings effortlessly with just a few clicks. More importantly, it empowers employees to select the room that best suits their needs. Book the right room at the right time!
Prevents double bookings
With everything displayed on a single platform that all employees have access to, it helps prevent meeting booking nightmares that have been haunting your office in the past, such as double bookings.
Reduce ghost meetings
The meeting room booking system collaborates with people counting sensors and room displays. When a room is reserved and yet nobody shows up, the sensor will free up the room, and simultaneously, the room status will also be updated from occupied to available on the system, which helps to reduce ghost meetings and increase space utilization.
Cut administrative costs
It automates the process and spares businesses the costs of hiring a specific staff to take charge of meeting room bookings.
Better office, happier workforce
To conclude, the meeting room booking system elevates employee experience by making things a lot easier. It future-proofs your workplace and is indeed a winning factor in the world of modern workplaces.