We are directing you to your Cloud PBX...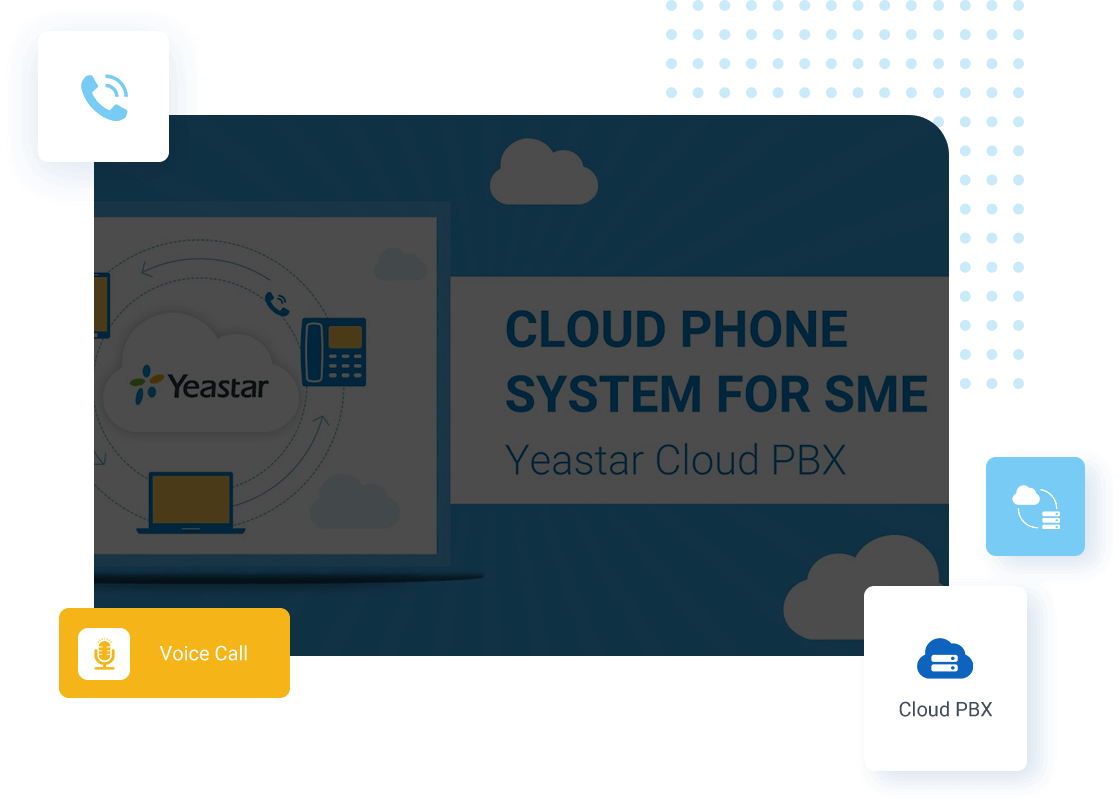 What Is Cloud PBX & How Does
Cloud PBX Work?
Cloud PBX, also known as hosted PBX or virtual PBX, is a Private Branch Exchange system that is situated off-site and accessible over a cloud-based IP (Internet Protocol) network. By using a cloud PBX, you can make and receive phone calls via IP phones and softphones installed on your mobile phone or desktop, and the voice traffic is routed via an internet network.
Cloud PBX system is gaining popularity due to the flexibility, simplicity, mobility, and scalability it brings to businesses. Usually, you can buy cloud PBX phone service from a hosted service provider and pay on a regular subscription basis.
Top Benefits of
Cloud PBX

Low Initial Upfront Costs
Cloud-hosted PBX is a cost-effective solution because it eliminates the need for large capital expenditures in infrastructure as well as ongoing maintenance costs. IP phones are usually the only upfront investment of most cloud PBX installations.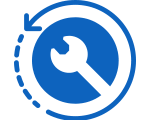 Minimum Installation & Maintenance Hassle
As an off-site option, cloud PBX contributes to on-site energy and space savings. It doesn't require dedicated in-house expertise for hardware installation and maintenance. Normally, your hosted PBX service provider will take care of all these.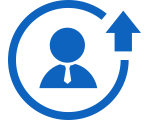 Rapid Scalability & Paying as You Grow
Cloud PBX grows with your business. New users can be added at any time as needed. Most service providers charge on a simple per-user-per-month basis so that you only pay for what you need and have a business phone system that grows with you.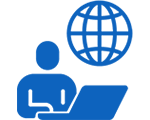 Working from Anywhere
Headquarters, branch offices, and teleworkers can all be unified under a cloud PBX system, sharing the same features and ensuring business continuity. For the remote workforce, the workplace is anywhere they want it to be as long as there is an internet connection.
Cloud PBX Features at a Glance
Users of a cloud PBX solution have access to a variety of standard telephony features, as well as many other advanced enterprise-grade VoIP features and unified communications options.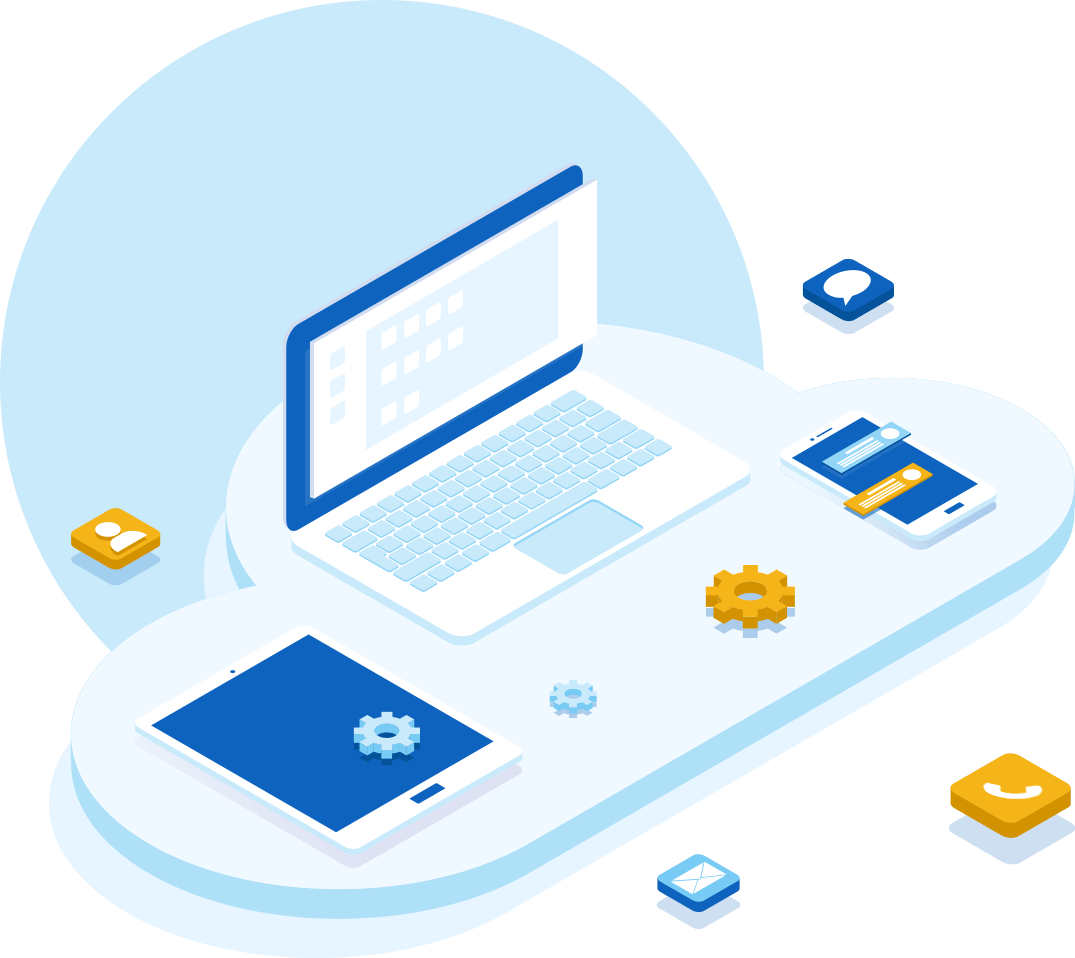 IVR (Interactive Voice Response)
Customize voice response to ensure incoming calls are prompted to the most appropriate person or department.
Call Routing
Set specific rules for each extension based on custom availability and where calls should be directed.
Call Forwarding
Redirect incoming calls to another destination, such as a mobile phone number, when the called party is unavailable.
DID (Direct Inward Dialing)
With a local phone number forwarded to your PBX system, you can have a local presence without physically located there.
Yeastar Cloud PBX + Unified Communications
Coordinated with Yeastar Cloud PBX, Linkus UC Clients introduces BYOD mobility and unified communications capability to make your workforce even more agile. With Linkus, your Windows and Mac desktops, as well as your iOS and Android mobile phones, will act as office extensions, with all phone system features available. You don't even need desk phones to handle business calls and can maintain a single phone number across all devices.
Advanced call-efficiency-improving and UC features are also at your disposal:
Instant Messaging

Presence

Native Contacts Management

CRM Integration

CTI (Computer Telephony Integration)

Click to Call Chrome Extension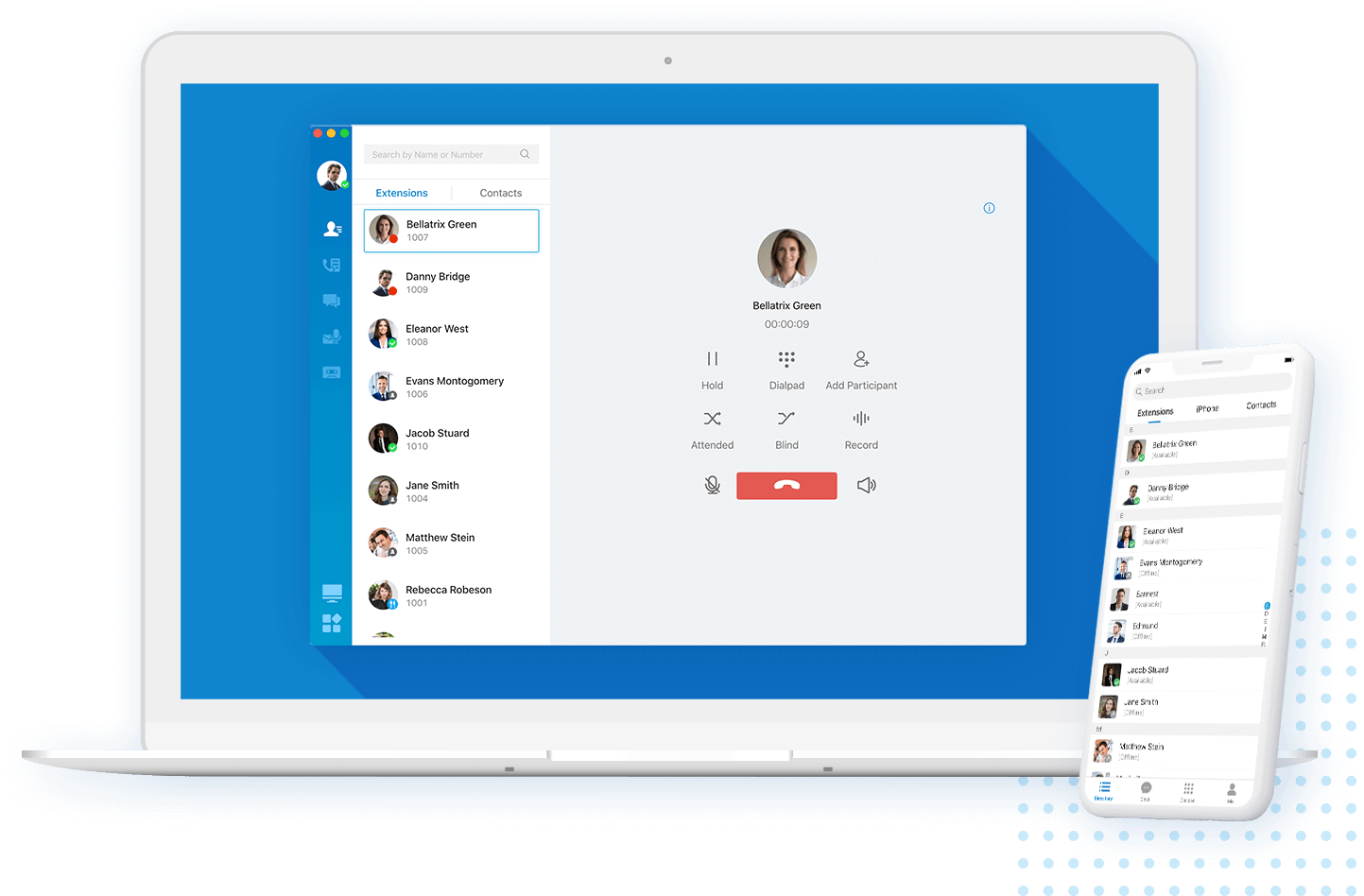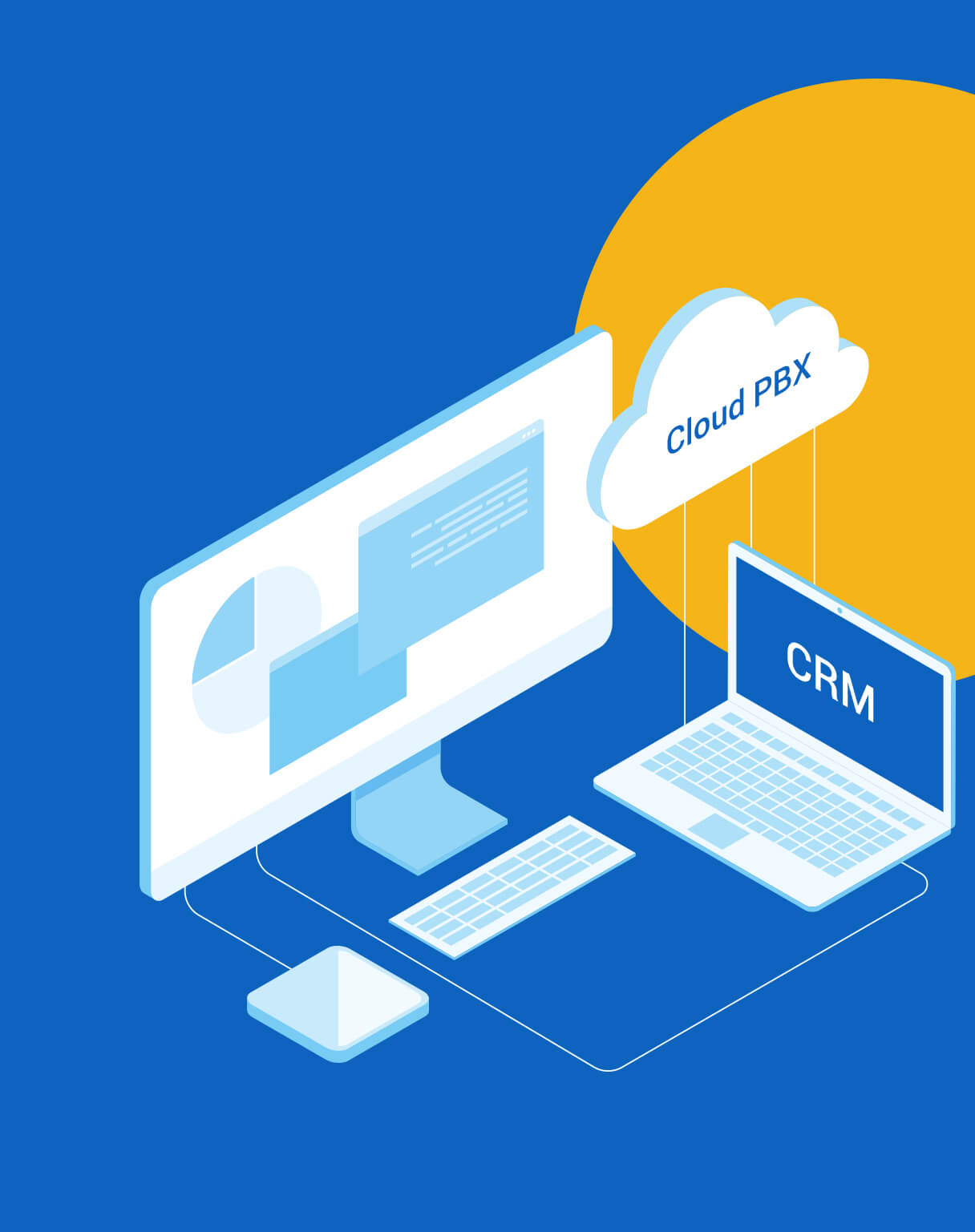 Yeastar Cloud PBX:
Open and Interoperable Phone System
Connecting to SIP Trunks
Yeastar Cloud PBX is interoperable with standard SIP trunks. We have run comprehensive compatibility tests with over 75 SIP trunk providers and provide you default configuration template to save time and effort.
Working with SIP Endpoints
Most SIP-based phones are supported by Yeastar Cloud PBX. You can bulk-configure IP phones from Yealink, Fanvil, Cisco, Snom, Polycom, Gigaset, Grandstream, Htek, and other brands using the Auto Provisioning feature.
Interworking with PSTN, ISDN & Analog Phone Lines
You can use Yeastar VoIP Gateways to connect PSTN, EI/TI/PRI, ISDN BRI, GSM/3G/4G trunks, and analog phones with Yeastar Cloud PBX to maintain your current equipment while still harnessing the power of cloud and VoIP technology.
Integrating with Other Technologies
By integrating with Microsoft Teams, Zoho CRM, and other 3rd-party systems, Yeastar Cloud PBX helps reduce setup headaches, provide a seamless user experience, increase employee efficiency, and unlock more possibilities for your business.
Looking to Quickly Launch Cloud PBX Services for Your Customers?
Flexible Deployment Options
Yeastar Management Plane: Simplify Service Delivery
If you are a service provider looking to craft and launch your own cloud PBX services instead of reselling them from 3rd-party providers, Yeastar provides a centralized platform, Yeastar Management Plane (YMP) to simplify and jump-start the cloud PBX service delivery.
Create cloud PBX instances for your customers in minutes

Built on a multi-instance infrastructure, YMP allows for the quick creation of Cloud PBX instances with a customized number of extensions and concurrent calls. The cloud phone system will be live immediately, enabling your customers to access and manage it right from the web browsers.

Scale up and down as needed with a few clicks

YMP offers on-demand scalability to allocate fluctuating customer needs. The number of users and concurrent calls of each cloud PBX instance can be easily resized with clicks, thus you can deliver a future-proof solution and flexible pay-as-you-grow pricing for every type of business opportunity.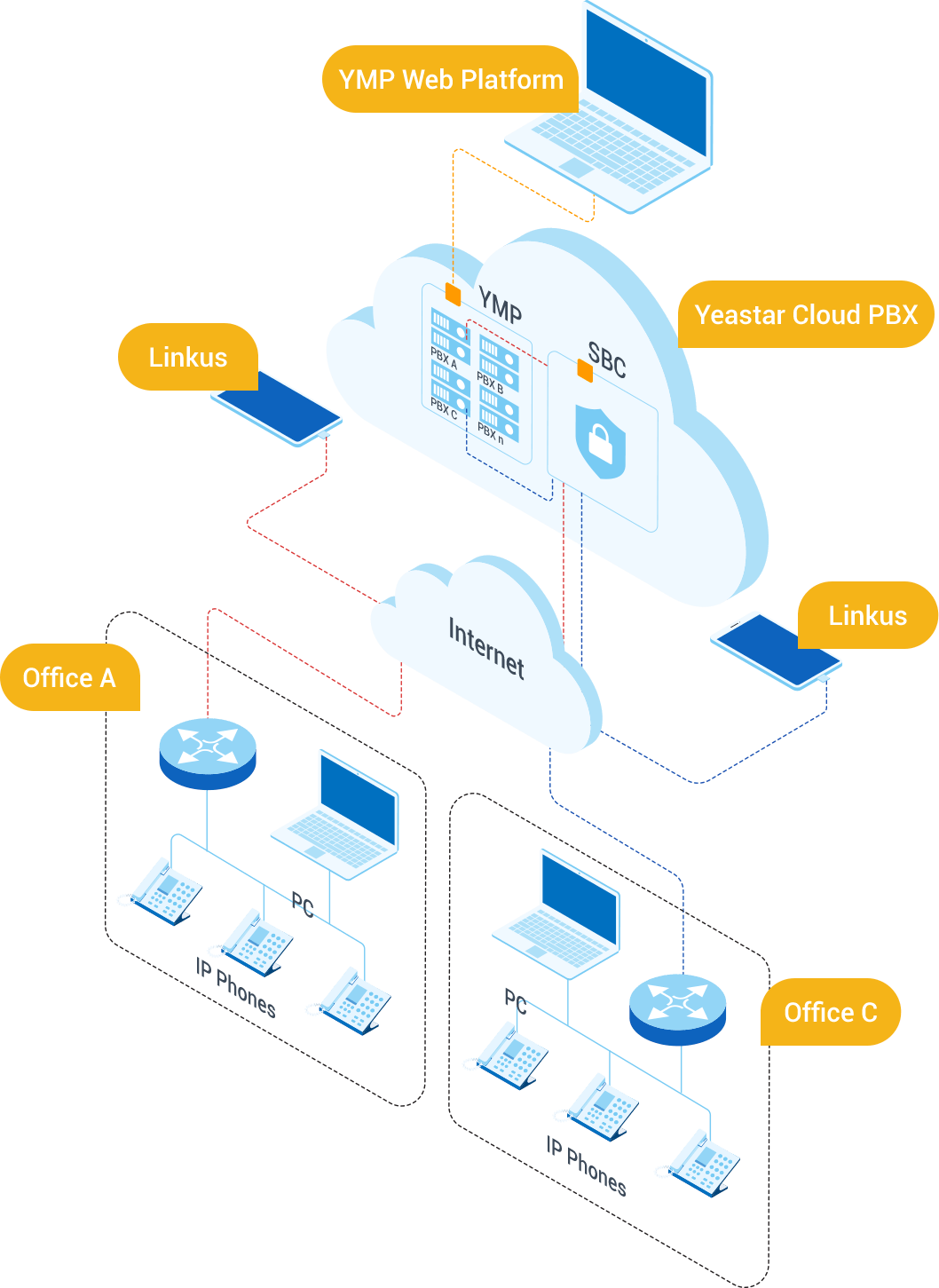 Flexible Deployment Options & Pricing Models
1
Turnkey Solution: No Server Required
For those who are just about to dip a toe into hosted PBX market and not ready to commit that many resources at the very start, this OpEx model doesn't require you to maintain the infrastructure and shortens your time to market.
2
Bring Your Own Infrastructure
You can also house YMP on your own choice of server and stay in complete control of the platform and the hosting environment, either it is public cloud platforms like AWS, Alibaba Cloud, Google Cloud, or your own data center via virtualization by using VMware, KVM, or Hyper-V.
3
Co-branding Opportunities
We also provide a co-branding option with which you can customize cloud PBX instances in terms of the product name, logo, favicon, and welcome email template. It gives you more choices and greater flexibility on the go-to-market strategy, allowing for promoting your own brand while also leveraging Yeastar's reputation and credibility.
Frequently Asked Question about Cloud PBX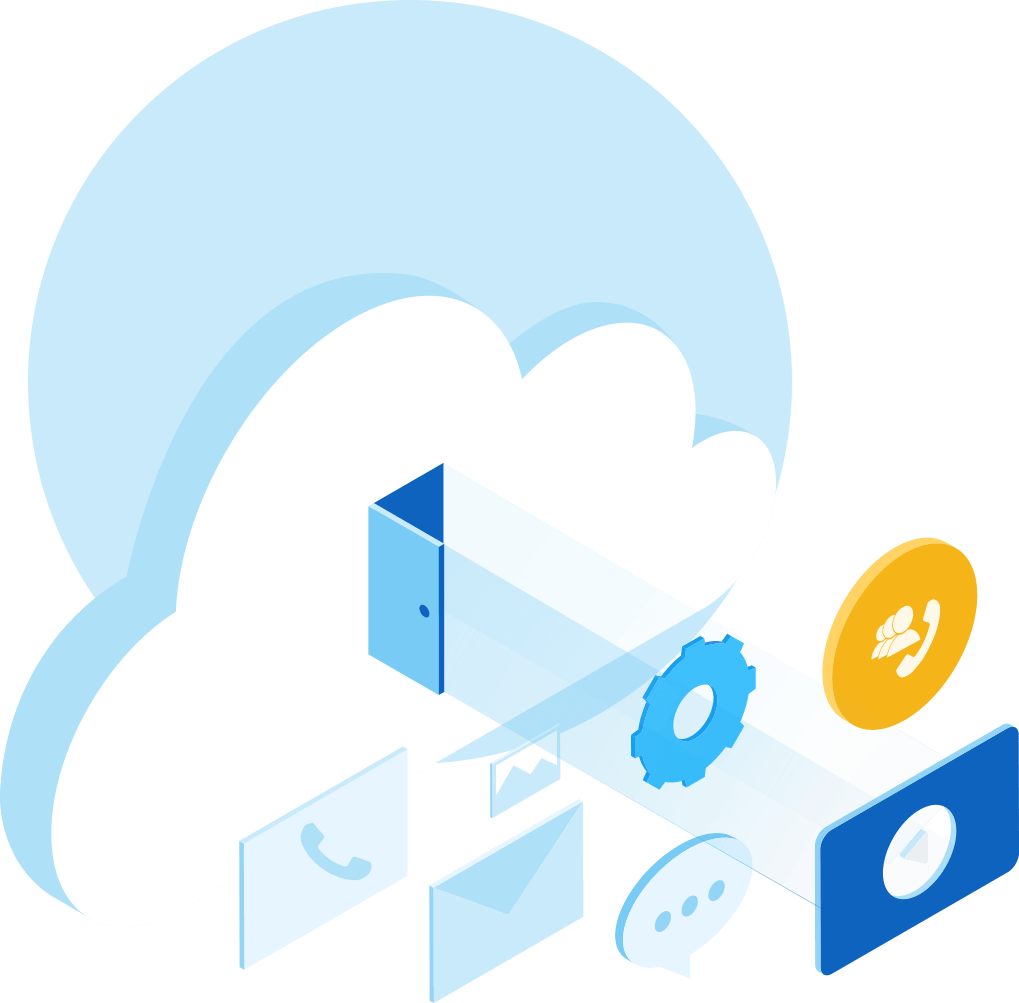 Why updrade from traditional PBX to cloud PBX systems
Running a traditional phone system usually requires you to install hardware equipment on-premises, pay licensing fees for certain features, and have dedicated technicians to manage and maintain the system. In comparison, cloud PBX is a more cost-effective business phone system option.
Cloud PBX greatly reduces the initial and upkeep cost of hardware equipment. What's more, having a cloud-based phone system up and running doesn't require cumbersome hardware and wiring, and it is easier to add new users and connect to new locations. In terms of usability, cloud-based PBX enables greater mobility and makes unified communications an option for businesses, which an analog phone system is incapable of.
How to choose between cloud PBX and on-premises PBX?
Both on-premises and cloud PBX are effective and reliable business phone systems with different advantages, whereas each could be a better match for particular communication needs.
Large enterprises tend to purchase their own appliances up front, while small and medium-sized firms may prefer cloud PBX solutions to pay on a subscription basis.

Companies that have complex and dynamic communication needs tend to reside their PBX systems on-site while a relatively small business with fewer resources may prefer to rely on cloud PBX service providers.

In terms of system expansion, Cloud PBX phone systems are typically more scalable than on-premises ones, suitable for businesses with staff growth or reduction over the system's lifespan.
What to look for in a cloud PBX provider?
Besides standard phone system functionalites, do you require certain advanced features?

Do they support BYOD mobility and remote working?

Do they allow you to integrate the system with 3-rd party platforms?

Do they provide cloud PBX service as a part of a unified communications solution so that you can take the service to the next level?

How is their customer support? Do they manage all maintenance and system updates?

Do they house servers in geographically dispersed data centers for redundancy purposes?

If you want to keep the existing landline phone numbers, make sure to check if they provide the number porting service.

What do their customers say about their services? Any testimonial or review?
What is the total cost of ownership of cloud PBX?
Cloud PBX turns capital expenditure into an operational expense. Except for additional phone end-point purchase, only the minimum initial investment is required to get started and you only pay for ongoing subscription fees monthly or annually. You will have greater flexibility in choosing a cheaper business phone line option with SIP trunking.
Besides, you don't need to pay additional fees for maintenance and software assurance. For small businesses lacking resources, Cloud PBX eliminates the need for additional dedicated IT staff to manage and maintain the system.