Workplace Digital Signage
What is Workplace
Digital Signage?
Workplace digital signage is ubiquitous in today's workplace and has replaced the traditional bulletin boards. It is considered a powerful visual communication tool & a highly-visible internal communication platform.
Often seen mounted at the entrance of a conference room, workplace digital signage displays various important information and keeps the mobile workforce in the know.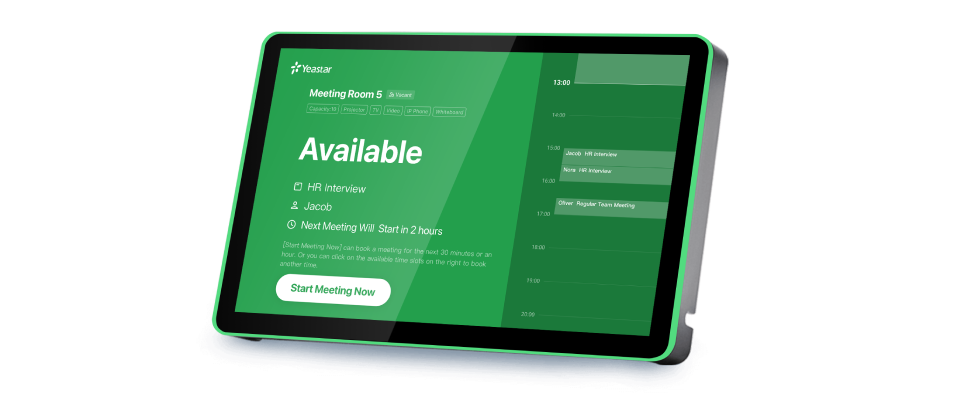 The category of digital signage extends past typical LED displays to include video walls, touch screens, digital kiosks, and even large tablets. It supports multi-media content from images and video to web pages and animated text, and thanks to that, a wide range of industries benefit from installing digital signage.
For example, restaurants, cinemas, and sports venues use it for video and promotions, while hospitals and pharmacies install it to improve patient communication and educate the public.
Room displays and wayfinding kiosks represent the most prevalent form of digital signage in the workplace. The popularity springs from the scheduling functionality and office navigation. With the right visual signage system, companies can revolutionize their internal communications and ensure important messages won't be missed out.
How Does Digital
Signage Work
in the Workplace?
Workplace digital signage, like room display, collaborates with meeting room booking systems and occupancy sensors to show meeting-related information and update real-time room status.
Usually, it comes with a touch screen, so people can interact with it by tapping the screen, so as to check in to meetings, extend meetings or book rooms on the spot.
Below is a quick video to demonstrate how it works:
Problems Tackled
by Workplace
Digital Signage
Difficulties in finding a meeting room
Workplace digital signage enables employees to find an empty space effortlessly with color signals. So cast a glance at the hallway, you will know which room to book, making meeting bookings a breeze.
No-show and ghost meetings
Working in sync with occupancy sensors, workplace digital signage updates room status in real-time. If a room is booked but no one shows up, the sensor will auto-release the room, and then the signage will instantly let people know the room opens up by changing the colors, which greatly eliminates the occurrence of ghost meetings.
High overhead costs
Workplace digital signage revitalizes idle corporate assets and helps businesses save administrative costs. As previously mentioned, if a room is booked yet no one shows up, it will become available again on the system, preventing the resources from sitting idle.
Should there be only a few rooms for meetings, workplace digital signage, together with the meeting room booking system, brings flexibility to the arrangement and makes sure every room is being utilized to the fullest.
Extra Perks of
Installing Workplace
Digital Signage
Foster workforce collaboration and create a better sense of team
Keep all employees informed and up-to-date, regardless of their schedules
Offer real-time availability of the meeting rooms
Display the upcoming schedules of the meeting rooms
Guide employees and visitors and help them navigate within the office building
Allow walk-up room reservations for ad-hoc meetings, team collaboration, etc.
Allow employees to check in & out easily by tapping the screen