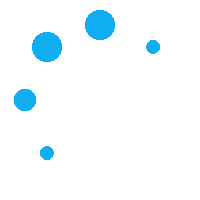 Virtual PBX


Phone System

Starts in minutes, no string attached

All-inclusive PBX features

Simple app for web, mobile, desktop

Inbuilt video, chat, call center, operator panel, Microsoft Teams integrations, and more advanced features

30-day free trial: 20 Extensions, 4 Concurrent Calls. Cloud-based
What is a virtual PBX?
A virtual PBX is an IP-based phone system that is hosted offsite and operates using Internet connections. Unlike traditional phone services, virtual phone system doesn't require onsite PBX hardware and physical phone lines. It relies on cloud-based software & VoIP (Voice over Internet Protocol) technology to manage calls and is often hosted by the service provider or deployed in a cloud service. As a result, virtual PBX solution is often referred to as cloud PBX or hosted PBX. Typically, a virtual phone system offers all the functions of a traditional phone system and provides something beyond.
Take Yeastar as an example.
Yeastar P-Series PBX Cloud and Software Edition are virtual PBX that goes beyond just a phone system. They converge IP PBX capability, online meetings, chat, operator panel, call center, mobile integration, and more UC&C features in one single platform.
With Yeastar cloud-based virtual phone system, you only needs internet-connected devices like computers, laptops, and mobile devices to work. Just log in to your account and you are ready to go.
With Yeastar software-based virtual phone system, you can install the PBX on your own private & secure server and run in minutes, having complete control.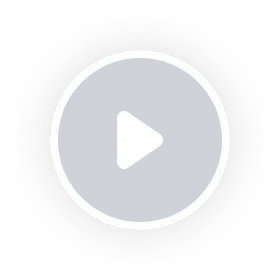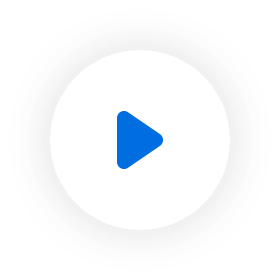 Benefits of Virtual PBX
As an IP PBX, virtual business phone system offers advantages at all business levels: functional, operational, and financial.
Lower Total Cost, Increased ROI
.
Little-to-zero CAPEX investment. By omitting the on-premise PBX system on your premises, you reduce the initial CAPEX and long-term maintenance costs. Your service provider typically takes care of all the phone system upkeep.
Reduced call billing. A virtual or cloud PBX is not limited to any geographical location, which could lead to massive call savings on long-distance calls. Your remote offices and workers can access the same phone system from anywhere and make free internal calls. Plus, Yeastar virtual PBX system lets you bring your own business numbers and SIP trunks. You decide your calling plans and can make a change at any time. No more limited bundles.
System always up to date. With Yeastar virtual phone system, you don't have to shoulder the burden of upkeep. Your cloud communications system is continually updated to deliver the latest in communications technologies.
More Unified Communication Features
.
More than just business telephony. With Yeastar virtual PBX, you move to unified communications with one simple platform for all communication channels. Hosted PBX system, video conferencing, instant messaging, call center capability, voicemail, call recording, and more—everything is included in low, monthly/annually cost.
Rich business tools integrations. The Yeastar PBX's out-of-box integrations with Microsoft Teams and CRM platforms such as HubSpot, Salesforce, and Zoho also enable seamless data sync across platforms, streamlined business workflows, and boasted employee productivity. Explore our integrations on our App Marketplace
Friendly in Nature for Remote Workers & Offices
.
Whether you're a multi-site corporation or a virtual company comprised of telecommuters, a virtual IP PBX can give instant communications between offices and employees at no cost. Your offices in the Unified States, England, or anywhere in the world can use the same phone system and share local phone lines while remaining a global corporate identity. Yeastar virtual phone system bridges distance, enabling collaboration among teams situated around the world.
Equip your employees with the flexibility to work anywhere (at home, in the office, or somewhere in between). Yeastar virtual PBX allows for complete integration of mobile devices with Linkus UC Clients. With Linkus, your mobile phones, tablets, and laptops are integrated and have all the functionality of an office extension. Users can call make and receive calls, access to company directory & contacts, and more using their business extension.
Easier Setup, Less IT Management
.
Get set up faster. No need to fumble with wires or hire a professional. With Yeastar PBX, you can have your virtual phone service up and running in a day or less. It just takes a few clicks to add extensions, user groups, and set up the call routing and advanced call features. And you can do it yourself! Through an intuitive web-based management portal, you can manage the entire system online—no obscure certifications required.
Granular user permission. Yeastar virtual business phone system deploys permission control based on user roles. Give your team their own credentials to access all areas of your phone system or just limited permissions for specific functions. It's all up to you!
Easy for everyone. Yeastar PBX is easy to use with purposely-built Linkus UC apps (web/mobile/desktop). Each user can personalize how they receive and handle their calls without IT assistance on the app. E.g. Customizing call forwarding rules, voicemail greetings, notifications for missed calls, etc.
No server maintenance. Using a Yeastar-hosted virtual PBX removes the need for maintaining on-premise servers on your own. We take care of server upkeep, troubleshooting, performance monitoring, and software updates.
Scalability & Phone Flexibility
.
Scalability. With its fast, hardware-free setup, Yeastar virtual PBX is especially well-suited to businesses anticipating growth. You can scale up users at any time as needs change.
Phone flexibility. Enjoy the flexibility to use any types of phone terminal you wish. Employees can make and receive phone calls using an IP phone, desk phone, headset, or Yeastar Linkus UC Clients (a free softphone running on a mobile, web, or computer desktop). The solution's broad IP phone interoperability and headset integrations provide an easy plug-and-play.
Enterprise-grade Security & High Availability
.
Security. Yeastar virtual PBX employs a comprehensive security strategy to keep user data safe. Aside from high-level encryption that protects VoIP phone calls, there are other measures including SBC, auto & statics defense, IP access restriction, and password policy enforcement for account protection. Users can also leverage the advanced set of administration tools and services to prevent system breaches from the very foundation.
High availability. Yeastar cloud PBX is delivered on a carrier-grade infrastructure redundant across globally dispersed data centers. Our highest standard of active/active high availability architecture, real-time PBX failover, and more redundancy mechanisms are in place to ensure the best peace of mind.
What else to expect with Yeastar virtual PBX?
Besides the above benefits, take advantage of all the following Yeastar innovative PBX features that power connections today and tomorrow. Yeastar business phone system is trusted by over 450,000 customers worldwide.
Call, Video, Message, from Everywhere
Call, meet, and message are all integrated in one single app. Take the flexibility to work from anywhere, through any device with Yeastar Linkus UC Clients (web/mobile/desktop).
Drag-and-drop Operator Panel
Get a holistic view of your company call activities in one view. It's easy to drag and drop to dispatch incoming calls to extensions, ring groups, queues, etc. based on their real-time availability.
Delight Customers with Inbuilt Call Center
Improve customer service and agent productivity with rich call center features, including Queue Panel, Wallboard, Automatic Queue Callback, Post-call Customer Survey, SLA, Call Center reports, and more. Learn details
Automated Analytics for Quick insights
Monitor call usage, device status, and alerts. Use pre-built live reports, performance reports, and more.
Integrate with your resources & applications
Bring your SIP trunks, IP phones, headsets, and more to create a tailored experience, and connect it with Microsoft Teams and popular CRMs, such as Hubspot, Salesforce, Zoho, etc. All integrations are made ready out of the box. Learn details
Get Started FreeTry the PBX Software on your own server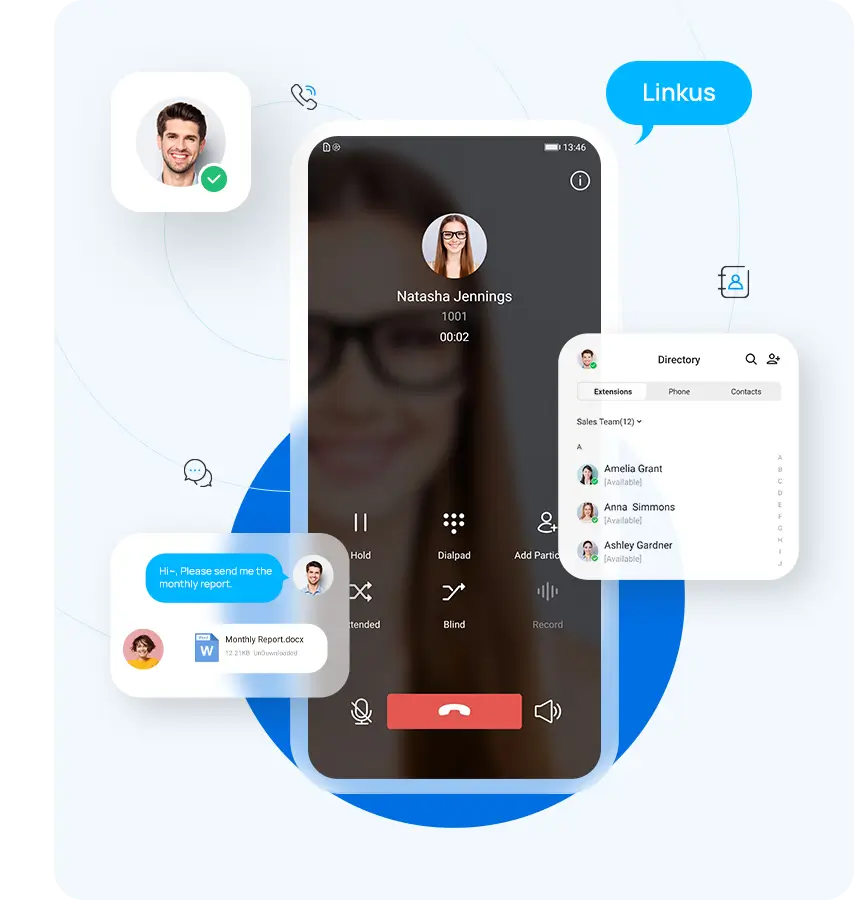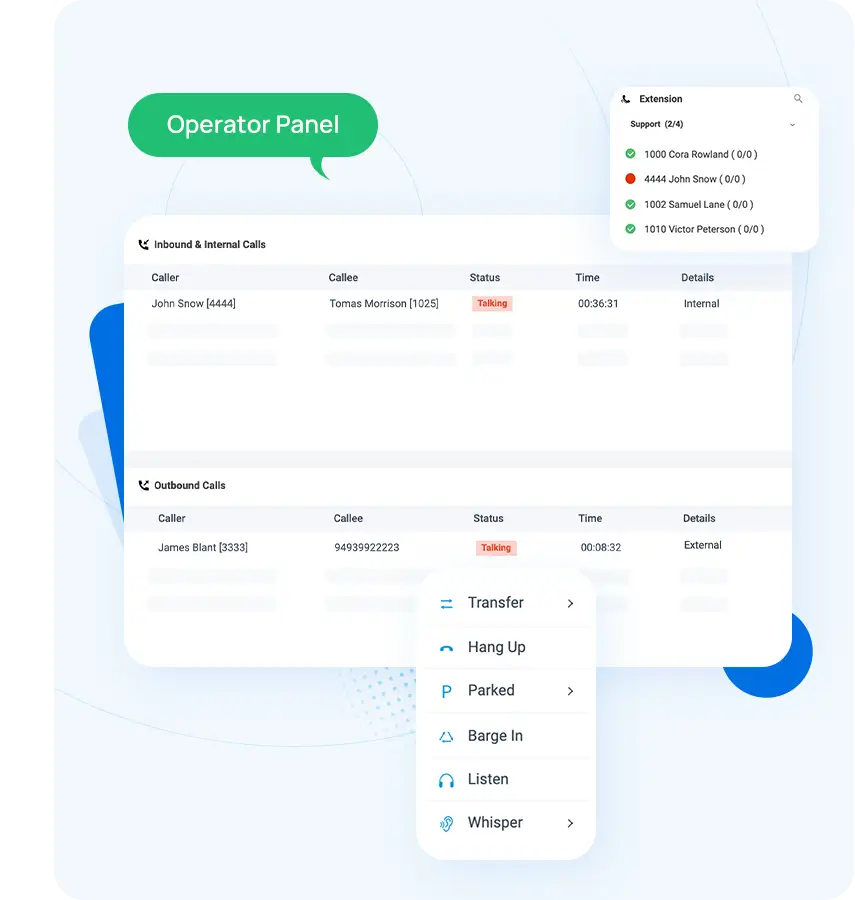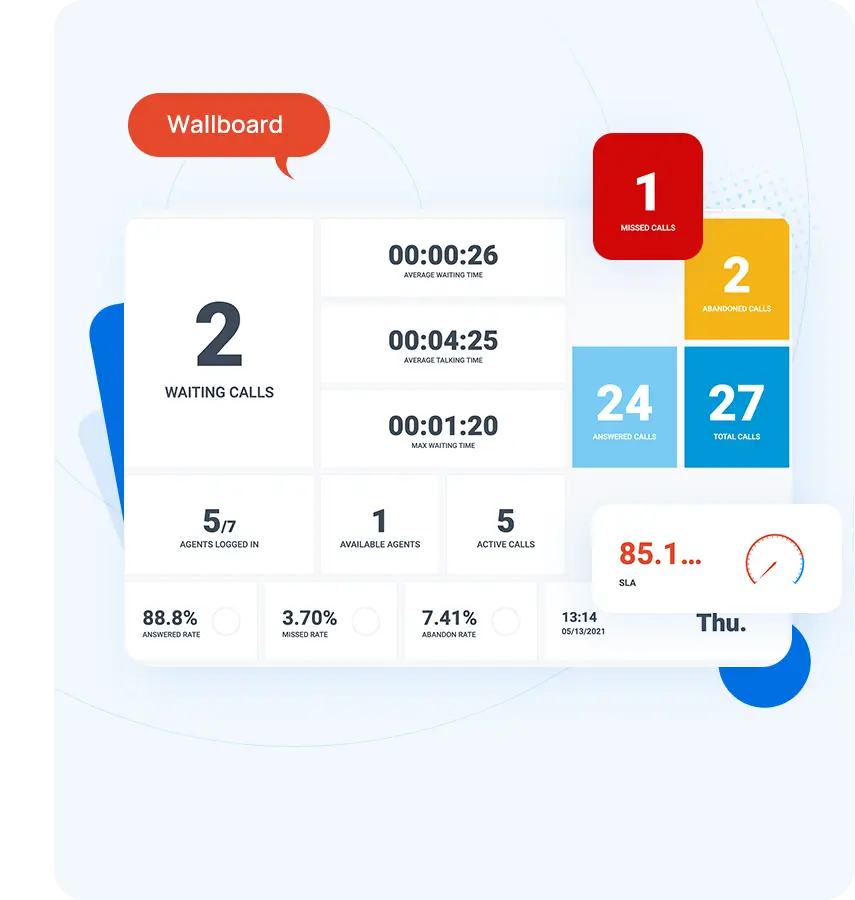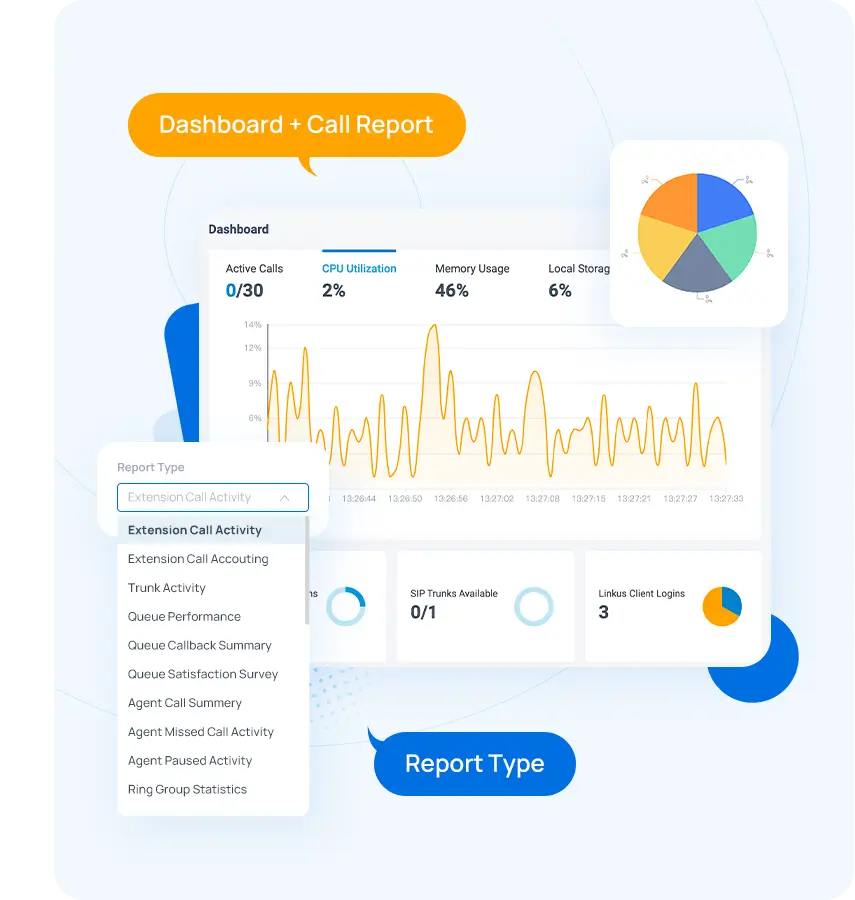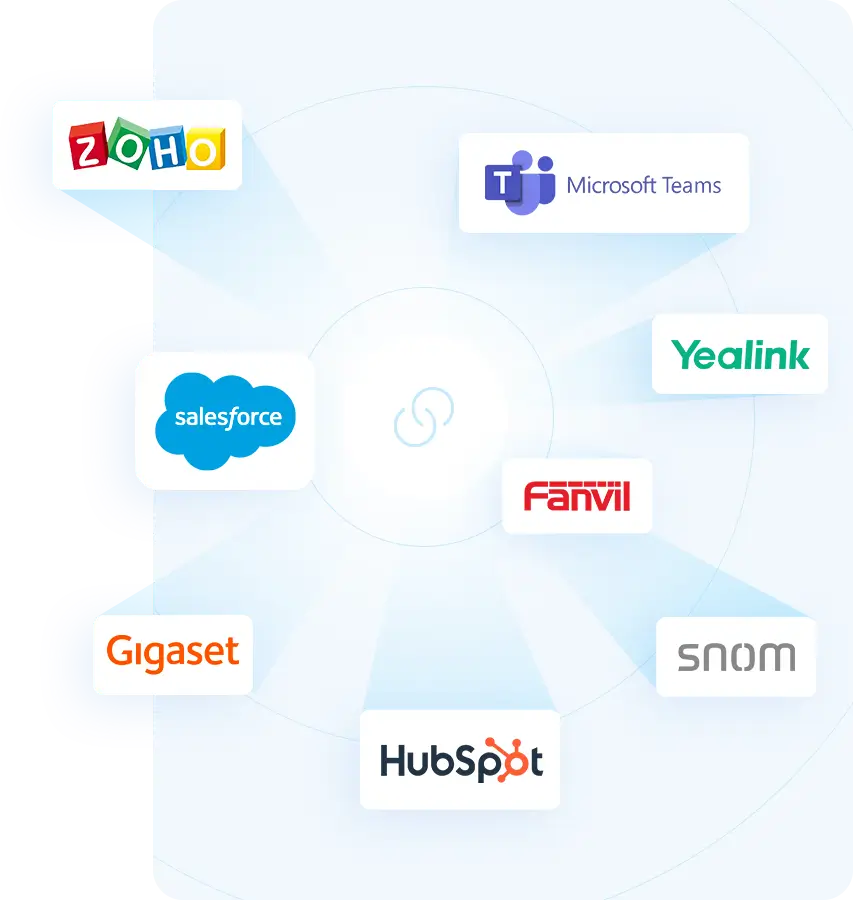 Further Reading & Resources
What does PBX stand for?
.
PBX stands for Private Branch Exchange. It's as an internal telephone network of a business or other entity. A PBX usually delivers business telephony features such as Auto Attendant, Call Forwarding… Read full
How to set up a virtual PBX?
.
It depends. If it's a Cloud PBX hosted by a service provider, you will only need to get an account from your provider, then you can log into the system and configure your custom call routings, numbers, etc. If you choose a software PBX and want to deploy the software on your own infrastructure, then you will do the extra steps of server and network settings.
How does a virtual IP PBX work?
.
A virtual IP PBX can transport data over the Public Switched Telephone Network (PSTN), over the Internet (through VoIP technology), or a combination of both. Once set up, your phone terminal will connect to the PBX host via the internet, and your connection will remain open to…Read full
How to choose a virtual business phone system?
.
With so many options out there, it can be hard to figure out which virtual phone system is the best for your business. In this Business Phone System Buyer Guide. we explain the four key factors to consider and a simple feature checklist to help you compare and shortlist your options.
Join
450,000+

Businesses

Take advantage of a cloud-based virtual PBX with new levels of performance and security.