We are directing you to your Cloud PBX...
Uwolnij potencjał komunikacji w chmurze
Trend przejścia do chmury jest niemal powszechny. To elastyczne środowisko oferuje firmom każdej wielkości szybszy niż kiedykolwiek sposób na łatwe i wygodne korzystanie z szeregu funkcji komunikacyjnych klasy korporacyjnej.
Uruchom i działaj jeszcze dziś
Zmniejszone nakłady kapitałowe
Mniejsze obciążenie administracyjne
Stworzony dla całej kadry pracowniczej
Elastyczność geograficzna
Natychmiastowa skalowalność
Głos, wideo, aplikacje, współpraca w jednym kroku
Włącz pełną gamę narzędzi UC do oferty swojej firmy. Dzięki zoptymalizowanemu środowisku stworzonemu dla wszystkich wersja chmurowa Serii P, jako rozwiązanie "PLUS", łączy w sobie całą Twoją komunikację, od elementów niezbędnych, do tych, które warto mieć i używać w całym zespole.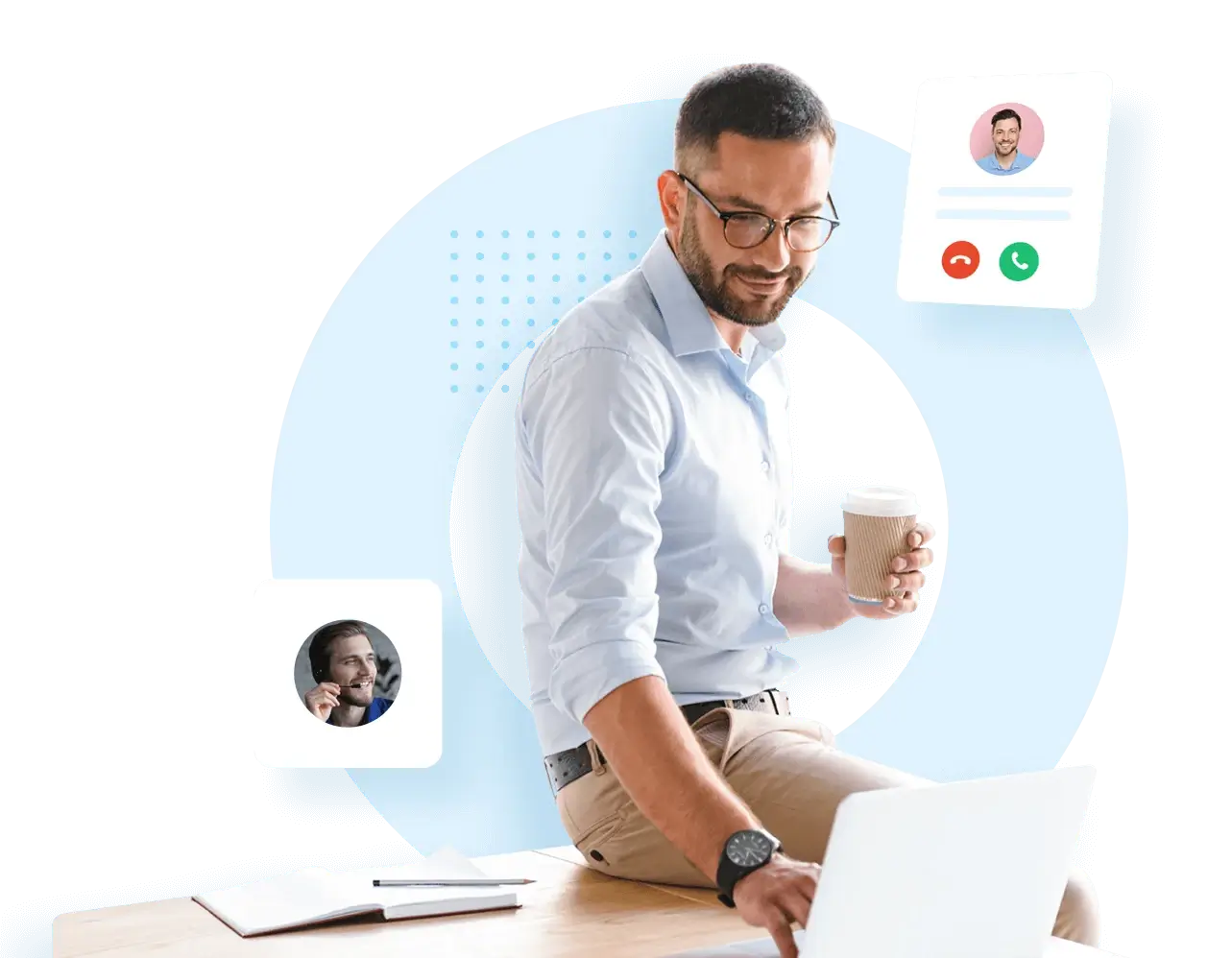 Na dowolnym urządzeniu, Gdziekolwiek
Bezproblemowe działanie i pełny dostęp do funkcji biznesowych za pośrednictwem klientów internetowych, mobilnych i stacjonarnych Linkus.
Połączenia Video
Zintegrowane internetowe konferencje wideo i udostępnianie ekranu w celu prowadzenia rozmów grupowych.
Zadowoleni klienci
Zaawansowana dystrybucja połączeń, portal agenta i przełożonego, dynamiczna tablica informacyjna i szczegółowe raportowanie.
Więcej w przeglądarce
Wykonuj internetowe połączenia audio i wideo. Dzięki rozszerzeniu Chrome korzystaj z wyskakujących okienek z połączeniami i funkcją "kliknij, aby połączyć" .
Lista kontaktów
Zarządzaj kontaktami firmowymi i osobistymi w aplikacji Linkus UC, telefonach IP i centralach PBX.
Otwarty i wszechstronny
Doskonale współpracuje z telefonami IP, łączami SIP i aplikacjami innych firm, takimi jak Zoho CRM, MS Teams itp.
Dla Usługodawców
Rozwiązanie "pod klucz":
już dziś zapewnij optymalną obsługę!
Wdrożenia UCaaS są dostępne w różnych rozmiarach dla wszystkich branż biznesowych, które mogą stać się kopalnią złota dla usługodawców. Zaprojektowane z myślą o Twoim sukcesie rozwiązanie "pod klucz" chmurowej wersji Serii P to w pełni zarządzalna bezserwerowa oferta zapewniająca szybszy dostęp do rynku, łatwiejsze świadczenie usług i wyższy zwrot z inwestycji. Dodatkowo za pomocą YCM począwszy od uruchomienia, aż do zarządzania i ekspansji wszystko dostępne jest w jednym miejscu.
Nie potrzeba serwera fizycznego, minimalne koszty początkowe
Niezawodna usługa oparta na architekturze wysokiej niezawodności
Kliknij, aby utworzyć serwer PBX i używać go bez ograniczeń
Pełny podgląd wszystkich zarządzanych usług
Aktualizacje, tworzenie kopii zapasowych i więcej zaplanowanych zadań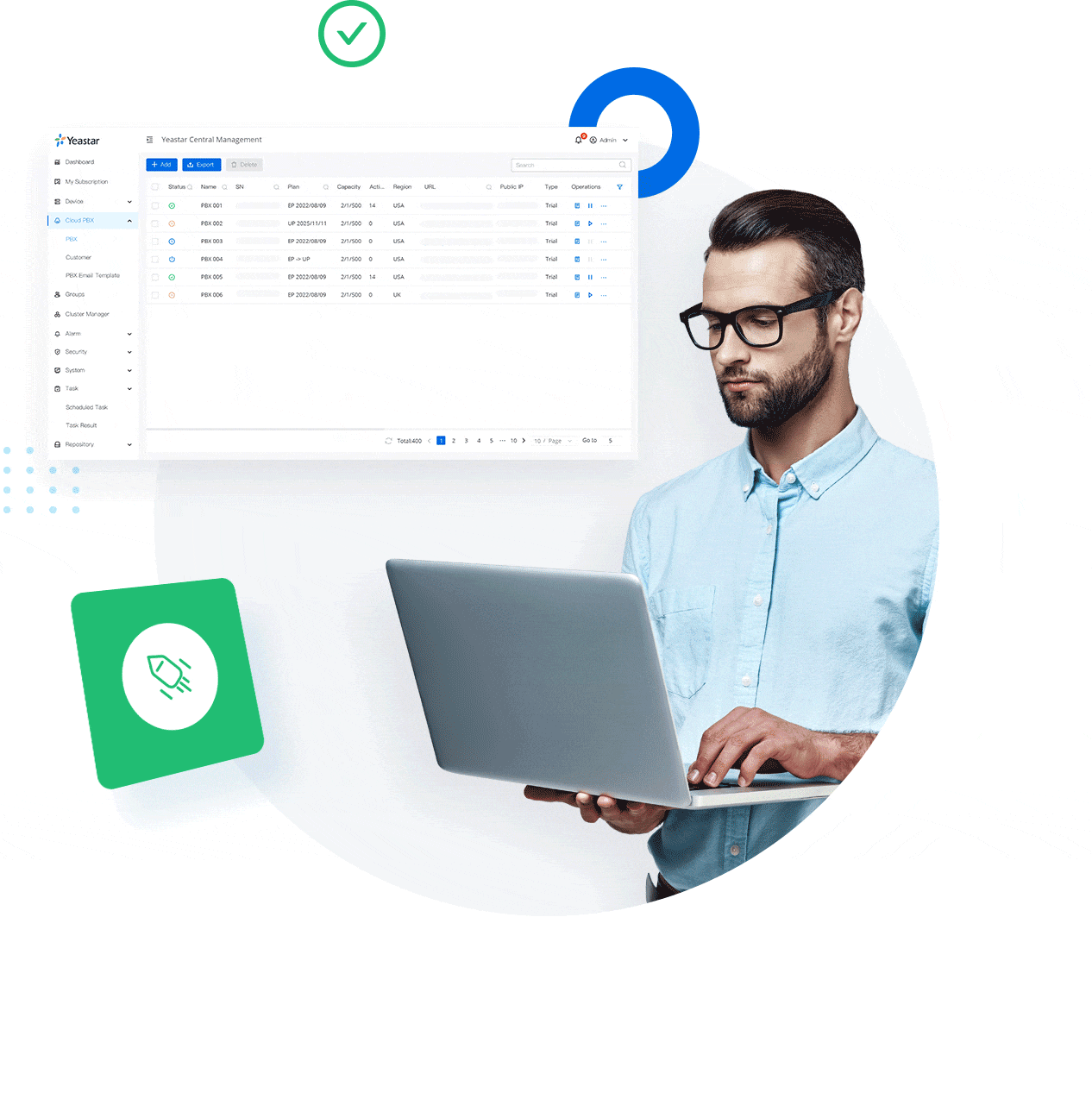 Wszechstronne funkcje. Elastyczne plany. Niesamowity potencjał.
Wersja chmurowa Serii P oferuje plany subskrypcji Enterprise i Ultimate, więc bez względu na to, czy potrzebujesz dla firmy wielu niezbędnych funkcji, czy chcesz dodatkowo uzupełnić wdrożenie UC o wideorozmowy i wideokonferencje, to jest na to rozwiązanie.
Więcej opcji wdrażania dostosowanych do Twoich potrzeb
Aby spełnić różne wymagania klientów oprócz edycji chmurowej, serwer Yeastar Serii P jest również dostępny w wersji sprzętowej i programowej.
Edition chmurowa
Software Edition
Appliance Edition
Bezpłatna wersja próbna Dla Usługodawców
Edition chmurowa
Rozpocznij bezpłatny okres próbny już dziś
Ten 30-dniowy bezpłatny okres próbny zapewnia pełny dostęp do funkcji zawartych w planie Enterprise z 10 numerami wewnętrznymi i 10 równoczesnymi połączeniami. Zarejestruj się teraz, aby poznać możliwości.
Wbudowane
funkcje PBX
Ujednolicona
komunikacja
Brak kosztów i
zobowiązań