Yeastar Linkus for Google
Use the Google Chrome Extension to manage your office calls on the web. Never miss a call even when your web browser is closed.
Category:CollaborationWorks with:P-Series Phone SystemS-Series VoIP PBX
Designed for Yeastar PBX systems, Yeastar Linkus for Google is a free Google Chrome extension (lightweight web softphone) that allows you to handle business calls right easily without a physical phone and maximize workday efficiency.
The lightweight web-based softphone delivers convenience by offering easy dial pad, click-to-call, complete call handling, call notifications, contacts search, extension presence management, and more features in one simple and compact UI. You would never miss a call from your business phone number and can effortlessly launch calls to any phone number displayed on the web page.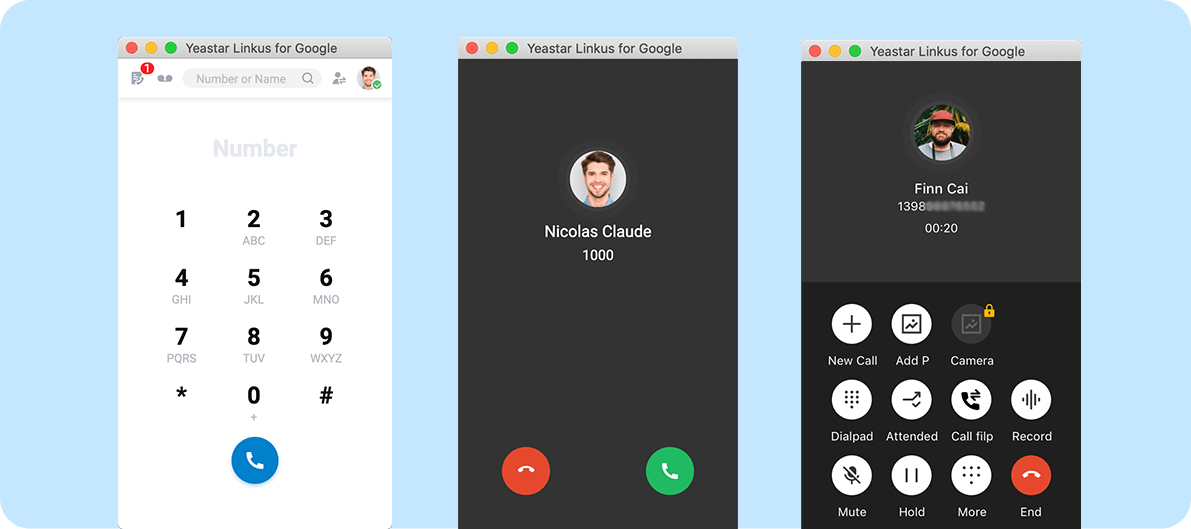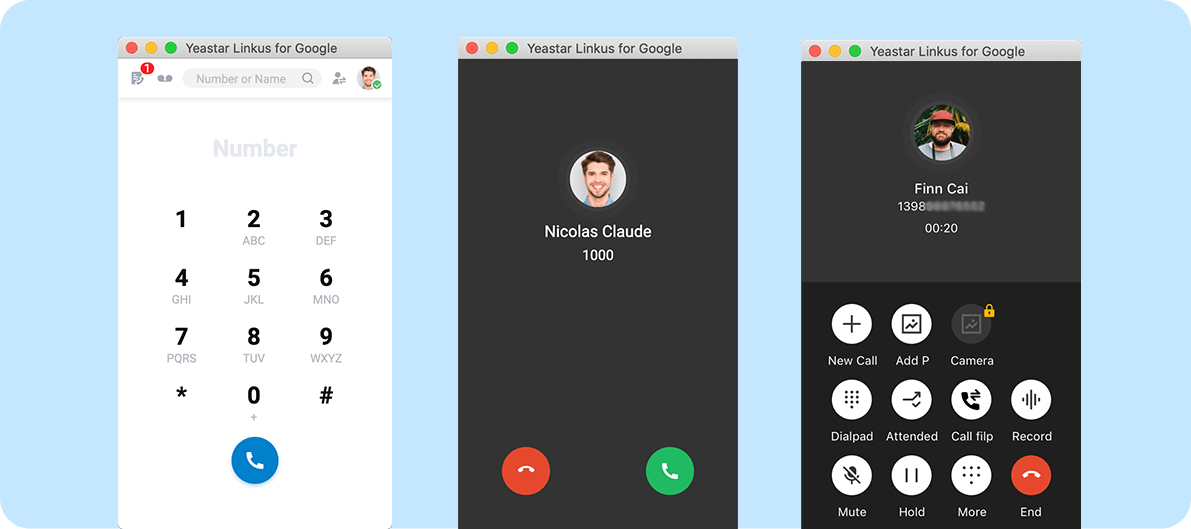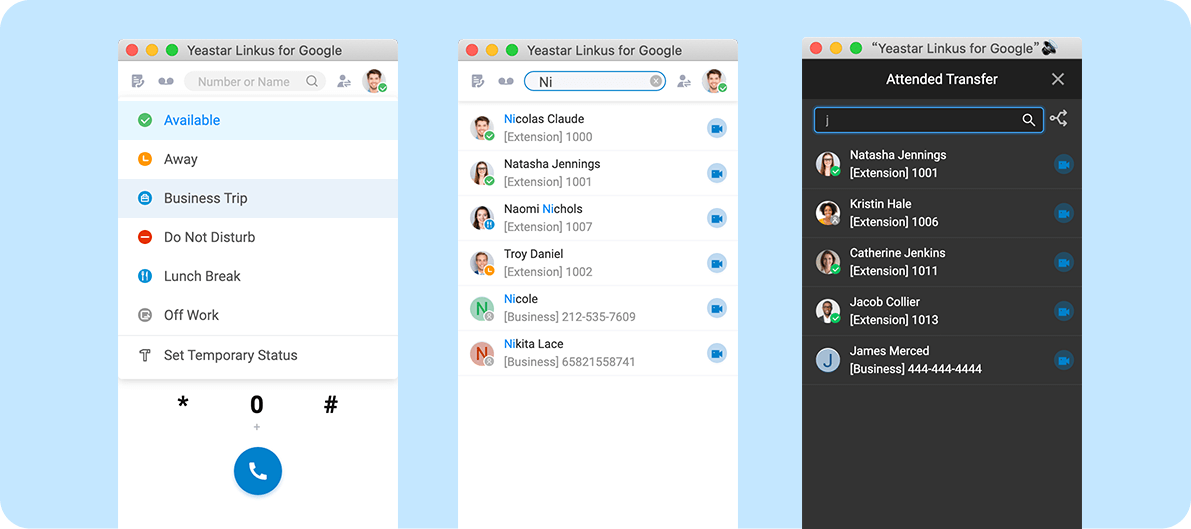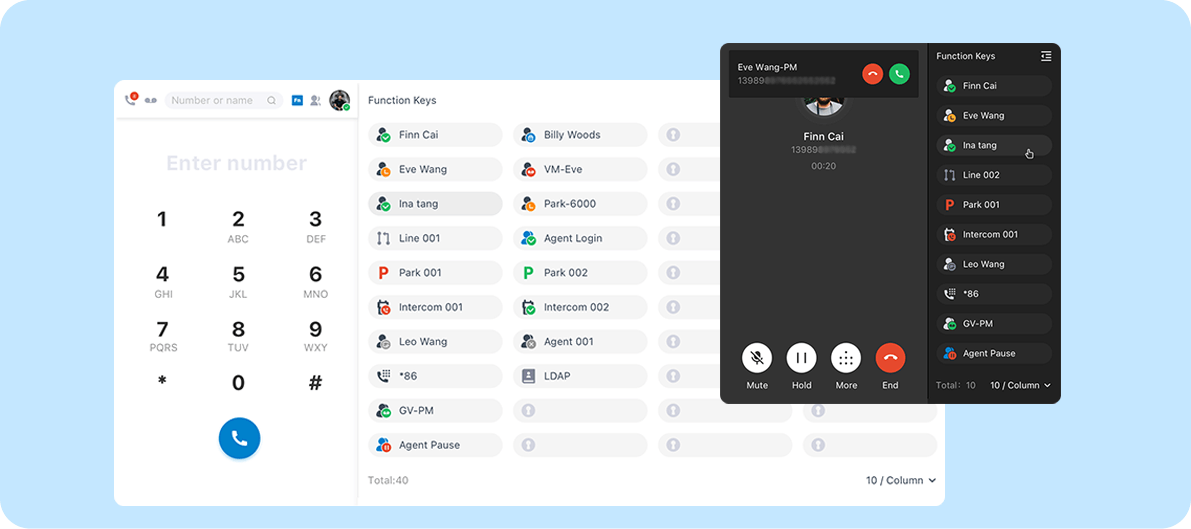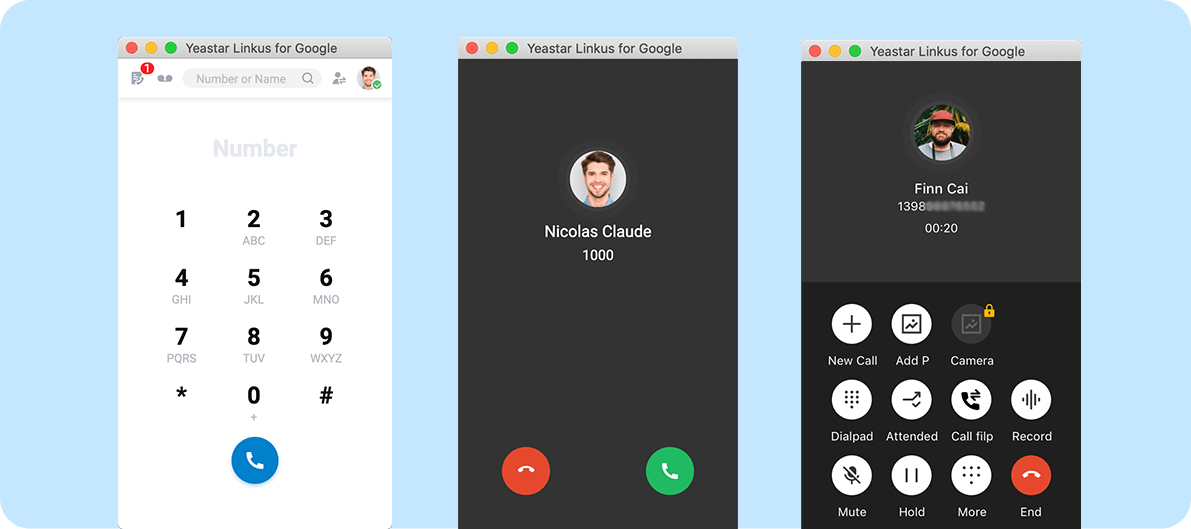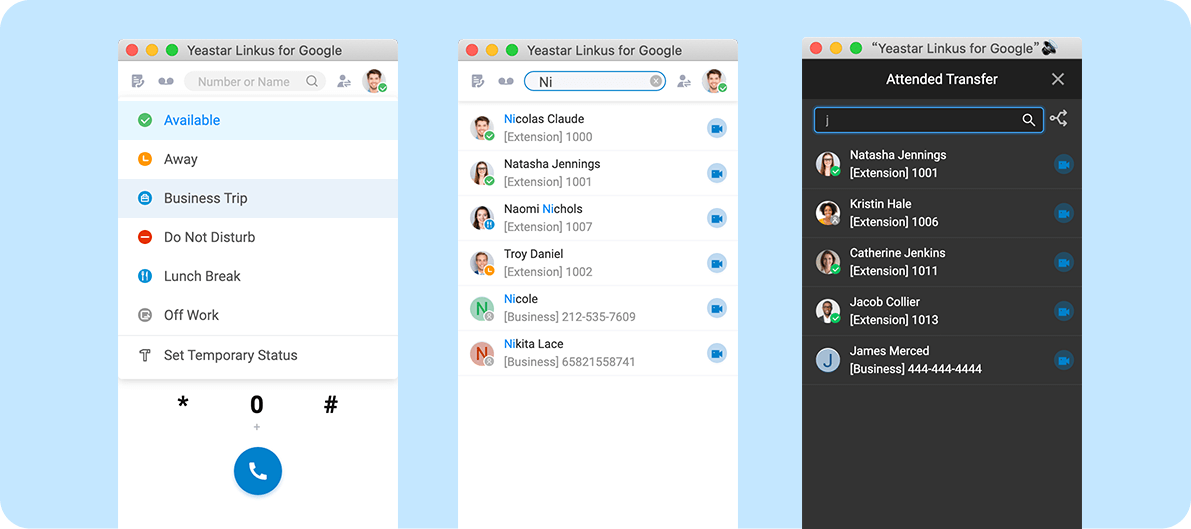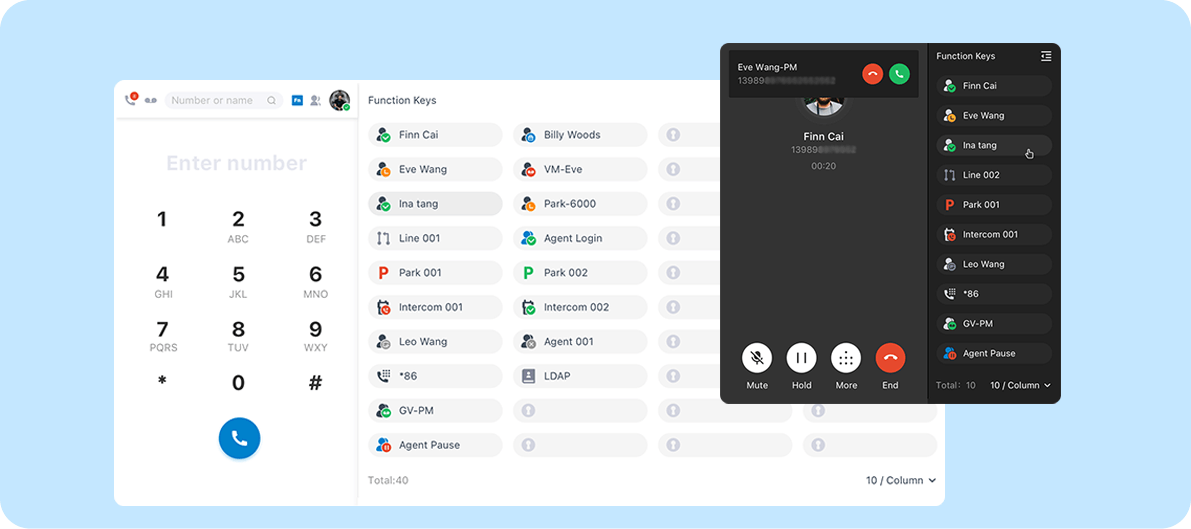 Key Features
Incoming call popups. Receive incoming call pop-ups to avoid missing important calls, even when your web browser or Yeastar Linkus Web Client is closed.
Active call control. Web-based audio/video calls, call transfer, hold, mute, record, call flip, and almost all the extension call control features.
Function keys. Configure & access up to 120 function keys, which work as shortcuts that drastically improve your operational efficiency. For example, you can set function keys to monitor the BLF status of a specific extension, manage speed dial, initiate an intercom, access a call parking slot, and many more.
Contact search. Quickly search your colleagues or PBX contacts on the search bar by their name or phone number and click to initiate a call.
Phone number detection & click to call. Automatically detect phone numbers displayed on the webpage and convert them into clickable links for calling. You choose to blocklist some websites to avoid detecting phone numbers on these websites.
Presence management. Manage and change your PBX extension presence easily. Click the icons on the toolbar to switch presence between Available, Away, Do Not Disturb, etc., and pause/unpause or login/logout yourself from a queue if you are a call center agent.
Notifications on new voicemails and missed calls. Visual cues (red dots) on the toolbar prompt you if you have a new voicemail or a missed call.
Limitation
Yeastar Linkus for Google Chrome extension is only for use with Yeastar PBX systems and is not a standalone extension. It must be connected to Yeastar Linkus Web/Desktop Client to work (this way, you connect the Chrome extension with your PBX extension account).
If connected with Linkus Web Client, all features are supported.
If connected with Linkus Desktop Client, the extension only supports the click-to-call and phone number detection features.
Only Yeastar P-Series Phone System supports Linkus Web Client.
Featured In
P-Series Phone System
Easy-first communications for businesses of all sizes.
.
Quick Start Reference
Before you start, you need to have a Yeastar P-Serie PBX for the extension to work. Not having a Yeastar P-Series Phone System yet? Apply for a 30-day free trial here.
Log into your PBX extension account on your Linkus Web Client or Linkus Desktop Client.
Install the Yeastar Linkus for Google Chrome extension on your web browser.
Enable the extension and follow the startup instruction to connect it with your Linkus Web Client or Desktop Client.
Requirements
Available for all Yeastar PBX plans
Google Chrome: Version 87 or later
x
Contact the Developer
Please contact the developer to get the app or for tech support
Developer Websitewww.yeastar.com
Phone Number15362541254
Support Emailtest@yeastar.com
Support Websitewww.yeastar.com