Desk Booking Screen
E-ink Desk Screen
An innovative desk booking device for any workplace. Sleek, intuitive, and eco-friendly. Give hybrid teams quick and easy access to available desks and build a flexible and collaborative workspace.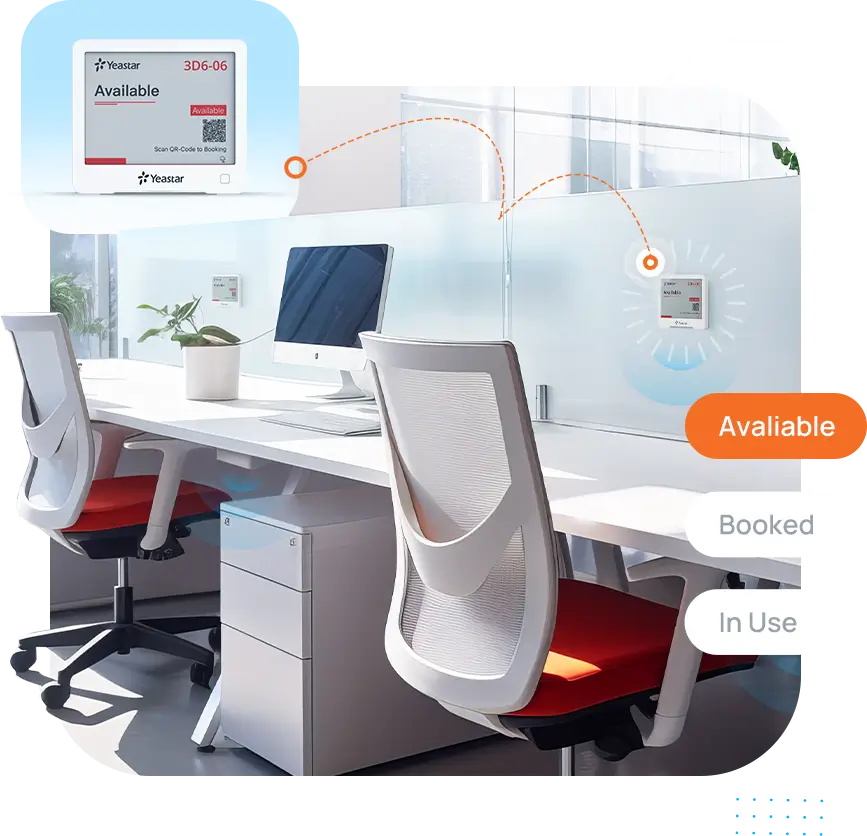 Show Real-time Availability
Quickly locate free desks without wandering. The e-ink display will give instant visibility of the desk status and refresh in real-time.
Book Right on the Spot
Want to sit in your favorite spot? Scan the QR code on the screen and book it right away.
Check-in and Get to Work
Check in to the desk you have reserved in advance with a quick QR code scan and get straight to work.
Collect Usage Data
Gather usage data and generate insights to help you make more effective resource planning.
A Strong Desk Scheduling
Solution
Yeastar Workplace offers a strong desk scheduling solution that consists of both IoT-powered hardware and intuitive software.
With the LoRaWAN® Gateway acting as a bridge, Yeastar E-ink Desk Screen can work in tandem with desk booking system and exchange data to display the real-time status of each desk (Available, Booked, or In-Use).
Abandoned desk reservations will be automatically released by Yeastar Occupancy Sensor.
Streamline desk booking
Boost productivity
Optimize space utilization
Reduce real-estate costs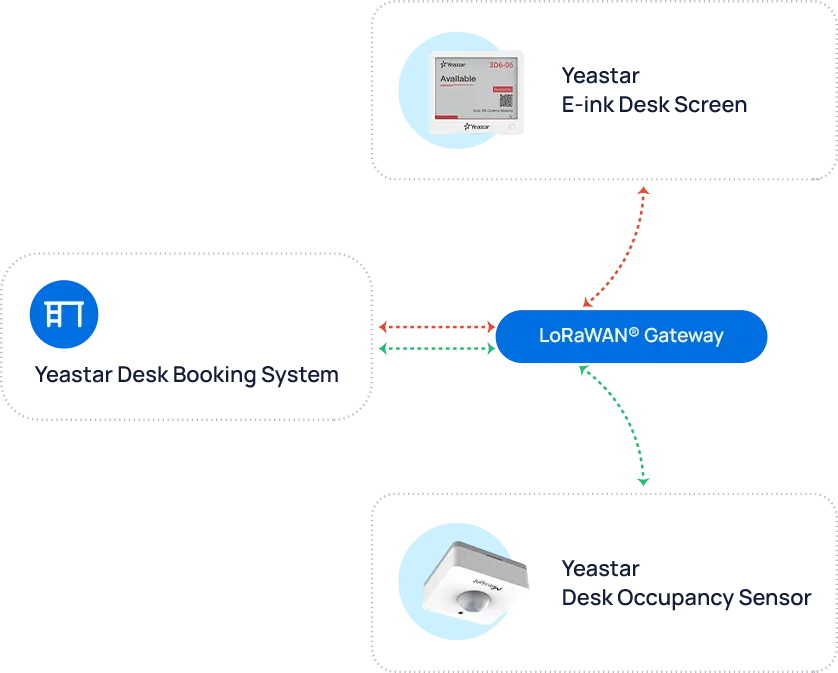 E-ink Desk Screen
Perfect for Any Type of Workspace
E-ink Desk Screen
Sleek Design. Easy to Install
and Configure.
A Tri-color E-ink Screen
A 4.2″ tri-color screen (white/black/red) delivers a more vibrant display than traditional monochrome screens, and thanks to the e-ink technology, less energy is consumed.
Easy and Flexible Installation
Two flexible mounting options are offered to cater to your needs. Use 3M tape or screws to mount the screen on desk edges or partitions.
Fast Configuration via NFC
Easily pair the desk screen with the booking system via NFC. Just a peace of mind, no complicated setup.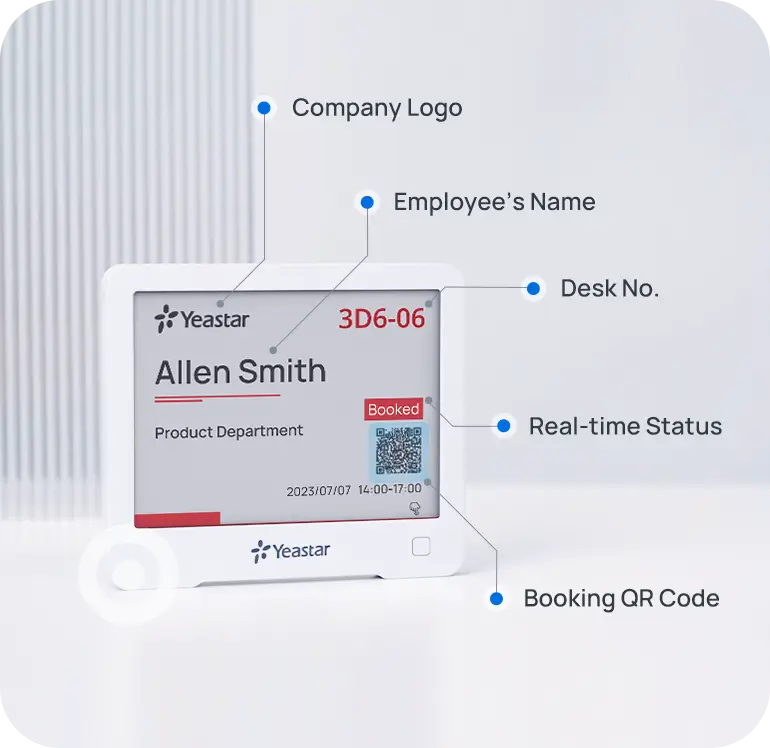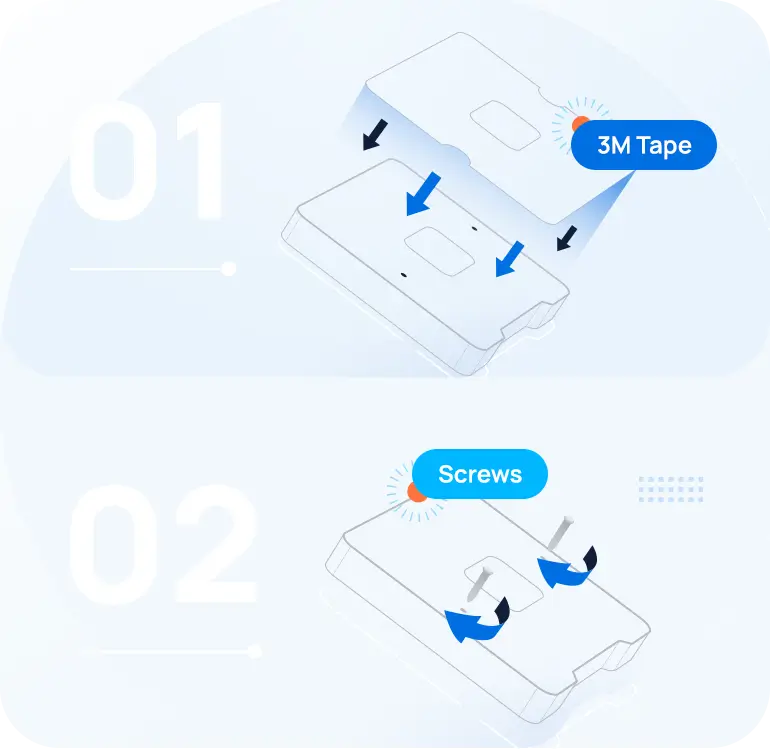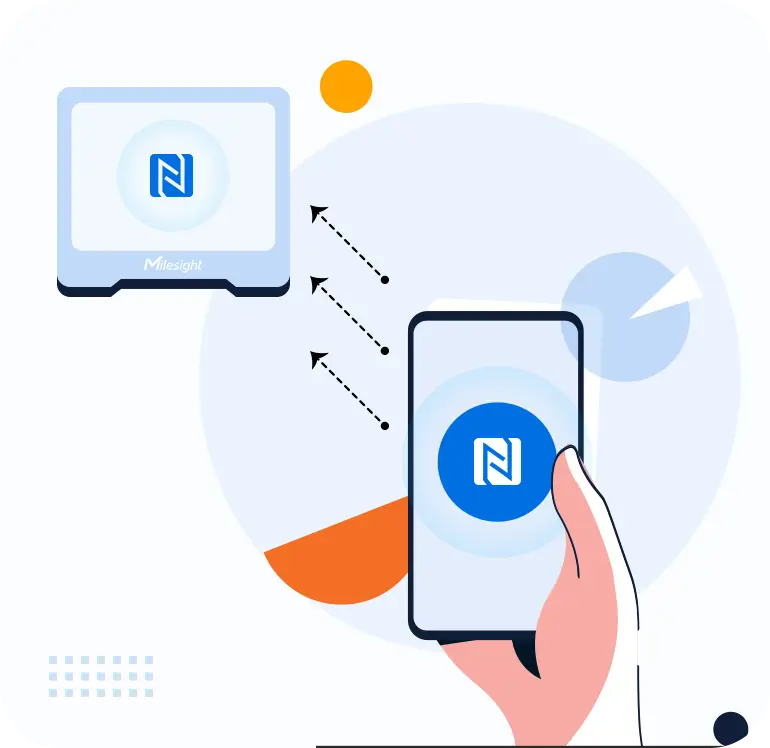 E-ink Desk Screen
Not sure this is the right solution for you?
Let's talk!
More Smart Devices to Future-proof Your Workplace
Desk Booking Screen
FAQs
Desk screens are a kind of smart device used for desk booking. It shows the real-time availability of each desk or workstation so that employees can quickly grab a desk and get to work.
Yeastar E-ink Desk Screen has gone one step further by incorporating a tri-color e-ink desk, which consumes less energy and has a crisper image than the traditional monochrome screen, and people can easily see whether a desk is available, even from a distance.
How does a desk screen work?
.
Typically, desk booking screens will collaborate with desk booking software to exchange data and then display the status in real-time. Some desk booking screens, like Yeastar E-ink Desk Screen, will include a booking QR code for users to reserve or check in on the spot.
How will my office benefit from installing desk screens?
.
Overall, adding desk screens offers a host of advantages for all workspace types, such as improved space utilization, streamlined desk booking experience, easier management of resources, and, most importantly, a more flexible work environment for everyone.