What are
environmental sensors?
Environmental Sensors or Environmental Monitoring Sensors are small, eco-friendly devices capable of monitoring environmental conditions such as temperature, light, humidity, air quality, and other physical properties. In most cases, they are IoT-enabled devices that can be connected to Internet of the Things (IoT) network, where the raw data from the sensors is processed in real-time to automate process like HVAC control (heating, ventilation, and air conditioning), lightening, etc.
Environmental sensor
application in
workplace
In the workplace, environmental sensors are typically used to measure indoor condition and help organizations improve the overall comfort of working environment. They are typically mentioned as "Room Comfort Sensor" or "Ambience Monitoring Sensor", which integrates multiple sensor technologies with a monitoring display to show the real time environmental data of a particular space. These data might include:
Air Quality. Including CO2 Concentration, TVOC Level (a measurement of the total volatile organic compounds found), Particulate Level (PM10 and PM2.5), HCHO & O3 Level, etc.
Temperature
Humidity
Barometric Pressure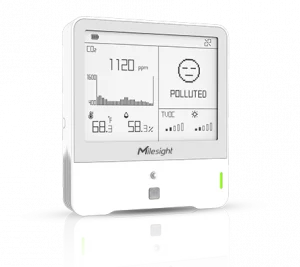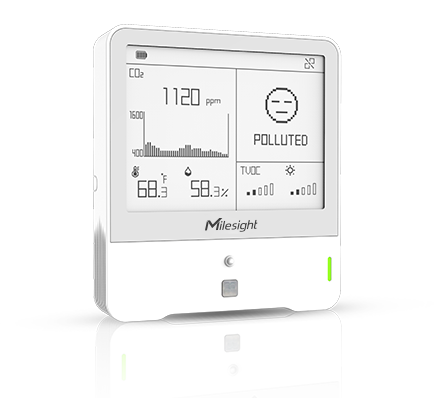 Additional benefits of
environmental sensor
in workplace
With easy-to-interpret environmental data, businesses can identify energy consumption and wellness risks in the office quickly, revealing opportunities to reduce costs, eliminate waste, and improve the employee experience.
Support employee health and well-being by ensuring fresh air is circulated efficiently through the office.
Drive work productivity with a perfect indoor climate. Studies have shown that a combination of adequate air quality, temperature and lighting could help remove distractions and enhance overall worker performance by circa 2.5%.
Achieve energy efficiency and sustainability. Awareness of ambient temperature can significantly reduce air conditioning costs.