Being in business means that you will probably have to talk to specific people within different companies from time to time. However, in many cases, you won't be able to reach them directly – instead, you'll have to contact the receptionist, who then will direct your call to the right person.
While it might be fine the first couple of times, at some point you might start getting frustrated and wondering why it is the way it is. The same happens with customers, who have to wait in long lines to get assistance. If you don't want to make your customers feel neglected as it can happen when they can't get the help they need within a reasonable time frame, you should consider investing in a Direct Inward Dialing service.
Below, you can find all the necessary information about Direct Inward Dialing, including what it is, how it works, and why your company needs it.
What Is Direct Inward Dialing (DID)?
Direct Inward Dialing (DID) is a service usually offered by a local phone company or a local exchange carrier that allows companies to set up several virtual numbers, all connected to the already existing phone lines. Thanks to a Direct Inward Dialing service, a company can assign multiple numbers to the same employee without the need to have a digital or physical line for each of them.
How Does Direct Inward Dialing Work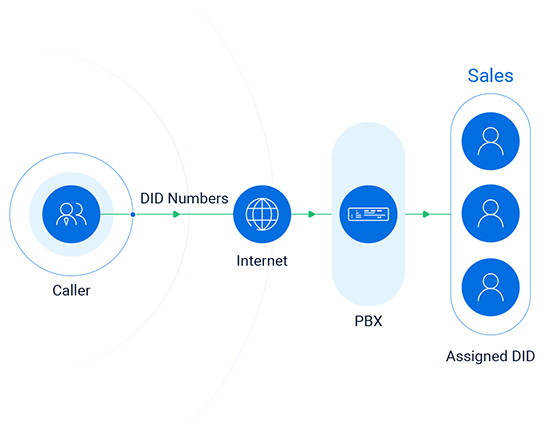 DID can work in one of two ways – through a Public Switched Telephone Network (PSTN) or a VoIP system.
Direct Inward Dialing and PSTN
In the first case, which is through PSTN, Direct Inward Dialing works by using the company's Private Branch Exchange (PBX).
When using PBX, the Direct Inward Dialing provider allocates trunk lines to the customer's PBX system. Then, they allocate several telephone numbers to those trunk lines. The numbers are assigned to customers and act as their direct-dial numbers. When people make inbound calls, the dialing number is transmitted and PBX routes it to the right phone number and therefore the right person.
Many companies that use this method, combine DID with Direct Outward Dialing (DOD), which works in a very similar way, the main difference being that it concerns the outbound calls.
Some telephone companies these days offer Direct Inward Dialing through PRI circuits. And while it is a nice solution, it has one major disadvantage – you have to have enough trunk lines. If you don't, and all the trunk lines you have have active inbound calls, the next person that calls will hear a busy signal and will have to wait until one line becomes available.
Direct Inward Dialing and VoIP
When it comes to DID and VoIP users, it is even easier to use and manage, mainly due to the SIP trunking. The trunk lines connections are not actual physical lines – instead, they are virtual, and the phone numbers are linked to all the extensions your business uses via software.
This solution is a lot more convenient than using PSTN, as you don't have to rely on a telephone company to take care of the hardware installation.
How to Configure DID in Yeastar PBX System
Configure inbound routes on Yeastar PBX System to route inbound calls based on DID numbers is easy and you won't pay extra for this feature, whether you opt for the cloud, hardware, or software solution with Yeastar! Check out the video and links below for a step-by-step guide.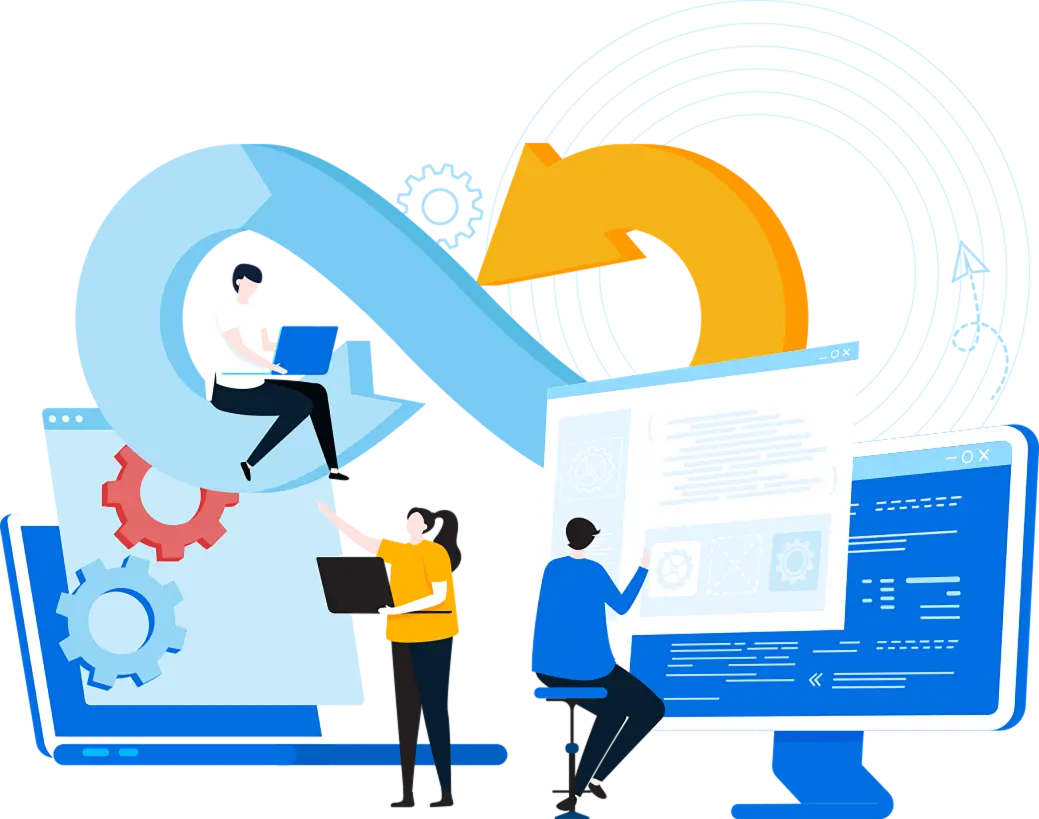 Why Your Company Needs DID
Reduced Costs
The first benefit of Direct Inward Dialing are the cost savings. With a physical line, there's quite a bit of money involved, as you have to pay for the hardware (e.g. phones), the installation, the maintenance and so on - with DID, you don't have to worry about any of that, as it can be connected to what you already have. What's more, it also saves you a considerable amount of money on international calls.
Increased Flexibility
If you're an employer who is still using a physical line, you might be worried about onboarding new employees, especially those who live abroad. Well, with DID you don't have to, as it is possible to add virtual direct numbers to your employee's cell or phone line.
Better Customer Service
Thanks to a DID system, you can improve the quality of the service offered to the customers - especially since waiting in a telephone queue to connect to an employee can be extremely frustrating on both ends. With DID, you can offer your customers individual phone numbers to specific employees, minimizing telephony traffic and ensuring they feel cared for.
Better Communication Between You Teams
Your teams and employees can efficiently contact each other even if they are located in different countries or cities - they won't have to wait until someone else finishes a call (for example if there's only one main phone for the department's use) and instead will be able to reach the needed person directly.
Local Presence
Some customers prefer businesses that are present in their areas. With DID telephone numbers you can make it seem as if you are a part of the local community, even if your business does not have a physical location in that city or town. What's more, having multiple local presences can increase your chances of conducting business.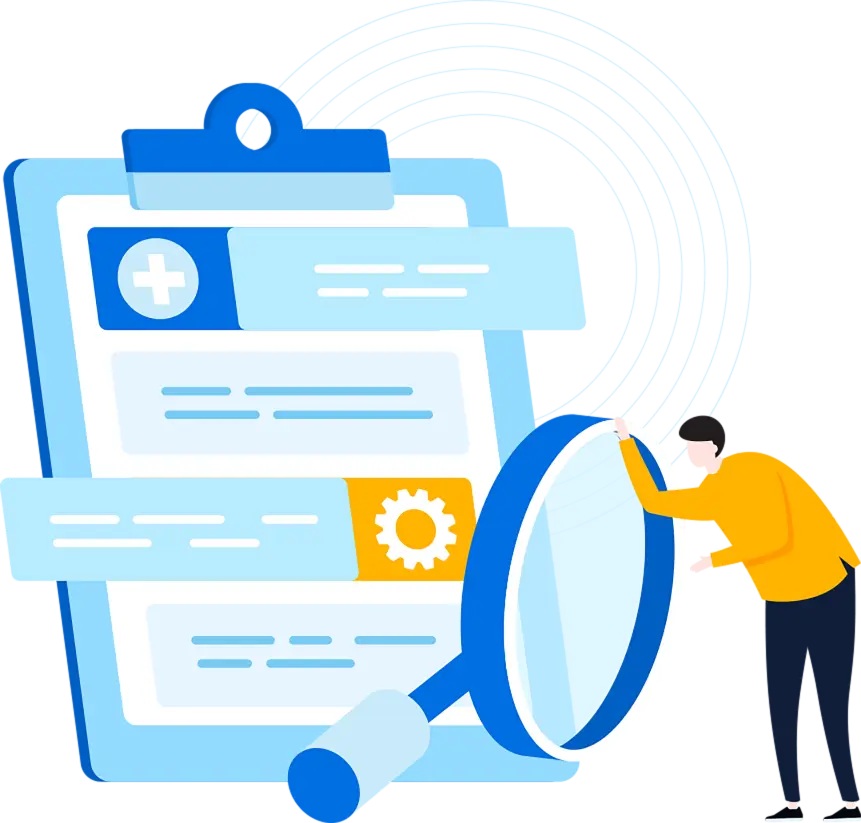 Direct Inward Dialing - FAQ
What is a DID number?
A Direct Inward Dialing number, also simply known as DID number, is simply a virtual phone number.
What types of DID numbers there are?
There are several different types of DID numbers, such as local, international, or toll-free numbers. Which ones will be the one for you depends on your business needs.
Can you add and remove DID numbers?
Yes, that's one of the reasons why so many businesses decide to make use of the Direct Inward Dialing - it allows you to add and remove numbers as you please.
Can you have multiple DID numbers?
Yes, of course. Each employee can have their own number, the same goes for different departments if you prefer it that way.
What is the difference between DID number and a traditional telephone number?
The main difference between the DID phone numbers and the traditional phone numbers is that the virtual ones are not tied to a specific phone or other devices. They are also a lot more convenient as each customer can get their own custom DID number that they can use to contact a specific employee.
Flexible Deployment Options: Cloud-based or On-premises
Available in the Appliance, Software, and Cloud Edition, Yeastar provides flexible deployment options,
allowing you to have your PBX system sited on-premises or in the cloud.
Appliance Edition
If you prefer a plug-and-play system deployed within your company to ensure complete control, the Appliance Edition is the perfect fit.
See Specifications
Cloud Edition
Want to eliminate the workload of hardware installation while having your phone system up & running immediately? This is the option for you.
Learn More
Software Edition
You make the call whether to install the PBX system on a hardware server, a virtual machine, or even in the cloud.
Learn More