In a business environment, when there are tons of incoming calls, the employees and the receptionist can get overwhelmed and distressed. Simply putting each individual call on hold and waiting for the first available agent to transfer it to is not a great set of actions. This way, your business cannot take other calls, and the callers become discouraged and eventually stop reaching out to you. This is not the results managers strive to achieve.
Luckily, there is a business phone system feature that is going to put an end to endless waiting on the line. Moreover, it will relieve the workload and improve communication via desk or mobile phones.
What Is a Parked Call?
Call Parking lets companies manage big traffic of incoming calls in a way that callers don't have to wait way too long and are assisted simultaneously. Instead of putting an active call on hold, the received calls are "parked" for all to take them or assigned to one agent.
How Do Call Queues Work?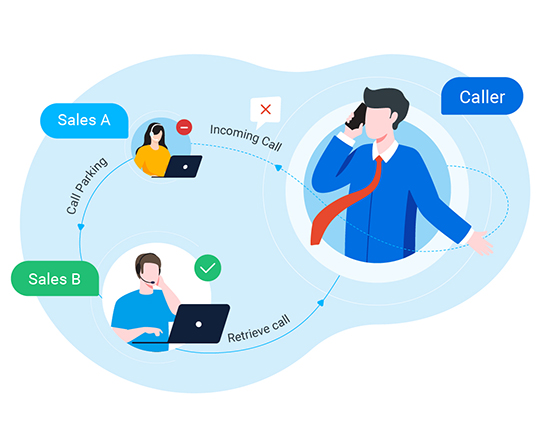 If there are no available call agents in your contact center, enabling call queueing will allow your phone system to group inbound calls and put them on hold. In cases where there is a large volume of incoming calls, they will be systematically ordered based on certain criteria. A queue isn't tied to only one agent, meaning that every time one representative becomes available, a customer is automatically transferred to them. It also minimizes the risk of having to transfer calls to other agents. The call queue feature can significantly reduce waiting times, decreasing abandonment rates and ensuring your customers get the help they need quickly.
Step 1:Receptionist receives a new call and assists the caller.

Step 2:If the caller wants to speak to an agent in a department, but all of them are busy, the receptionist will park the call.

Step 3:To do it, the receptionist will dial the parked extension, and that number is the parking spot in the system.

Step 4:By doing that, the agents are notified about the parked call that is waiting for an answer.

Step 5:As soon as somebody is ready to pick up the call, the agent will only need to dial the extension number.

Step 6:The caller will be transferred back to the original parker when the time limit is over, meaning to the receptionist.
How to Configure Call Parking in Yeastar PBX System
Setting call parking up on Yeastar PBX Systems is easy and you won't pay extra for this feature. It is built-in the phone system, whether you are choosing the on-premises, cloud, or software solution with Yeastar! Check out the video and links below for a step-by-step guide: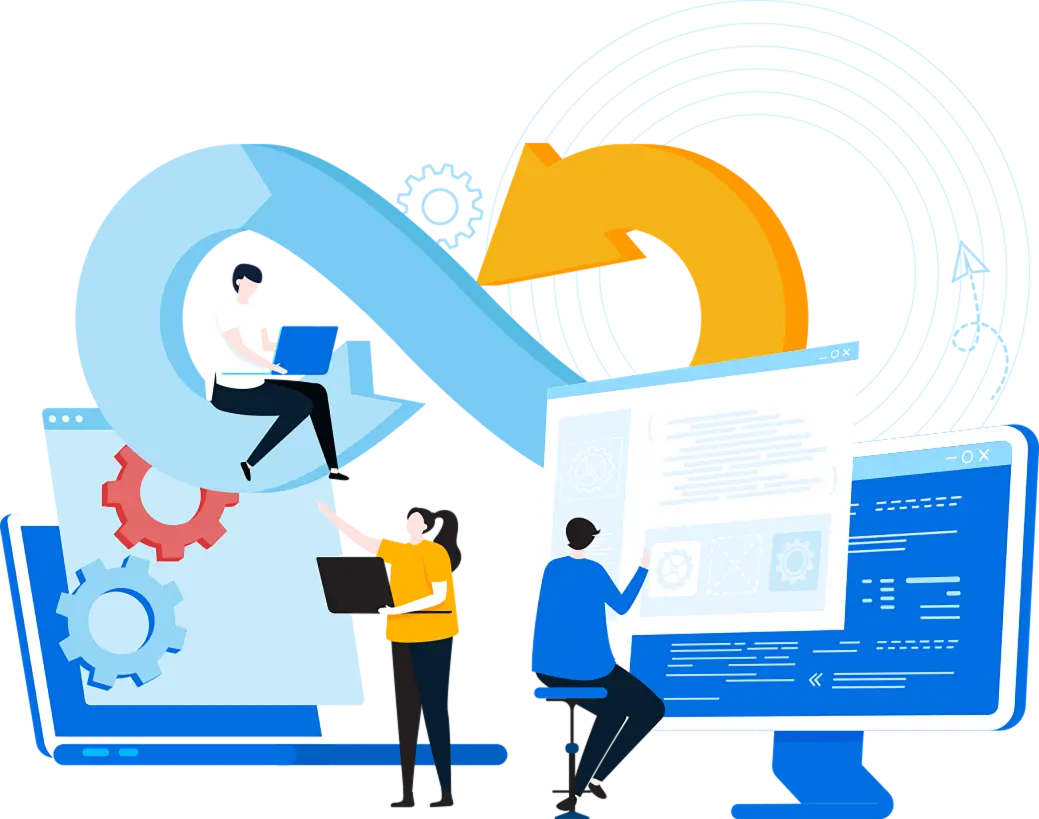 Benefits of Call Parking
Reduce Employees' Workload
When a receptionist parks a call, any agent can pick it up. And this is very beneficial if someone steps away from the desk or goes on a break. This way, everyone has a balanced workload.
Improve Customer Satisfaction
Customers no longer need to wait hours to talk to a company's representative. They also don't reach the voicemail of a particular agent but rather have an opportunity to discuss the issue with someone else from the department.
Give Employees Time to Prepare
It is exhausting answering call after call without a break. That is why Call Parking allows agents to collect thoughts, prepare necessary documents, or even consult with a manager.
Continue Conversation Via a Mobile App
If an employee is on a business trip, a call can still be parked in the system. The agents can open a mobile application and connect to that call remotely. It is a convenient feature that is extremely handy in situations when you have limited access to your desk phone.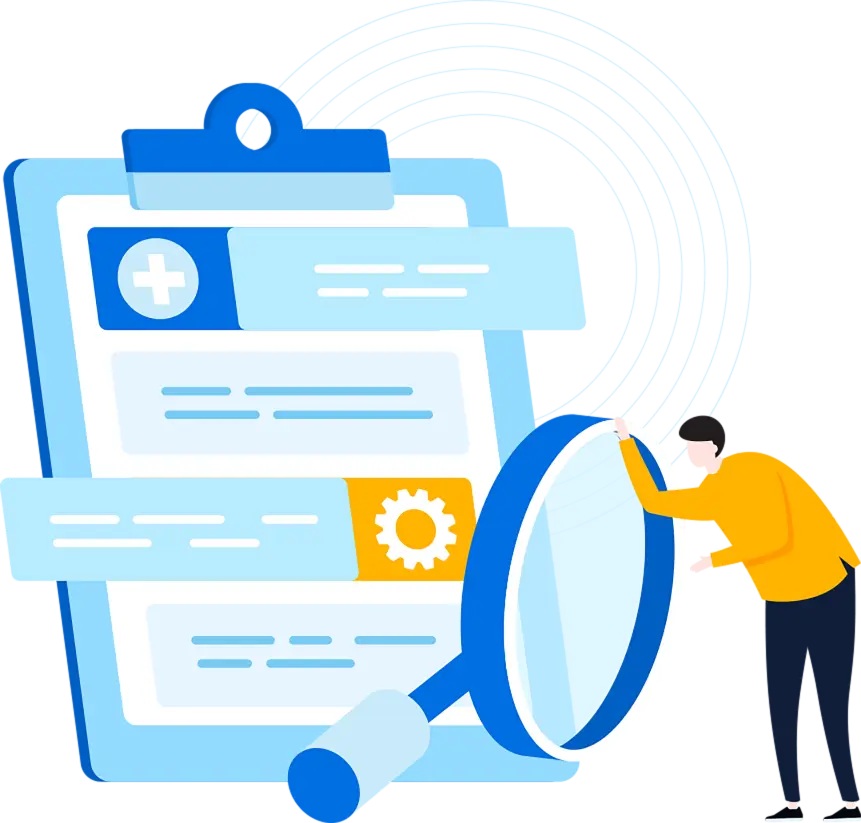 Call Parking FQAS:
What Is Call Park Used For?
Call Parking is used by the VoIP phone system that lets you accept multiple calls at the same time that agents can answer when they are available.
Yeastar P-Series PBX System has the call parking feature built-in. The function has a number of customizations you can do in order to improve customers' calling experience. This includes hold music, timeout destination (voicemail, return to original parker, transfer to a predefined extension), and waiting time, among others.
Can I Park a Call and Pick It Up in the Application?
Yes, one of the Call Parking features includes the possibility to switch devices. You can park a call yourself and pick it up on your portable device.
How Can Call Parking Improve Company's Performance?
Call Parking greatly improves communication in a company and lets employees take a break or get ready for new calls. Anyone can park a call for another agent to pick it up. This way, callers don't end up listening to voicemails but instead wait for a limited time to be answered by a company's representative.
How Are Parked Calls Better Than Hold and Transfer Features?
When a caller is put on hold, the call can be retrieved only by the same desk phone. In contrast, Call Parking has a dedicated place, a "parking lot," where multiple callers can wait and authorized users or agents can answer them.
Timeout Options
Call Parking feature lets companies manage the traffic without sacrificing customer experience. There is no time limit when on hold, and, eventually, the caller can disconnect.
Call Parking works differently. To be precise, there are timeout options to choose from, and you can decide whether to play hold music, the latest promotions, or company-related news. Call park features also include the timeout destination that decides what happens after the waiting time is finished.
Any Agent Can Pick Up an Inbound Call
A receptionist would usually use a Call Transfer feature; however, the caller bounces back if the agent is busy. This also prevents the receptions from receiving calls from other customers.
Multiple calls can be parked there simultaneously and available for every agent. This also gives agents the time to prepare and log necessary information before immediately taking the call.
What Companies Can Benefit From Call Parking?
Any small business can work on making its communication effective and of high quality, especially businesses like:
Contact centers

Hotels

Hospitals

Insurance companies

And many others!
Is There Any Ways to Park an Active Call?
Not every parked phone behaves exactly the same. Different types of call parking have different experiences for both the customer and the agent, as described below for the two types of call parking:
General Call Parking
General Call parking is the communal space where everybody can pick up the call. It is available for all desk phones, and it has no restrictions. General parking also means that any call is parked randomly, meaning the system automatically assigns its number. All you need to do is to press the feature code on your dial pad.
Direct Call Parking
Direct Call Parking assigns the specific extension for the parked code. To do it, the receptionist has to dial the dedicated feature code + parking slot number. This feature is useful when you want to pass the extension to a specific agent who is either more knowledgeable about the issue or has previously been in contact with the caller.
Flexible Deployment Options: Cloud-based or On-premises
Available in the Appliance, Software, and Cloud Edition, Yeastar provides flexible deployment options,
allowing you to have your PBX system sited on-premises or in the cloud.
Appliance Edition
If you prefer a plug-and-play system deployed within your company to ensure complete control, the Appliance Edition is the perfect fit.
See Specifications
Cloud Edition
Want to eliminate the workload of hardware installation while having your phone system up & running immediately? This is the option for you.
Learn More
Software Edition
You make the call whether to install the PBX system on a hardware server, a virtual machine, or even in the cloud.
Learn More