We are directing you to your Cloud PBX...
Launch Your Own Cloud PBX Services
With both business customers and service providers in mind, Yeastar cloud PBX solution strikes the perfect balance between offering best-of-breed UCaaS and easing deployment and operation complexity.
P-Series Cloud Edition features a resilient, reliable, and secure high availability architecture with enterprise-grade security and uptime. It also allows you to elastically scale up and down service capabilities according to specific business needs.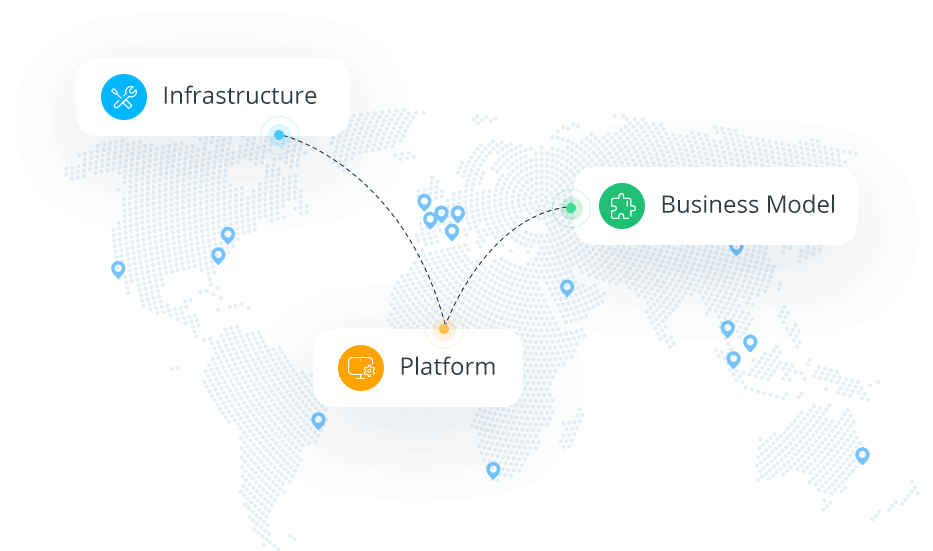 Up & Running Today
Reduced Capital Outlay
Enterprise-grade Security & HA
Less Admin Burden
No Maintenance
Built for the Agile Workforce
Geographic Flexibility
Instant Scalability
Deliver and Manage Cloud PBX Services
through a Central Platform
Yeastar offers a fully-managed turnkey solution to ensure fast time to market and high return on investments for service providers. Better yet, with the help of Yeastar Central Management (YCM), everything from service delivery to business operation is simplified in one place.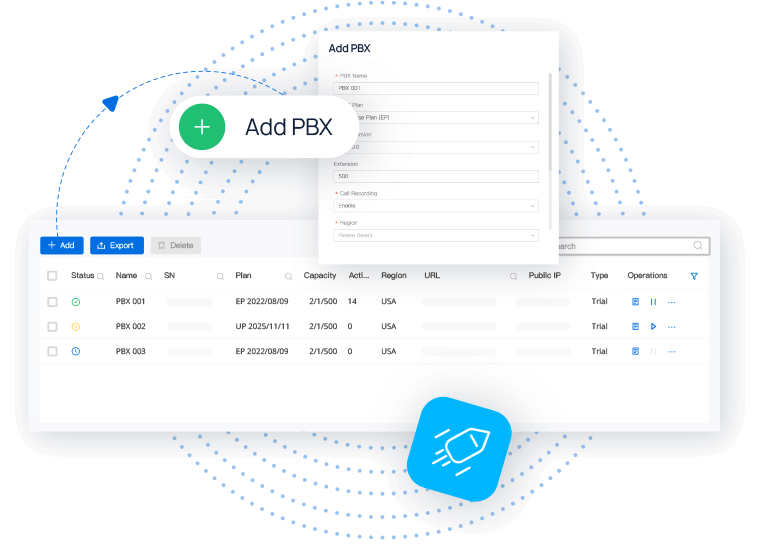 Simplify Service Delivery
You have the flexibility to select preferred hosted servers closest to your customers. It only takes minutes, if not seconds, to create PBX with different capacities for your customers and the PBX will go live immediately. Your customers can then access and manage their phone systems right through the web. All PBX instances and customers are displayed in a list view and you can check the details of any of them.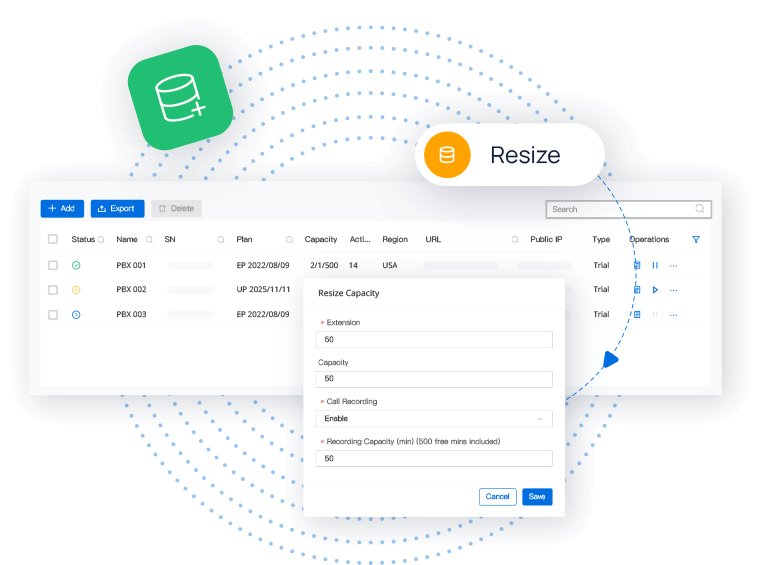 Customize and Scale on Demand
It is clicks away to scale up and down services and upgrade subscription plans for various needs. There is literally no limit on instances and users, so whether there are a handful of customers or thousands, you can give them the freedom to grow at their own pace. This solution also enables you to create your own service packages, bundle IP phones and other hardware, and adds on SIP trunking and other services.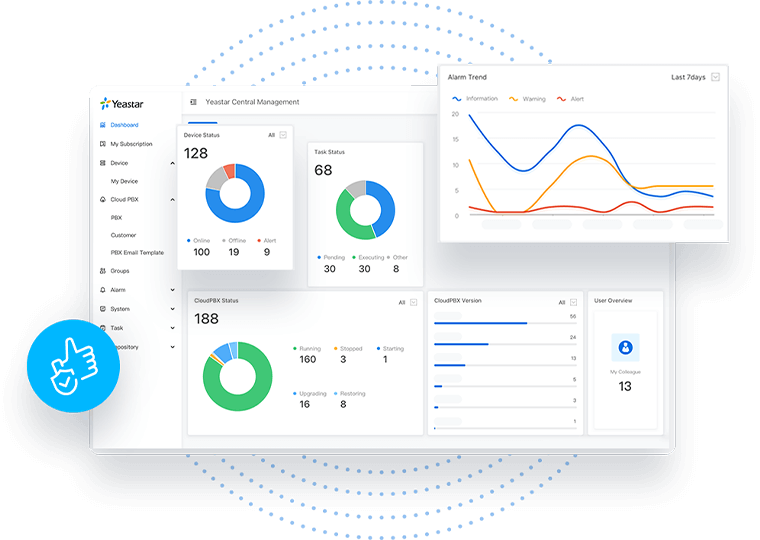 Real-time Performance Monitoring
With YCM automatically monitoring the status of all your customers' PBX instances, you get instant alerts when threats, security-related risks, or any other critical system issues occur, and can quickly diagnose and troubleshoot them before they hurt your bottom line. In addition, you can view the real-time status of all PBX instances at a glance in a single, customizable, widget-based dashboard.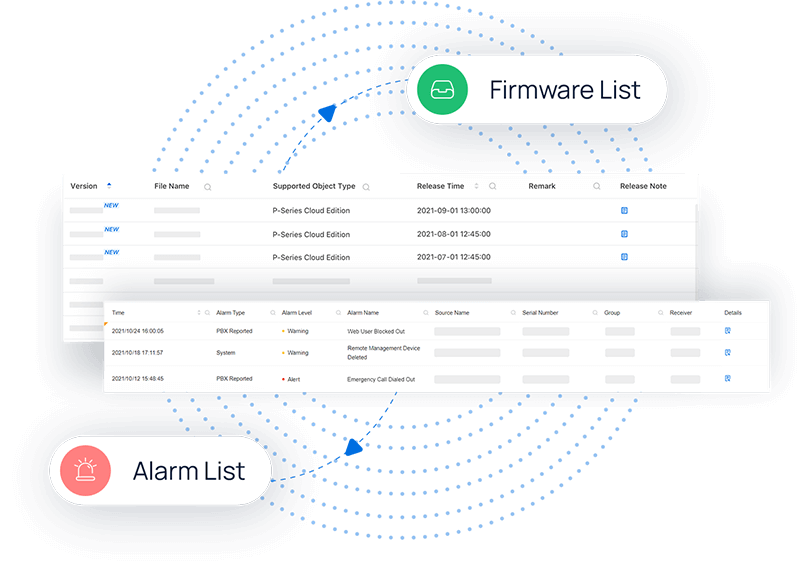 Streamline Management in One Place
YCM also serves as a consolidated management interface. For example, you can download firmware and backup files in one place, receive push notifications on new version releases, and view customers' subscription status. YCM admins can add Colleague and Reseller accounts to co-manage the platform and customer devices, enabling granular administration by limiting permissions, grouping devices, etc.
Looking for white label opportunity? We got you back.Find out the solution details with our White Label UCaaS Service Brochure.
Voice, Video, Applications, Collaboration in One Experience
Include the full span of UC tools in your company's arsenal. As a "PLUS" solution, P-Series Cloud Edition brings all your communications together, from must-haves to the nice-to-haves, for your entire team with optimized experience built for everyone.
Use Your Own Devices, Anywhere
.
A comprehensive suite of calling, conference, voicemail, presence, enterprise contacts, collaboration are easily accessible from a single interface using web browsers, mobile phones, and desktops.
Visualize Queue Management
.
Besides essential call features, an intuitive queue panel, customizable real-time wallboard, SLA, and detailed call reports are all designed to support more proactive service center performance monitoring and management.
Enable Advanced Calling on Microsoft Teams
.
Use your existing business SIP trunks instead of costly Microsoft calling plans. Make and receive internal and external calls directly on the Teams App while enjoying a variety of advanced calling features.
Connect to Your CRM & Helpdesk
.
With features like click-to-call, screen pop-ups, journaling, and more, this integration simplifies call handling, automates repetitive tasks, enables contextual conversations, and keep cross-platform data up-to-date.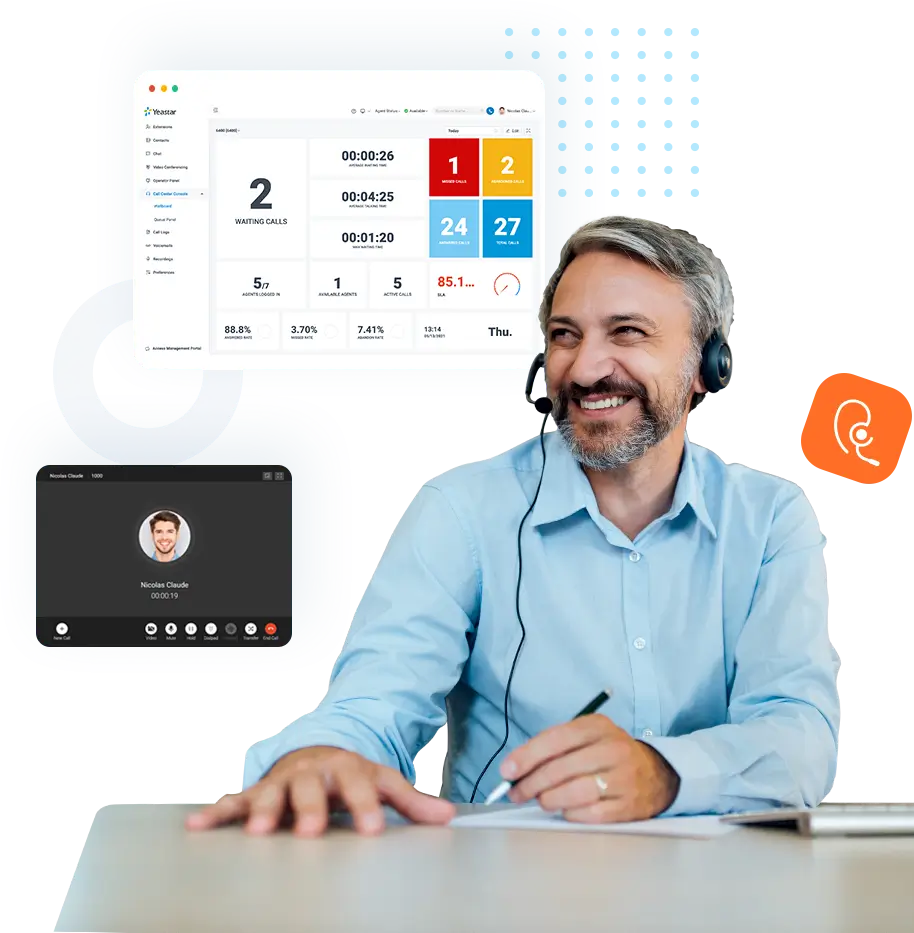 Amazing Features. Flexible Plans. Incredible Value.
P-Series Cloud Edition offers Enterprise and Ultimate subscription plans so that whether you want a host of business-critical features or need to further complement your UC deployment with video calling and video conferencing, there is a way.
Standard Plan Enterprise Plan Ultimate Plan
Deployment Mode Appliance Appliance,Software,
Cloud Appliance,Software,
Cloud
Telephony Features
AutoCLIP
Call Routing
Call Forwarding
Call Monitoring
Call Parking
Call Pickup
Call Recording For Cloud Edition, the Call Recording files are encrypted and can only be accessed from the PBX management portal or via API for data security.
Call Flip
Call Switch
Call Transfer
Call Waiting
Caller ID
Conference Rooms
Speed Dial
Dial by Name
DNIS
DID (Direct Inward Dialing)
DND (Do Not Disturb)
DOD (Direct Outward Dialing)
CID-based & DID-based Call
Allowed/Blocked Number
Business Features
IVR
Queue
Ring Group
Paging & Intercom
Operator Panel
Monitor Call Status (Inbound/Outbound)
Monitor Presence Status
(Extension, Ring Group, Queue, Parking Slot)
Drag & drop Dispatch Call
Advanced Call Control
Custom Prompts
Distinctive Ringtone
Music on Hold
MOH Playlist & Streaming
PIN List
BLF Support
LDAP Server
T.38 Fax
Remote Extensions
Business Hours & Holidays
Boss-Secretary
Hot Desking
Emergency Number
Emergency Notifications
CDR & Basic Reports
Administration & Security
Web-based Management Portal
Graphical Dashboard
Auto Provisioning
Bulk Import & Export
Extension Directory
Group & Organization
User Role & Permissions
Operation Logs
Event Logs & Notifications
Backup and Restore
Troubleshooting
Built-in SMTP Server
Network Drive
SNMP
AMI
Remote Management
Hot StandbySupported on the Appliance & Software Edition.
Security
SRTP & TLS Call Encryption
Password Policy Enforcement
Auto & Static Defense
IP Blocklist
Country Allow/Blocklist
Global IP Blocklist
Outbound call frequency restriction
Two-Factor Authentication (2FA)
Unified Communications
Linkus UC Clients
Web Client
Mobile Client (iOS & Android)
Desktop Client (Windows & MacOS)
Google Chrome Extension
Presence
Native Contact Management(Personal Contacts, Company Contacts)
Audio Conferencing
WebRTC Audio Call
Function Keys on Web Client
CTI
Select & Dial with Hotkey on Desktop Client
Door Phone Video Preview
Voicemail
Voicemail Transcription
Group Voicemail
Voicemail to Email
Pop-up URL
Microsoft Teams Integration(via Call2Teams)
Headset Integration
Instant Messaging
Personal and Group Chat
File Sharing
Rich Emojis
Cross-client Synchronization
Remote Access Service Since the Cloud Edition is inherently accessible from anywhere, Remote Access Service is only for the Appliance & Software Edition
Custom PBX Domain Name (FQDN)
PBX Web Portal Remote Access
Linkus UC Clients Remote Connection
LDAP Server Remote Access
Function-based Security Control
Remote SIP Service Since the Cloud Edition is inherently accessible from anywhere, Remote SIP Service is only for the Appliance & Software Edition.
Private & Secure Tunnel
Easy Remote SIP Endpoints RegistrationRegister your remote IP phones, branch office PBXs, VoIP gateways, and alike remote SIP endpoints to the PBX easily as if they were deployed on your PBX's intranet.
Granular Security Control
No Port Portwarding & NAT Issues
WebRTC Trunk
Call Center
Switchboard-type Queue Panel
Queue Callback for Reduced Call Abandonment
Real-time Metrics on Wallboard
SLA for Performance Measurement
Insightful Call Center Reports
Phonebooks
PBX-native Contacts Management
Separate Permission Control Per Phonebook
CRM Contacts Synchronization
Call Accounting
Custom Rates Applied to Outbound Calls
Analysis Report on Telecom Expenses
CRM Integration
Incoming Call Popups
Auto Call Journal
Click to Call CRM Contacts
Hassle-free Integration
Support for Hubspot, Zoho, Salesforce, Bitrix24, and Odoo
Helpdesk Integration
New Ticket Auto-creation
Click to Call
Incoming Call Popup
Auto Call Journal
Contacts Synchronization
Support for Zendesk and Zoho Desk
Microsoft 365 Integration
Azure Active Directory Integration
User Sync & Single Sign-on (SSO)
Microsoft Teams Integration
Outlook Integration
API
PBX Configuration
Call Control
uaCSTA Control
Event Notification
Hotel PMS
Windows Active Directory Integration
User, Organization Unit, Group Synchronization
Auto Extension Assignment for New User
Single Sign-on (SSO)
Faster and Easier Administration
Video Conferencing
Bulk Email & Instant Link Invitation
HD Audio and Video
Screen Sharing
In-meeting Team Chat
Video Calls
Video Calls on Linkus Web Client
Video Calls on Linkus Desktop Client
Video Calls on Linkus Mobile Client (iOS)
For Service Providers
Schedule a Personalized Demo
See Yeastar Cloud PBX hosting solution in action. Discuss your specific challenges, needs, and goals with Yeastar experts.
Live Product Demonstration
Business Model Explained
Opportunity
Discovery
Want to experience the cloud PBX features? Start Free Trial More Deployment Options for Your Needs
Besides the Cloud Edition, Yeastar P-Series PBX System is also available in Appliance and Software Edition to serve various customer requirements.
Software Edition
Appliance Edition