The all-in-one app for your business communications
Full-featured
Call, video, message, conference, and more. Access Yeastar phone system features anywhere with internet connection.
Easy for everyone
Use the app on your computer or mobile phone. Streamline workflows with modern, easy-to-navigate interfaces.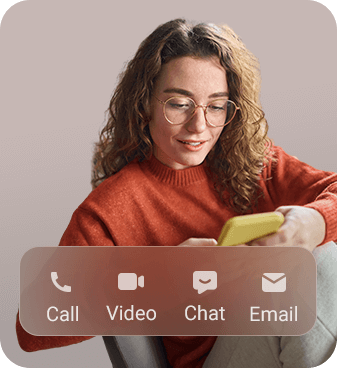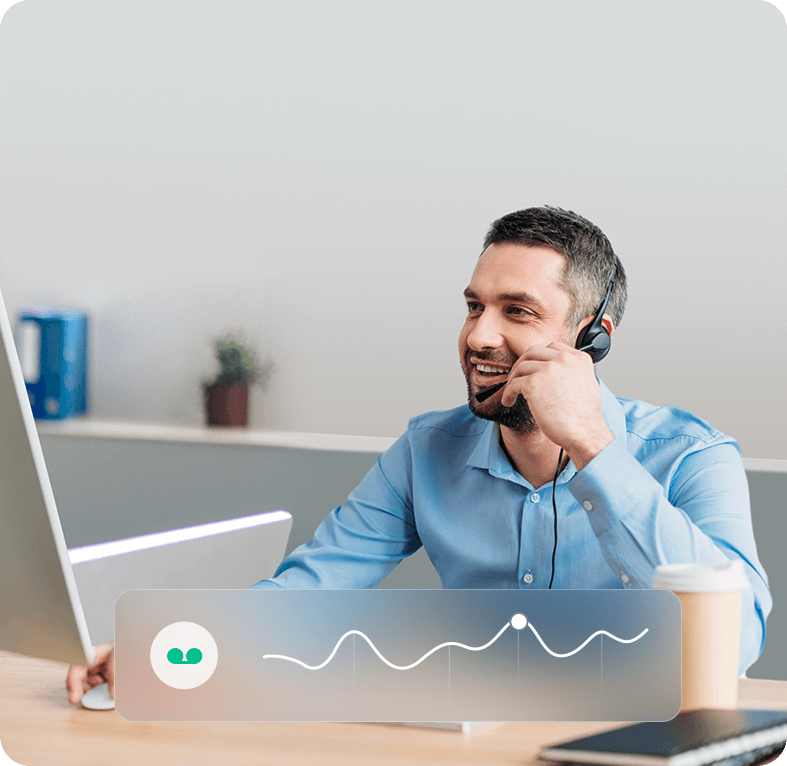 Manage and control your calls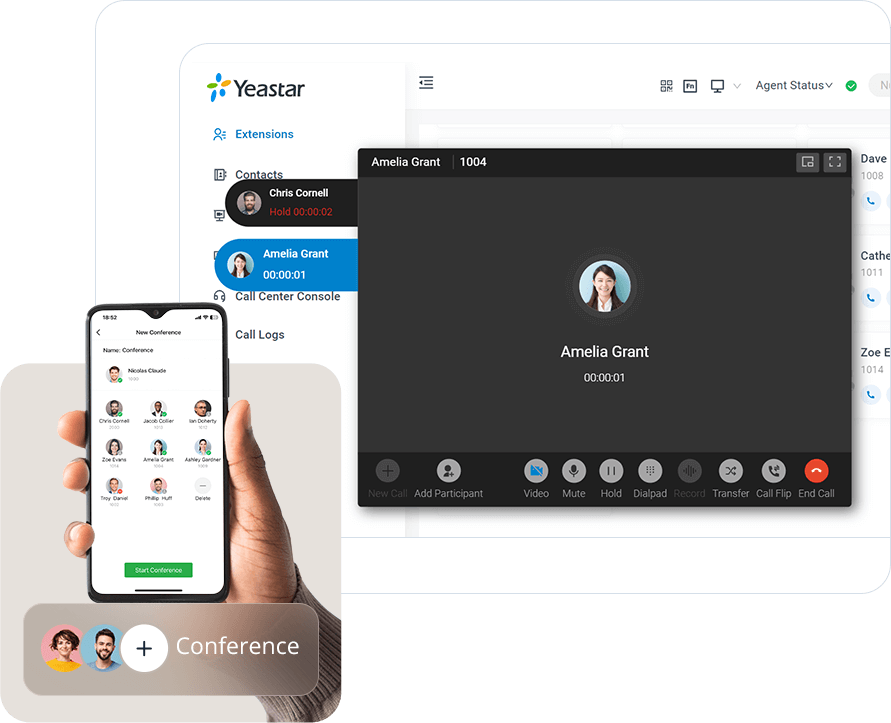 Make and receive audio/video calls and switch between them with one click.
Transfer, hold, mute, and record a call to any phone number or extension.
Check missed calls and call history. Listen to voicemails and one-touch call recordings.
Set up personal call forwarding rules and ring strategies easily.
Flip a live call seamlessly between your desktop, mobile, and IP phone without interrupting the conversation.
Chat, conference, and collaborate
Omnichannel Messaging
WhatsApp, SMS, and Team Chats. Access and respond to customer messages from multiple channels and collaborate with teams, all in one interface. Learn more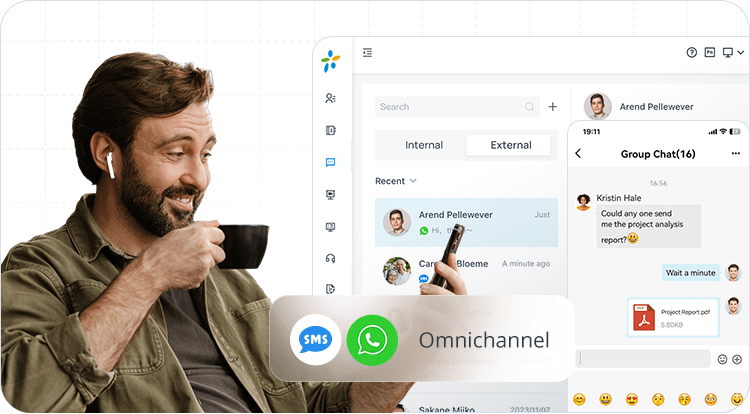 Conference and Meeting
Get HD audio conferencing and web-based video meetings with screen sharing. Start, schedule, and join with clicks. Learn more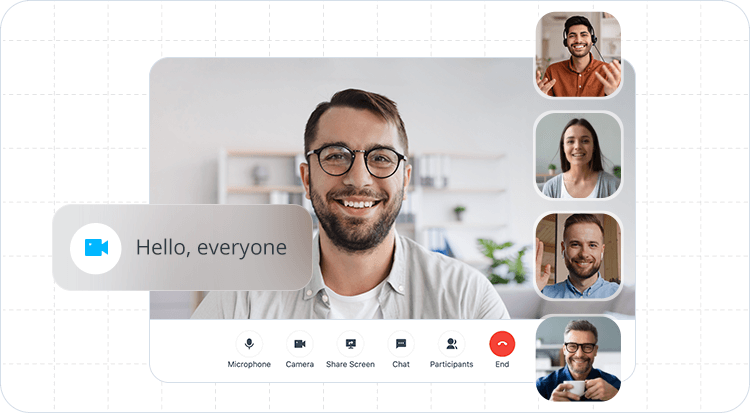 All contacts in one place
Keep track of important contact details that matter to your business with a unified address book. Let your team always know who is in touch and reach out to customers with ease.
Unified corporate directory
Create & manage personal or shared contacts
Sync contacts from CRM and helpdesk platform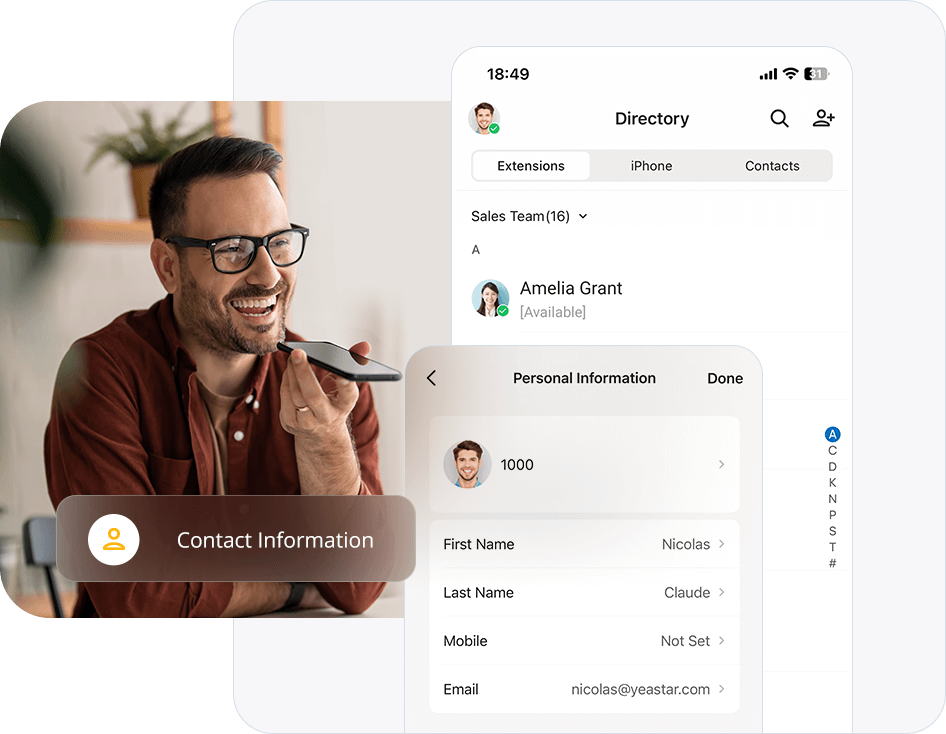 More standout features and integrations
Secure and stable communications anywhere without port forwarding.
Monitor and manage your queues and agent activities in the web client.
Presence States
Let your colleagues know if you are available with presence indicators.
File Sharing
Share files, documents, images, etc, in one-to-one or group chats.
Function Keys
Set up feature shortcuts to speed dial, intercom, BLF monitoring, and more.
Desk Phone Control (CTI)
Connect IP Phone to control calls on computer while talking via IP Phone.
Embed Linkus app on Microsoft Teams to streamline your workflow.
Click-to-call Outlook contacts and check your call logs directly in Outlook.
Support HubSpot, Salesforce, Zendesk, Zoho, Bitrix24, Odoo, and more.
Ready to improve your business communications?
Try the app in full feature access with Yeastar P-Series Phone System 30-day free trial. Join thousands of businesses to build better conversations.
Datasheet
Explore features, PBX and version requirements in details.
Download Linkus
Download available for iOS, Android, Windows and MacOS.
Free Trial
The fully-loaded Linkus can be tested with Yeastar PBX free trial.
Note: The features supported on Linkus UC Client are dependent on the connected Yeastar phone system. The Linkus Web Client is exclusively supported on Yeastar P-Series Phone System.