Hikvision Intercom
Telephony Integration
Achieve true efficiency with anywhere-anytime remote intercom & secure public access control.

Solution Description
Founded in 2001,Hikvision is an IoT solution provider with video as its core competency. Hikvision door stations are tested with Yeastar PBX Systems with excellent interoperability to constitute high-performing intercom or public access solutions for customers at right price. Featuring easy deployment and all-inclusive features, the solution makes Hikvision endpoints a regular PBX extension and allows users to quickly intercom, make zone paging, and even control door access to the premises – from anywhere without requiring any separate intercom/paging server. Ideal for cutting business outlay while achieving the true efficiency with anywhere-anytime remote intercom communications and public access control.
Ecosystem: Intercom Systems
Supported Products:
Yeastar:
P-Series PBX System, S-Series VoIP PBX, Yeastar Cloud PBX.
Hikvision:
1. Door Station: DS-KD8003-IME1; 2. Indoor Station: DS-KH6320-WTE1, DS-KH6320-TE1; 3. Villa Door Station: DS-KV8113-WME1(B), DS-KV8213-WME1(B), DS-KV8413-WME1(B).
Key Features & User Benefits
Integrated Door Intercom
PBX Built-in Paging
Business Unified Communications
Easy Integration
Answer and open the door from any Yeastar PBX extension anywhere.
See who is at front door and converse easily via Yeastar Linkus Web Client or IP video phone.
Auto-forward door phone calls to your mobile number or Linkus Mobile Client when not answered.
Screen visitors at entrances, car parks & security barriers.
Save costs with PBX built-in paging feature.
Robust ad-hoc/scheduled paging for efficient routine notifications.
Easy broadcasting from any devices you like (IP phone or Mobile/PC with Linkus UC Clients).
Robust permission control to limit who can broadcast pages and who can only receive them.
High-performing Yeastar Unified Communications for business efficiency and team collaborations:
Linkus UC Clients for a consistent communication experience that across browsers, mobiles, and desktops.
PBX-integrated video conferencing, in-meeting screen sharing and team chat.
Hassle-free remote working with Yeastar Remote Access Service.
Robust Call Center console with Queue Panel, Wallboards, reports, etc.
Rich easy integration with Microsoft Teams, Zoho CRM, and more.
Thanks to the intuitive Yeastar PBX's Web GUI and Hikvison iVMS-4200 Clients Software, the supported Hikvision door stations can be registered as regular Yeastar PBX extensions within a few simple steps and realize all the powerful integration features. The embedded standard SIP function ensures every call and interaction between the two systems are seamless and under easy control.
Solution Architecture & Screenshoots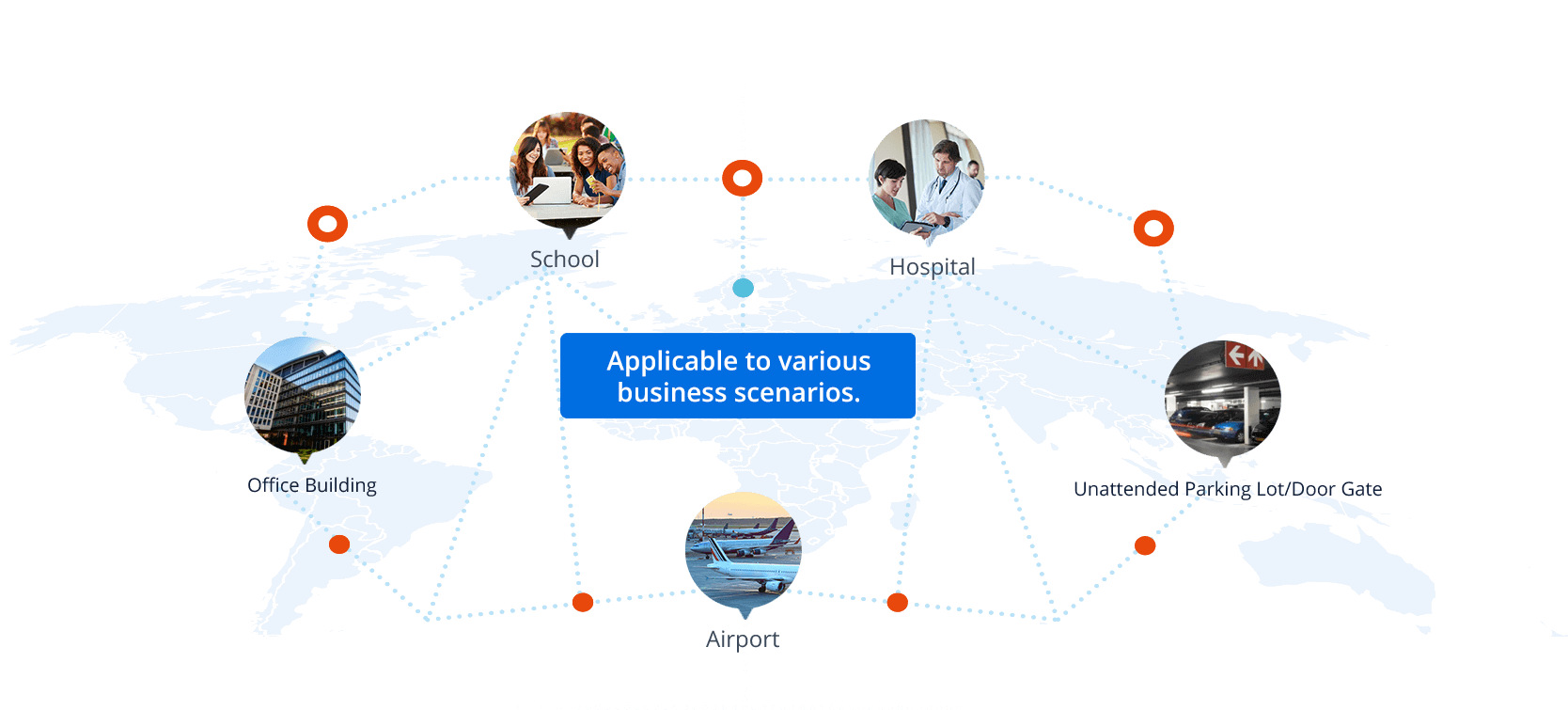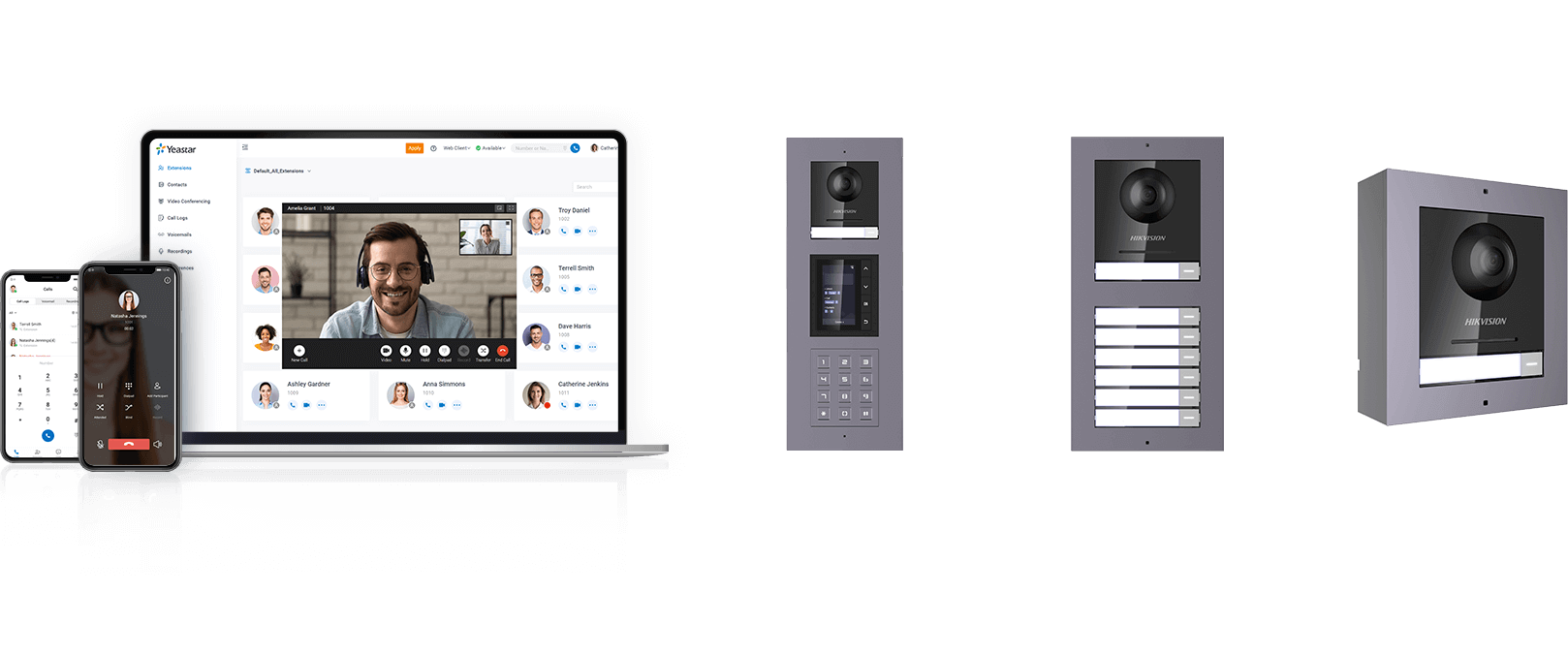 Resources
Learn more details about the Yeastar-Hikvision integration solution.
Download Brochure
Configuration Guide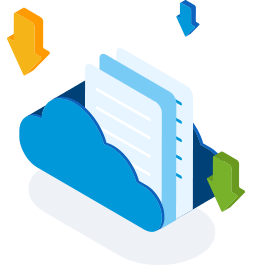 Integration Video
Learn how Yeastar PBX System integrated with Hikvision intercoms.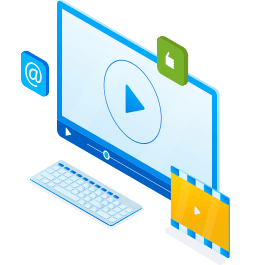 Drop us a message if you need any help