Ecosystem
Hotel PMS Integration
Enabling effortless internal communications and providing quality guestroom services for hotels.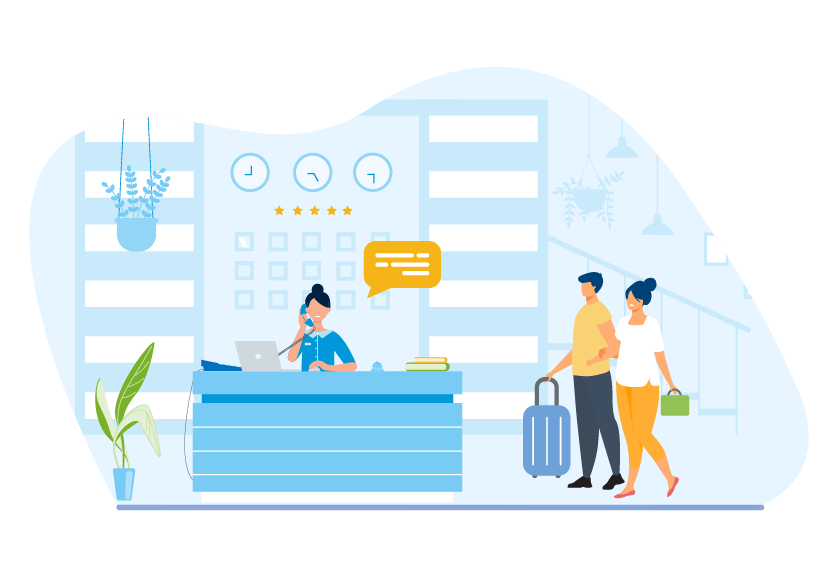 Streamline hotel management
Integration of hotel telephone system and Hotel Management Software / Property Management System (PMS) is frequently required by the hoteliers to streamline operations, unleash manpower, retain client data, and provide timely records. As a result, various operations can be performed by the reception staff directly within the PMS. For Yeastar P-Series PBX System and S-Series VoIP PBX, PMS integration is even easier with EasyLynq and  char utile h+ Integration App (for S-Series only), which can help deliver efficient hospitality operations.
Hotel PMS supported by char/Easylynq: ASSD, Hiltons OnQ, IDPMS (Hotel Concepts), MICROS-Fidelio, Protel. Other PMS middleware and hotel PMS are available on request.
Key features for quality hotel room services

Check-in and Check-out
Streamline operations of the receptionists at the front desk like entering guest information to assist guests to check-in when they arrive at the hotel and check-out before they leave.

Manage Room Status Via the Room Phone
The hotel maid can dial the feature code from the guest room phone to confirm the room's status, clean or dirty, or the minibar needs to be replenished.

Schedule Wake-up Calls
Hotel guests can dial the feature code on their room phones to set wake-up calls themselves, and the reception executive can also see the alarms from the PBX Web interface.

Transfer Call Data Records to Your PMS
The char utile h+ Integration can keep call records from all the hotel rooms as well as from staff communications and transfer the data to your PMS for processing.

Receive Voice Messages
The PMS integration solution provides convenient phone feature for hotel receptionists by allowing extensions to receive voice messages so that voice booking information won't be missed.

Set Do Not Disturb
Switch the status of any room extension to Do Not Disturb on the hotel phone system to give the customer quiet and relaxing nights without annoying incoming phone calls.
See what PMS middleware can be supported


Contact us today to get more information!