We are directing you to your Cloud PBX...
P-Series
Phone System
Easy-first unified communications with voice, video, message, customer experience and more, all in one place.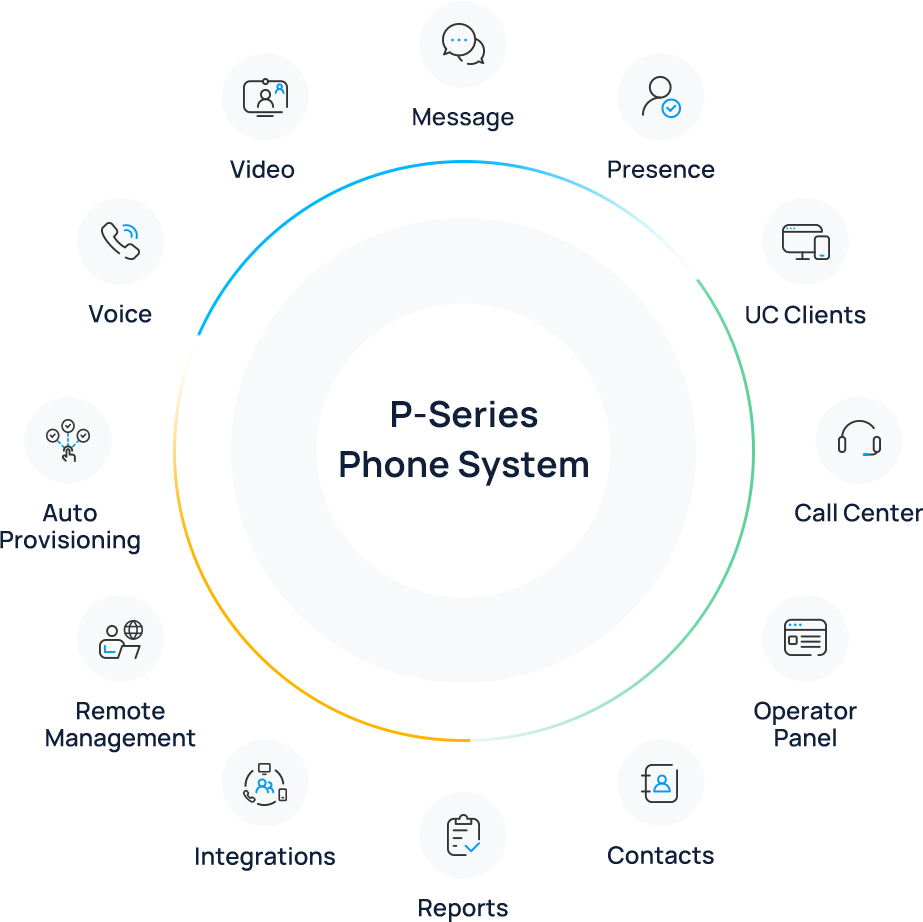 Embrace Boundless Communications
Easy to use, optimal, and scalable, Yeastar P-Series Phone System reinvents how business connects by converging calling, meeting, omnichannel messaging, integrations, and more in one simple solution, breaking down the boundaries of distance, platforms, and systems.
Call, Meet, Chat, from Anywhere
With our user-friendly Linkus UC Clients, get a world-class phone system inside a single app, from virtually any device.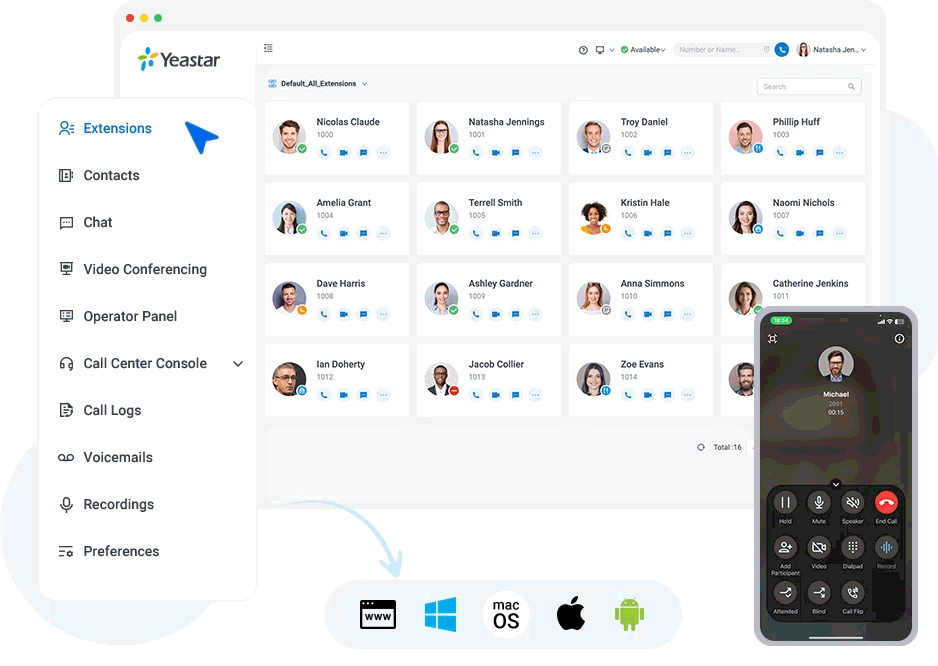 All office extension features
Handle calls, chat with teams, audio/video conference, check colleagues' presence, listen to call recordings, check voicemails, see call logs, and more, in one simple app.
All contacts in one place
With PBX-native contact management, intuitive phonebooks, and cross-system contacts synchronization, manage all your contacts in one place.
Easily switch devices
Use the app on your web, mobile, or desktop and filp calls seamlessly between devices in one tap. All data are in sync.
Call Operator Panel
Monitor all call activities in one view
Drag-and-drop call dispatch (Redirect, Transfer, Park, etc.)
Check employee availability with presence
Next-level call management efficiency
Included for every user, ideal for operator
For next-level call
management efficiency
Video Conferencing
No-hassle, web-based video conferencing
Meeting schedule, screen sharing, chat
Full host controls, waiting room & passcode protection
No downloads. Join via link from web browser
Stay secure, interactive, and in control
For seamless customer
and team meetings
Team Chat
Instant messaging with 1:1 or group chats
Send files, documents, pictures, emojis
Switch to phone or video with a tap
Cross-client sync. Respond from any devices
One unified app for call, chat, and conference
For chats, file sharing,
and team collaboration
Enhanced Customer Experience
Empower your teams to deliver exceptional customer services across multiple channels with rich contact center features.
Enable productive call center
.
Automatic call distribution, queues, wallboard, agent coaching, call recording, queue callbacks, reports, and more advanced call center features. Learn more
Add SMS & WhatsApp messaging
.
Connect your SMS trunks and WhatsApp accounts to send, receive, and manage all your business messages in one simple interface. Learn more
Convert visitors to leads
.
Let your visitors call you for free with just a click from your website or on your own applications. The setup is easy with the PBX's inbuilt WebRTC and SDK features.
Rich CRM and helpdesk integrations to quickly identify who's calling or as messages come in, sync customer interaction records, and more. Learn more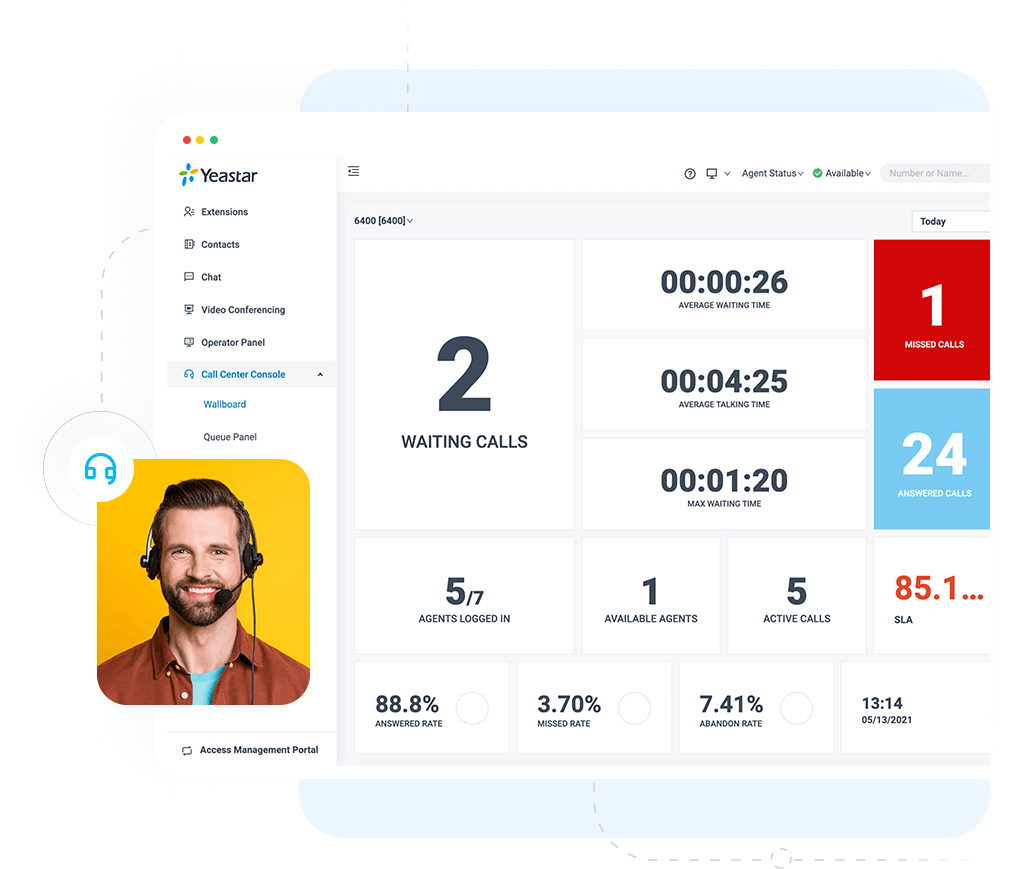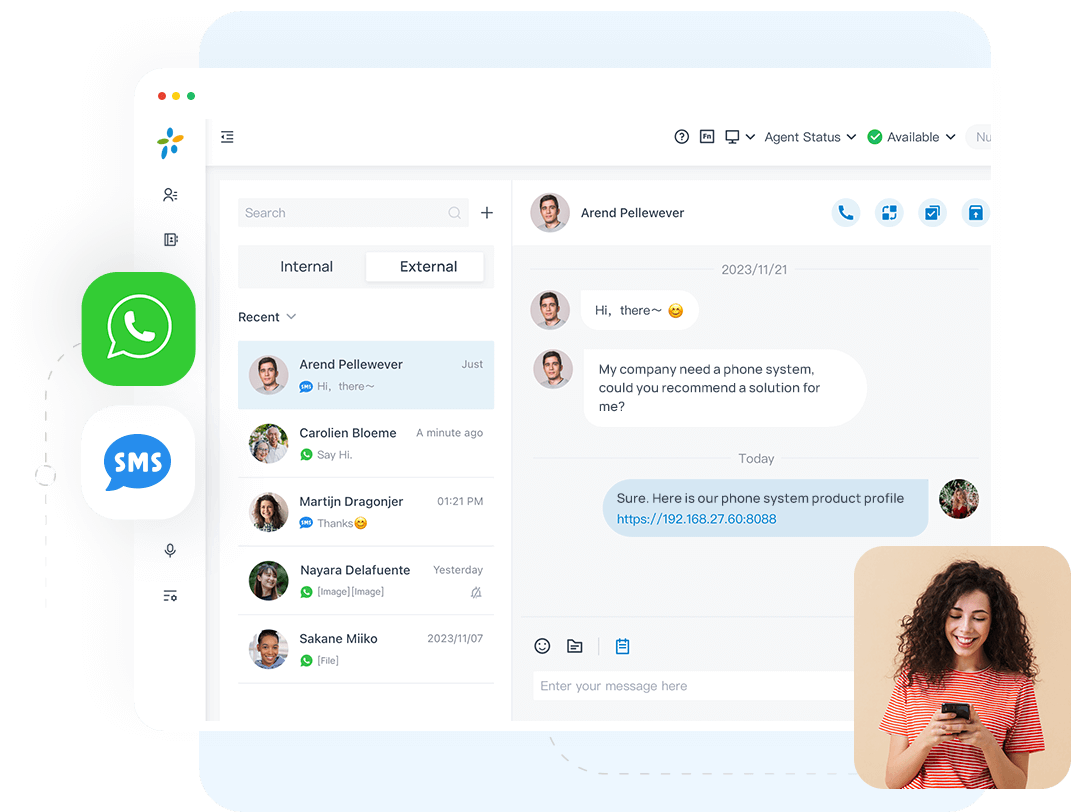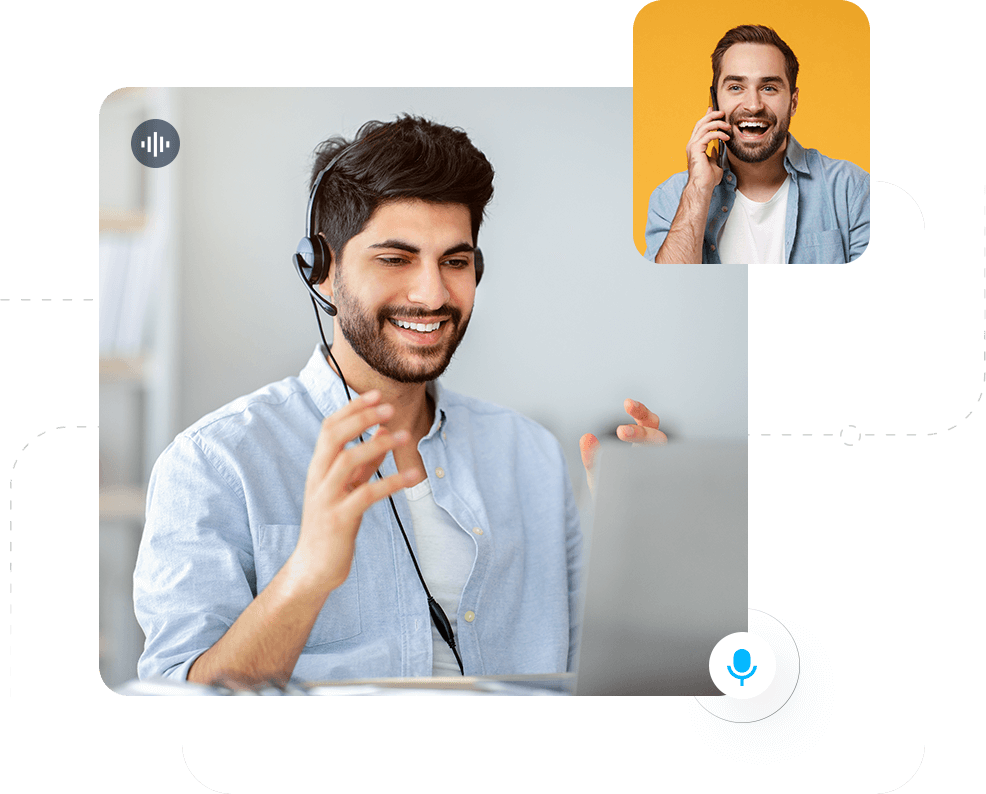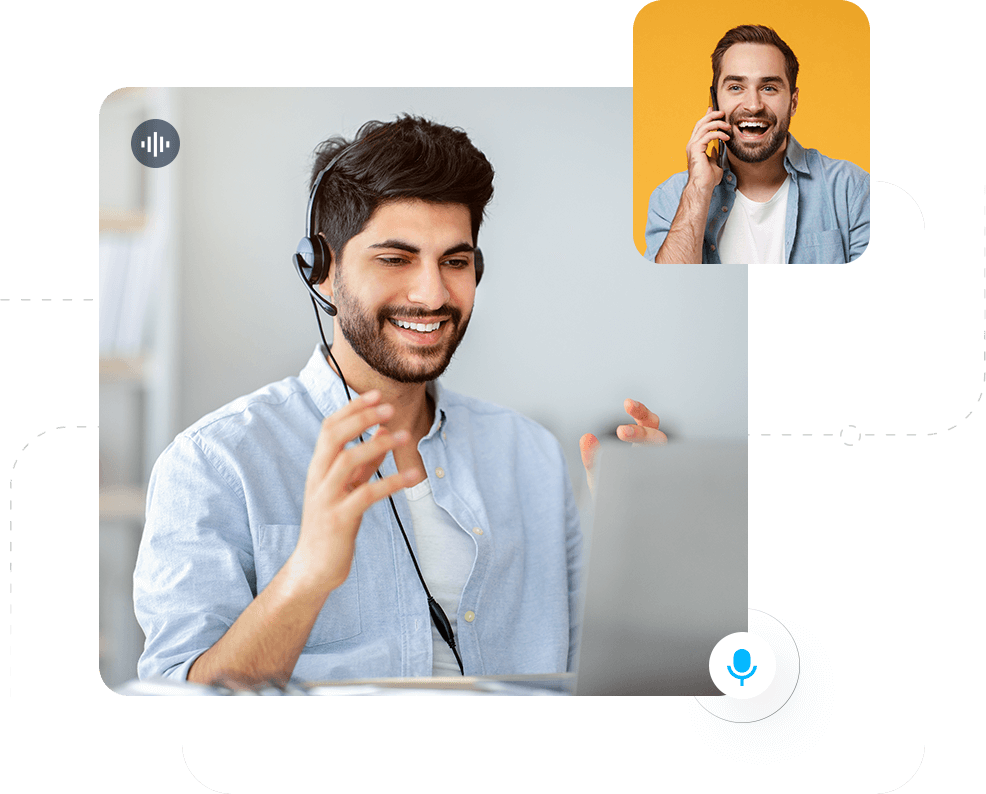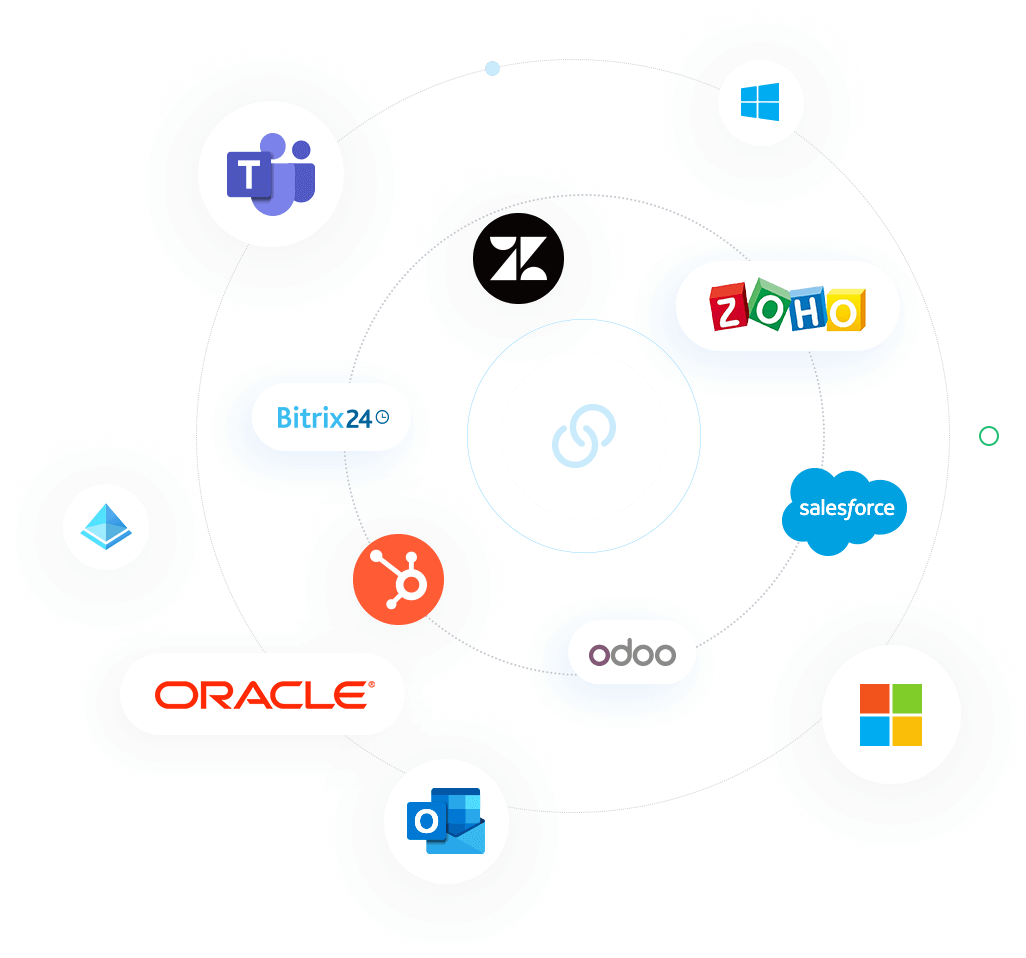 Powerful Integrations, Streamlined Workflows
Easily streamline your workflows and empower your teams with ready-made integration with Microsoft Teams, popular CRMs, helpdesks, hotel PMS, and other business platforms.
You also get the ultimate flexibility to build your own with our open APIs.
Easy, Flexible, and Adaptable to Your Needs
Easy to use & Scalability
Set up in minutes with an intuitive web GUI driven by point-and-click configuration. Be future-proof with easy user scalability.
Broadest Endpoint Supports
Pre-built IP Phone auto provisioning for 270+ mainstream IP Phone models, including those from Yealink, Fanvil, and more.
SIP Trunk Interoperability
Use phone service of your choice. Proven interoperability with worldwide SIP/PSTN/ISDN trunks; certified with over 120 ITSPs worldwide.
Remote Access Service
Enable a consistent in-office communication experience for everyone via a secure and hassle-free remote access service.
Remote Management
Easy for Yeastar partners to manage and provision customer-premises Yeastar PBXs remotely and securely in one platform.
World-class Reliability
Built on top of usability, scalability, security, and future-proofness with a "100% recommended to a friend" reputation.
Outstanding Features and Flexible Plans
Go at your own speed with flexible deployment options and industry-leading feature set. Download Datasheet
Standard Plan Enterprise Plan Ultimate Plan
Deployment Mode Appliance Appliance,Software,
Cloud Appliance,Software,
Cloud
Telephony Features
Call Forwarding
Call Monitoring (Listen/Whisper/Barge-in)
Call Parking
Call Pickup
Call Transfer (Attended/Blind)
Call Waiting
Call Flip/Switch
IVR
Queue
Ring Group
Paging & Intercom
Conference Rooms
CDR & Basic Reports
Dial by Name
AutoCLIP
Caller ID
CID-based & DID-based Call Routing
DID (Direct Inward Dialing)
DND (Do Not Disturb)
DOD (Direct Outward Dialing)
DNIS
Business Features
Call Recording
Call Allow/Block List
BLF Support
Business Hours & Holidays
Boss-Secretary
Custom Prompts
Distinctive Ringtone
Music on Hold
MOH Playlist & Streaming
T.38 Fax
Fax to Email
Voicemail
Group Voicemail
Voicemail to Email
LDAP Server
PIN List
Speed Dial
Emergency Number
Emergency Notifications
SIP Forking
IP Phone Concurrent Registrations
CTI for Desk Phone Control
Function Keys
Hotkeys
Administration & Security
Web-based Management Portal
Graphical Dashboard
Auto Provisioning
Bulk Import & Export
Extension Group & Organization
User Role & Permission
Operation Logs
Event Logs
Event Notifications
Backup and Restore
Troubleshooting
Built-in SMTP Server
AMI (Asterisk Manager Interface)
Network Drive
SNMP Support
Security
SRTP & TLS Call Encryption
Auto & Static Defense
Global Anti-hacking IP Blocklist
Certificates
Password Policy Enforcement
Two-factor Authentication (2FA)
Allowed Country IP's & Codes
Outbound Call Frequency Restriction
Unified Communications
Linkus UC Clients
Linkus Web Client
Linkus Mobile Client (iOS & Android)
Linkus Desktop Client (Windows & MacOS)
Linkus Google Chrome Extension
Operator Panel
Unlimited Users
Dispatch Active Calls
(Redirect, Transfer, Hang up, Park, Monitor)
Monitor Call Status
(Inbound, Outbound, Extension, Parked Calls, etc.)
Unified Presence
Control Extension Presence
Presence
Custom Presence description
Personal & Company Contacts
Audio Conferencing
Voicemail Transcription
Call Pop-up URL
Door Phone Video Preview
Team Chat
1:1 or Group Chat with Colleagues
File & Image Sharing
Push Notification
Sync Across Linkus UC Clients
Remote Access Service Since the Cloud Edition is inherently accessible from anywhere, Remote Access Service is only for the Appliance & Software Edition
Custom PBX Domain Name (FQDN)
Remote & Secure PBX Web Portal Access
Linkus UC Clients Remote Connection
LDAP Server Remote Access
Remote SIP Service Since the Cloud Edition is inherently accessible from anywhere, Remote SIP Service is only for the Appliance & Software Edition.
Hassle-free Remote SIP Registration Register your remote IP phones, branch office PBXs, VoIP gateways, and alike remote SIP endpoints to the PBX easily as if they were deployed on your PBX's intranet.
WebRTC Trunk
No Port Portwarding & NAT Issues
Call Center
Switchboard-type Queue Panel
Queue Callback for Reduced Call Abandonment
Real-time Wallboard
SLA for Performance Measurement
Insightful Call Center Reports
Omnichannel Messaging
Unlimited SMS Trunks & WhatsApp Accounts Integration
Central Message Inbox
Automatic Contacts Matching
Chat Assignment & Transfer
Elevate Chats to Calls in One Click
Message Sent/Received Statistics Per Channel
Phonebooks
PBX-native Contacts Management
Separate Permission Control Per Phonebook
CRM Contacts Synchronization
Call Accounting
Custom Rates Applied to Outbound Calls
Analysis Report on Telecom Expenses
CRM Integration
Click to Call CRM Contacts
Incoming Call Popups
Auto Call Journal
Contacts Synchronization
Support for Hubspot, Zoho, Salesforce, Bitrix24, and Odoo
Helpdesk Integration
New Ticket Auto-creation
Click to Call Helpdesk Contacts
Incoming Call Popup
Auto Call Journal
Contacts Synchronization
Support for Zendesk and Zoho Desk
Microsoft 365 Integration
Microsoft Teams Integration
Outlook Integration
Azure Active Directory Integration
User Sync & Single Sign-on (SSO)
API
PBX Configuration APIs
Call Control APIs
uaCSTA Control APIs
Event Notification APIs
Hotel PMS
Windows Active Directory Integration
User, Organization Unit, Group Synchronization
Auto Extension Assignment for New User
Single Sign-on (SSO)
Faster and Easier Administration
Video Conferencing
Bulk Email & Instant Link Invitation
HD Audio and Video
Screen Sharing
In-meeting Team Chat
Video Calls
Video Calls on Linkus Web Client
Video Calls on Linkus Desktop Client
Video Calls on Linkus Mobile Client (iOS)
Linkus Client SDK
Integrate voice calling to any application easily
Web/Browser SDK
Mobile SDKs: Android, iOS
Desktop SDKs: Windows, MacOS
Feature-rich voice experience HD Calling, Call Control, Call Recording, Call History, Notifications, and more features
Rich, Programmable Code Samples and UI
Secure Authentication with Tokens
Faster and standarized development
Disaster Recovery The disaster recovery feature is supported on the Software Edtion only and requires an additional PBX redundancy server to function. For more information, please contact us.
Cross-region Active-standby Redundancy
Automatic Failure Detection & Fallback
Real-time Data Replication
Secure SD-WAN or VPN Remote Networking
Disaster Recovery The disaster recovery feature requires an additional PBX redundancy server to function. For more information, please contact us.
Cross-region Active-standby Redundancy
Automatic Failure Detection & Fallback
Real-time Data Replication
Secure SD-WAN or VPN Remote Networking
Hotel PMS IntegrationOptional
Room Status Synchronization
Wake-up Call Scheduling
Call Accounting & Minibar Charging
Guest Information and Room Move
Business big & small
love Yeastar
.
We chose Yeastar over Avaya and other brands because Yeastar remains ahead with the essentials that we were asking for.

It's everything we need to get work done, with new levels of performance and security. The ideal mix of functionality and services not only make our customer services easier, but cut our communications costs by half!

Yeastar help us established remote connections for a 300-staff team. We are very satisfied not only for the product itself but also for the speed and availability of the technical service.

...
Resources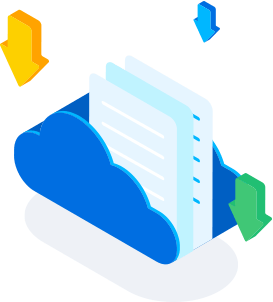 Contact Us
Interested in P-Series PBX System? Tell us your specific needs.