Yeastar Day is coming to South Africa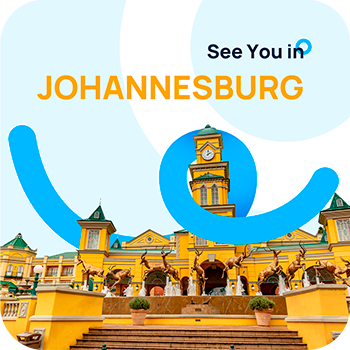 We're excited to announce that Yeastar Day Roadshow 2023 is coming to Johannesburg, South Africa on July 18, 2023, organized by our local distributor Even Flow. Be the first to experience our latest products and solutions through deep dives and live demos in a hands-on environment.
Get ready for a thrilling surprise quiz game session that could land you up to R5000! Plus, we're excited to announce that the YCM cloud-hosted platform now offers a white labelling option! Join us for an evening of networking, drinks, and practical knowledge sharing with industry peers, whether you're already familiar or new to Yeastar. With limited seats available, don't miss your chance to register for free and secure your spot at this informative event.
Don't delay – register now and join us for a memorable Yeastar Day in Johannesburg!

Organized by Even Flow

July 18, 2023, 9:00 am -1:00 pm

Courtyard Hotel Waterfall City,
         Johannesburg, South Africa
Why Attend
Learn from
Product Experts
Stay up-to-date on the latest trends driving the evolution of unified communications and explore how Yeastar's newest innovations can help you stay ahead of the competition.
Discover Partnership
Possibilities
Engage in one-on-one discussions with Yeastar's local distributor on go-to-market strategies, benefits, and further information about partnering with Yeastar or enhancing our existing partnership.
Expand Your Network
Connect with Even Flow experts, local partners of Yeastar, and other industry professionals to gain valuable insights on the local market and how to grow your business.

Agenda
Check out the full agenda below and be sure to register in advance.
Session 1 (9h00 – 9h15)
Welcome & Introduction
Welcome remarks from Birdy Wong, Regional Account Manager at Yeastar.
Session 2 (9h15 – 9h45)
Unrivalled UC Experience
Discover how Yeastar UC solution can help channel players capitalize on the momentum of hybrid work and deliver an unrivaled UC experience. Learn why it's a smart choice for the local market.
Session 3 (9h45 – 10h45)
Quiz & Tea Break
Join us for an exciting quiz game where you can win up to R5000 while also expanding your knowledge of Yeastar's impressive features!
Session 4 (10h45 – 11h00)
Unlocking Cloud UC, Partner Program & Yeastar Roadmap 2023
We invite you to explore the exciting world of Cloud UC, discover our comprehensive partner support program, and get a glimpse into the future developments of Yeastar.
Session 5 (11h00 – 11h15)
Q&A Session
Bring your curiosity! Ask us anything you'd like to know about Yeastar, whether it is about our products and service, potential partnership, or perspectives on the local market.
Session 6 (11h15 – 12h00)
Awards
Award to the reseller who has contributed to the promotion of Yeastar in South Africa region. We have established three primary categories for the awards to acknowledge exceptional achievements in 3 key categories:
P-Series Software Edition
P-Series Cloud Edition
P-Series PBX System
Session 7 (12h00 – 13h00)
Networking & Entertainment
Enjoy food, beverages, and great conversations. Catch up with your industry peers, share your wins and challenges, and learn from each other's experiences.
Special Thanks to Even Flow
Yeastar would like to extend a special thank you to Even Flow who helped us prepare and organize this roadshow. Your dedication and support have been instrumental in making Yeastar Day 2023 Roadshow a success. Contact Us
Do you have any questions, comments, or suggestions? We would like to hear from you. Please feel free to let us know.