Signs That Your Phone System Can't Keep Up
Chained to the Desk to Handle Calls
Unable to Connect Multiple Locations
Limited Call Management Functionalities
Lack of Remote Working Solutions
Resulted in Poor Customer Experience
Increasingly Expensive to Maintain
Difficult to Scale & Vulnerable to Outages
Hard for Employees to Use
Siloed from Other Systems

We've Got You Covered: a PBX Plus More Solution


Linkus UC Clients: Any Device, Anywhere
Driven through a set of applications for web browsers, Android, iOS, Windows and Mac,Linkus UC Clients enable P-Series PBX users to make audio and video calls right from the web browser as well as easily turn mobile phones and desktops into office extensions. Use Linkus UC Clients to stay connected and productive whether you are in the office, on the go, or working from home.
All office extension features
One number reach on any device
Always-on secure remote access
See the status of your colleagues
One-on-one or group chat with file sharing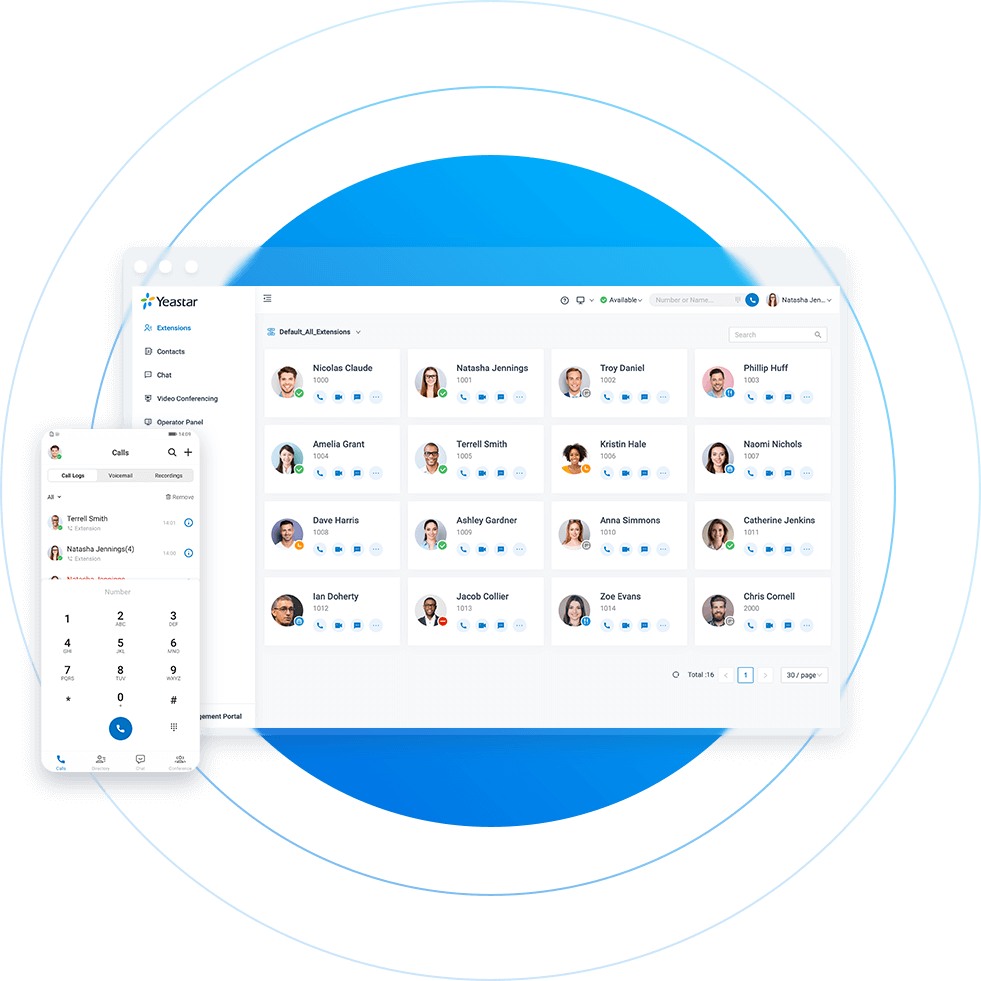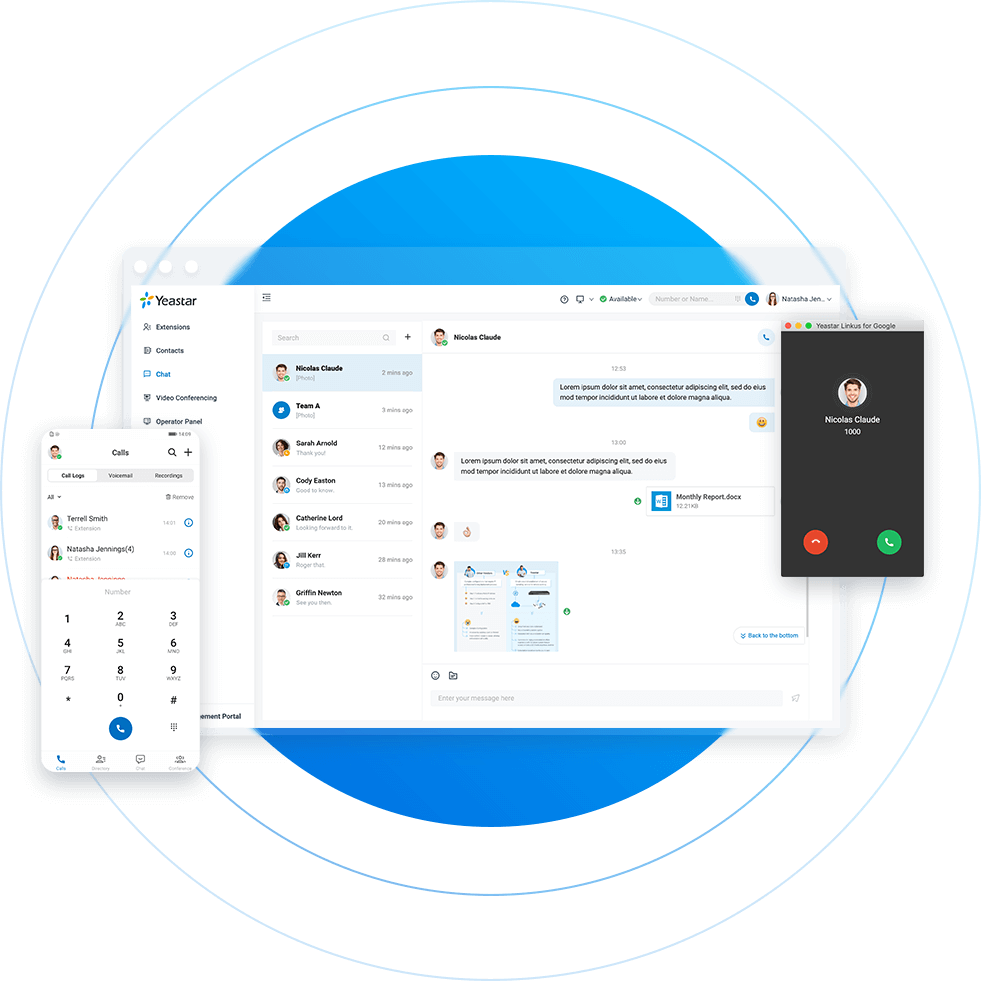 Company-wide & personal contacts
Integrated phonebook directories
Remote desk phone control
Call pop-ups, click-to-call, hotkeys, etc.
Cross-device voicemails, call histories, etc.
Unified Communications for a More Productive Workforce
IP Telephony
-
From the must-haves to the nice-to-haves, the full VoIP PBX phone system feature set, including IVR, call routing, conference, voicemail, ect. is able to handle daily business calls and cater to more sophisticated communications needs.
Video Conferencing
+
Tailored to the essential online meeting needs of SMEs, Yeastar's integrated web-based video conferencing, along with screen sharing and team chat, enables an engaging collaboration experience for your work-from-anywhere teams.
Learn More
Presence & IM
+
The Presence feature comes with rich information about users' availability while instant messaging, along with file sharing, complements other forms of communication and prompts employee engagement.
CRM Integration
+
Click to dial out straight from Zoho CRM. View contact details and add notes through call pop-ups. Auto-sync all call activities to the CRM platform. This integration ensures that you never lose track of previous conversations.
Learn More
Microsoft Teams Integration
+
With the direct routing technology, users on Yeastar PBX System and Teams can seamlessly communicate with others like regular extensions do, making it a perfect fit for businesses with a mix of Teams and non-Teams users.
Learn More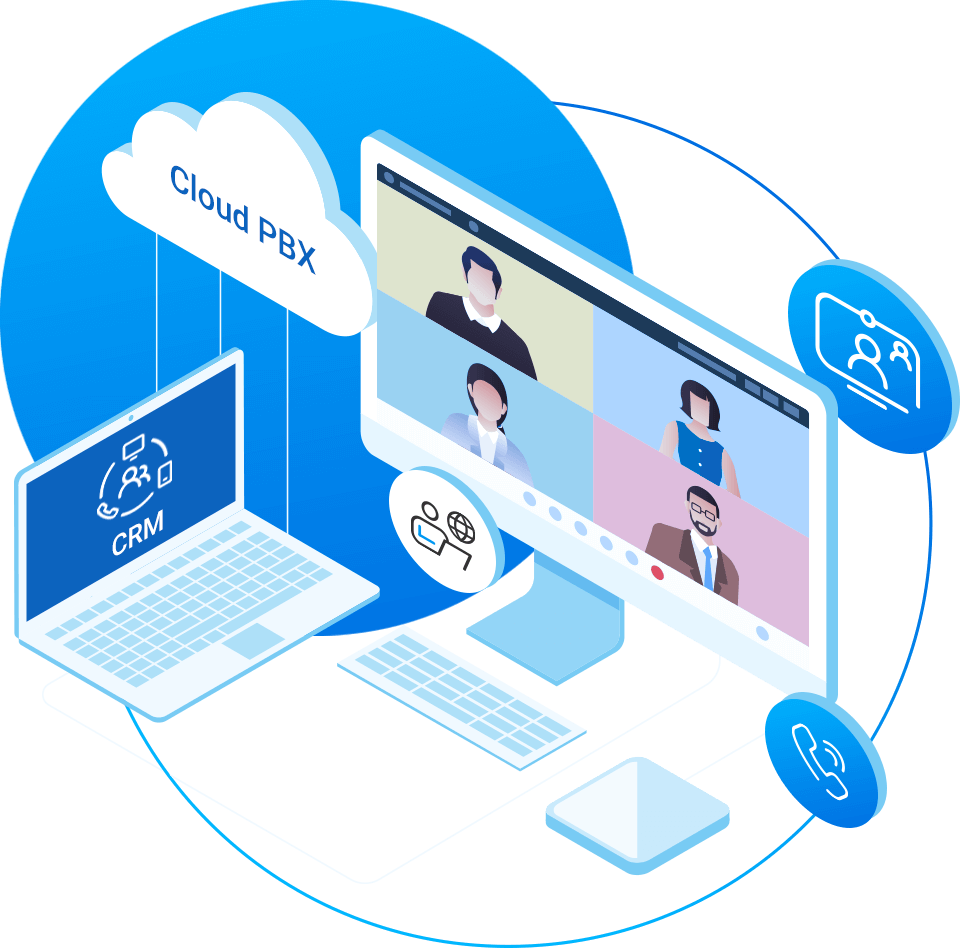 Economical Call Center Solution
Call Routing & Queueing
Agent & Supervisor Portal
Real-time Performance
Reporting & Analytics
Connect customers with the right agents at the right time. Take advantage of advanced automatic routing, 6 pre-defined ACD queueing (ringing) strategies, customizable IVR options and more features that drive faster call resolution.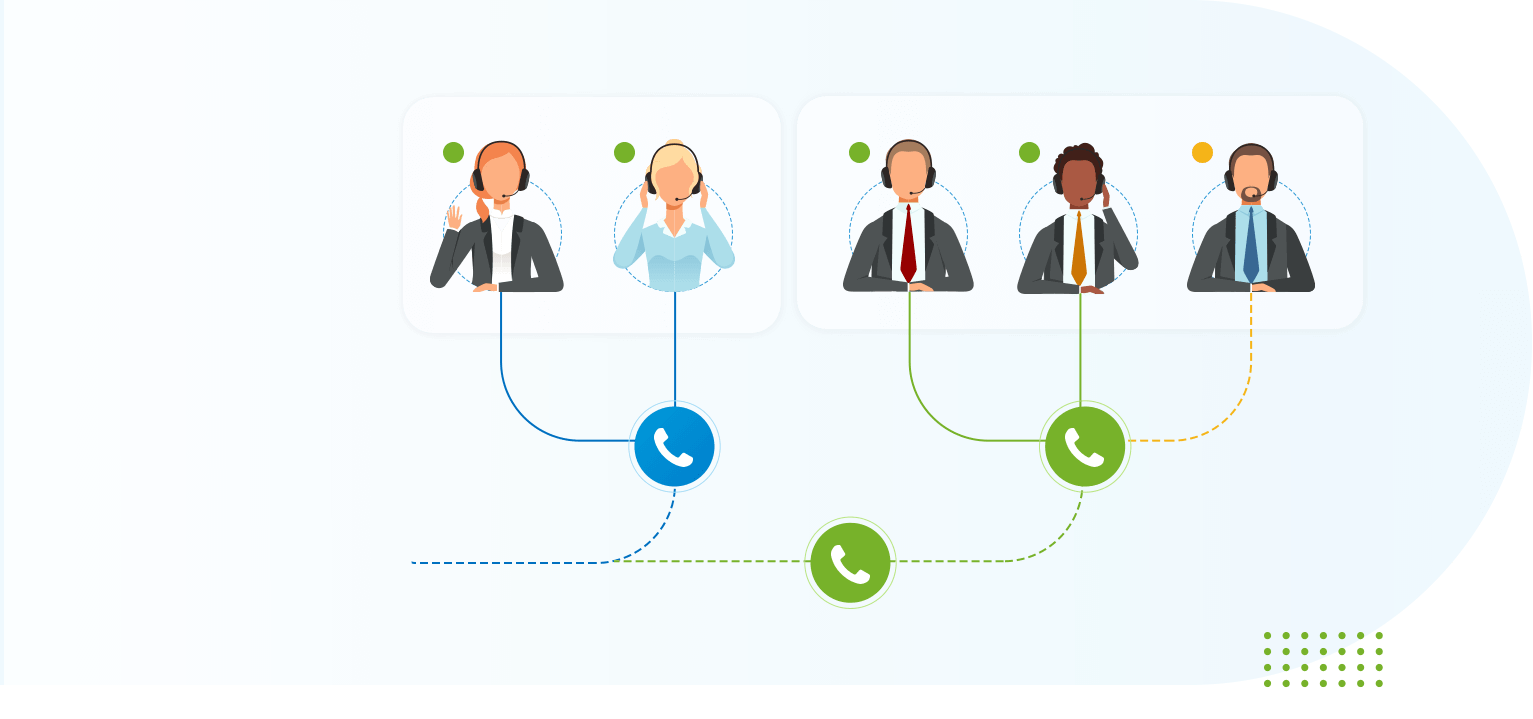 Time-based Routing
Choice-based Routing with IVR
ACD Queuing
Simultaneous Call Distribution (Ring All)
Fixed-Order Call Distribution (Linear)
Rotary Call Distribution (Rrmemory)
More in the brochure
Provide all the tools your agents and supervisors needed in one single interface. The dynamic, streamlined Queue Panel makes it easy for you to monitor queue traffic, check & switch agent status, and quickly conduct call operations like transfer, monitor, parking – within drag & drop or a simple click.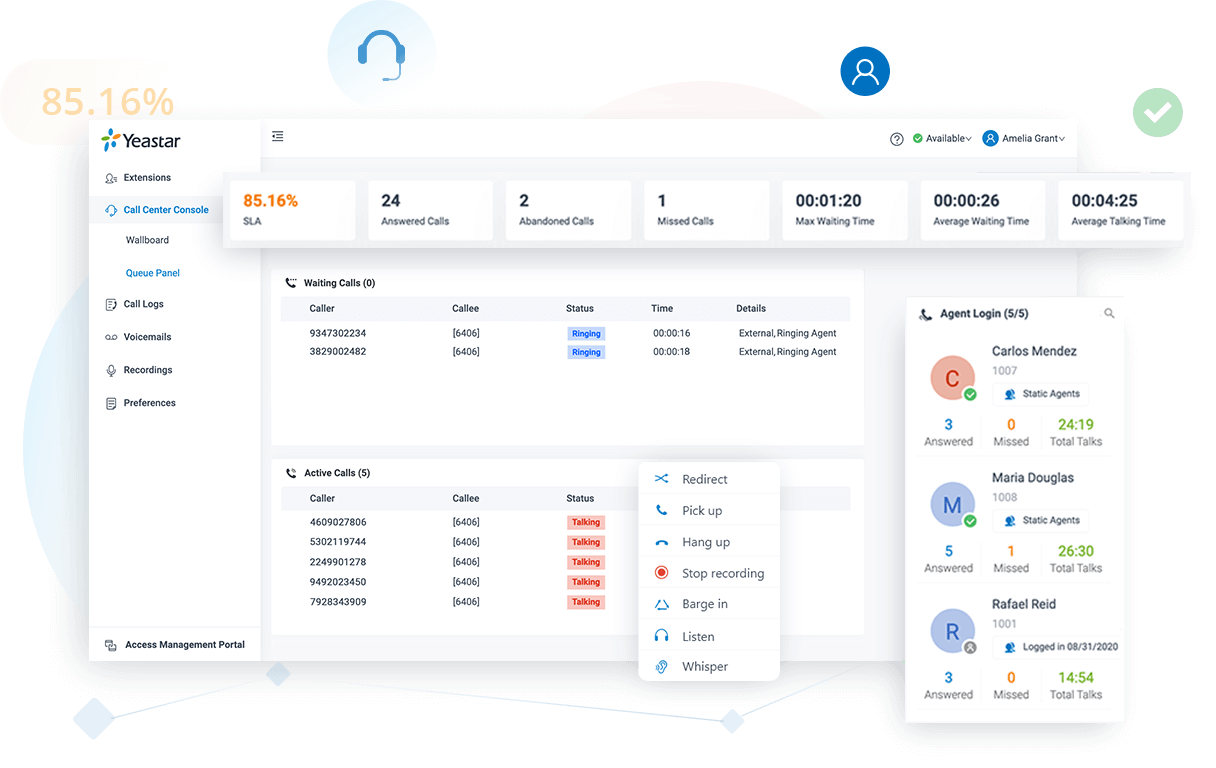 Drag & Drop Call Management
Visualized Active & Waiting Calls
Complete View of Agent Status
Real-time Queue Metrics Display
Role-based Feature Access Control
Discover up-to-the-minute call center metrics and key performance indicators (KPIs) from the central call center Wallboard. All data are auto-calculated in real-time, daily, weekly, or monthly interval for your in-depth call center monitoring, management & optimization.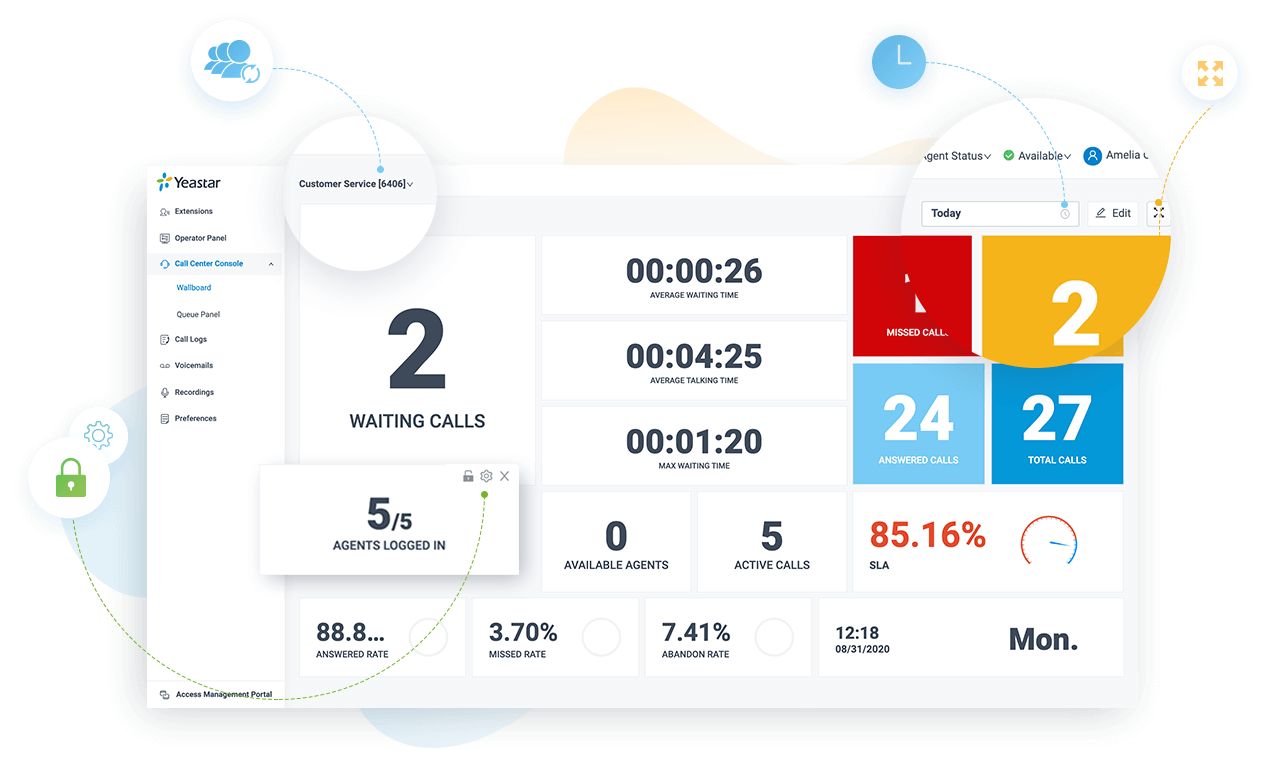 16 Key Performance Metrics
Real-time Monitoring
Flexible Calculation Time Frame
Customizable Widgets
Multi-screen Display
Service Level Agreement (SLA)
Get access to 8 detailed statistical call center reports, such as agent-specific operational metrics, call parameters, and panoramic queue statistics, for multi-dimension performance measurement and in-depth insights on efficiency improvement.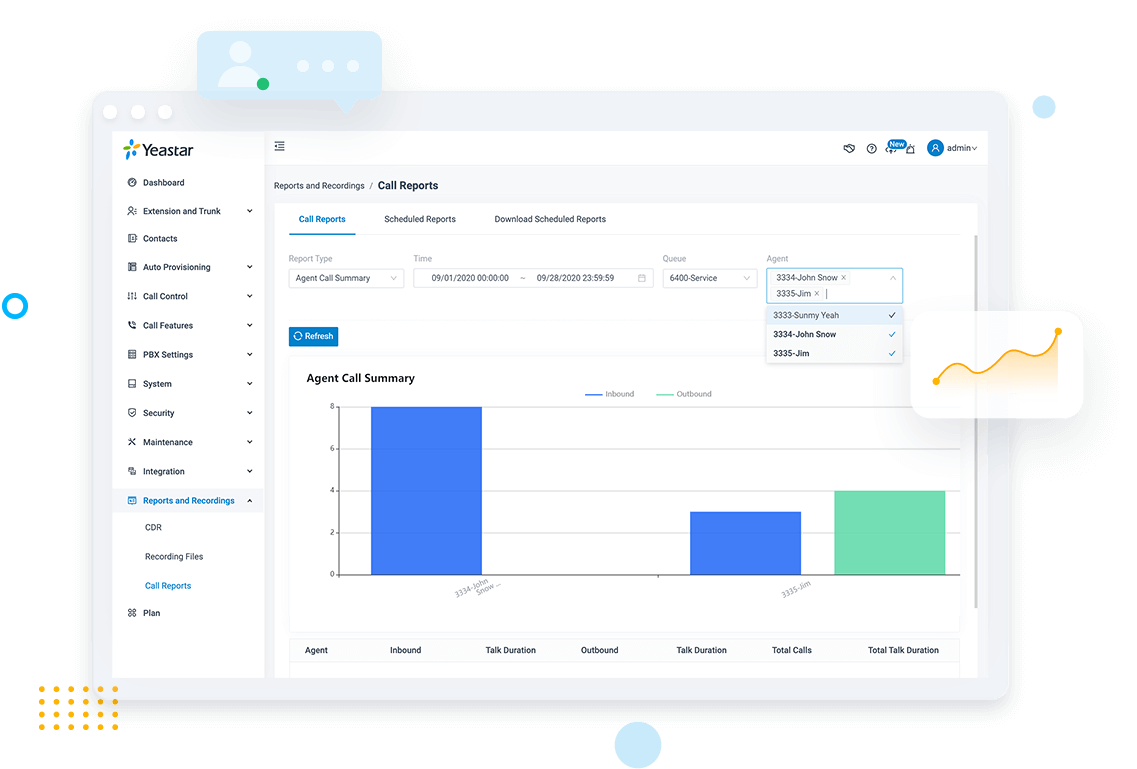 Agent Call Summary Reports
Queue Performance Reports
Customer Satisfaction Reports
Real-time & Historical Reports
Periodical Scheduled Reports
Custom Timeframe/Agent/Queue Selection
Graphical & Downloadable Formats
Unparalleled Ease of Management
While delivering a first-class user experience, Yeastar also enables great administrative convenience to system admins. Combining a modern and sleek web interface with a robust set of provisioning and performance tools, Yeastar makes configuration, maintenance, and monitoring a walk in the park.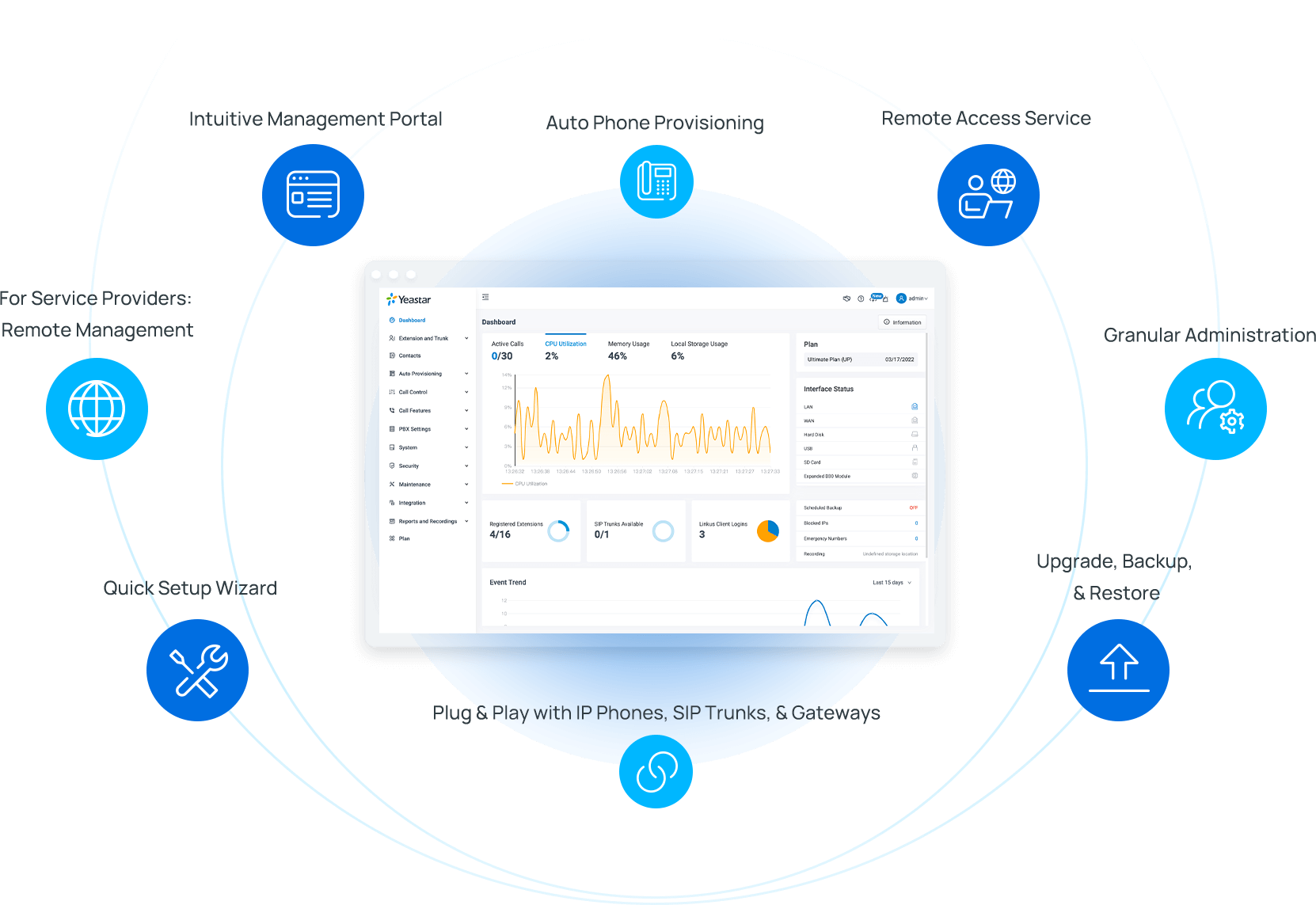 Cloud Edition
Software Edition
Appliance Edition
Business Use
For
Service Providers
Start Your
Free Trial Today
This 30-day trial allows you to experience the ins and outs of P-Series Cloud Edition Enterprise Plan and explore how it transforms communications for your business or your enterprise customers.
Full access to the Enterprise Plan
10 extensions, 10 concurrent calls
No credit card required. No commitment.
Instant activation upon signup.
Ready-to-go
Turnkey Solution
Designed for channel success, P-Series Cloud Edition Turnkey Solution is a fully managed, serverless offering that enables faster time to market, easier service delivery, and stronger return of investments.
No server needed. Low start-up costs
Based on a high availability architecture
Click to create & scale through YCM
Single-panel-of-glass dashboard
On Your Hardware Platform or Virtualized Environment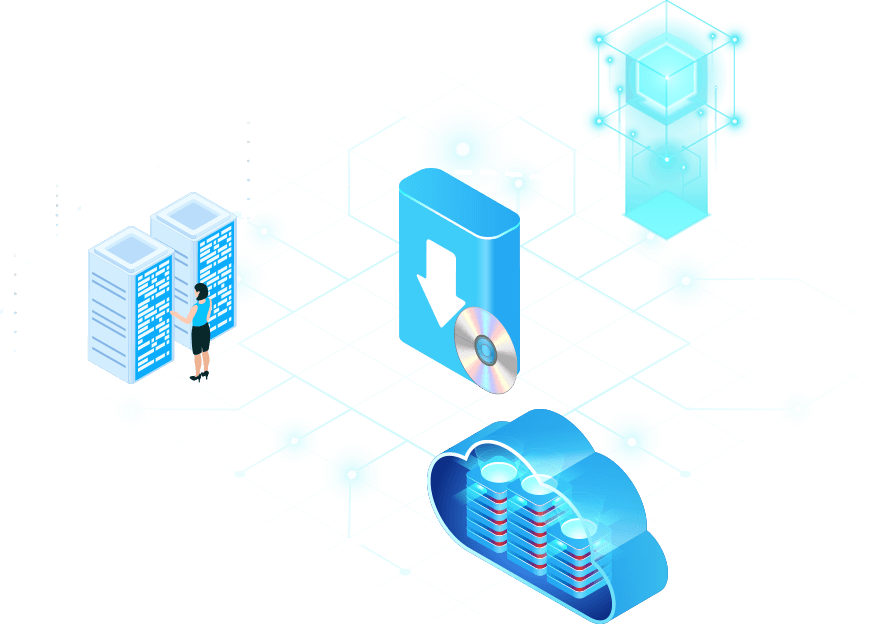 Flexible Deployments
Deployed it either as an on-premises option in a company's own data center, virtualized using VMware or Microsoft Hyper-V, or as a cloud service.
Stay in Control
Ensure that your system runs securely and independently. Ideal for businesses with higher requirements on system control.
Easy to Scale
Quickly scale users with flexible license options, leaving you rest assured in the face of significant changes in the staffing level.
Time-saving
Either on a local or cloud server, the time required to keep it up and running is kept to a minimum. Quickly get started with the built-in launch wizard.
Determine Which Model Is Right for You
P550 P560 P570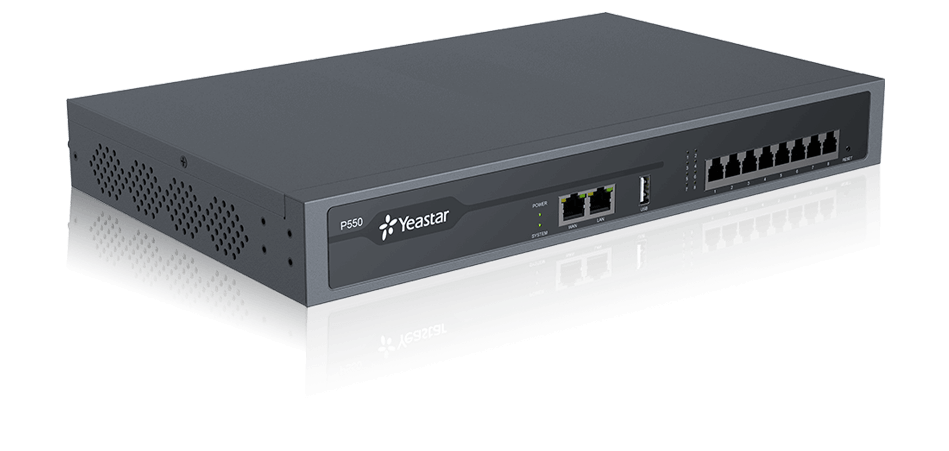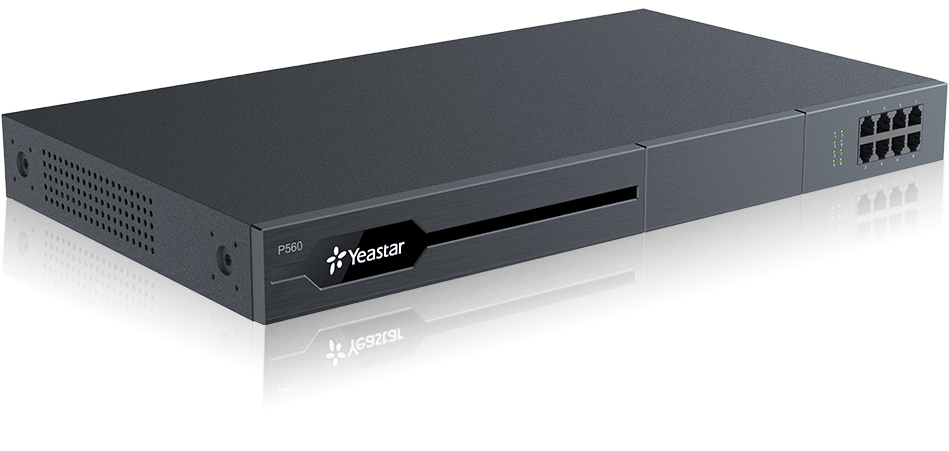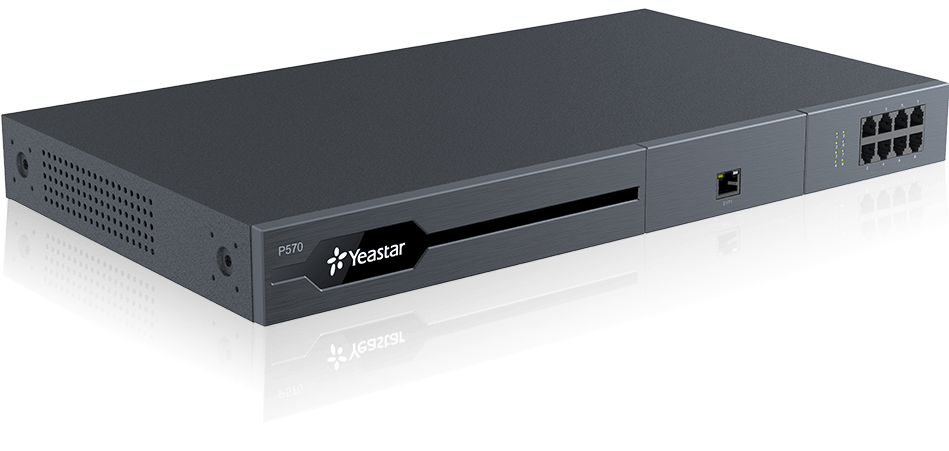 Base Users / Max Users 50 100 / 200 300 / 500
Max Concurrent Calls 25 30 / 60 60 / 120
Base / Max Call Center Agents 50 100 / 200 300 / 500
Max FXS Ports 8 8 16
Max FXO/BRI Ports 8 8 16
Max GSM/3G/4G Ports 4 4 6
Max E1/T1/J1 Ports - 1 2
Expandable D30 0 1 2
Trusted by over 450,000 Customers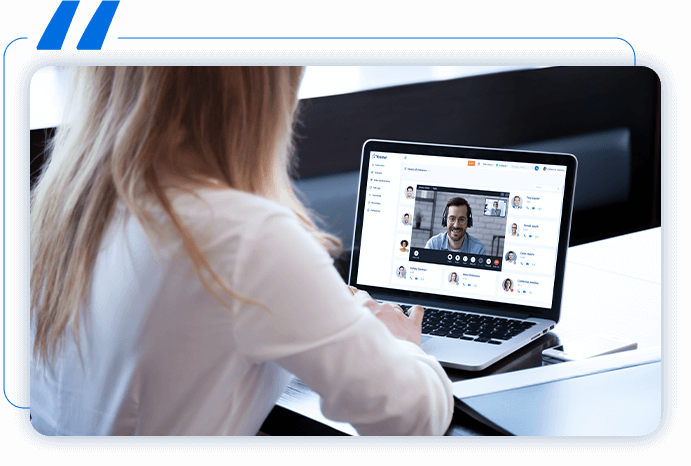 We have been using Yeastar products for over 4 years. After so long using Yeastar products, coming across the new P-Series feels like a revolutionary change for our SMB clients. Recently we hosted a P550 in our office for internal use as well as to show the demo to clients inquiring for a phone system. So far whoever we have shown the demo were very impressed because of its simple, easy-to-use management system and at the same time customizable to many extents. The P- Series has helped us getting more recognition in the market.

Ibrahim Rasheed
IT Consultant at Swift IT Solutions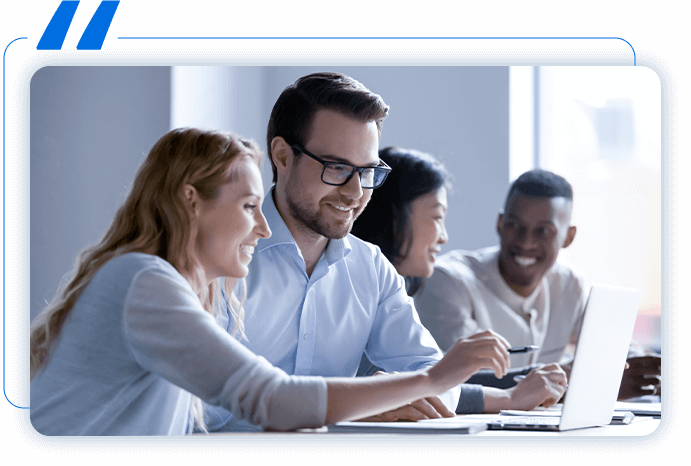 Yeastar as a company has been an excellent resource providing great support from sales to implementation and troubleshooting, resulting in our resellers and sales team having excellent knowledge of the products and market, and the system itself (Yeastar P-Series) has performed above our expectations. The features are exactly what we were looking for and the support from Yeastar Sales/Presales/Support team members has been exemplary.

Kelvin Seah
Channel Sales Manager at One-Net Communications Pte Ltd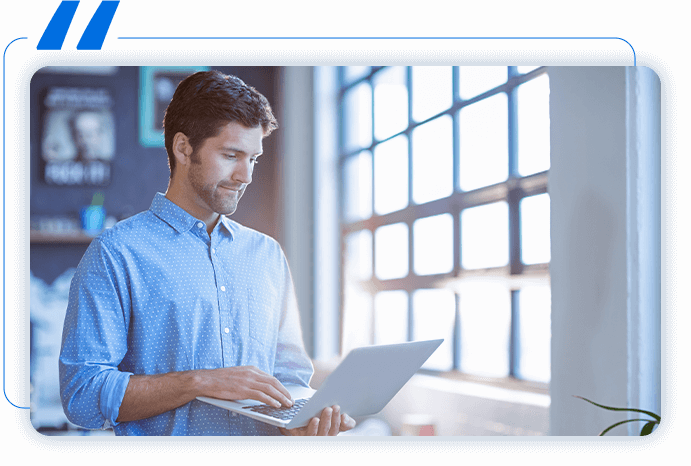 We have been deploying telephony for over 20 years through major manufacturers and now Yeastar is our flagship product. Excellent collaboration, well established product with advanced features.

Patrick Beauchemin
Director at Service Management at Interconnections LD
Want to have a closer look at Yeastar P-Series PBX System?
Would like to discuss a potential purchase?