Digital Workplace
Four Use Cases ofYeastar Workplace
Discover how Yeastar workplace management solutions can empower these four types of modern offices.
In addition to the currently available meeting room booking system, we will be rolling out a desk booking system and a visitor management system at the Yeastar Day Virtual Event on October 20, which will transform Yeastar Workplace into a one-stop workplace management solution. Below we present you four types of modern offices empowered by Yeastar Workplace.
Use Case #1: Hybrid Work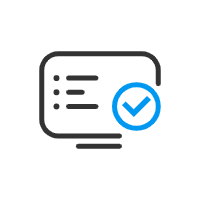 Give Employees Certainty over Resources
.
For remote workers who only come in to the office a few days a week, they want to feel assured that today's trip will run smoothly, so they don't have to walk around searching for an empty meeting room or an available seat.
Yeastar Meeting Room Booking System and Desk Booking System offer remote workers certainty over resources and empower them to make a reservation in advance.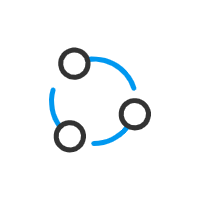 Connect Your Distributed Teams
.
The key to smoothly adopting hybrid work in your office is to ensure remote workers are always reachable and kept in the loop.
With Yeastar Meeting Room Booking System, your employees will never miss a meeting and be aware of any schedule change. When they drop by the office, Yeastar Desk Booking System will show you where they sit at, so you can go to his desk and communicate face-to-face.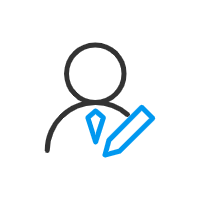 Make Sure Visitors are Well-received
.
Employees can pre-register the guest on Yeastar Visitor Management System, and as soon as he arrives, they will get notified immediately and go pick him up.
It helps you create a fast, end-to-end visitor reception process for your hybrid workplace and empowers your employess to invite and meet guests efficiently and safely.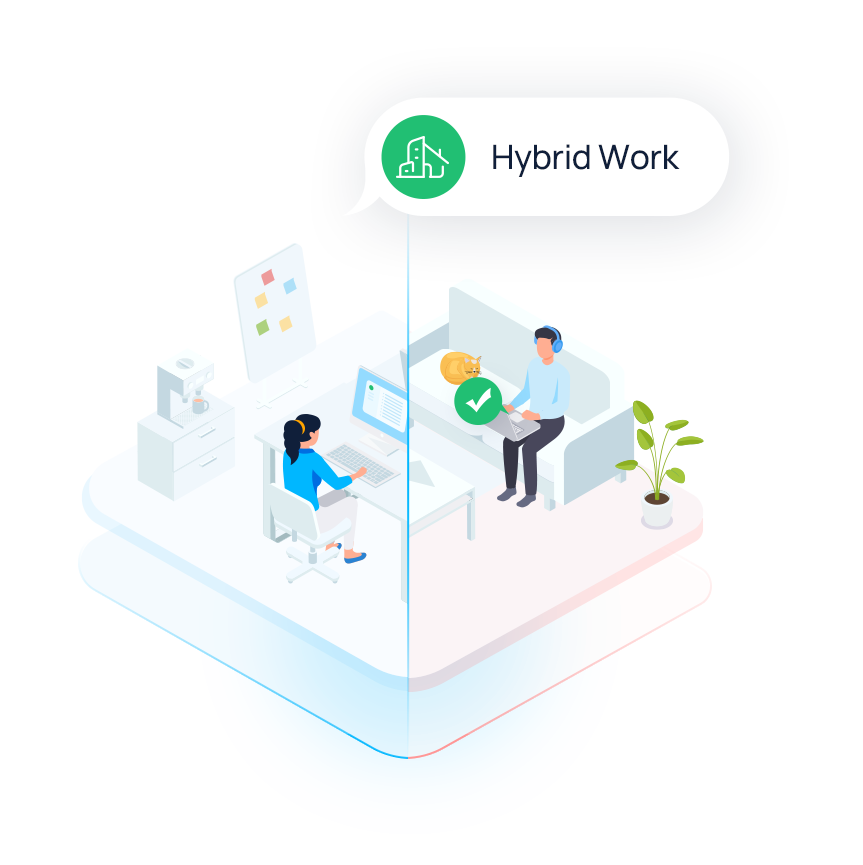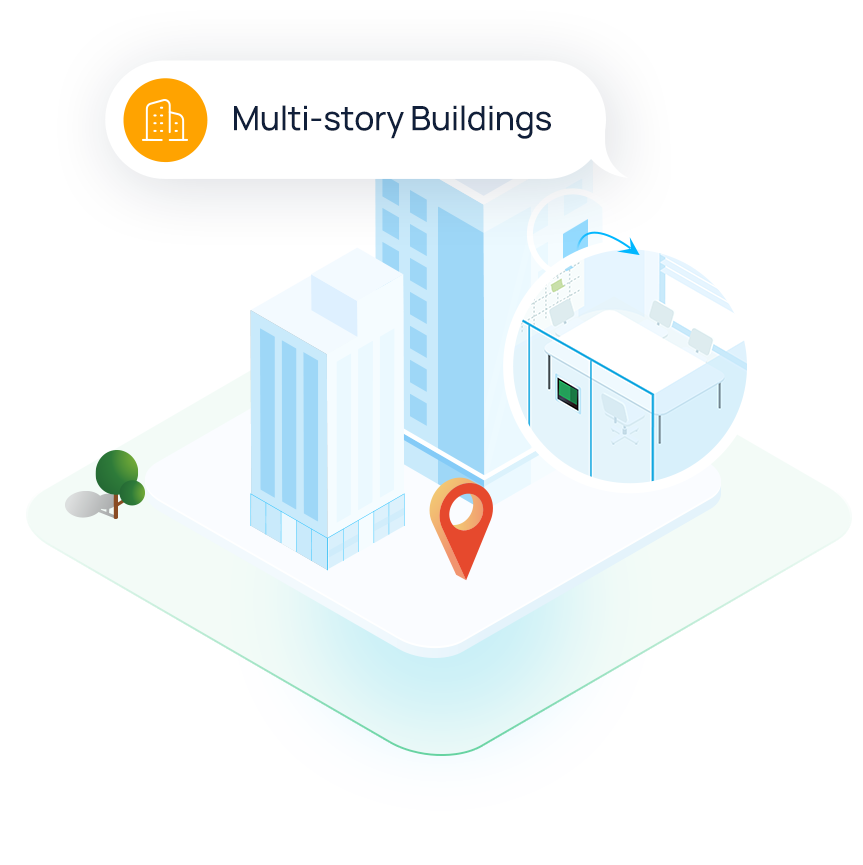 Use Case #2: Multi-story Office Buildings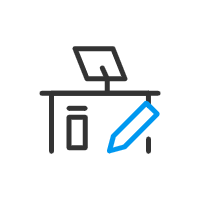 Make Space Easier to Find
.
Yeastar Workplace allows you to create a map that looks exactly like your office floor. It offers you a live view of the resources status so you can manage every desk and meeting room easily.
As for employees, they can use this interactive map to book a desk next to his team or to find an empty meeting room by quickly taking a glance.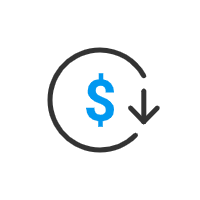 Save Administrative Overhead
.
Your employees are empowered to make reservations and receive visitors all by themselves thanks to Yeastar Workplace. Everything is efficiently done on an intuitive interface and one platform, greatly helping to save the administrative costs of your office.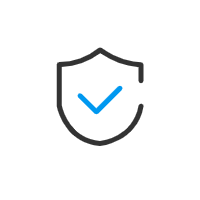 Safeguard Building Security
.
Yeastar Visitor Management System gives you a live visitor overview, which helps you understand how many of visitors have checked in, arrived, and left.
By providing this at-a-glace overview, it prevents unwanted person wandering around the building and empowers you to better safeguard office security.
Use Case #3: Co-working Spaces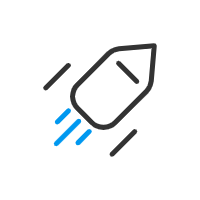 Leave Manual Bookings Behind
.
Yeastar Desk Booking System empowers you to replace manual bookings with its easy-to-use platform. Your members can find and book a space within seconds. Better yet, they can reserve the entire zone and sit at desks next to each other for easier team collaboration.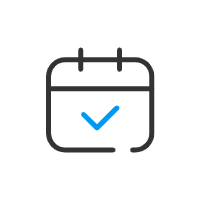 Keep Reservations Well-organized
.
Since the Yeastar Meeting Room and Desk Booking Systems synchonrize reservations in real time, double bookings will become a thing of the past in your co-working office.
They help you keep all reservations well-organized. If a room or desk is temporarily unbookable due to maintenance, you can help cancel the reservation and switch to other available room or desk with just a few clicks.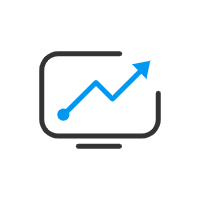 Utilize Space More Efficiently
.
As a one-stop workplace management solution, Yeastar Workplace includes a Room Display and a People Counting Sensor to help you increase space utilization. While the Sensor auto-releases unused space, the Room Display will immediately refresh the room status so others can reserve it.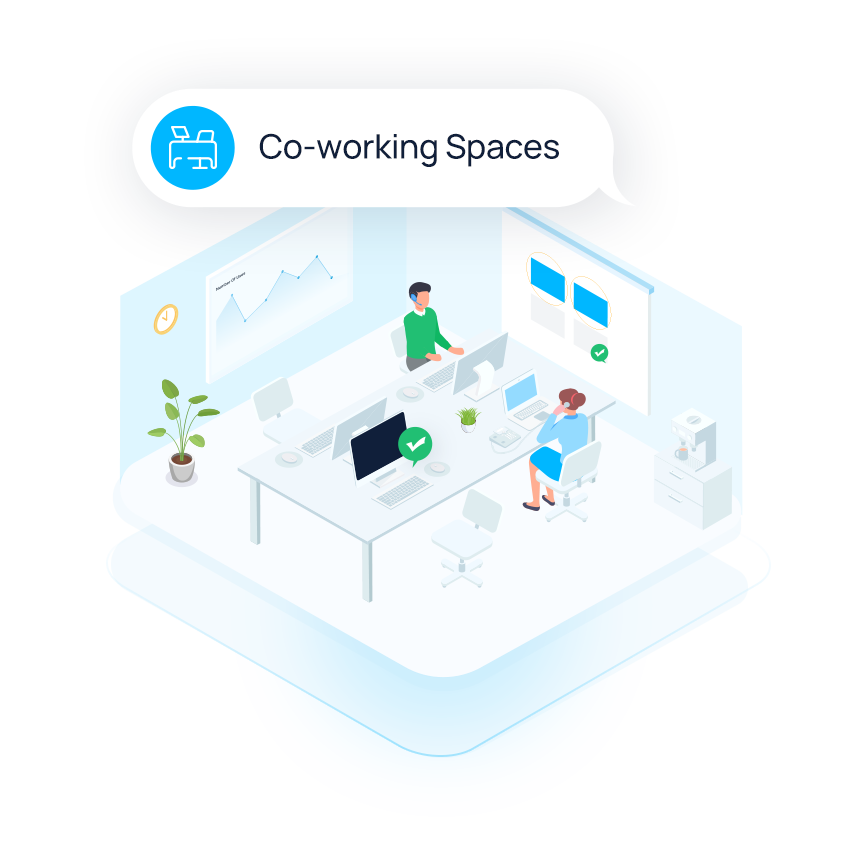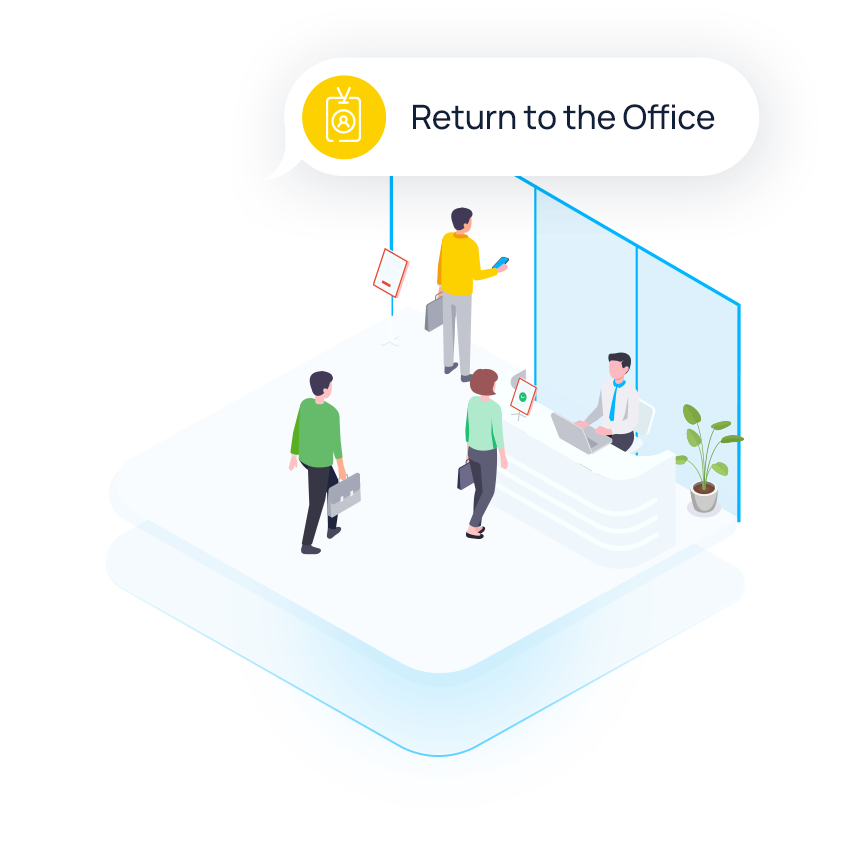 Use Case #4: Return to the Office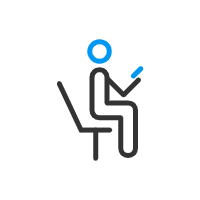 Put Employees in Control of Schedules
.
Returning to the office can be overwhelming for some people. So, as the office leader, you can help your employees get back on track by putting them in control of their schedules.
Yeastar Workplace supports 3rd-party app integration and allows your employees to plan ahead and reserve resources on their calendar or app of choice, giving them the confidence to enjoy in-office work.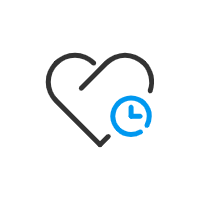 Prioritize Employee Safety & Wellness
.
Yeastar Desk Booking System allows you to space out desks in your office, so your employees can work within a safe distance. Besides, Yeastar Room Comfort Sensor monitors real-time comfort level of your meeting rooms, making sure you and your employees work in a comfortable and healthy environment.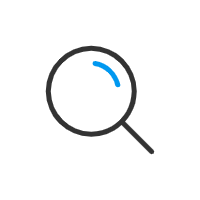 Pre-screen Visitors Before They Enter
.
Your office will welcome lots of visitors per day. During special times, Yeastar Visitor Mangement System is here to help and keep your workpalce safe. For example, set up health-related questions for your visitors to answer before they arrive.
Want to Learn More?
Download the Brochure for Full Details