Enhanced Communication Day — Yeastar Impels VoIP Implementation on Indonesia LTE Network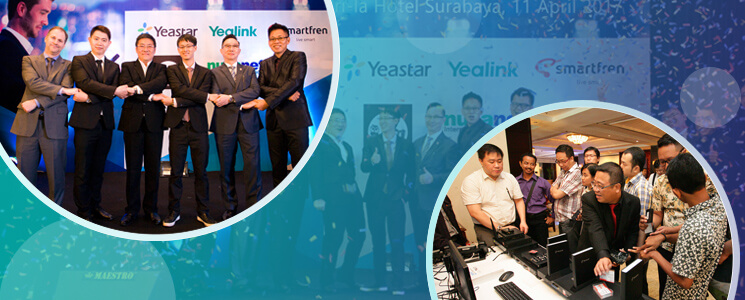 Surabaya, 11 Apr 2017
– Enhanced Communication Day (aka E-COMM), held on 11 April 2017 at Shangrilla, Surabaya, is an informational event for potential customers like Enterprises and SMBs in Indonesia. The event is jointly organized by Yeastar and Yealink, and sponsored by Smartfren and PT. Aktif Tengah Malam, and to impel VoIP as Real Time Communication (RTC) implementation in Indonesia. Yeastar new S-series VoIP IP-PBX solutions, Yealink IP telephony end-points, and communication solution showcases are presented in the seminars as well.
Indonesia is without doubt one of the largest and fast-growing markets for telecommunications services. Its island structure has made the development of mobile services highly significant. The roll out of 4G LTE services in 2015 has firmly placed Indonesia in the digital communication era. Smartfren as telecom operator also have aggressively expanded their 4G offerings in recent years, which brings more and more LTE subscribers in Indonesia and it will be a great opportunity for VoIP implementation on LTE network (VoLTE).
"Yeastar S-Series VoIP PBX is just the long term and cost-effective investment for Indonesia companies and mobile users. The LinkUs Mobile Client uses 4G LTE network and turns iOS & Android mobile phones into an extension of S-Series VOIP PBX. It enhances efficiency with consistent in-office experience. It caters Indonesia mobile users' need and goes with the trend of Indonesia fast-growing 4G LTE Services." said Alan Shen, CEO of Yeastar.
And as the second-largest SIP phone provider with 20% of the global SIP phone market share according to Frost & Sullivan's 2015 statistics. Yealink has been committed to the VoIP industry to help the clients make the most of their UC experience and to embrace the power of "Easy Collaboration." "For more than a decade, Yealink has been working tirelessly to maximize our value as a leading VoIP products and solutions provider in the global marketplace," explains Stone Lu, Senior Vice President for Sales and Marketing. And He added, "PT. Aktif Tengah Malam is an ideal partner choice for Yealink as they enable us offer diversified customer groups in Indonesia.''
CEO from PT. Aktif Tengah Malam, Semuil Susilo also said that the growing communication as the fundamental part of business in Indonesia has increased significantly over this past years. And with the Real Time Communication (RTC) platform which combine voice, video, and messaging services could make business communicate efficiently with low-cost between its internal employee and also their customers. A truly breakthrough in the communication era.
Meanwhile, Chief Enterprise & Business Solution PT. Smartfren Telecom Tanto Surioto said "Smartfren is very pleased to support Yeastar and Yealink for their mission to fasten the maximum utilization of the 4G LTE network that we have provided. Also, we take this cooperation in a very positive way that the services we provide is believed to be a technology that can be used as a business solution for companies."
IP Telephony with SIP technology is one of the sample of RTC implementation that will help customer to increase their communication effectively and efficiently for both employee collaborations and customers. This synergy with Smartfren as LTE infrastucture, PT. Aktif Tengah Malam as Real Time Communication Provider, and both Yeastar and Yealink as hardware platform will delivered great efficient solution and cost-effective solution for Indonesia businesses.
About Yeastar
Yeastar specializes in the design and development of innovative telecommunications equipment, including VoIP PBX systems and VoIP gateways for the SMB. Founded in 2006, Yeastar has established itself as a global leader in the telecommunications industry with 1,100 channel partners and over 100,000 customers worldwide. Yeastar products have been consistently recognized in the industry for their high-performance and innovation. For more information about Yeastar or to become a Yeastar partner, visit https://www.yeastar.com.
About Yealink
Yealink, the global leading unified communication (UC) terminal solution provider, helps businesses of all sizes make the most of their UC experience and embrace the power of "Easy Collaboration." Yealink One-stop UC Terminal Solutions unify voice, video and data, and satisfy diverse customer needs and usage scenarios. The company's comprehensive product portfolio includes video conferencing systems, conference phones, desk IP phones, wireless DECT phones and accessories. Customers from more than 100 countries enjoy Yealink's reliable UC terminal solutions through its global sales and service network. For more information, please visit: http://www.yealink.com.
About Smartfren
Smartfren (IDX: FREN) is one of the leading telecommunications service provider in Indonesia for the retail and corporate segments. Smartfren began operating in Indonesia since 2011. In 2015 Smartfren innovate with the launch of 4G LTE Advanced services in Indonesia, as well as a leading 4G operator that has the widest range of 4G LTE in Indonesia today.
In early 2016, Smartfren sets the benchmark again as the first telecommunications company in Indonesia that provides Voice over LTE (VoLTE commercially).
Smartfren offer a variety of products as well as voice and data services, business solutions and services Value Added Services (VAS). Smartfren is a unit of Sinarmas Group. For more information please visit www.smartfren.com.
4G LTE-Advanced is a standard cellular communications and the continued development of technology Long Term Evolution (LTE) by the 3rd Generation Partnership Project (3GPP). LTE-Advanced is one of its main development.
Voice over Long Term Evolution (Voice over LTE / VoLTE) is a feature that uses technology standards and procedures for voice and data communications network based on 4G LTE. This technology is designed for creating, preparing and organizing high-speed voice, video and messaging services through a 4G wireless network and device portability.

About PT. Aktif Tengah Malam
PT. Aktif Tengah Malam was founded in 2014 and dedicated in Real-Time Communication Provider. Unify voice, video, and messaging services has functionality to integrate seamless between UC, CRM, Online Store, Contact Center System and the other back-end or front-end business system.