Yeastar Certified Technician
This certification course is intended for those who are new to VoIP business and Yeastar, and who will perform basic technical service for Yeastar Products for end-users or need the knowledge of their use and functionality. In this course, you will learn how to configure, manage and maintain Yeastar VoIP PBX at a basic level.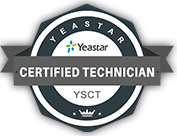 Part 1 Basic Configuration
Part 2 Call control settings
Part 3 Basic Management
Part 4 Basic Maintenance
Part 1 Basic Configuration
HTTPS
Password and Account
Network Settings
Update System Prompt
Date and Time
Set Extensions
Part 2 Call control settings
Trunk Connection
Outbound call control
Inbound call control
Part 3 Basic Management
Ring Group
Call Parking
Paging Group
Monitor Mode
Speed Dial
Call Back
Send and Receive FAX
SMS to Email and Email to SMS
Voice Prompts
Part 4 Basic Maintenance
External Storage
Backup and Restore
Firmware Upgrade
Log on S-PBX FTP
Ethernet Capture Tool
DAHDI Monitor Tool
Features Code
Get Trained with Diverse Training Platforms
Yeastar training services are organized in flexible formats. You could choose self-paced online video training, highly-interactive online webinar, or instructor-led classroom training as you prefer. Onsite classroom trainings at Yeastar or our partner's site are both offered.