Yeastar Certified Security Specialist
This certification course is intended for personal working with Yeastar Products, who would implement, configure and maintain Yeastar products while performing easy trouble shooting for end-users. In this course, you will learn how to secure your Yeastar VoIP PBX and telephony network, and handle security issues relevant to network, extensions, calls and etc.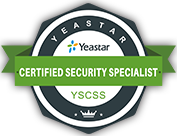 Part 1 Ports and Password Enhancement
Part 2 Firewall configuration
Part 3 International Call Limit
Part 1 Ports and Password Enhancement
Password and Email Settings
Web Server (HTTPS)
Network
1 How to configure VLAN
2 How to use OpenVPN
3 How to configure DDNS
4 How to use Static route
Extension
1 Change the Default SIP Port
2 Random Password for Extension
3 IP Restriction for Extension
4 "Register Name" for Extension
5 Security Configuration for Remote Extensions
6 TLS registry (Optional)
Part 2 Firewall configuration
Part 3 International Call Limit
Limit Call Credit at Provider Side
Set Password for International Call
Disable international call in S-Series PBX
Get Trained with Diverse Training Platforms
Yeastar training services are organized in flexible formats. You could choose self-paced online video training, highly-interactive online webinar, or instructor-led classroom training as you prefer. Onsite classroom trainings at Yeastar or our partner's site are both offered.