YEASTAR
Yeastar specializes in the development and manufacture of VoIP PBX systems and VoIP gateways and has established a worldwide presence with a global partner network and over 100,000 customers. Yeastar products are consistently recognized for their high performance and innovation.
S-Series VoIP PBX
Designed for small and medium sized enterprises to increase productivity and reduce costs, Yeastar S-Series is an easy to use and feature-rich VoIP PBX system capable of meeting the broadest communications needs.


Scalable Modular Design
S-Series provides flexible telephony interfaces combination with support of FXS, FXO, ISDN BRI, E1/T1/PRI, GSM, 3G, 4G LTE, and allows system capacity expansion with unique modular design.

Powerful Capability with App Center
Independent from the main framework of S-Series, App Center delivers lots of add-on Apps to enhance communications experience, such as Auto Provisioning App, LDAP Sever App, Hotel App, and so on.

Easy Configuration and Management
Setup only takes minutes with auto-configuration and plug-and-play capabilities. S-Series also offers an intuitive Web GUI, accessible from PC, mobile phone, and other internet-enabled device.

Linkus Mobile Client
Linkus Mobile Client makes iOS or Android mobile phones office extensions for off-site workers. Moreover, with VoIP calls made through S-Series PBX, Linkus helps cut voice charges greatly.
Yeastar K2 – Large Capacity IP-PBX
Designed for large enterprises, Yeastar K2 is able to meet the needs of businesses with up to 2000 users and deliver rapid deployment, reliable performance, and rich features. In particular, K2 allows multi-sites and mobile workers all connected in a single system.

Yeastar VoIP Gateways
Yeastar VoIP Gateways bridge the gap between FXS, FXO, PRI, BRI, GSM, WCDMA, and IP networks. Featuring carrier-grade functionality and easy configuration, they are ideal for preserving investment on legacy telephony while reaping the benefits of VoIP.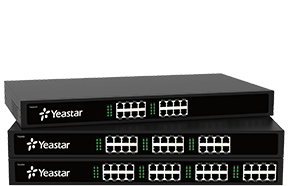 Analog VoIP Gateway
1 to 32 Ports FXS VoIP Gateway
4 to 16 Ports FXO VoIP Gateway