Your Business Telephony with Zoho CRM
Let your team focus on connections, make better calls, and track customer interactions effortlessly
Get StartedView Demo
It's More than Telephony
Automated repetitive tasks, contextual conversations, and powerful telephony capabilities right within Zoho. Yeastar P-Series Phone System for Zoho CRM integration lets you get more out of every customer call.
Beyond just a PBX, Yeastar P-Series Phone System converges business voice, video, and message together as one, and provides advanced call center and analytics features that add value to your customer interactions. With its native integration with Zoho CRM, you get all the powerful unified communications tools for call efficiency and the key data for relationship building.
Ecosystem: VoIP CRM Integration
Supported Products:
Yeastar:
Yeastar P-Series Phone System (Cloud, Appliance, Software Edition)
Zoho CRM:
Starter, Standard, Professional, Enterprise, CRM Plus, Zoho One, Ultimate
Key Integration Features & Benefits
Time can often be lost in making calls and hunting down caller details and notes. Yeastar for Zoho CRM integration helps you automate the pipelines and recapture productive hours on what really matters.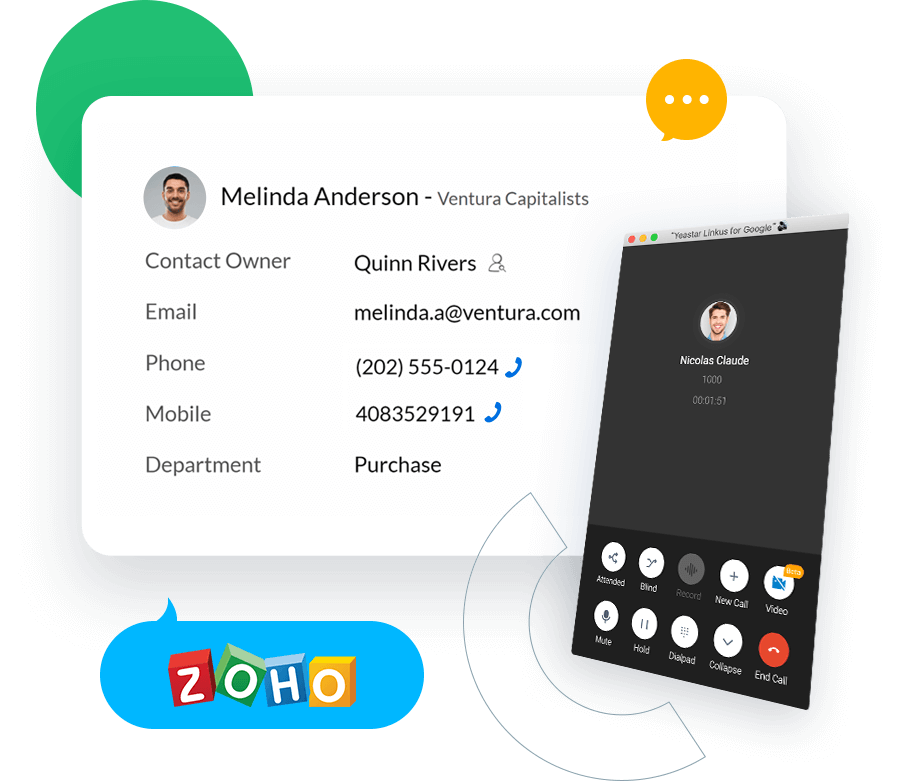 One-click Calling & Control
.
Call your leads and customers in a single click. With Yeastar Linkus for Google Chrome Extension, avoid the hassles of jumping multiple devices/screens and get easy call control right within Zoho CRM: click-to-call, hold, mute, transfer, call recording, and more.
Empowered Contextual Conversations
.
At every incoming call, a call pop-up gives you the contact information of your caller. With instant access to the contacts' CRM records, you know who is calling before answering and can use the contextual details for quality interactions.
Auto Call Logging & Analytics
.
Get all your call activities logged automatically inside Zoho CRM, while having insightful PBX call analytic reports, which include details such as total calls, answer rate, call length, etc. to help improve the process and measure agent performance.
Contact Sync Across Platforms
.
Sync your CRM contacts to your PBX system, Yeastar Linkus app (Mobile/Web), and IP Phones in near-real time. Now you can quickly search and connect with your customers via your preferred devices, even on the move.
Automatic Leads for Fresh Clients
.
Let the system auto create a new CRM lead or contact when you receive a call from a known number. Stay on the top of new opportunity and never lose track of a conversation.
All the Power of Unified Communications at Fingertips
Give your business a growth spurt with a new way to connect and collaborate. Besides the CRM integration, Yeastar P-Series PBX system helps your sales, supports, and system admins boost productivity in various ways.
Visual Activities
Visualize call activities across your business in real-time and make data-driven call management with intuitive Operator Panel.
Productive Call Center
Improve customer service and agent productivity with rich call center features: Queue Panel, Wallboard, Callback, SLA, etc.
Easy Meetings
Build relationships with one-click video conferencing and better engage prospects with in-meeting screen sharing and chat.
Stay Connected, Anywhere
Free up your teams to call and collaborate anywhere with one unified app—Linkus UC Clients, regardless of the devices they use.
Performance Management
Utilize PBX pre-built reports or create custom reports to analyze trends and gather insight into the performance of your phone teams.
Integrated Tools
Make the most of our out-of-box integrations with SIP Trunks, IP Phone, Headsets, and more to create a tailored experience.
Experience it Free, Right Away
Experience how the solution will work for your business with our 30-day PBX free trial or contact us for personalized demo.
Integration Guides
The integration takes only a matter of minutes.
Video TutorialGuide for P-Series Cloud EditionGuide for P-Series Appliance EditionGuide for P-Series Software Edition

Related Yeastar Products:
P-Series Phone SystemLinkus UC ClientsLinkus for Google Chrome Extension