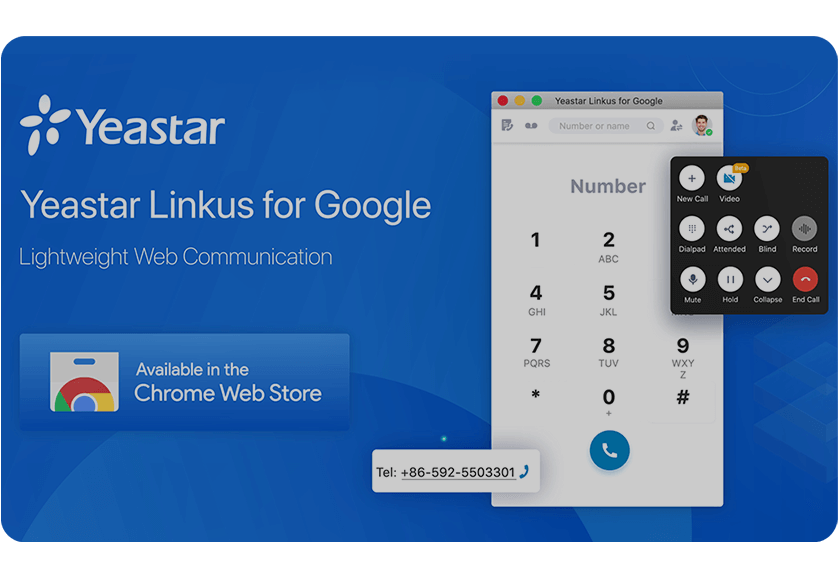 How Does the Browser Softphone Help?
Manage your office calls easily straight from your browser and never miss a call. Yeastar Linkus for Google is a free Chrome extension (browser softphone or webphone tool) that seamlessly integrates Yeastar PBX services to allows you make and receive calls easily straight from web browser and enjoy easy click-to-dial of any phone number on any web pages.
Go beyond basic call handling, Yeastar Linkus for Google delivers convenience by incorporating all the essential webphone features in one place: easy dialpad, active call control, PBX-integrated contact search & auto-matching, extension presence management, notifications for new voicemails & missed calls, phone number auto-detection, and more. With it, you can handle daily business calls without opening your Linkus Web Client; effortless launch calls to numbers that are displayed on web pages and web CRM systems; and receive incoming call pop-ups even with your web browser closed.

Incoming Call Popups
No matter which window or tab you're working on, the extension will notify you of an incoming call. The extension keeps running background to take care every signal, so you won't miss an important call. Better yet, the call pop-ups will also display the name of caller if it's matched to a PBX contacts.

Active Call Control
Yeastar Linkus for Google is a practical webphone that can execute almost all the functions of a deskphone. Basic calling features like transfer, hold, and mute are only clicks away in the call interface. Plus, you get prompted of new voicemails & recordings with numeric indicators and can access them quickly with shortcut links to your Linkus Web Client.

Click to Call
Power your sales, supports, and phone agents with fast click-to-call of any phone numbers on any web pages or web-based CRM like Hubspot, Google Contacts and more! The extension identifies telephone numbers on the web pages automatically and converts them into clickable links for your easy and quick dialing.

Contact Search
Take advantage of your own company directory and Yeastar PBX's native Contacts management to make phone calls to your peers and contacts quickly. You can search contacts by name or number, view peer presence at a glance, and simply click to initiate an audio or video call.

Presence Management
Manage and change your PBX extension presence and agent status easily right in the extension tab. Just click the icons on the toolbar to switch presence between Available, Away, Do Not Disturb, etc. and pause/unpause or login/logout yourself from queue if you are a call center agent.
How to configure Yeastar Linkus for Google
Chrome Extension
Yeastar Linkus for Google is only for use with Yeastar business phone systems and is not a standalone extension. It must be coordinated with Yeastar Linkus Web Client or Linkus Desktop Client to work and the available features also vary according to the client it works with.
Download the extension in the Chrome Web Store and get started now!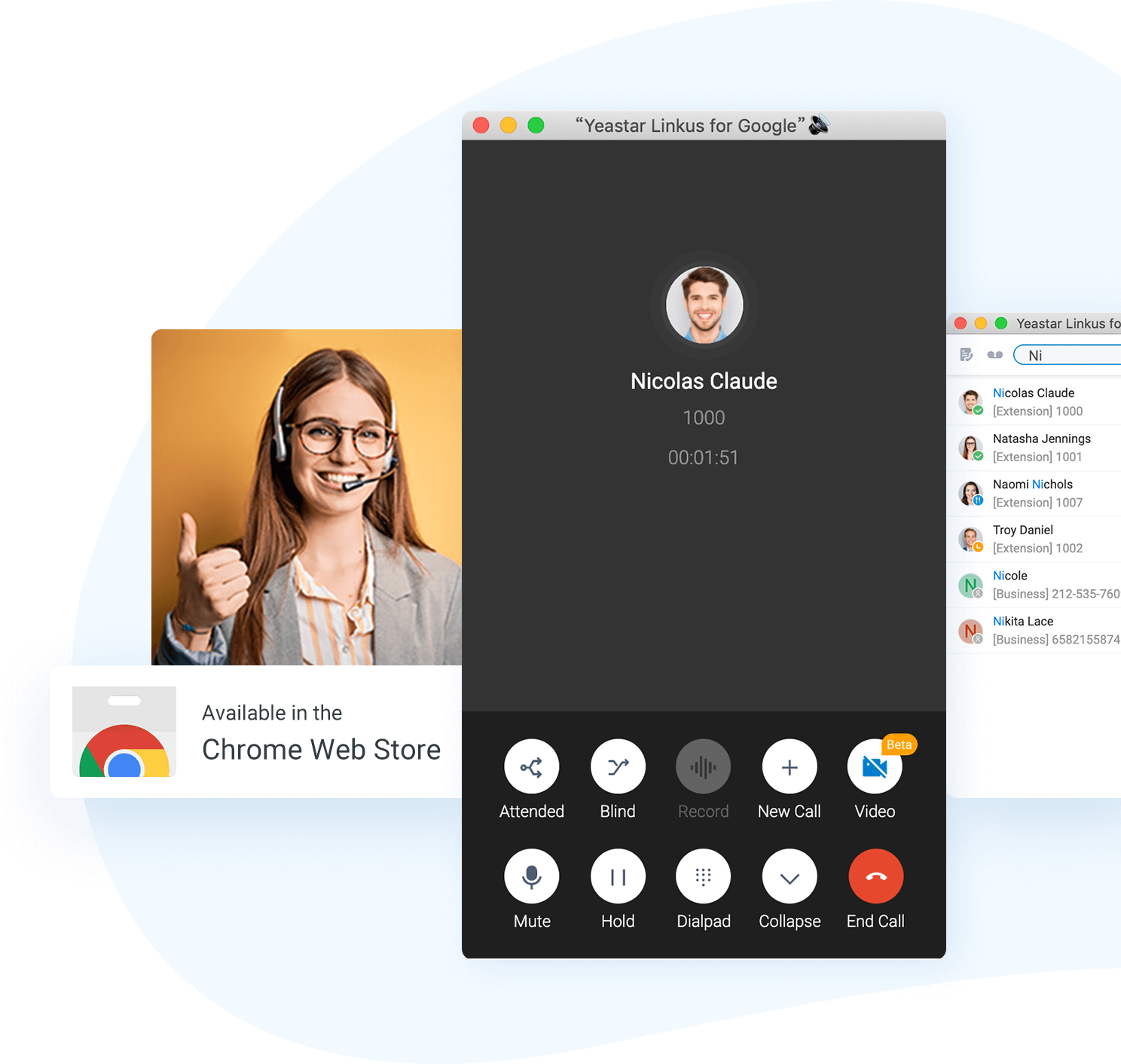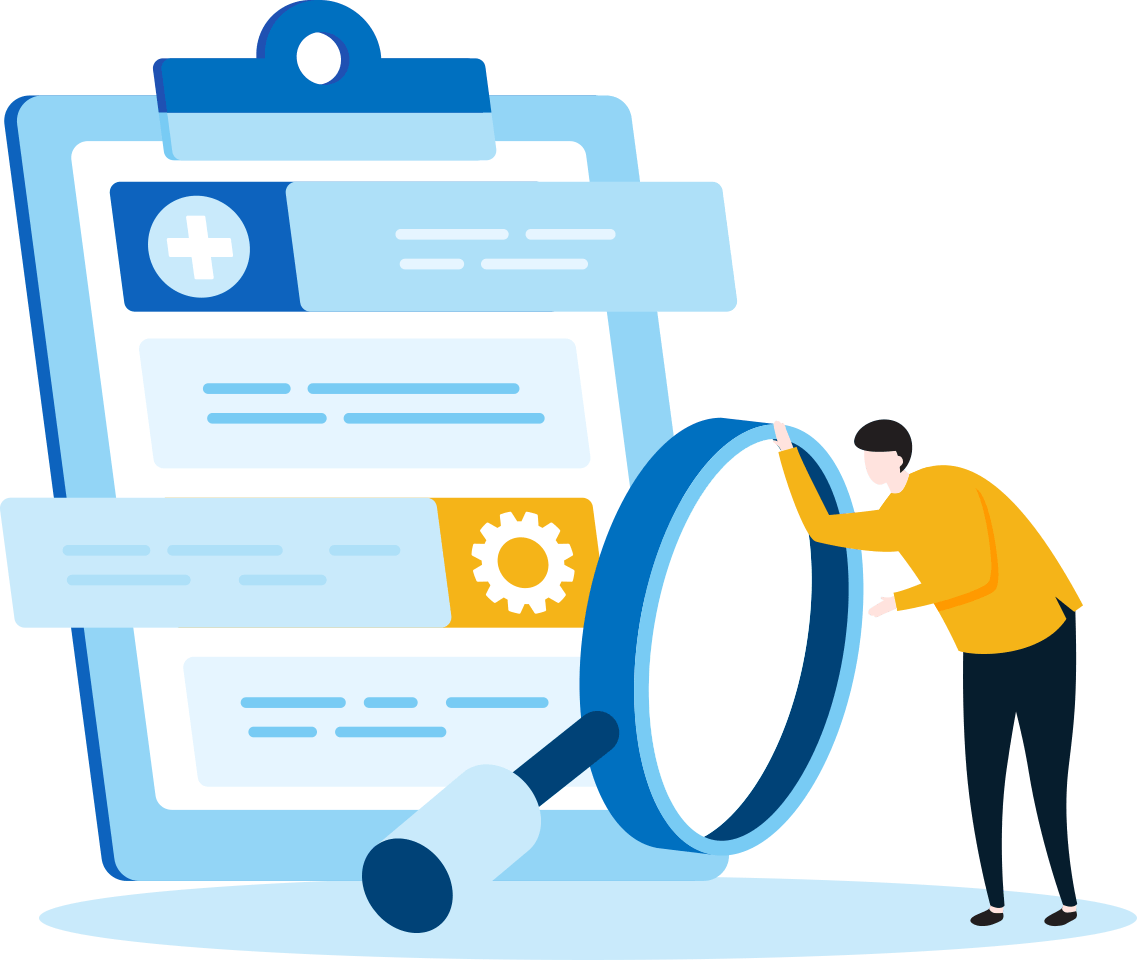 Common FAQs:
Which Yeastar business phone system supports the extension?
All Yeastar PBX Series support Yeastar Linkus for Google (Chrome extension), but there are some prerequisites to use it.
Yeastar P-Series PBX System: you must have a Linkus Web Client account or a Linkus Desktop Client to use the chrome extension.

Yeastar S-Series, Cloud, and K2 Series PBX users: you must have a Linkus Desktop Client to use the chrome extension.
My Linkus Web/Desktop Client works. Why should I use the extension?
With a Linkus Web Client or Desktop Client, you can cover all the standard features of a desk phone; yet if you add Yeastar Linkus for Google chrome extension, you get even more.
For Linkus Web Client users specially, the chrome extension makes up the incoming call notification functionality. Even with your web browser closed, it ensures that you will always receive real-time incoming call popups, so you won't miss an important call.
The chrome extension also makes the click-to-dial easier and accessible in a larger scope. Manually entering phone number to call is now a thing of the past. As long as the numbers are displayed on web pages (a web-based central phonebook, CRM, or even google search result), you can click to dial out directly from your business phone line.
What features are supported with Linkus Web/Desktop Client?
Yeastar Linkus for Google (Chrome extension) supports different scope of features when used with different Linkus UC Clients. If used with Linkus Web Client, the extension will support all the features described in this page. If used with Linkus Desktop Client, the extension will only support:
Click to Call: click phone numbers on web-based CRMs or any websites to call out via Linkus Desktop Client.

Phone Number Detection: automatically identifies phone numbers in any web-based applications, CRMs, and websites. The number detected will be converted into clickable links and you can choose whether to display a Call icon on the right of each detected number. In addition, you also define the click action of phone number: whether to dial out immediately from Linkus Desktop Client, or pass the number to the Linkus Desktop Client first and click the call button to call.

Website Blocklist: define which website not to detect phone numbers.
Should I Keep Linkus Web/Desktop Client open for the extension to work?
If used with Linkus Web Client, then No! You will only need to associate your Linkus Web Client account with the extension for the first time you use it, and the extension will work as a lightweight webphone!
If used with Linkus Desktop Client, then Yes! The Linkus Desktop Client will be the main interface to deal with phone calls, so make sure to keep your Linkus Desktop Client logged in to use the extension.
My desk phone works. Why should I use Yeastar Linkus UC Clients?
With Linkus UC Clients (Web/Mobile/Desktop), users can log into his or her office extension and be instantly connected to their business phone line. This flexibility allows someone to work from anywhere and are excellent for remote or mobile workers.
Furthermore, the best known desk phone features – call transfer, hold, mute, phonebooks, etc. – are replicated on Linkus UC Clients and go far beyond. Compared with standard desk phones, Linkus UC Clients additionally provides Chat, Video, Presence and many other UC & C features to make your communications in one platform. Also, the exclusive interface advantages (e.g. drag-and-drop transfer or click-to-call) and third-party CRM integrations deliver user convenience.
Related Yeastar Business Phone System & VoIP Features