SMS, or Short Message Service, is one of the oldest and most widely used texting technologies. It allows users to send text messages over cellular networks, typically limited to 160 characters per message.
What is the difference between SMS and MMS?
Unlike SMS, MMS (Multimedia Messaging Service) enables users to send multimedia content such as pictures, audio, video files, and more. While SMS is focused on text-based communication, MMS expands the possibilities by incorporating rich media. SMS and MMS utilize wireless plans from cellular carriers, ensuring convenient and easily accessible communication methods.
Yeastar Omnichannel Messaging with SMS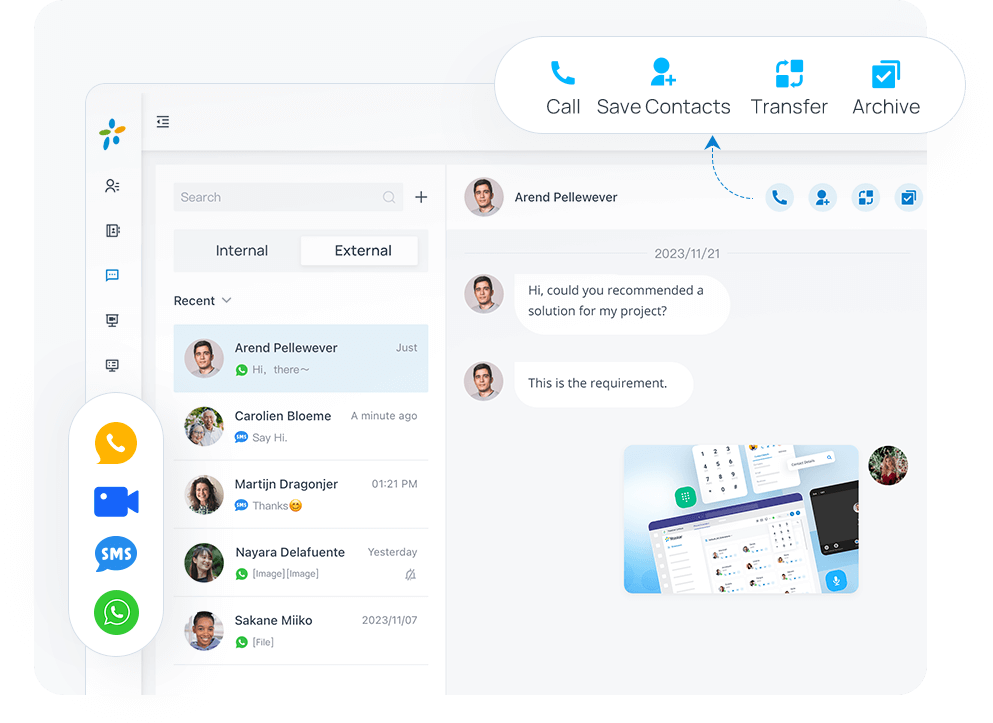 With Yeastar P-Series Phone System's Omnichannel Messaging and SMS integration feature, you can send, receive, and manage all your business SMS/MMS messages directly from your Yeastar Linkus UC Clients (Mobile/Desktop/Web) to handle messages from anywhere, on virtually any devices. Say goodbye to employees using personal phone numbers and professionally communicate with customers using your business number. Easy to deliver SMS-based customer services such as appointment confirmation, reminders, promotions, etc.
Send & Receive SMS/MMS.
Enable employees to manage business calls and SMS messages in one simple app, eliminating the need to toggle between separate phone and messaging applications, providing a unified experience.
SMS Service Provider Support.
Enjoy unlimited, seamless SMS trunk integration with reputable providers like Twilio, Telnyx, Bandwidth, and Flowroute.
Automated contact matching.
Incoming messages are automatically matched with relevant contacts, enabling agents to provide personalized support. This streamlines communication processes and enhances customer service efficiency for a more satisfying experience.
Seamless voice call escalation.
In situations where a more immediate or complex response is required, agents can seamlessly transition to a voice call with a single click, providing real-time communication and personalized support to customers.
Organized chat history: automatic backup and cleanup.
This ensures easy retrieval of past conversations for reference, compliance, or dispute resolution purposes. It also helps optimize storage space and ensures data security through regular backups and automated cleanup of unnecessary or outdated chat records.
Messaging performance analytics.
Gain insights with messaging data: track total messages sent/received, popular channels and message delivery status. Optimize your messaging strategies for improved customer satisfaction and communication effectiveness.
Benefits of Business SMS Text Messaging
Rich content sharing
Effortlessly send text messages, links, and diverse content. Perfect for promotions, order updates, and customer notifications, enabling cost-effective communication that enhances customer engagement and satisfaction.
Keep your personal number private
Engage customers professionally through dedicated business channels, ensuring privacy, trust, and efficient communication management. Enhance customer satisfaction by keeping employees' personal numbers private and maintaining a professional image.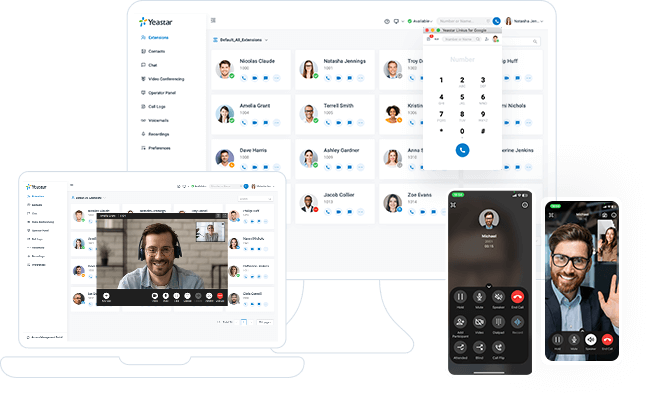 Complete Communications Solution
Available both in the cloud and on-premises, Yeastar P-Series Phone System unites calls, video, omnichannel messaging, integrations and more in one simple system for your seamless communications anywhere.
Get started with 30-day free trial
Create your Yeastar phone system in minutes & see what all-in-one communications can do for your business today.