For businesses operating mission-critical services or 24/7 service center, telecommunication downtime not only imply substantial financial losses but presents a challenge to customer trust and retention. While it's impossible to completely rule out the possibility of downtime, IT teams can implement high availability (server redundancy) solution to minimize the interruptions. And that's exactly where Hot Standby comes into play.
What Is Hot Standby?
Basically, PBX Hot Standby pertains to a redundant implementation that allows you to create a mirroring server pair and recover immediately when failure occurs.
As a fully automated disaster recovery mechanism, PBX Hot Standby connects two identical PBX servers (the primary server and the secondary server) to enable real-time data replication and constantly monitor the operation status of both systems. When the primary server fails, the secondary server will automatically switch all system control to the secondary server. Thus, the downtime is kept to an absolute minimum and communications can continue to operate as usual. The failover is automatic and almost instantaneous. You can also bypass automatic failover and manage the transition on your own schedule.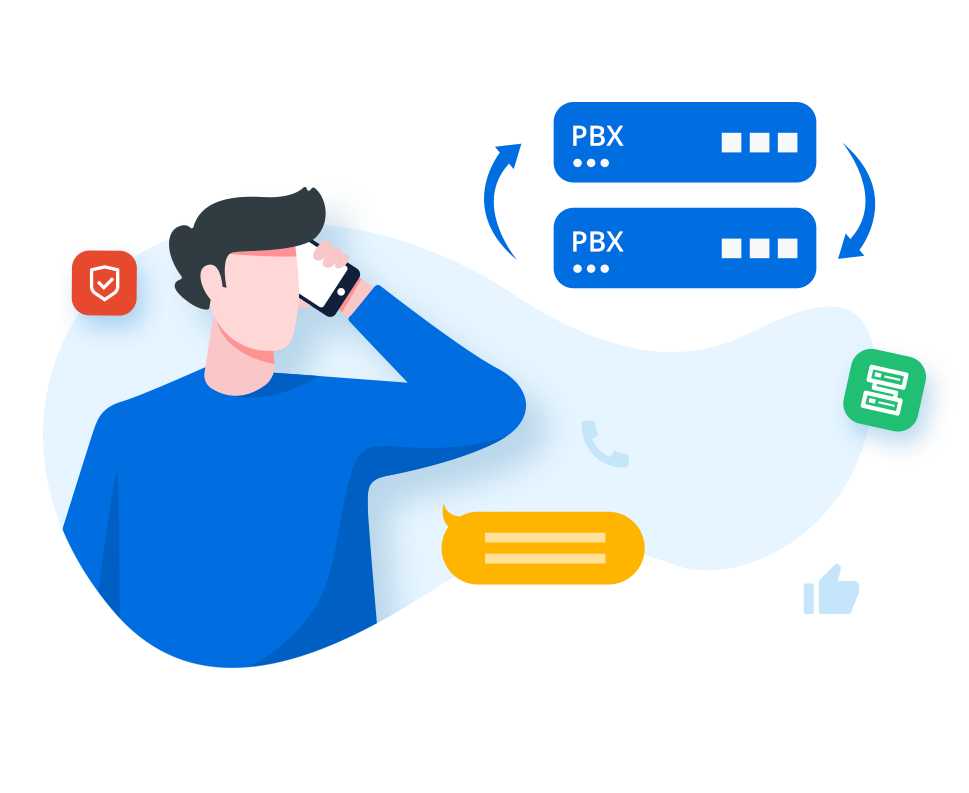 How Hot Standby Works on Yeastar PBX System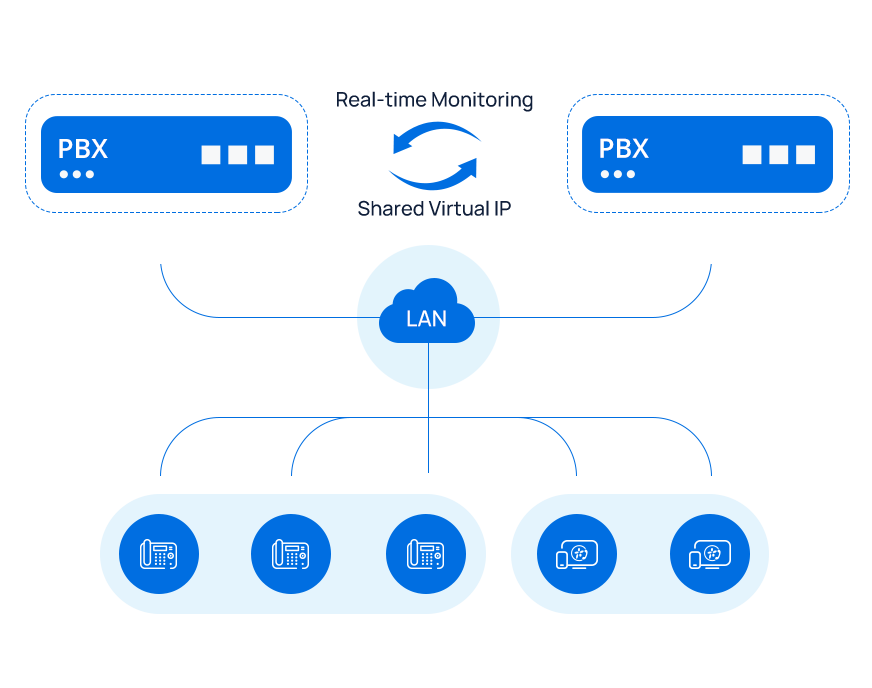 The Hot Standby on Yeastar PBX System (the appliance and software editions) enables the highest level of system resilience while ensuring the easiest deployment possible. It's less than a minute to connect the redundant Hot Standby PBX pair and the service will keep running in the background to ensure real-time data replica and seamless failover.
Fast 1 to 10 seconds automatic recovery in event of any failure
Shared virtual IP between the paired active and hot-standby PBX servers, which ensures a complete system switch to the standby server when the active server fails, including all IP phones and 3rd-party integrations connected to the PBX
Instant email notification via email or call when a failover event occurs
The Benefits of PBX Hot Standby
Enhanced Reliability
Hot standby allows your business phone system to function with zero or minimal downtime. The Secondary server is always here to back you up and will assumes all telephony responsibilities when the Primary server fails.
Improved Performance
A redundant system can reduce the impact to your customers and users whenever you need to take the system offline to perform necessary maintenance tasks, such as nightly backups, system upgrade, etc.
Easy Configuration
It doesn't require technical expertise to deploy the solution. With intuitive interface, it takes only a minute to do the pairing PBX server authentication. You can also check if your hot standby functions well with simple status indicators.
Prompt Notification
In event of any PBX server failure or automatic failover, your IT team will be prompted with email or phone calls. There is no gap in-between. You can fix the failed system right away while all your phone calls on the system are not impacted.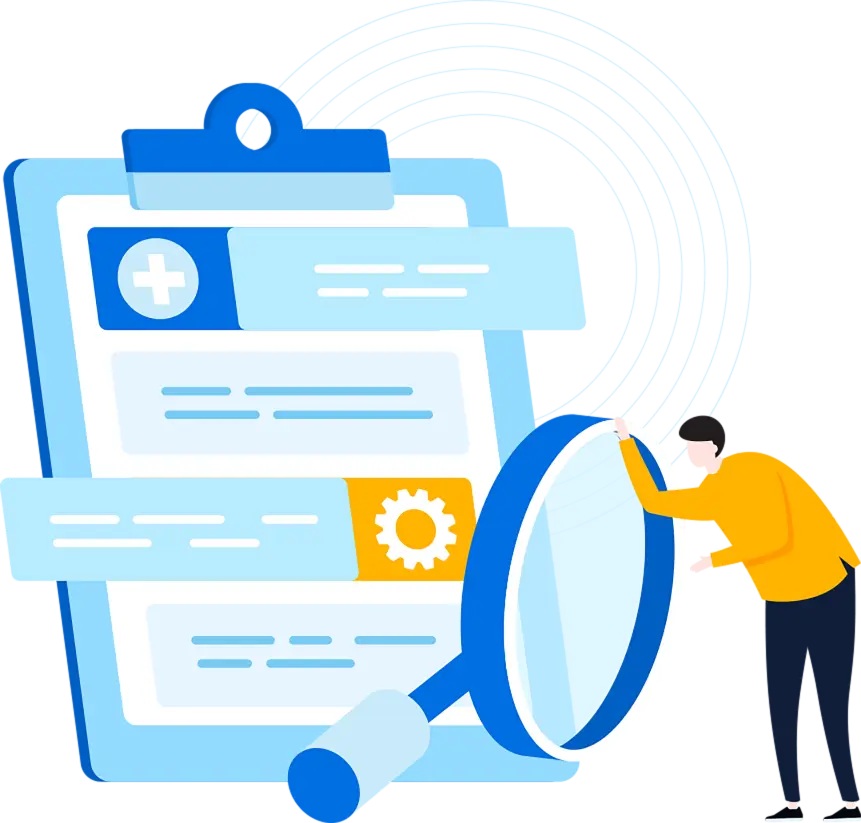 PBX Hot Standby FAQs
How to configure Hot Standby on Yeastar PBX System?
The configuration is a no-brainer. You can learn how to deploy the solution, the Yeastar PBX failover mechanism, and failover event notifications in details with the following links:
P-Series PBX System Appliance Edition: Configuration Guide
P-Series PBX System Software Edition: Configruation Guide
S-Series VoIP PBX: Configuration Guide
What is the prerequisite on provisioning PBX Hot Standby?
Before deploying the solution, you will need two identical PBX servers, which should be the exact the same in following as aspect:
Product Model
Local Network Environment (LAN)
Firmware and Hardware Version
Software Configuration
For hardware PBX: expansion boards and modules should be installed on the same slots
What type of company benefits from Hot Standby?
Hot Standby is a powerful asset for any company whose profitability depends on the uninterrupted function of its systems and the reliability of its data. If you want the maximum possible system uptime, hot standby can make that happen.
Related Yeastar Business Phone System
The Hot Stanby funtionality is available in Yeastar appliance and software PBX. For Yeastar Cloud PBX,
we also have built-in high availability in place to ensure the highest level of availability possible.
Appliance Edition
If you prefer a plug-and-play system deployed within your company to ensure complete control, the Appliance Edition is the perfect fit.
See Specifications
Cloud Edition
Want to eliminate the workload of hardware installation while having your phone system up & running immediately? This is the option for you.
Learn More
Software Edition
You make the call whether to install the PBX system on a hardware server, a virtual machine, or even in the cloud.
Learn More