Yeastar P-Series PBX Recognized as Funkschau Best ICT Product of the Year 2022 Awards
XIAMEN, CHINA – November 29, 2022 – Yeastar (www.yeastar.com), the world's leading provider of Unified Communications solutions, and Funkschau, one of the most renowned specialist magazines in the ICT industry, announced that Yeastar P-Series PBX System has captured three top awards trophies in the categories of the Reader's Choice ICT Product of the Year 2022.
In the 14th Funkschau readers' poll for the ICT products of the year, 7,600 readers clicked through the survey and cast almost 30,000 votes in 21 categories. The spectrum of ICT products on the ballot was correspondingly broad, and Yeastar P-Series stand out of the crown with its own brilliant lights.
Yeastar P-Series Cloud Edition Ranked Top 1 in Cloud Telephony
Yeastar P-Series P550 Ranked Top 1 in Telecommunications Systems for SMEs
Yeastar P-Series Software Edition Ranked Top 2 in Telecommunications Systems for Large Companies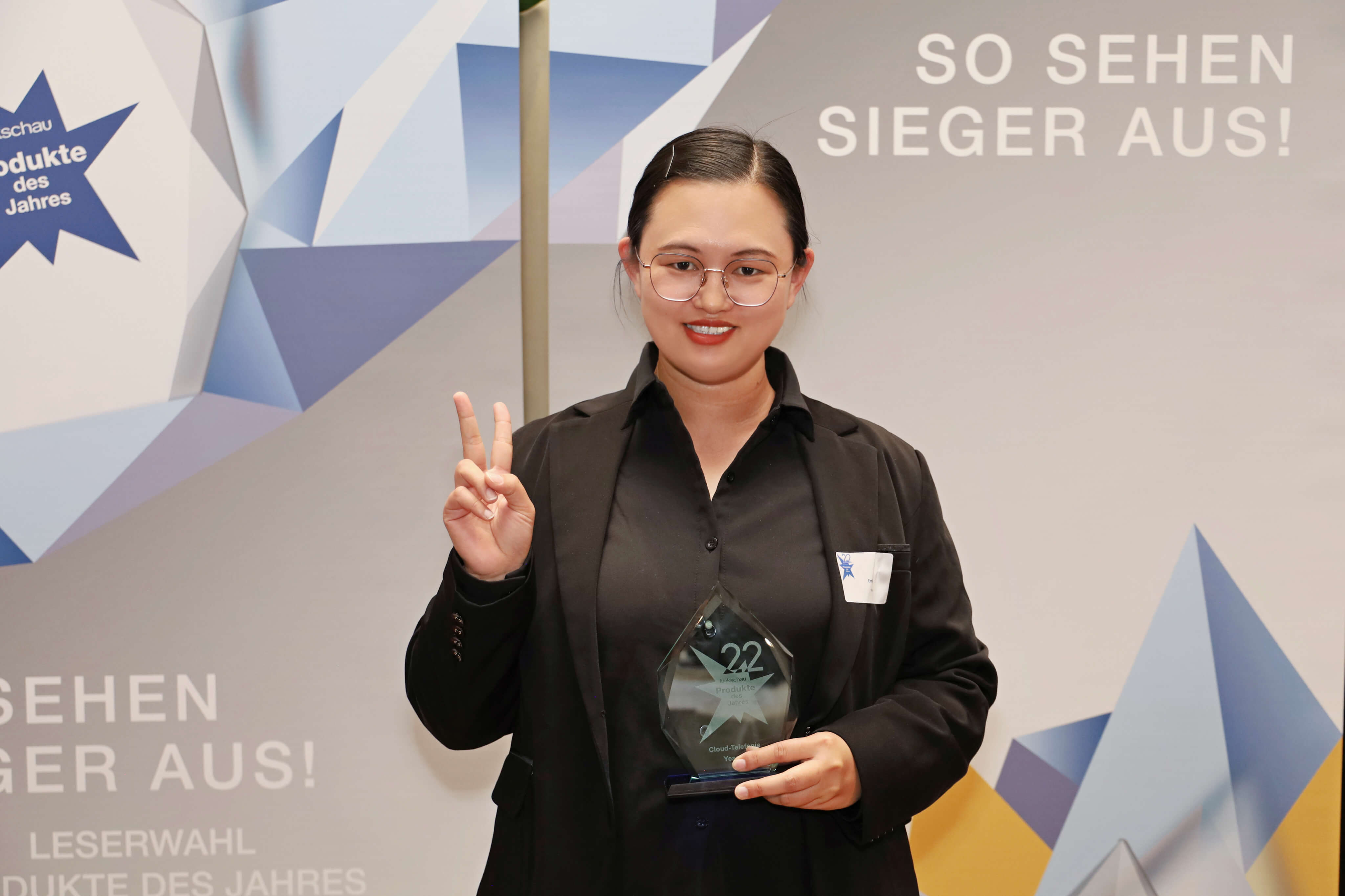 Emily Lin, Yeastar Regional Sales Director, received the awards on the Ceremony site in Munich
Yeastar P-Series PBX System is a complete Unified Communications portfolio that reinvents how businesses connect. As a "PLUS" solution, it brings voice, video, messaging, call center, and more together as one. With three deployment options, Appliance Edition, Cloud Edition, and Software Edition, P-Series has the flexibility to be deployed on-premises or in the cloud.
"We're really overwhelmed by favor from the customers four-year-in-a-row recommending Yeastar PBX System as the best products of the year and helping us win the trophies,"  said Prince Cai, Vice President at Yeastar. "We are dedicated to creating easy, open and integrated, and future-proof products and services. Yeastar is determined to deliver the right technology to create shared success with our customers and partners."
Try the award-winning P-Series PBX System for free here.
About Yeastar
Yeastar helps businesses realize digital values by making communications and workplace solutions easily accessible from ownership and adoption to daily usage and management. Yeastar has established itself as a leading provider of UC solutions with a global partner network and over 450,000 customers worldwide. Committed to delivering the right technology to value-oriented businesses, Yeastar offers products and services for UC&C, workplace scheduling, and hybrid workplace to enable them to win in the modern digital world. For more information about Yeastar or to become a Yeastar partner, please visit www.yeastar.com.
About Funkschau
Funkschau is a journal of the WEKA publishing group on topics such as mobile telephony, telecommunications, and radio technology in the field of information technology (IT) and the associated metrology, network technology, and infrastructure. Funkschau is a leading professional German telecommunication magazine and ranks among the Top 50 national top-selling trade journals. The high subscription edition confirms the editorial value and credibility of the Funkschau.