Deutsche Telekom Certifies Interoperability with Yeastar S-Series VoIP PBX
XIAMEN, CHINA / DALLAS, US – April 12, 2018 – Yeastar (www.yeastar.com), a leading manufacturer of VoIP PBX systems and VoIP Gateways, is now fully compatible with all SIP service provided by Deutsche Telekom, the Europe's largest telecommunications company and one of the worldwide engines of innovation in the industry. The certification efforts verify compatibility for Yeastar's S-Series VoIP PBX in conjunction with Deutsche Telekom's SIP trunk services, including Deutschland LAN SIP-Trunk and Deutschland LAN IP Voice. Yeastar now joins the growing list of OVER 100 MANUFACTURERS HAVE TESTED in Deutsche Telekom's official website and achieves a certified interoperability with Deutsche Telekom.

(OVER 100 MANUFACTURERS HAVE TESTED in Deutsche Telekom)
The compatible data comes from Deutsche Telekom's 3rd Party Lab, where is fully available to providers or manufacturers of special services, telephone systems or routers to do the acid test. It is generally known that Yeastar spares no efforts to help European industries to transit to All-IP age, especially for German companies. In order to realize interoperability and to ensure every necessary optimization can be initiated in good time, Yeastar engineers came to the 3rd Party Lab to establish a real test environment in Germany. Usually it takes a week to complete the test, but it took Yeastar only 3 days. The test result is regarded as a reward for Yeastar's hard work.
It's not over yet. To embrace this thrilling news and to let our German customers to enjoy this delightful achievement, Yeastar has released a new firmware version 30.7.0.27 for S-Series VoIP PBX, which includes Deutsche Telekom with pre-configured templates. Now customers can configure Deutsche Telekom SIP trunks quickly by selecting from a list of compatible ITSPs, which is time-saving and exceptionally convenient.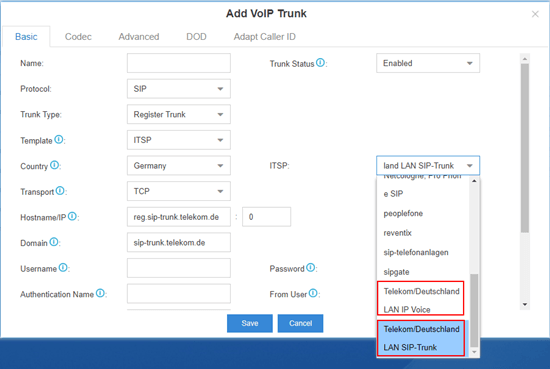 "We are making every endeavour to provide our customers with the most reliable products, from interoperability to usability," said Alan Shen, CEO of Yeastar, "Yeastar continues following the latest trend of telecommunications, seeking cooperation with every industry elite, launching products that are most suited to customer needs. This is what we do, and who we are. Now we can ensure to help you switch from legacy system to All-IP successfully. In near future, we will be capable to provide comprehensive UC solutions for our customer worldwide, with our S-Series VoIP PBX, cloud-based PBX and more exciting new products coming soon."
About Yeastar
Yeastar specializes in the design and development of innovative telecommunications equipment, including VoIP PBX systems and VoIP gateways for the SMB. Founded in 2006, Yeastar has established itself as a global leader in the telecommunications industry with a global partner network and over 100,000 customers worldwide. Yeastar products have been consistently recognized in the industry for their high performance and innovation. For more information about Yeastar or to become a Yeastar partner, please visit http://www.Yeastar.com.
About Deutsche Telekom
Deutsche Telekom is Europe's largest telecommunications company and one of the worldwide engines of innovation in the industry. Our products and services set standards not only in Germany, but also around the world. We make sure that our customers always have access to state-of-the-art solutions – from high-speed network access services to mobile Internet and beyond – and that they are the first to benefit from the fascinating prospects and possibilities of the communications revolution.