Yeastar Supported SIP Trunk Providers – United States
These American SIP Trunk Providers have been tested and certified by Yeastar
Top-rated service, 99.999% call-level guarantee, and straightforward and cost-efficient pricing is what you can expect from 1-VoIP and their SIP Trunking services. 1-VoIP's owners have a telecom background spanning over 40 years of experience. After transitioning to VoIP in 2005, the company built a solid reputation of reliability and customer satisfaction. Paired with excellent customer service and technical support, 1-VoIP established itself as a dominant name in the VoIP industry providing residential, hosted business, and SIP Trunk services. 1-VoIP is currently one of the highest customer reviewed VoIP providers and has received the highest quality ratings in all categories. At 1-VoIP, the belief is long lasting relationships with customers is key to mutual success.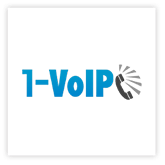 SIPTRUNK.com is the simple, easy and profitable way to resell SIP trunking services. With SIPTRUNK.com, account creation to live service happens in 60 seconds! The SIPTRUNK.com white label SIP trunking platform is designed for PBX resellers interested in developing a monthly recurring revenue stream from selling SIP trunking services. SIPTRUNK.com is brandable, handles all end-user billing and complex telecom taxation collections, can be configured for multiple partner levels and provides transparent commission reporting all backed by service and support personnel with decades of telephony industry experience.
With SoTel Systems SIP Trunking services, you can realize tremendous savings on your communications while ensuring a more reliable and resilient infrastructure for your business. No matter what phone system you currently have, you can always take advantage of SIP Trunking from SoTel without replacing any of your existing equipment. SoTel offers both unlimited and metered service plans that will fit the communications needs of any business.
Voxbone is the market leader in providing worldwide geographical, toll-free and geographically-independent telephone numbers, enabling Internet communications services providers, global carriers, national operators and enterprises to extend the reach of their voice services internationally, rapidly and with minimal costs. The company delivers high-quality inbound communications (often referred to as direct inward dialing, or DID) from more than 50 countries and more than 4,000 cities around the world, as well as the first emergency-calling service accessible in multiple European countries from a single IP-based interconnection.