Yeastar Supported SIP Trunk Providers – Switzerland
These Swiss SIP Trunk Providers have been tested and certified by Yeastar
iWay AG, one of the leading Swiss internet service providers for smaller and medium-sized enterprises (SMEs) and is a service provider offering solutions for the Internet, networking, cloud services, hosting websites and managed, virtual servers, and communications solutions.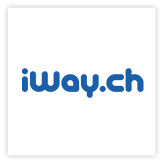 VoipTel Internatonal SA is a telecommunicatons operator for small, medium and large business and it was founded in 2008 in Lugano. Each customer is assisted by two dedicated people in administraton, sales and assistance department. VoipTel was grown quickly thanks also to its strong relatonships with local swiss partner. VoipTel's business core is to provide:
• Telecommunicatons services: offering advanced solutons of VoI communicatons with many plus services.
• Cloud: offering virtual services both standard and on projeect.
• Internet: offering professional services of internet connectons both VSSL and iber
• Computer technology: offering informaton technology services with VoipTel Service.