BACK
What Is Virtual Phone System
9.1 min read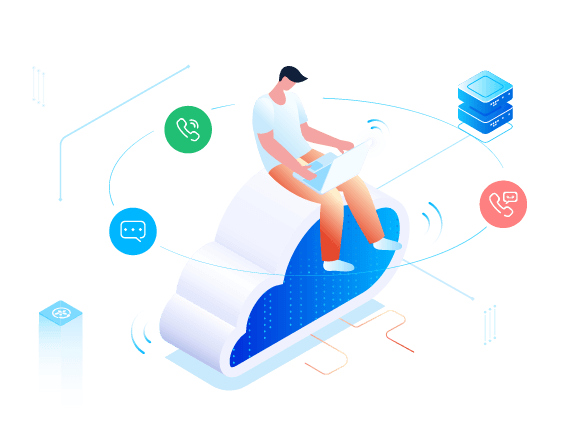 In the past, small business owners were forced to rent or purchase a landline from their phone provider to have a functioning phone line. This is an expensive and restrictive option for businesses that want more choices when it comes to pricing, features, and flexibility. With virtual phone systems, this is no longer the case.
A virtual phone system is an affordable way to improve your business, and it can offer many benefits such as increased productivity, cost savings, and customer service enhancements. This article will discuss what a virtual phone system is and some of the top reasons why businesses should invest in one.
What Is a Virtual Phone System?
A virtual phone system is a cloud-based business phone service that operates over the Internet. It connects through your router and is not dependent on traditional landline service. The calls are transmitted by VoIP, which is an internet protocol for delivering voice communications. This allows you to make and receive incoming and outgoing calls without a landline or local phone service.
In addition, it is capable of providing a virtual phone services anywhere you have an internet connection. This means that your business can have multiple extensions that are virtually located all over the globe.With softphone apps, a virtual phone system can be set up for business calls on all types of internet-connected devices such as desktops, laptops, tablets, and smartphones.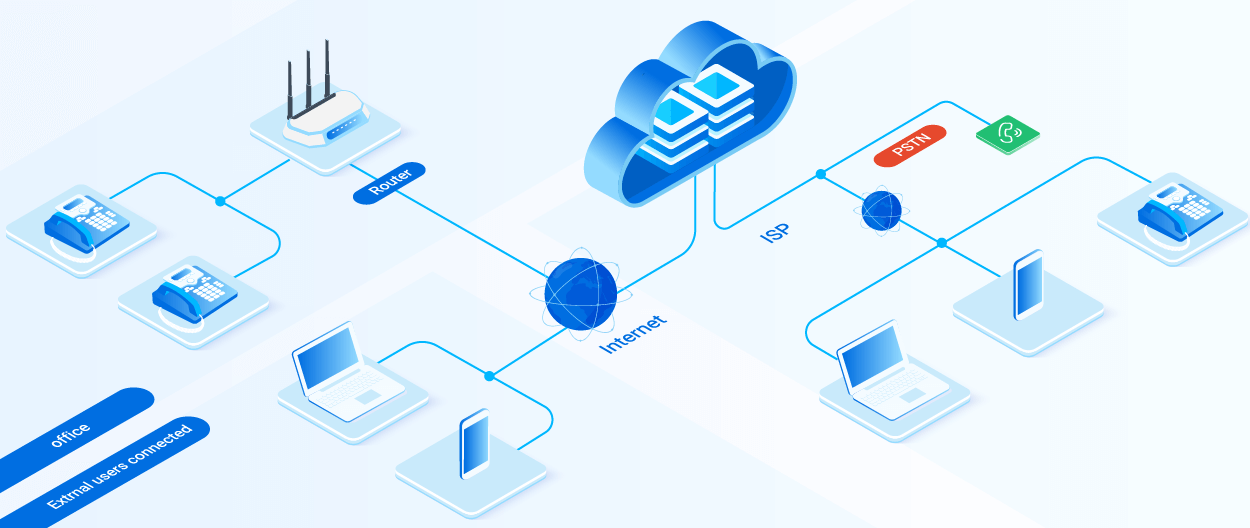 How Does a Virtual Phone System Work?
A virtual phone system works by usingVoIP (voice over internet protocol) to connect your phone system with the outside world. VoIP is a low-cost, high-quality voice communication protocol that is transmitted over an internet connection. VoIP sends analog signals as digital data packets over an IP network. Because these packets are transmitted digitally instead of analogically, they offer several advantages to regular phone service. For example, because VoIP delivers calls via the internet, it enables companies to make international calls without added costs or large monthly bills. VoIP services also offer better voice compression and error correction than traditional phone lines, which results in clearer calls.
Advantages of Using a Virtual Phone System
There are many reasons why every small business should look into using a virtual phone service instead of traditional hardware phones. Some of the top benefits include:
Easy to Get Started
Virtual phone services are simple to sign up for and can be set up quickly, which means you won't have to wait around for days or weeks before your business phone system is fully operational. There is no complicated technical knowledge to learn, as with most online-based platforms these days, the interface used is intuitive and user-friendly.
When you receive an inbound call, the phone system will look at your account information to determine where the call should be forwarded. It will then forward it to a virtual number or cell phone that is connected to your business.
Outgoing calls are just as easy. You can place an outgoing call by using an app on your computer or mobile device. Simply dial the number and either pick up the phone when it is answered or use a headset for hands-free calling.
Save on Costs
One of the primary reasons why businesses switch to virtual phone services is that they cost significantly less than traditional hardware phones. Since virtual phones work over your existing internet connection, they are much more affordable for making business phone calls.
Virtual phone system services offer different plans based on your business needs and budget; you can choose the best plan for your circumstances.Virtual systems can be set up to provide toll-free numbers or local vanity numbers at a very low cost.
Also, you may find there are hidden costs associated with buying hardware phones, such as installation fees, monthly equipment leases, or service fees. There are no installation costs with a virtual phone system, and hardware is optional, for instance, if you wish to invest in IP phones.
Work From any Location
Remote working is no longer a privilege but a necessity for many businesses; utilizing this type of business system means that we are no longer chained to a desk phone.
Virtual phones offer the convenience of being taken and used anywhere there is the internet, which removes the problem of not being able to field calls while you are out of the office or working remotely. This allows organizations that staff remote workers or telecommuters to provide consistent coverage even if employees are working from home. And since virtual phones work over the web, they are accessible via a mobile app, making it possible to work on business matters even when you are away from your computer, office phone, or outside business hours.
It also makes it easier to hire workers from a much wider pool than you could before, as there is less requirement for them to be located in a specific physical location to be part of your team.
Freedom From Hardware
One problem businesses have with buying and maintaining hardware phones is that they become obsolete very quickly. You won't need to worry about this since a virtual phone system lives online and can be modified through software updates instead of having to buy new equipment every time the technology advances. Cloud technology enables you to instantly upgrade or modify your business phone system by adding more users, changing extensions, etc.
Compatible With Most Devices
With the rise of BYOD (Bring Your Own Device), where employees use their own smartphones, tablets, and laptops to get work done, it's important for any business phone system to be compatible with the majority of devices. Virtual phones work on all types of devices, including PCs, Macs, Androids, iPhones, and more.
Improve Business Productivity
Since virtual phone systems are much more effective than older business phones, they result in streamlined communications and improved productivity. The advanced features offered can improve the way you do business.
For example, many providers offer different call routing features that allow call forwarding of incoming calls to any location possible, be it an existing landline number or cell phone. This lets your team answer customer questions regardless of their physical location.
Additionally, with a cloud-based phone system in place, there is no longer any need for complicated integration processes, as all of your communication tools work together seamlessly under one roof.
Improved Team Collaboration
Virtual phone services feature a variety of applications, such as conferencing features, which makes it easier for teams to collaborate with one another from different locations. Video conferencing, screen sharing, and instant messaging are included with many virtual phone applications.
These features are especially useful for geographically dispersed teams who need to communicate frequently throughout the day. For example, these tools make it easier to host conference calls for your sales department or hold training classes for your team members remotely.
Your Business Will Appear More Professional
For new startups or bootstrapping entrepreneurs, it's not always easy to be taken seriously when pitching investors or clients. A professional phone system can give your company the boost needed to get you off on the right foot. In fact, a well-designed business phone system will provide your company with the credibility to compete with larger competitors in your industry. Your business will appear more professional and established, opening the door for new business opportunities – no matter your company's size. And as you continue to grow, your business communication system can easily scale up with your organization's changing needs.
Virtual Phone Systems Offer Flexibility
If we have to sum up the benefits of Virtual phones system in one word, it would have to be "flexibility". As we've already discussed, they remove the need for a physical work location and can be taken anywhere there is internet connectivity. With workers using multiple devices for business communication, it allows them to seamlessly switch from mobile phone to laptop or any other device using the same business phone number.
Additionally, since virtual phone systems are web-based, they can be customized with a wide selection of features and capabilities. This gives your organization the ability to build a solution to meet any business requirement you may have.
Virtual phones system offer services such as call forwarding, Interactive Voice Response(IVR- playing recorded messages when callers reach certain points in your system), auto-attendant, call recording, call analytics, conference calling, and more. Overall, virtual phone services are flexible and customizable to deal with all your business calls.
How to Choose the Best Virtual Business Phone System
With so many options out there, it can be hard to figure out which virtual phone system is the best for your business. These are some of the considerations you should take into account when making this decision.
What Features Are Included?
One of the best things about virtual phone service providers is that they offer a wide range of tools, features, and capabilities for all types of businesses. That said, not everyone needs their full feature set right away, which is why it's important to understand precisely what you are getting before committing to a solution.
For example, many providers allow their clients to start off with a free or low-cost package so you can test out your new business communications system without breaking the bank. From there, if you find yourself using some more advanced features over time, companies will often offer small upgrades at minimal cost, so you don't have to pay for any more than necessary upfront.
Top-Quality Customer Support
You don't want to risk using a virtual phone system that doesn't provide exceptional customer support when it comes to your business. This is an area where some providers fail and others really shine. Because the features and capabilities of these systems can vary greatly from provider to provider, not all solutions are created equal.
Thankfully, those who do offer great service will usually make themselves known through reviews or word-of-mouth, as companies with quality products and top-notch customer service always attract more clients over time.
Ability to Scale
In addition to allowing you to add new workers quickly, the best providers will also allow you to scale back in size just as fast when your business needs change. You should be able to add users instantly when scaling up during busy times of the year like tax season or back-to-school time. And when they're not needed anymore, you should easily be able to downgrade your plan and remove unneeded numbers from the system.
What Is the Cost?
As with any business expense, finding the best value is always a priority. With this in mind, there will always be companies selling virtual phones at lower prices than their competitors, but if you look closely, you'll often find hidden fees or restrictions that dramatically reduce the system's overall functionality.
Our advice? Don't sacrifice everything your business communication system has to offer just to save a buck.
Traditional PBX vs. Virtual Phone System
The traditional PBX (Private Branch Exchange) phone system, while still an integral part of many organizations' telephone systems, is becoming obsolete. While some companies may choose not to upgrade their PBX phone system, especially if they have a sizable investment in it, others decide to go the cloud-based route instead.
With a virtual PBX phone system, many benefits can be reaped over the traditional PBX. For one, with a traditional PBX phone system, changes often necessitate technicians having to come out and configure it physically. But with a virtual phone system, changes are made using software updates. Also, if something goes wrong with the software or hardware of the traditional PBX phone system, well, you're pretty much at their mercy as far as finding someone to fix it for you. It can take a good bit of time before they send someone to fix the problem, and businesses often have to come up with elaborate workarounds in the meantime.
Besides, a traditional PBX phone system usually requires a heavy up-front investment in hardware, software, and even paying technicians to set it up. Cloud-based solutions are much more low-cost, and the only thing you need to get started is a device through which calls can be made and received that is connected to the internet.
With a traditional PBX phone system, there's no way of knowing exactly how much your monthly bill will be, while some providers claim that they have flat-rate pricing; this does not take into account features that you may use on the system. There's almost always a fixed monthly amount with hosted VoIP solutions, no matter what features you utilize.
FAQs About Virtual Phone Systems
Can you use a virtual phone system from your home?
Absolutely, virtual phone systems are not restricted to the office and can just as easily be used from your home. This is especially useful for entrepreneurs who want to set up a virtual office. Virtual phone systems also have mobile apps available so that you can use them from most mobile devices.
When should you invest in a virtual phone system?
In short, as soon as possible! A virtual phone system allows small businesses to compete with large ones by offering cutting-edge technology without breaking their budgets. If you are looking for a way to take your business to the next level, a virtual phone system should be seriously considered as part of an overall communications strategy.
Which is the best virtual phone system?
There are many virtual phone system providers on the market. The best virtual phone system will depend on the size of your business and the types of features you are looking for.Yeastar is one of the leading providers of virtual phone systems for small businesses. We offer affordable plans packed with features, and you can even get started with a free trial to see if a virtual phone system is right for you.
Sign up for our 30-day free trial to experience Yeastar Cloud PBX and explore more yourself.