Yeastar Workplace for Microsoft Teams
Search for an available meeting room or desk without leaving Teams, and grab your space booking within seconds.
Category:CollaborationWorks with:Yeastar Workplace
Get your workplace, fully integrated with Microsoft Teams. Yeastar Workplace for Microsoft Teams lets you manage your office space booking and visitor calendars in one central place.
Keep track of who is in the office and where they sit to join teammates, search & book an available meeting room/desk, and add a visitor schedule to your office…all in the MS Teams. No more toggling between screens and surface up the perfect spot in the office to work from within seconds.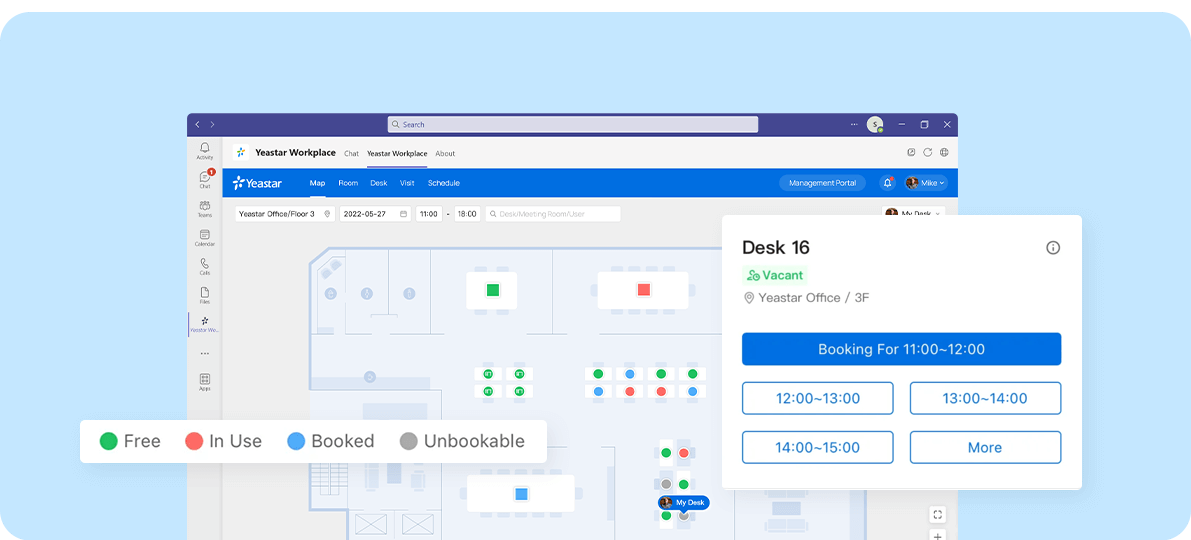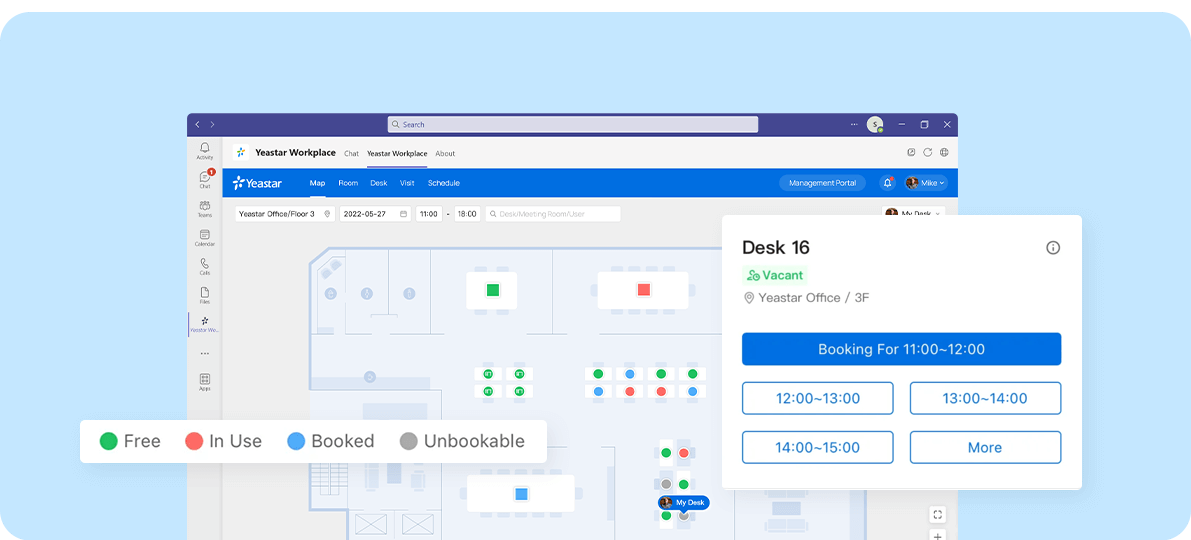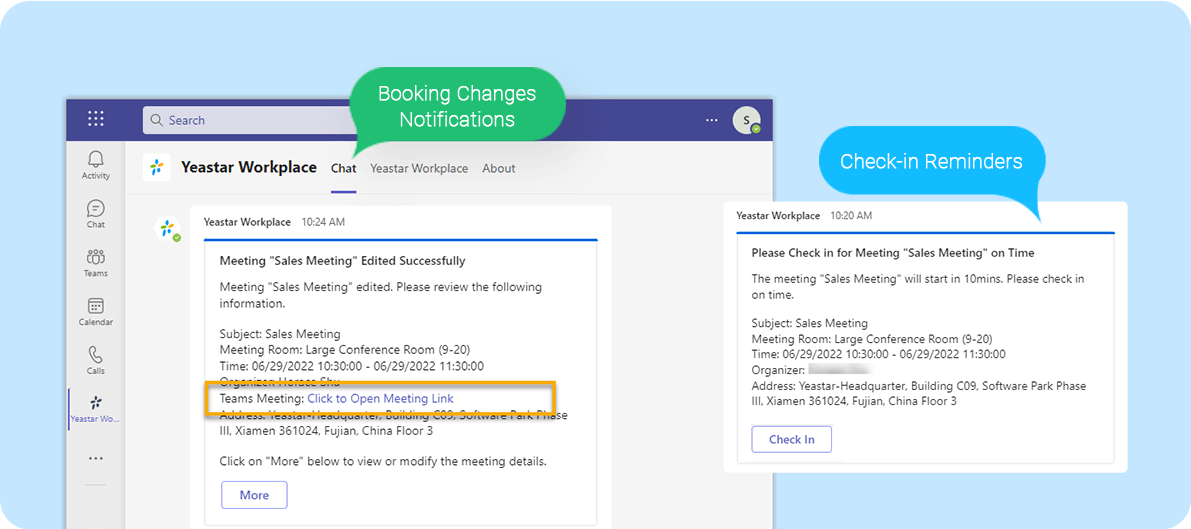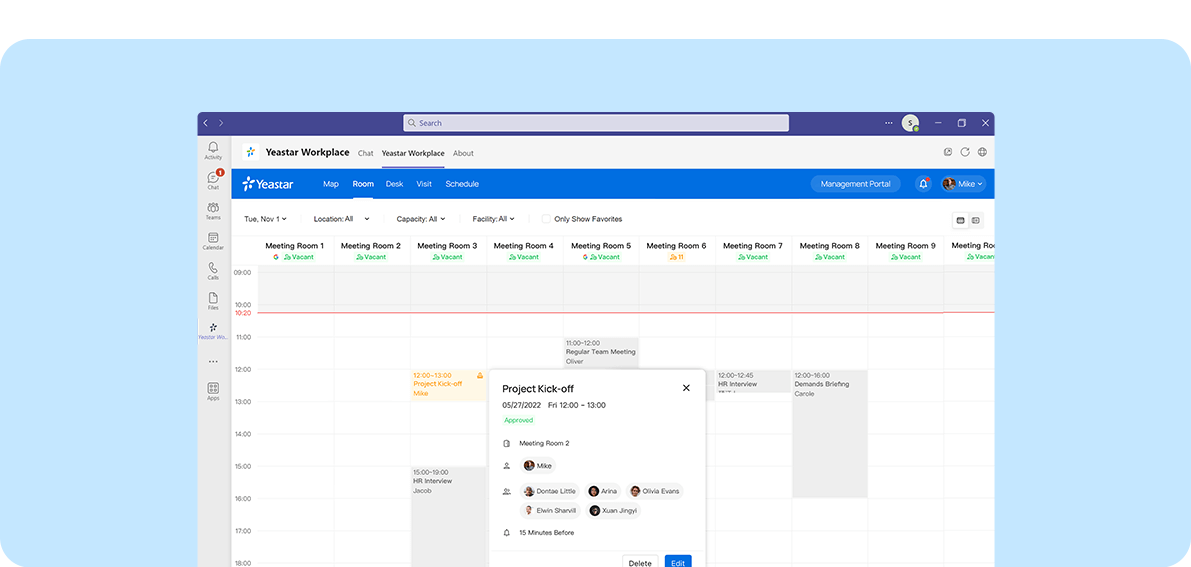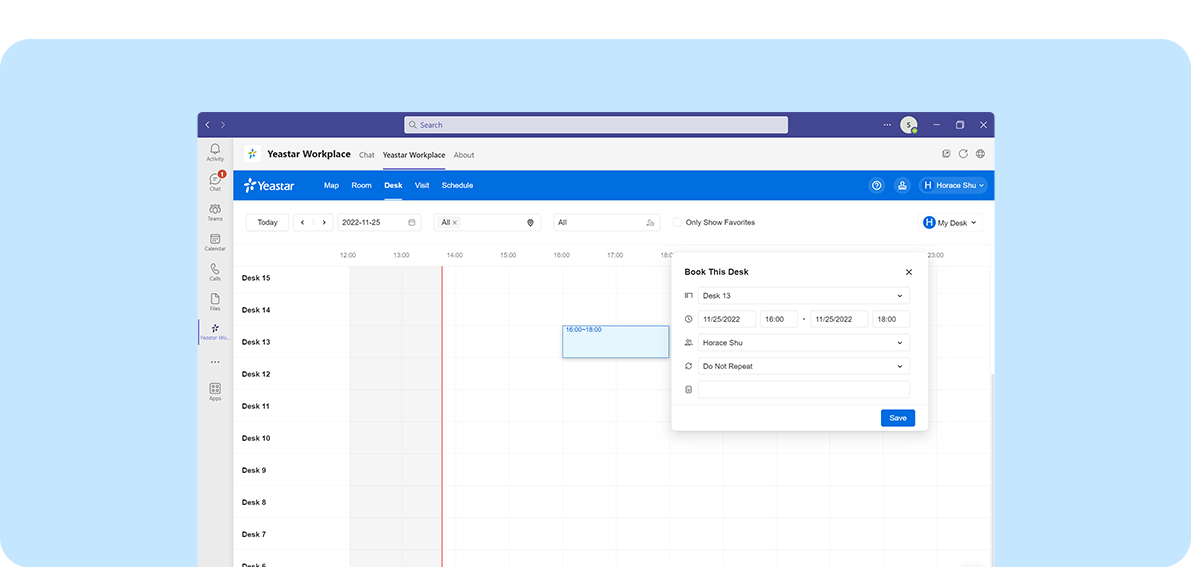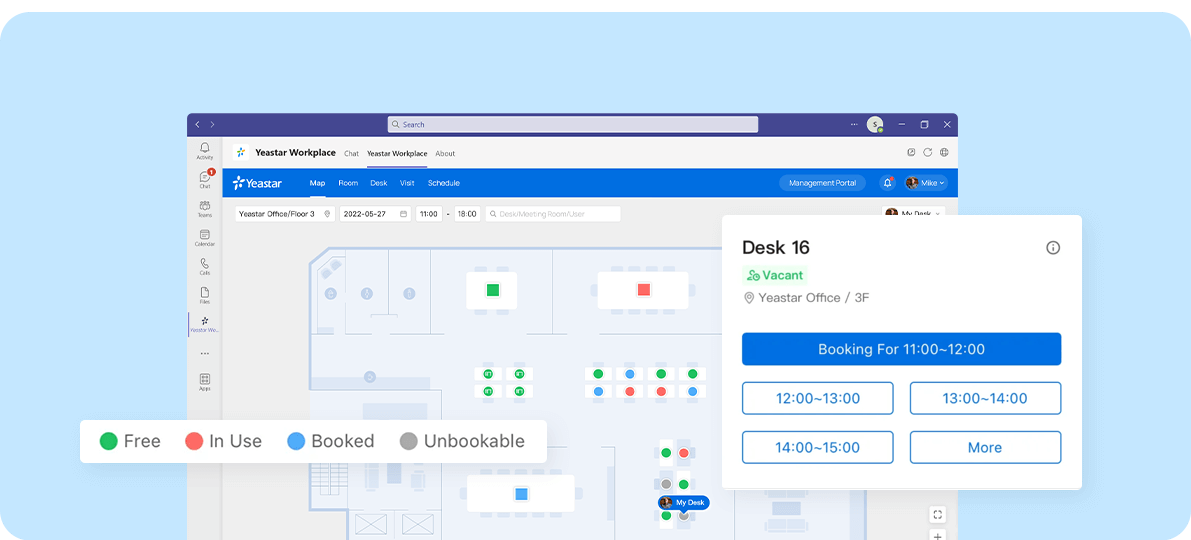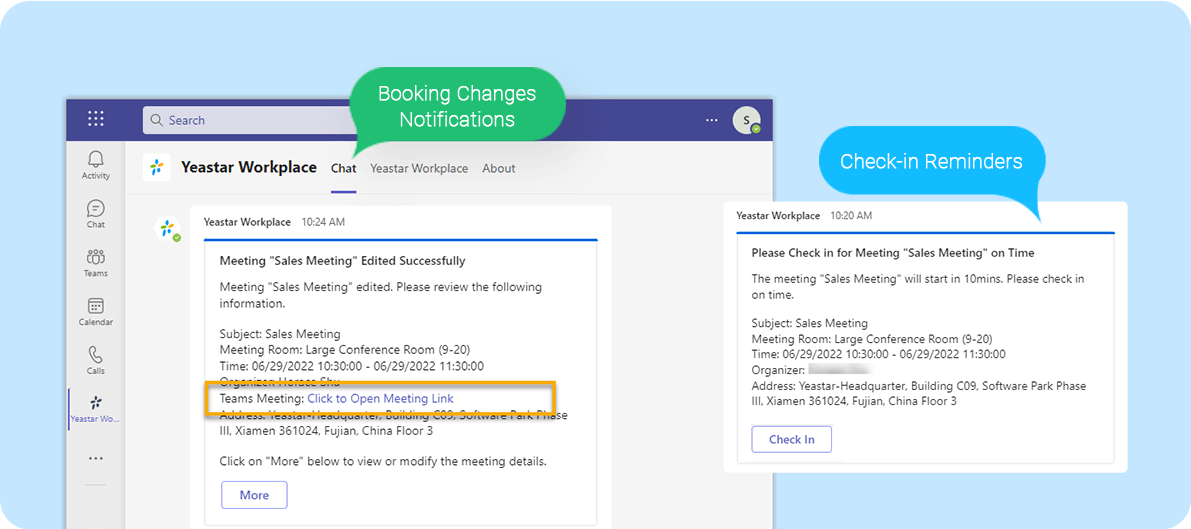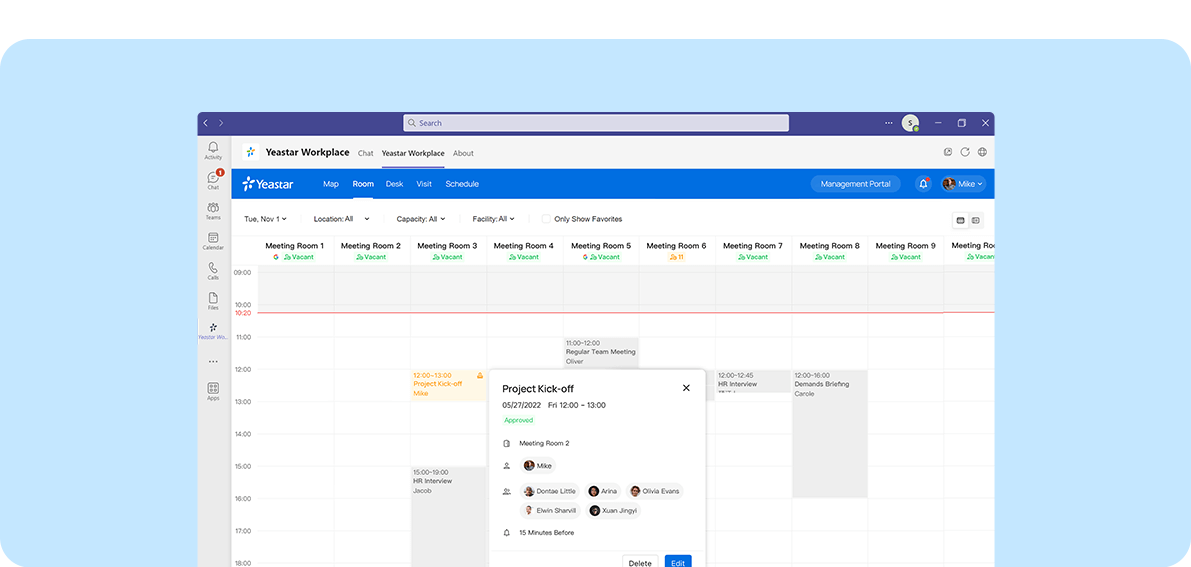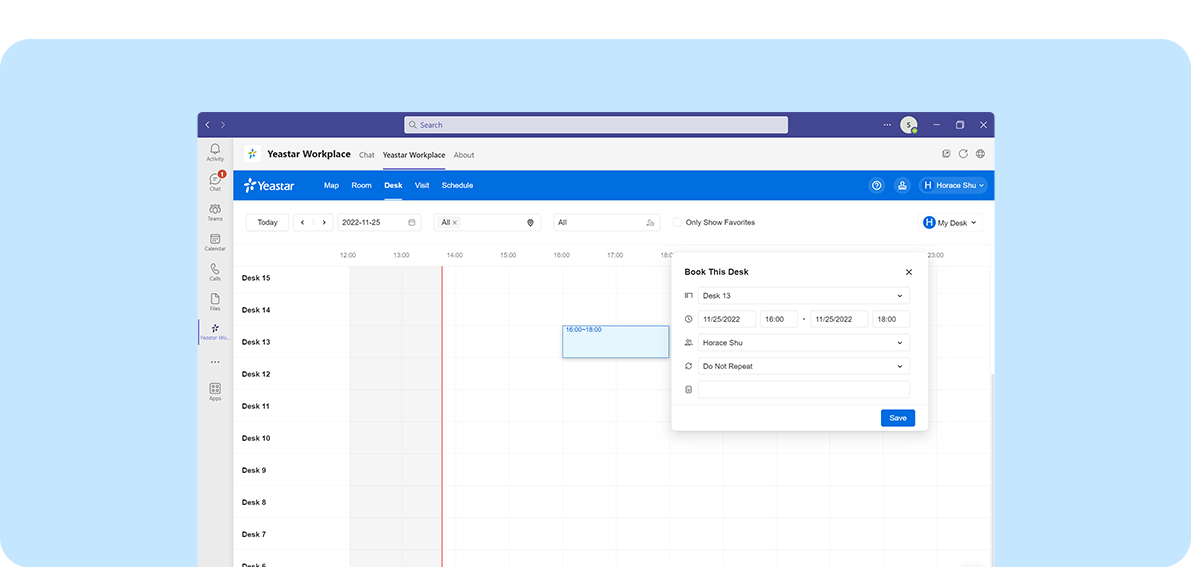 Key Features
Sync your Yeastar Workplace experience to Microsoft Teams and get something beyond:
Real-time Office Visibility. Know office space availability at a glance with colored status marks on the map or through timeline views of room & desk schedule.
Room/Desk Booking. Book a desk or a room on an interactive floor plan or on the booking grids. Find your best-fit space using filters or searching bar and modify your reservations within clicks.
Find Co-workers. Use your office map to quickly locate co-workers and discover their ongoing or upcoming room/desk reservation schedules.
Visitor Management. Invite customers or visitors to your office from an advanced scheduler page. Automate the visitor screening, welcome, and notification with Yeastar Workplace visitor management features.
Receive Yeastar Workplace notifications in Teams. Receive room booking notifications, reminders to check in, and alerts on schedule changes sent by Yeastar Workplace directly via chats. Stay in the loop and never miss a meeting.
Link a Teams Meeting with a Room Booking. Create a Teams meeting link while booking a meeting room.
Note: although users can download the app for free on Microsoft AppSource, a paid Yeastar Workplace plan is required to use this app and the supported features vary for different Yeastar Workplace plans.
Featured In
Yeastar Workplace
All-in-one management of rooms, desks, and visitors.
.
Add Yeastar Workplace to Teams
Before you start, you will need a Yeastar Workplace account (Standard Plan or higher) and a Microsoft 365 Business or Enterprise Account.
Not having a Yeastar Workplace account yet? Apply for a 30-day free trial here.
From the MS Teams admin console, navigate to Apps, search and install the "Yeastar Workplace" app.
To authorize Yeastar Workplace for your Teams users, click "Continue" under the Yeastar Workplace tab to grant SSO service permission and complete the authorization.
Bind your MS Teams admin account with your Yeastar Workplace admin account.
Remind your Teams users to install the "Yeastar Workplace" on their Teams app and login to start enjoying.
For a step-by-step guide with screenshots, please refer to the guide or video tutorial below.
Requirements
Yeastar Workplace: Standard Plan or higher
Microsoft 365 Business (Basic, Standard, Premium) or Microsoft 365 Enterprise
x
Contact the Developer
Please contact the developer to get the app or for tech support
Developer Websitewww.yeastar.com
Phone Number15362541254
Support Emailtest@yeastar.com
Support Websitewww.yeastar.com